Compact SUV; Built in Canada, Japan
2-door convertible
4-door wagon
4-door wagon
longitudinal front-engine/rear- or 4-wheel drive
Good condition price range: $1,000 – $2,800*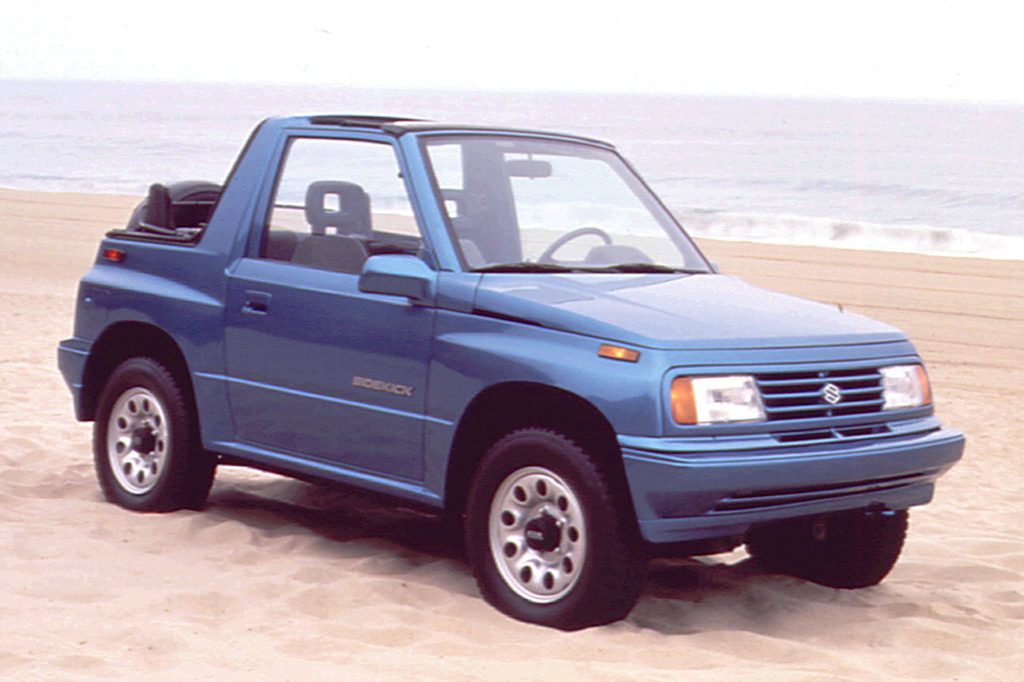 1992 Suzuki Sidekick 2-door convertible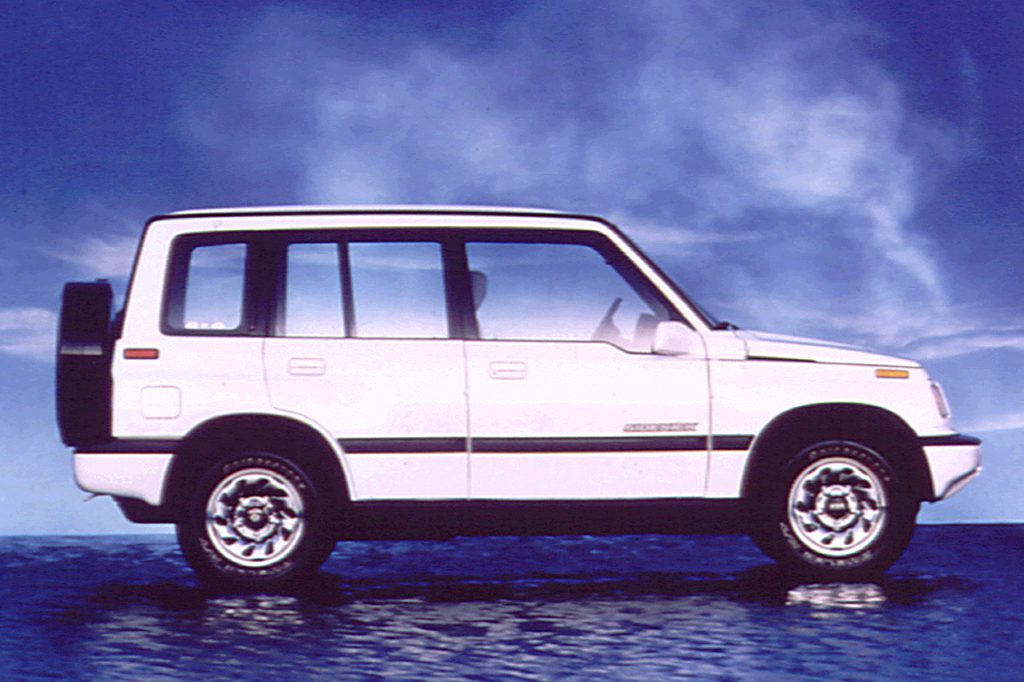 1994 Suzuki Sidekick 4-door wagon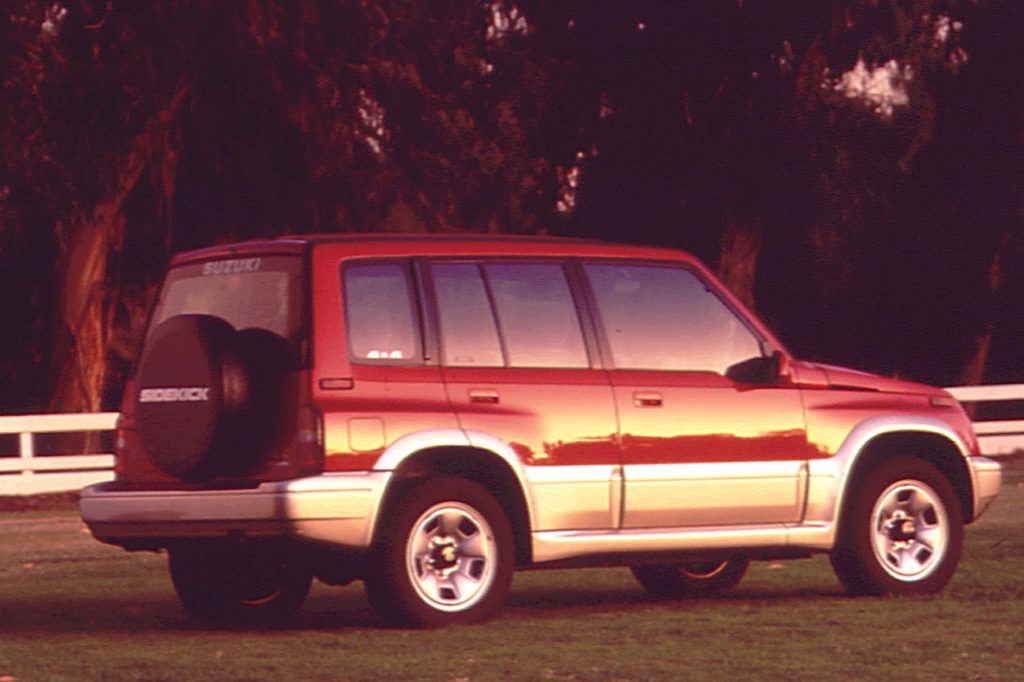 1996 Suzuki Sidekick Sport 4-door wagon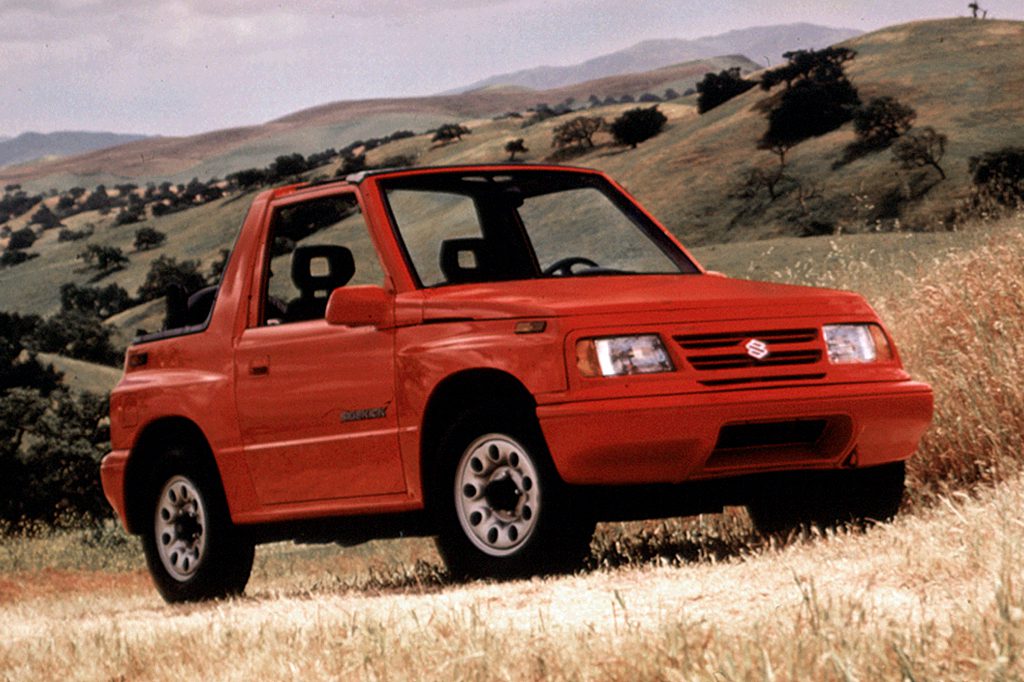 1997 Suzuki Sidekick 2-door convertible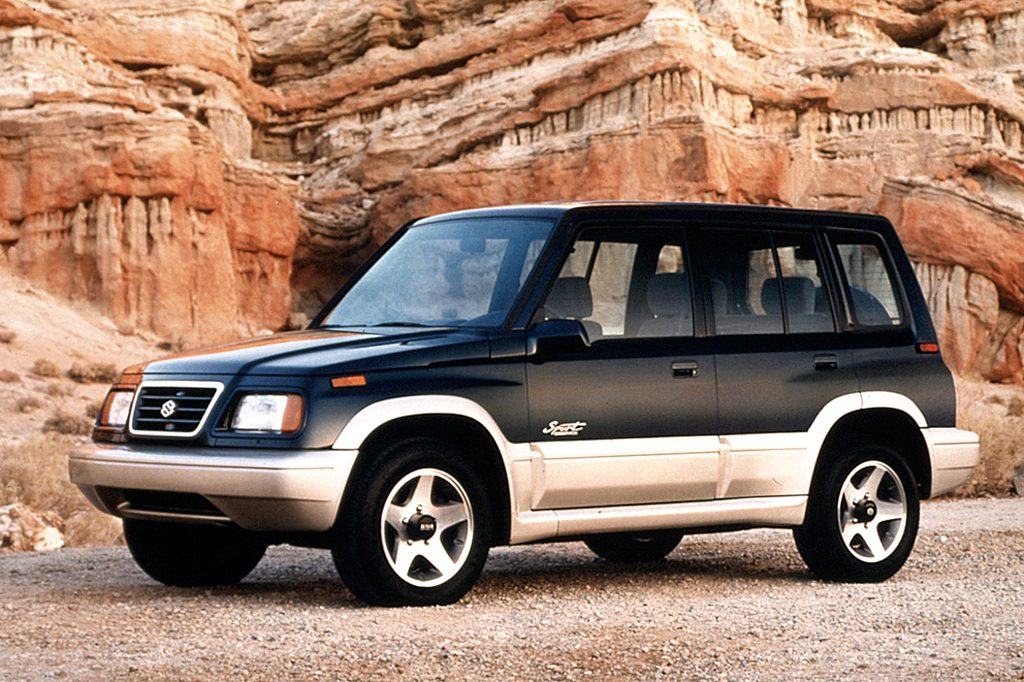 1995 Suzuki Sidekick Sport 4-door wagon
Pros:

4WD traction
Fuel economy
Maneuverability

Cons:

Acceleration (w/automatic transmission)
Noise
Rear-seat room
Ride
Though better than the tiny old Samurai, this is still not a good choice for everyday driving, even in 4-door form.
Overview
Suzuki launched its compact 4-wheel-drive sport-utility vehicle in 1989, adding a 2-wheel-drive companion for 1990. Geo also sold a version called Tracker. Sidekicks were powered by a 1.6-liter engine that made 80 horsepower. The lineup included a base JS, available only as a soft-top convertible with 2WD; plus more expensive JX and JLX editions, equipped with on-demand 4WD and either a soft top or hardtop. A 5-speed manual transmission was standard, and a 3-speed automatic transmission was optional.
Yearly Updates
1991 Sidekick
A 4-door hardtop Sidekick arrived in '91, joining the soft-top 2-door models. Riding a wheelbase 11 inches longer than the 2-door's, bodies measured 16 inches longer overall. Four-door Sidekicks came in base JX and upscale JLX trim. All 4-door models used the 80-horsepower engine with a standard 5-speed manual gearbox, on-demand 4-wheel drive, and new antilock rear brakes. A 2-place folding rear seat was standard on the JLX and optional on the JX.
1992 Sidekick
Four-door Sidekicks earned a power boost, adopting a 95-horsepower engine with dual-overhead camshafts. The midlevel JL 4WD convertible was dropped, leaving only two 2-door models, with the 80-horsepower engine. Equipped with 4-wheel drive and new automatic-locking front hubs, 4-door Sidekicks came in JX or top-line JLX trim. A 2-wheel-drive JS 4-door arrived during the 1992 model year. A 4-speed automatic transmission now was installed in 4-door models as an option, but the 3-speed unit hung on for 4WD 2-doors.
1993 Sidekick
Except for a few trim changes, Sidekicks showed no appreciable change for 1993.
1994 Sidekick
Sidekicks gained an antitheft alarm, tilt steering column, and center high-mounted stoplamp.
1995 Sidekick
Two-door JX convertibles got the 95-horsepower engine this year. All two-doors gained a new convertible top with zip-out plastic side windows.
1996 Sidekick
Sidekicks added dual airbags in 1996, with 4-wheel antilock braking a new option. The new Sidekick Sport got a more potent engine: a 1.8-liter, making 120 horsepower. All other Sidekicks held the 95-horsepower engine. Offered in JX and JLX trim, Sport models had a longer nose, fender flares, 2-tone paint, 16-inch tires (instead of 14s), and a wider stance. Four-wheel antilock brakes that worked in both 2WD and 4WD joined the option list.
1997 Sidekick
A new price-leader 2-wheel-drive JX Sport wagon joined the lineup. Automatic-locking front hubs were standard on the Sport JLX; other models had manual-locking hubs.
1998 Sidekick
No changes were made for '98 in anticipation of an all-new '99 Sidekick, which would be called the Vitara.