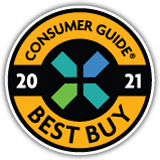 Best Buys
Although small in number, they're big in sales … really big. In fact, although there are only six vehicles in the large pickup class, two are typically the top-selling vehicles of any type, and another is often within the top five.
It's those huge sales numbers that make the competition in this class so fierce. Pickups have gone from being commercial workhorses and "urban cowboy" fashion statements to truly sophisticated and luxurious vehicles. And none of that has diminished their original appeal as motorized beasts of burden.
As such, manufacturers offer a dizzying array of cab styles, trim levels, and powertrains. And then there are the options. Available features run the gamut from work-related convenience to country club luxury, and they often stretch on for pages. Manufacturers keep adding amenities, and based on the continued success of their high-end models, they haven't yet found the price line customers won't cross. Today, it's not difficult to option a half-ton pickup well past $65,000, primarily because numerous buyers willingly do.
HIGHLIGHTS FOR 2021
The Ford F-150 is redesigned, gaining loads of new available features such as a 12-inch digital gauge cluster, trailering-assist technology, a new-generation SYNC 4 infotainment system with over-the-air updates, and jobsite-focused gear such as the Pro Power Onboard integrated power generator and Interior Work Surface center console. A full-hybrid "PowerBoost" 3.5-liter V6 powertrain joins the carried-over V6 and V8 engine choices.
The Chevy Silverado is now available with a multi-function "Multi-Flex" tailgate just like the GMC Sierra's MultiPro tailgate (which sees expanded availability this year; it's now offered on the Sierra SLE and Elevation trim levels). Both Silverado and Sierra gain trailering-aid technologies such as Jack-Knife Alert, Trailer Length Indicator, and multi-view trailering-camera systems.
The Ram 1500 gains newly available features such as a color head-up display, a rearview-mirror camera display, and a Trailer Reverse Steering Control feature. Also new is a super-high-performance TRX off-road model. Also, Ram continues to offer the previous-generation 1500 model as the Ram Classic. The Nissan Titan sees no significant changes after its refresh last year. The Toyota Tundra gets specially trimmed Trail Special Edition and Nightshade Edition models. A revamped Tundra is reportedly in the works, and it could debut as a 2022 model.
MODELS THAT OFFER SOMETHING UNUSUAL
Diesel engines used to be uncommon among half-ton pickup trucks, but they've become more popular as manufacturers continue to sharpen their focus on fuel economy. Ford offers a 3.0-liter Power Stroke V6 in the F-150, the Ram 1500 can be fitted with a 3.0-liter EcoDiesel V6, and the Chevrolet Silverado and GMC Sierra are available with a 3.0-liter Duramax inline 6-cylinder.
The Ram 1500 currently offers the only broadly available mild-hybrid system in the class: the 48-volt "eTorque" system supplies supplemental torque to the gas engine and can recharge the regular 12-volt battery. It's standard with Ram's gasoline V6 and optional on the Hemi V8. The Chevrolet Silverado and GMC Sierra offer the only 4-cylinder engine in the segment; their turbocharged 2.7-liter four debuted midway through the 2019 model year.
In terms of unique features, the Ram 1500 offers the novel Ram-Box storage system (two lockable storage bins integrated into the sidewalls of the cargo bed above the rear wheels), as well as a Multifunction Tailgate that can open in a 60/40 vertical split as well as traditionally. The Chevrolet Silverado's and GMC Sierra's available multi-function tailgates include an integrated "mini-gate" with a flip-out panel—this setup can be configured to make a tailgate step, a horizontal work surface, or an open-tailgate cargo stop, among other uses.
The new Ram 1500 TRX stands out for its 702-horsepower supercharged 6.2-liter V8 and focus on off-road high performance. In addition to its muscular engine, the TRX is loaded with special features, including a unique suspension with active damping and 35-inch off-road tires. The TRX is squarely aimed at the Ford F-150 Raptor; a new version of the Raptor based on the redesigned F-150 will likely debut in the near future.