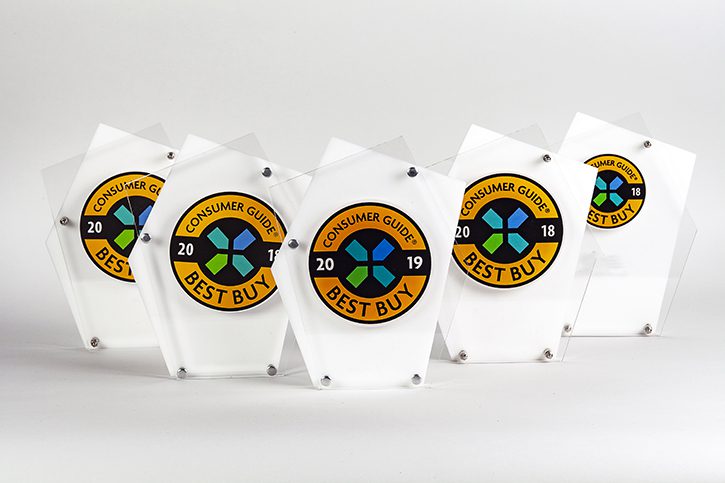 Whether your vehicle is a Best Buy Award winning model, or our experts have said something about your brand that you want to make sure your audience hears, leveraging content from Consumer Guide® Automotive adds credibility to your message.
Licensing
Place direct quotes from our reviews, the Consumer Guide Automotive logo, or the Best Buy logo into your broadcast, digital, print, point of sale, and auto show campaigns.  Our licensing partner can customize a usage rate package to meet your needs and your budget.
Best Buy Award Trophies
Unlike other companies' media awards, which tend to honor cars that are unaffordable to the average car buyer, the CGA Best Buy Award serves a practical purpose to everyday car shoppers.
The trophy presented to your award winning nameplates at the Chicago Auto Show can be duplicated and displayed at every dealership across the country.  It's an easy-to-read visual at the point of sale, and will remind your sales teams to accentuate this critical differentiator.
Reprints
Place copies of your review or blog post at an upcoming auto show, in your service department waiting room, or in your next direct mail campaign.  Let prospective buyers and lessees read our expert's exact words!
Digital Reprints
Blast our blog featuring your vehicle to your dealerships and customer list, or send them a copy of your Best Buy Review.
Contact
For more information, contact our licensing partner, JRL Group, Inc.
Andy Lieb
Email: andy@jrlgroup.com
Telephone: 847-291-7414