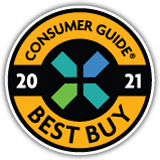 Best Buys
Minivan sales have been declining gradually but steadily over the past decade or so. Part of it stems from a soccer-mom image some find objectionable, part from the fact that many midsize SUVs are available with three rows of seats that make them competitive from a people-packaging standpoint. But the reality is that nothing can rival a minivan for sheer space utilization and cost per cubic foot.
Pricing for most minivans starts above $30,000. As with many other classes of vehicles, minivans offer a tremendous number of available features that can push the bottom line close to (or beyond) the $50,000 mark. These include power liftgates, dual-screen entertainment systems, power-folding seats, and modern safety features such as wide-angle rearview cameras and collision mitigation systems.
Although there are exceptions, the general template for minivans includes a V6 engine, automatic transmission, front-wheel drive, three rows of seats (with the 3rd row typically folding into the floor), and dual sliding rear-side doors. Even the least-expensive ones include a host of standard equipment that makes them transportation bargains, even if you don't need the space. The downside is that fuel economy isn't great, with EPA ratings of about 18 city/26 highway being the norm for non-hybrid models.
HIGHLIGHTS FOR 2021
The Toyota Sienna is redesigned on an all-new platform, gaining flashier styling, a topline Platinum trim level, a host of new comfort and safety features, and a standard hybrid powertrain—all Siennas are now hybrids that combine a 2.5-liter 4-cylinder engine and two electric motors, for a total output of 243 hp. All-wheel drive is available, but the gasoline engine only powers the front wheels while the rear wheels are driven by a separate electric motor.
The Chrysler Pacifica receives a significant update that includes freshened exterior styling, a host of new safety features, and line-topping Pinnacle trim level. Also new is available all-wheel drive, which is not offered on the Pacifica's plug-in-hybrid models. Chrysler's more affordable Voyager minivans now offer a SafetyTec Group including automatic emergency braking with pedestrian detection and full-speed forward collision warning. The Honda Odyssey wears mildly updated exterior styling and some interior trim revisions. The Dodge Grand Caravan has been discontinued. A redesigned Kia Sedona is expected to arrive as a 2022 model.
MODELS THAT OFFER SOMETHING UNUSUAL
The Chrysler Pacifica and Chrysler Voyager offer a handy, class-exclusive feature in their available Stow 'n Go second-row seats that fold into the cargo floor. The Honda Odyssey has available Magic Slide multi-position second-row seats that slide both fore and aft and side to side. As mentioned above, the Toyota Sienna comes standard with hybrid power, and the Chrysler Pacifica is available as a plug-in hybrid. The Sienna and the non-hybrid Pacifica are also available with all-wheel drive.
The Ford Transit Connect is the most atypical member of the category. Based on a commercial cargo van platform, it's smaller than the rest of the class, but still laudably spacious inside. It comes in a regular-length 5-passenger version, or a long-wheelbase 6-or-7-passenger version. While the rest of the class has powertrains in the 240-280-hp range, the Ford Transit Connect makes do with a 162-hp 2.0-liter 4-cylinder.