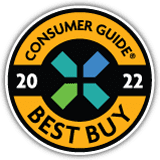 Best Buys
Minivan sales have been declining gradually but steadily over the past decade or so, though the segment seems to have stabilized recently. One of the reasons for the class's relative lack of popularity is a soccer-mom image some find objectionable, and another is the fact that many midsize SUVs are available with three rows of seats that make them competitive from a people-packaging standpoint. But the reality is that nothing can rival a minivan for sheer space utilization and cost per cubic foot.
Pricing for most minivans starts comfortably above $30,000. As with many other classes of vehicles, minivans offer a tremendous number of available features that can push the bottom line close to (or beyond) the $50,000 mark. These include power liftgates, dual-screen entertainment systems with various digital-content options, power-folding seats, and modern safety features such as wide-angle rearview cameras and collision mitigation systems.
Although there are exceptions, the general template for minivans includes a V6 engine, automatic transmission, front-wheel drive, three rows of seats (with the 3rd row typically folding into the floor), and dual sliding rear-side doors. Even the least-expensive ones include a host of standard equipment that makes them transportation bargains, even if you don't need the space. The downside is that fuel economy isn't great, with EPA ratings of about 18 mpg city/26 highway being the norm for non-hybrid models.
HIGHLIGHTS FOR 2022
Kia launches a stylish new minivan (which it calls a "multi-purpose vehicle," or MPV) that takes the place of the outgoing Sedona. The Kia Carnival features SUV-esque styling, a 3.5-liter V6 with a best-in-class horsepower rating of 290, and multiple second-row seating options (including "VIP Lounge" reclining captain's chairs).
After its redesign last year (which included a switch to a 4-cylinder hybrid powertrain from the previous V6 engine), the Toyota Sienna gets an adventure-focused Woodland Edition model with standard all-wheel drive; a slightly increased ride height; and outdoor-oriented accessories such as a roof rack, tow hitch, and 1500-watt power outlet. After its significant refresh for 2021, the Chrysler Pacifica sees minor updates such as available Amazon Fire TV streaming functionality, an enhanced cabin air filtration system, and a new rear seat reminder feature. The fleet-special Chrysler Voyager also gets a cabin air filtration system, as well as a higher level of standard equipment (which includes Chrysler's Stow 'n Go stowable second-row seats). After its styling update last year, the Honda Odyssey loses its HondaVAC built-in vacuum cleaner option.
MODELS THAT OFFER SOMETHING UNUSUAL
The Chrysler Pacifica and Chrysler Voyager offer a handy, class-exclusive feature in their available Stow 'n Go second-row seats that fold into the cargo floor. The Honda Odyssey has available Magic Slide multi-position second-row seats that slide both fore and aft and side to side. As mentioned above, the Toyota Sienna comes standard with hybrid power, and the Chrysler Pacifica is available as a plug-in hybrid. The Sienna and the non-hybrid Pacifica are also available with all-wheel drive.
The Ford Transit Connect is the most atypical member of the category. Based on a commercial cargo van platform, it's smaller than the rest of the class, but still laudably spacious inside. It comes in a regular-length 5-passenger version, or a long-wheelbase 6-or-7-passenger version. While the rest of the class has powertrains in the 240-290-hp range, the Ford Transit Connect makes do with a 162-hp 2.0-liter 4-cylinder.