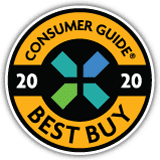 Best Buys
Despite their sometimes-staggering prices—or maybe because of them—there are more premium large cars on the market than large cars. High prices usually translate into higher profit margins, which is why companies can subsist on relatively low sales volumes.
Cars in this segment range in base price from about $43,000 (the Genesis G80) to well beyond the $200,000 mark (top-line versions of the Mercedes-Benz S-Class). That's quite a big spread, but the high end of the scale offers some very opulent large cars with tremendous capabilities and an air of exclusivity. Note that we classify cars where the least-expensive model starts well north of $100,000 as "exotics," which aren't included here.
WHAT'S NEW FOR 2020
After its redesign last year, the Audi A8 lineup sees the return of a high-performance S8 model. The 2020 S8 is powered by a 563-hp twin-turbo 4.0-liter V8, and gets special touches that include an upgraded sport suspension and unique styling elements. A plug-in-hybrid version of the A8, which will probably be named "e quattro," is slated to join the roster as well.
The BMW 7-Series is significantly refreshed, getting revamped styling that includes a new front end with a much larger "kidney" grille, new rear bumper, and new taillights with a "light band" across the trunk. The 740i model gets 15 more horsepower, and the gutsy 750i and M760i get even more muscle; they're now rated at 523 hp and 600 hp, respectively. The plug-in-hybrid model is now named 745e instead of 740e; it gets a turbocharged 6-cylinder engine in place of the previous turbo 4-cylinder, as well as a larger battery pack.
The Genesis G90 is thoroughly revamped, with dramatic new bodywork and an updated interior. A redesigned, next-generation Genesis G80 is in the works; the new car could possibly debut as a 2020 or 2021 model. Production of the current-generation Jaguar XJ ended in the summer of 2019, but Jaguar says that an electric-only next-generation XJ is in development; it's possible the XJ EV could debut as a 2020 model. The Lexus LS 500 gets a specially trimmed Inspiration Series model that includes Deep Garnet paint and 20-inch wheels finished in "Black Vapor Chrome."
The current-generation Porsche Panamera debuted in 2016 as a 2017 model, and the car is set to receive a mid-cycle refresh that will include updated styling and probably revised powertrains as well—these freshened Panameras could arrive as 2020 or 2021 models. The Cadillac XTS is discontinued, leaving the CT6 as Cadillac's sole entry in the class; the CT6's updates are detailed in its Best Buy review.
MODELS THAT OFFER SOMETHING UNUSUAL
There are a handful of hybrids offered in the premium large class: the BMW 745e xDrive plug-in hybrid, the Lexus LS 500h, the Mercedes-Benz S560e plug-in hybrid, and the Porsche Panamera 4 E-Hybrid and Turbo S E-Hybrid.
This category also offers some truly spectacular performance models. Most of the cars in this class offer a V8, but some go above and beyond with something special. The BMW Alpina B7 has a 600-hp twin-turbo 4.4-liter V8. The Mercedes-Benz AMG S63 has a 603-hp twin-turbo 4.0-liter V8, and the AMG S65 packs a 621-hp 6.0-liter V12. The Porsche Panamera can be had with a 4.0-liter turbocharged V8 that puts out 550 hp in Turbo form, or a whopping 680 hp in the Turbo S E-Hybrid version. In terms of body styles, there are only two that vary from the 4-door-sedan norm. The Mercedes-Benz S-Class offers a 2-door coupe and convertible, and the Porsche Panamera comes as a 4-door hatchback or a Sport Turismo wagon. Same goes for drive wheels. Rear-wheel drive is the norm, and most of those cars are also available with all-wheel drive. The only front-drive car is the Lincoln Continental, which is also offered with all-wheel drive.