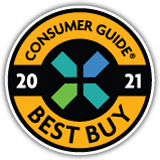 Best Buys
Despite their sometimes-staggering prices—or maybe because of them—there are more premium large cars on the market than large cars. High prices usually translate into higher profit margins, which is why companies can subsist on relatively low sales volumes.
Cars in this segment range in base price from around $48,000 (the Genesis G80) to the neighborhood of $200,000 (top-line versions of the Porsche Panamera). That's quite a big spread, but the high end of the scale offers some very opulent large cars with tremendous capabilities and an air of exclusivity. Note that we classify cars where the least-expensive model starts well north of $100,000 as "exotics," which aren't included here.
HIGHLIGHTS FOR 2021
The Genesis G80 and Mercedes-Benz S-Class sedan are both redesigned. The G80 is the smaller of the two sedans offered by Genesis, Hyundai's luxury division; it gets striking new styling, new technology features, and a choice of two turbocharged engines: a 300-hp 2.5-liter 4-cylinder or a 375-hp 3.5-liter V6, each with rear-wheel drive or all-wheel drive. The new S-Class sedan debuts in two models: The S500 has a 429-hp 3.0-liter inline six, and S580 has a 496-hp 4.0-liter V8. Both powertrains are turbocharged and have a 48-volt mild-hybrid system and AWD. An extensive list of new available technology features includes rear-wheel steering, a 3D instrument display, and an extra-large OLED touchscreen. High-performance AMG and ultra-luxury Maybach versions should debut in the near future. The S-Class coupe and convertible models are carried over for 2021 on the previous-generation architecture, but these body styles will not make the jump to the new-generation architecture—they're being pared from the lineup.
After receiving an extensive exterior restyle last year, the Genesis G90 gets updates that include a reverse parking collision avoidance system, real leather trim on the dashboard and door panels, and an updated infotainment system. The Lexus LS gets minor exterior-styling and interior-trim updates, and a 12.3-inch touchscreen infotainment system in place of the previous touchpad interface.
The Porsche Panamera receives several new powertrains and some changes to the available models and their names. The new Turbo S has 620 horsepower, the new 4S E-Hybrid has 552 hp, and the GTS picks up 20 horses for a total of 473. The base 330-horsepower 3.0-liter V6 is replaced by a twin-turbocharged 2.9-liter V-6 rated at 325 hp. The Cadillac CT6, Kia K900, and Lincoln Continental have been discontinued. Production of the previous-generation Jaguar XJ ended in the summer of 2019, but Jaguar says that an electric-only next-generation XJ is in development—the XJ EV is expected to debut as a 2022 model.
MODELS THAT OFFER SOMETHING UNUSUAL
There are a handful of hybrids offered in the premium large class: the Audi A8 L 60 TFSI e quattro, BMW 745e xDrive plug-in hybrid, the Lexus LS 500h, and the Porsche Panamera 4 E-Hybrid, 4S E-Hybrid, and Turbo S E-Hybrid.
This category also offers some truly spectacular performance models. Most of the cars in this class offer a V8, but some go above and beyond with something special. The BMW Alpina B7 has a 600-hp twin-turbo 4.4-liter V8. The Porsche Panamera can be had with a 4.0-liter turbocharged V8 that puts out 620 hp in Turbo S form, or a whopping 680 hp in the Turbo S E-Hybrid version. In terms of body styles, there are only two that vary from the 4-door-sedan norm. The Mercedes-Benz S-Class offers a 2-door coupe and convertible, and the Porsche Panamera comes as a 4-door hatchback or a Sport Turismo wagon. Same goes for drive wheels. Rear-wheel drive is the norm, and most of these cars are also available with all-wheel drive.