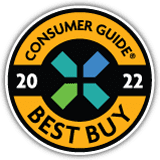 Best Buys
Sales of traditional large cars in both the mainstream-brand and luxury categories have slumped significantly in recent years, as American buyers have turned to SUVs in greater numbers. As a result, we've discontinued our mainstream Large Cars category for 2022, as it has dwindled to just three vehicles (the Chrysler 300, Dodge Charger, and soon-to-be-discontinued Toyota Avalon, all of which have been relocated to our Premium Midsize Car class). Though the Premium Large Car class has seen its share of casualties too—the Cadillac XTS and CT6, Kia K900, and Lincoln Continental have all been discontinued in recent years, and Jaguar has recently dropped its plans to reintroduce its XJ large sedan as a pure-electric vehicle—the rest of the entrants in this class are well positioned to continue as normal, at least for the near future. The high prices of these vehicles usually translate into higher profit margins, which is why companies can subsist on relatively low sales volumes.
Cars in this segment range in base price from around $48,000 (the Genesis G80) to the neighborhood of $200,000 (top-line versions of the Porsche Panamera). That's quite a big spread, but the high end of the scale offers some very opulent large cars with tremendous capabilities and an air of exclusivity. Note that we classify cars where the least-expensive model starts well north of $100,000 as "exotics," which aren't included here.
HIGHLIGHTS FOR 2022
After its redesign last year, the Mercedes-Benz S-Class adds a couple new trim options and available E-Active Body Control adaptive air suspension. The S-Class officially loses its 2-door coupe and convertible body styles as well—the previous-generation versions of these cars were carried over for last year, but they are discontinued for 2022. Though their princely price tags put them outside the scope of our survey, we'll note that Mercedes offers super-luxe Maybach versions of the S-Class, including a new-for-2022 S680 model with a 621-hp 6.0-liter V12 engine.
After its redesign last year, the Genesis G80 undergoes a number of changes. The step-up 3.5-liter V6 models now come standard in Sport trim, which includes unique front and rear fasciae, 20-inch wheels, and interior touches such as a three-spoke steering wheel and carbon-fiber trim accents. A Sport Prestige model adds rear-wheel steering and optional summer performance tires. Genesis is also readying a pure-electric version named Electrified G80 that will come standard with all-wheel drive and offer a driving range of around 265 miles. The G80's larger sibling, the G90, gets minor updates that include a new 19-inch wheel design and over-the-air map updates for its navigation system.
The Lexus LS adds a "Lexus Teammate" advanced driver-assist system for all-wheel-drive models that includes an automatic parking feature and partial hands-free driving on limited-access highways. A mild styling refresh and updated technology features are in the works for the Audi A8.
MODELS THAT OFFER SOMETHING UNUSUAL
There are a handful of hybrids offered in the premium large class: the Audi A8 L 60 TFSI e quattro, BMW 745e xDrive plug-in hybrid, the Lexus LS 500h, and the Porsche Panamera 4 E-Hybrid, 4S E-Hybrid, and Turbo S E-Hybrid. All are focused on performance in addition to fuel economy—the only cars here that have less than 400 horsepower are the BMW 745e (389 hp) and the Lexus LS 500h (354 hp).
This category also offers some truly spectacular performance models. Most of the cars in this class offer a V8, but some go above and beyond with something special. The BMW Alpina B7 has a 600-hp twin-turbo 4.4-liter V8. The Porsche Panamera can be had with a 4.0-liter turbocharged V8 that puts out 620 hp in Turbo S form, or a whopping 690 hp in the Turbo S E-Hybrid version. In terms of body styles, the Porsche Panamera is the only vehicle in the class that varies from the 4-door-sedan norm—it comes as a 4-door hatchback or a Sport Turismo wagon.