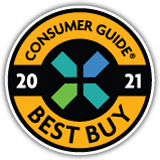 Best Buys
Despite the lofty purchase prices involved, the premium midsize crossover class is a thriving category with a number of popular contenders. All starting prices are above $40,000, and some hover in the $50K range. Several top $100,000 in their fanciest form.
But the lower-cost models, at least, offer quite a bit for the money, and aren't significantly pricier than "regular" midsize crossovers when similarly equipped. And it's easy to justify any extra expense through a combination of ritzier interior materials, a higher level of available features, and a more prestigious nameplate.
All vehicles in this class are 4-door wagons except the BMW X6, Mercedes-Benz GLE-Class Coupe, and Porsche Cayenne Coupe, which have hatchback-like sloping rear rooflines. All premium midsize SUVs offer all-wheel drive—and on a few, it's the only way they come—and the rest are about evenly split between front-wheel drive and rear-wheel drive being standard.
HIGHLIGHTS FOR 2021
Hyundai's premium Genesis brand introduces its first SUV for 2021. The all-new GV80 offers two or three rows of seating and a choice of two turbocharged engines: a 300-hp 2.5-liter 4-cylinder or a 375-hp 3.5-liter V6. The 4-cylinder is available with rear-wheel drive or all-wheel-drive; the V6 is AWD only. Jaguar is reportedly developing a J-Pace SUV that will slot above the compact F-Pace in its lineup and could launch as a 2021 or '22 model. Redesigned versions of the Acura MDX and Infiniti QX60 are both in the works. The Acura skips the 2021 model year and is set to debut as a 2022 model; the new QX60 will likely be a 2022 model as well.
The BMW X5 adds a xDrive45e plug-in-hybrid model with an inline 6-cylinder and electric motor that combine to produce 389 horsepower and deliver a pure-electric driving range of up to 30 miles; the xDrive40i models gain a 48-volt mild-hybrid system. In addition to its existing V6, the Cadillac XT6 is now available with a 237-hp turbocharged 2.0-liter 4-cylinder engine in a new entry-level Luxury trim.
A refreshed Land Rover Discovery is in the works, and it could debut as a 2021 model. The Mercedes-Benz G-Class now offers extensive "G Manufaktur" interior and exterior customization options. The Mercedes GLE-Class and GLE-Class Coupe get high-performance AMG 53 and AMG 63 S models, with 429 hp and 603 hp respectively. The Porsche Cayenne adds a new 453-horsepower GTS model that's is available in both regular wagon and Coupe body styles.
MODELS THAT OFFER SOMETHING UNUSUAL
Although fuel economy isn't typically a concern for vehicles in this price range, the class includes several hybrids and a couple diesels. Hybrid versions are offered in the BMW X5, Land Rover Range Rover Sport, Lexus RX, Lincoln Aviator, Mercedes-Benz GLE-Class, Porsche Cayenne, and Volvo XC90. All but the Lexus are plug-in hybrids, and those plug-ins are powerful machines that favor performance as much as fuel efficiency—they all have nearly 400 horsepower or more. Premium midsize SUVs currently offering a diesel engine are Land Rover's Discovery and Range Rover Sport.
Beyond that, several models come in high-performance trim. The BMW X5 M and X6 M offer a turbocharged V8 with up to 617 hp. The Mercedes-Benz GLE-Class is available in AMG 63 S form with 603 horsepower. The Range Rover Sport is available with a 518- or 575-horsepower supercharged V8. The Maserati Levante GTS has a 550-hp turbo 3.8-liter V8, and the Trofeo version has 590 hp. The Porsche Cayenne Turbo S E-Hybrid pairs a turbocharged 4.0-liter V8 with a plug-in-hybrid system for a total of 670 horsepower.