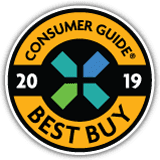 Best Buys
Over the past few years, the premium compact crossover/SUV class has grown to become one of the most crowded categories in the new vehicle marketplace—and many of the newest entries in the segment have been on the "extra-compact" side. Enough of these pint-sized contenders have recently been introduced that we've inaugurated a new premium subcompact crossover/SUV class for 2019.
This category is comprised of the smallest vehicles in the crossover/SUV lineups of their respective makers, but not every luxury brand has an entry in this class—at least not yet. And note that while we categorize them as subcompacts, most of the vehicles in this class are appreciably larger than most mainstream-brand subcompact crossovers. Furthermore, don't think that "premium" and "subcompact" are incompatible terms—these vehicles come standard with genuinely upscale trim inside and out, and can be optioned up with a dizzying (and pricey) array of comfort, convenience, and technology features just like their larger linemates. One of them offers some serious high-performance hardware as well.
Every vehicle in this category is powered by a 2.0-liter 4-cylinder. Horsepower output ranges between 180-240 on most of them, and all of them are turbocharged save for the Lexus UX. The Audi Q3, Jaguar E-Pace, and Land Rover Range Rover Evoque come standard with all-wheel drive; the rest come standard with front-wheel drive and are available with AWD.
The majority of the class starts at less than $35,000; the Infiniti QX30 is the most affordable, with a starting price of around $31,000. The most expensive is the Range Rover Evoque; the cheapest trim level starts at around $42,000 and the priciest model starts at more than $66,000. As is typical with luxury vehicles, adding on optional equipment can really drive up the bottom-line price—sometimes startlingly so.
WHAT'S NEW FOR 2019
The category sees two all-new vehicles for 2019: the Lexus UX and Volvo XC40. The UX comes in two versions: the gas-engine UX 200 is powered by a 169-hp 2.0-liter 4-cylinder paired with a Direct-Shift continuously variable transmission and front-wheel drive; the UX 250h is a gas/electric hybrid that uses the same basic engine paired with two electric motor/generators for a total system output of 181 horsepower. The UX 250h comes standard with all-wheel drive via a separate electric motor/generator integrated into the rear transaxle.
The Volvo XC40 debuts as the smallest SUV in Volvo's lineup, slotting below the compact XC60. It offers a turbo 2.0-liter four with either 187 hp and front-wheel drive, or 248 hp and AWD.
The Audi Q3 is redesigned, gaining larger dimensions (most notably a larger rear-seat area, thanks to a three-inch stretch in wheelbase), striking new styling inside and out, and lots of new technology features. AWD is standard, and the turbo 2.0 is offered in base 187-hp form or a hotter 227-hp version.
The BMW X2 lineup adds a sporty M35i model with a higher-horsepower engine, sport suspension tuning, and other performance-focused features. The rest of the class sees either no noteworthy changes or minor updates such as updated infotainment systems, new appearance options, and/or a shuffling of trim levels and standard/optional equipment.
MODELS THAT OFFER SOMETHING UNUSUAL
Most premium subcompact crossovers are designed as chic urban runabouts that are more focused on street driving than serious rough-terrain capability. The exception is the Land Rover Range Rover Evoque; it offers off-road prowess well beyond the others, thanks in part to standard gear such as hill descent control and Land Rover's Terrain Response system. The Evoque is also available in a novel, if not particularly practical, two-door-convertible body style.
In terms of acceleration, the BMW X2, Jaguar E-Pace, and Range Rover Evoque stand out from the pack—they offer available high-output turbo fours with 302, 296, and 286 horsepower, respectively. However, the Mercedes-Benz AMG GLA45 model is easily the class's high-performance champ—it packs a 375-hp turbo 2.0-liter four and can be equipped with a Dynamic Plus Package that includes adaptive dampers, a limited-slip differential, and a "Race-mode" drive setting. On the flipside, the Lexus UX offers the only hybrid in the class.