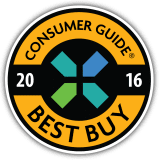 Best Buys
Despite being a relatively young category in the marketplace, the premium compact crossover/SUV class is one of the fastest growing segments around. The class grew by a whopping seven new models last year. It checks in at 15 contenders for 2016, but we already know of one new entrant—the Infiniti Q30—that's expected to debut as a 2017 model.
The least expensive 2016 premium compact crossover SUV (Mercedes-Benz GLA-Class) starts at just over $32,000, while the most expensive (the Porsche Macan) starts at almost $53,000 in base S form and almost $74,000 in Turbo form. Most competitors are grouped in the mid-$30,000 to mid-$40,000 range, though in all cases, options can boost the bottom line considerably.
All models come only as 4-door wagons except the sloped-roof BMW X4 "hatchback" and the Land Rover Range Rover Evoque, which also comes as a 2-door wagon or a new-for-'16 2-door convertible. A few come standard with all-wheel drive (Audi Q5, BMW X4, Porsche Macan, and the two Land Rovers), while it's an option on all others. Those that come standard with front-wheel drive include the Acura RDX, Audi Q3, Mercedes-Benz GLA-Class, and Volvo XC60; those standard with rear-wheel drive are the BMW X1 and X3, Infiniti QX50, and the new-for-2016 Mercedes-Benz GLC-Class.
With fuel economy being such an important concern today, it's a bit surprising that there are only two hybrids offered in the class at the moment: the Audi Q5 Hybrid and the Lexus NX 300h. There is also one diesel: Audi's Q5 TDI. However, the Mercedes-Benz GLC-Class will likely add both hybrid and diesel versions to its model lineup soon.
WHAT'S NEW FOR 2016
After a rush of new-product activity for 2015, the premium compact SUV class sees just two all-new models this year. The BMW X1 is redesigned, gaining a roomier interior, new technology features, and improved fuel efficiency. The sole X1 model at launch is the all-wheel-drive xDrive28i, which is powered by a 228-horsepower, twin-turbo 2.0-liter 4-cylinder mated to an 8-speed automatic transmission. The Mercedes-Benz GLC-Class is an all-new model based on the platform of the redesigned-for-2015 Mercedes-Benz C-Class sedan. The GLC-Class replaces the outgoing GLK-Class in Mercedes-Benz's SUV lineup; it launches in GLC300 form with rear-wheel drive or all-wheel drive and a 241-hp turbocharged 2.0-liter 4-cylinder. As mentioned above, hybrid and diesel versions are likely to follow.
The BMW X4 lineup gains a high-performance M40i model with a sport suspension, special trim inside and out, and a 355-horsepower twin-turbo 3.0-liter six. The Infiniti QX50 is stretched 3.2 inches in wheelbase and 4.5 inches in overall length, which greatly improves its rear-seat legroom and overall cargo volume. In addition to its new-for-'16 2-door convertible body style, the Land Rover Range Rover Evoque is refreshed inside and out, with new features such as revised headlights, LED taillights, full leather upholstery, and revised instrument-panel and touchscreen graphics. New Evoque options include LED headlights, a hands-free power tailgate, driver drowsiness monitor, lane keep assist, and a heads-up display. Both the Range Rover Evoque and the Land Rover Discovery Sport now come standard with Land Rover's InControl Protect safety telematics system, and the Discovery Sport offers InControl Remote, which adds features such as remote engine starting and door locking/unlocking via smartphone.
The Audi Q3 gets new front-end styling and standard rearview camera and front/rear parking sensors, while the Q5 gets a standard panoramic sunroof. The Mercedes-Benz GLA-Class gets additional standard equipment and a rearview camera that displays a 180-degree view, and the high-performance GLA45 AMG gets a 20-horsepower bump, to 375. The Porsche Macan gets an available 360-degree camera display. The rest of the class sees no significant changes. The Land Rover LR2 is discontinued.
MODELS THAT OFFER SOMETHING UNUSUAL
There aren't any entries with features that really stand out here, save for the Land Rover Range Rover Evoque's 2-door wagon and convertible. The gutsy engines in the Mercedes-Benz GLA45 AMG, Porsche Macan, and the sporty SQ5 variant of Audi's Q5—all of which produce 340 horsepower or more—are noteworthy as well.