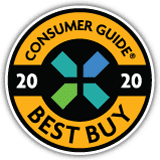 Best Buys
The traditional mainstream brand large-car segment has been particularly hard hit as American consumers' preferences have shifted to crossover SUVs. Buyers looking for more passenger and cargo room have been turning to SUVs in greater and greater numbers, and getting more-versatile interior space and the capability of a raised ride height and broadly available all-wheel drive in the bargain.
Given these marketplace realities, it's not surprising that automakers are turning away from the large-car category as well. Five years ago, there were nine entrants in the class; for 2020, there are just five, and for 2021 it appears there will be no more than four.
These cars are a pretty homogenous bunch. All come only as 4-door sedans…no exceptions. V6 engines are standard across the board, and only two (the Chrysler 300 and Dodge Charger) offer an optional V8. Despite the not-so-bright future of the category as a whole, the good news is that the existing entrants serve their target audiences quite well. The freshest member of the class is the Toyota Avalon, which was redesigned just last year, and the Kia Cadenza is not far behind—it was redesigned for 2017. The Chevrolet Impala saw a full redesign for the 2014 model year. The basic platform of the Chrysler 300 and Dodge Charger dates back to the early 2000s, but both of those cars have been kept reasonably fresh via a steady stream of revamps and updates over the years.
WHAT'S NEW FOR 2020
The Buick LaCrosse and Ford Taurus are discontinued. The Chevrolet Impala was initially scheduled to be dropped for 2020 as well, but it carries on for one more model year with a pared-down model lineup. The Impala's base LS trim is no more, and its 2.5-liter 4-cylinder engine is no longer offered, leaving the 305-hp 3.6-liter V6 as the sole engine.
Kia had not released details on the U.S.-market 2020 Cadenza as of this writing, but the company has revealed a freshened, facelifted version of the Korean-market version of the Cadenza (which is called K7). The K7's updates include bolder front and rear styling, and an upgraded interior with a revamped control layout that includes a widescreen 12.3-inch touchscreen and a digital gauge cluster. We expect these updates to carry over to the America-market 2020 Cadenza.
The Chrysler 300's updates are limited to a Red S Appearance Package that includes some badging tweaks and available Radar Red upholstery. The Dodge Charger amps up its muscle-car credentials; Scat Pack and Hellcat models get an available Widebody kit similar to that already offered on the Dodge Challenger coupe. It notably brings a Bilstein three-mode adaptive suspension and wide fender flares that allow the fitment of 305/35ZR20 Pirelli P-Zero performance tires, which in turn allow for greater grip. A specially trimmed Charger SRT Hellcat Widebody Daytona 50th Anniversary Edition, which includes a decklid spoiler, rear-body decal, and engine tweaks that boost horsepower to 717, will be limited to a production run of 501 copies.
The Toyota Avalon's updates for 2020 are detailed in its Best Buy review.
MODELS THAT OFFER SOMETHING UNUSUAL
The Toyota Avalon is the only vehicle in the class to offer a hybrid powertrain. The Chrysler 300 and Dodge Charger are available with all-wheel drive in place of rear-wheel drive (the 300 and Charger are the only RWD vehicles in the class). But their real claim to fame is that they offer a V6, a burly V8, and, in the case of the Charger, really stompin' V8s. A healthy 5.7-liter "Hemi" V8 is offered in standard models (it makes 363 hp in the 300 and 370 hp in the Charger), but the potent Charger R/T Scat Pack comes with a 485-horsepower 6.4-liter V8, and the Charger SRT Hellcat packs a supercharged 707-hp 6.2-liter V8. These are executive hot rods that can rival some far more expensive premium sedans for performance.