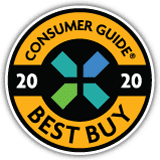 Best Buys
Almost ironically, the large SUV class is not all that large. Most buyers seem to have migrated to midsize SUVs due to fuel-economy concerns, especially since several entries in that class offer three rows of seats. Almost by definition, these large SUVs get rather dismal fuel economy and can be a handful in around-town driving. That can end up being quite a price to pay for the added space and towing capacity. However, for some buyers, only the biggest of the big will do, for hauling both people and stuff . This class has seen a fair amount of activity in recent years—the Nissan Armada was redesigned for 2017, the Ford Expedition was redesigned for 2018, and new versions of the Chevrolet Tahoe and Suburban and GMC Yukon are expected to debut as 2021 models.
One functional element that tends to separate midsize SUVs from large ones is towing capacity. There are no three-row midsize SUVs that offer a V8 engine, and few manage even a 5,000-lb towing capacity. By contrast, all large SUVs offer a V8 engine (save for the Ford Expedition, which has a satisfyingly powerful turbocharged V6), and maximum towing capacity starts at about 7,400 lbs and goes up to about 9,000 lbs—and some models come in heavy-duty versions that go even higher than that.
WHAT'S NEW FOR 2020
The Toyota Sequoia gets a TRD Pro model (TRD stands for Toyota Racing Development, the company's performance arm). It gets off-road-focused hardware such as standard Multi-Mode 4WD, TRD front skid plate, and high-tech Foxbrand shock absorbers, as well as special trim, 18-inch BBS-brand wheels, upgraded audio system with Apple CarPlay and Android Auto functionality, and an available TRD performance exhaust system. The Ford Expedition sees minor updates, which are detailed in its Best Buy report. The Chevrolet Tahoe and Suburban, Dodge Durango, GMC Yukon/Yukon XL, and Nissan Armada see only detail changes.
MODELS THAT OFFER SOMETHING UNUSUAL
Both the Chevrolet Tahoe and GMC Yukon are offered in longer length versions: the Chevrolet Suburban and similar GMC Yukon XL, which add 14 inches in wheelbase and 20 inches in overall length. The Ford Expedition also offers extended-wheelbase models, called Expedition MAX, that are about 12 inches longer overall.
Most entries in this class seat up to eight passengers, but the Chevrolet Tahoe and Suburban and similar GMC Yukon and Yukon XL seat up to nine. At the other end of the scale, the Dodge Durango seats up to seven. The Chevrolet Tahoe Premier and Suburban Premier, Ford Expedition Platinum, GMC Yukon/Yukon XL Denali, Nissan Armada Platinum, and Toyota Sequoia Platinum are all high-end offerings that rival some premium large SUVs for style. Also for price, as they start at about $73,000 for the Expedition Platinum, around $63,000 for the GMs, $60,000 for the Nissan Armada Platinum, and $65,000 for the Sequoia Platinum—and go up from there.
The Dodge Durango also stands out for its high-performance SRT model, which comes standard with a 475-hp 6.4-liter Hemi V8 and sport-tuned suspension.