Pros: Powerful motors; attractive base price; large front-mounted trunk; independent rear suspension; groundbreaking available features
Cons: Extended-range battery reduces payload capacity; only one size and cab configuration offered; price shoots skyward quickly on higher trim levels
CG Says: For 2022, Ford introduces a pure-electric version of its large pickup truck, featuring unique styling details and an array of new features unavailable on other F-150s. The Ford F-150 Lightning will be available only in a four-door crew-cab configuration with a 5.5-foot bed. The standard powertrain is a pair of electric motors that deliver a combined 452 horsepower, or 580 with an available extended-range battery.
With this combination, Ford says the Lightning is the most powerful F-150 ever offered, with a claimed 0-60-mph time of 4.4 seconds. All-wheel drive is standard, along with independent rear suspension instead of the live rear axle setup of other F-150s. The EPA-estimated driving range is 230 miles with the base battery pack, or 320 with the extended-range battery; the top-line Platinum model comes standard with the extended-range battery, but its extra features drop its EPA driving-range estimate to 300 miles. The extended-range battery hurts payload capacity somewhat—the Lightning can haul 2000 pounds with the standard battery, or 1800 with the extended-range setup.
The 2022 F-150 Lightning will be available in four trim levels: Pro, XLT, Lariat, and Platinum. Inside the cabin, the Lightning is essentially the same as other F-150s, except for a larger, 12.0-inch touchscreen; an even bigger 15.0-inch screen is also available. Standard infotainment features include Apple CarPlay/Android Auto connectivity, in-dash navigation, and a Wi-Fi hotspot. A number of driver-assistance features are standard, including automated emergency braking with pedestrian detection and lane-departure warning with lane-keeping assist. Also available is Ford's new BlueCruise feature, a semi-autonomous, hands-free highway-driving feature similar to GM's Super Cruise system.
Since its electric motor and batteries don't take up the same space under the hood as a traditional gasoline engine, the F-150 Lightning is equipped with a front-mounted trunk, or "frunk," with 14 cubic feet of carrying space — big enough for two golf bags. Ford is also taking advantage of the Lightning's electric powertrain by offering several built-in electrical-outlet options that enable uses like running power tools, plugging in a crockpot for a tailgate party, or even powering your home in the event of a power outage.
Ford is clearly going all in with its first big electric pickup, offering a potent mix of power, functionality, convenience, and attractive pricing for the base model. Together, these virtues are more than enough to make the Lightning a solid choice for an electric pickup truck, no matter what the competition comes up with.
The Facts
Class
Large Pickup Truck
Body Style(s)
Crew Cab
Passenger Count
5
Drive Wheels
all-wheel drive
Manufacturer
Ford
Nation of Manufacture
USA
Base Prices
Pro: $41,669
XLT: $54,669
Lariat: $69,169
Platinum: $92,569
Base Engine
two electric motors
Horsepower
452 (580 with extended-range battery)
Std. Transmission
single speed
Avail. Transmission
NA
EPA City Range (MPGe)
73-78
EPA Hwy Range (MPGe)
60-63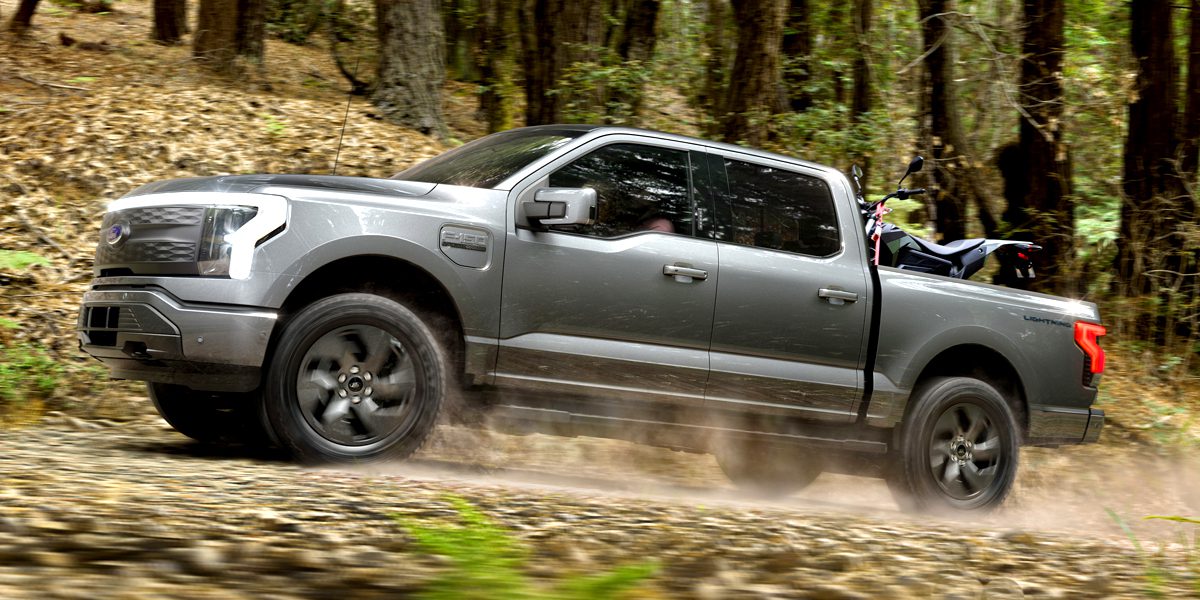 Road Tests and Additional Info