Pros: Longest EPA-estimated driving range of any mainstream electric vehicle; impressive interior and exterior design; jaw-dropping power in top models; expansive cabin visibility; large front-mounted trunk ("frunk"); athletic handling
Cons: Built by new company without established track record; no physical dealership presence yet; top models are pricey
CG Says: The 2022 Lucid Air is Lucid's first vehicle, a pure-electric premium midsize sedan that takes aim at the Tesla Model S, Porsche Taycan, and other high-end electric vehicles. Although Lucid is new to manufacturing complete automobiles, the company began in 2007, making batteries and electric powertrains for other automakers. Lucid plans to open a limited number of "studios" in upscale shopping areas, but for now the Air is available only through the company's website.
The Air is offered in four models: Pure, Touring, Grand Touring, and Dream Edition. The Pure model comes solely with rear-wheel drive and a single electric motor that makes 480 horsepower. All other Air models have two electric motors and standard all-wheel drive. They make a combined 620 hp in the Touring model, or 800 hp in the Grand Touring. The Dream Edition is offered in "Range" and "Performance" sub-types. The Dream Edition Range has 933 horsepower, while the Dream Edition Performance has 1111 horsepower.
The Air's driving range is among the highest available, spanning from 406 miles to 520 miles depending on the model. The Air also includes unlimited free fast charging at Electrify America charging stations for three years.
Inside the cabin, the main instrument display is a curved, 34-inch-wide unit. Infotainment functions are controlled through voice recognition or via a pair of touchscreens, one of which retracts into the dashboard. These are augmented by physical controls for some functions. Standard on all Air models is a unique glass roof, which consists of a windshield large enough to arch rearward past front-seat passengers, with a separate glass roof panel for rear-seat passengers. Available as an option is Lucid's Executive Rear Seating, which allows the rear seats to be reclined. The Air's cargo volume is quite generous, with a front-mounted trunk ("frunk") supplementing a traditional rear trunk.
The Air includes expected safety-tech/driver-assistance features such as forward collision warning with automatic emergency braking, lane-keep assist, blind-spot monitoring with rear cross-traffic alert, and adaptive cruise control. A semi-autonomous driver-aid system and other features are slated to become available in the future via over-the-air software updates.
As a new automaker, Lucid hasn't yet established a track record for reliability, customer service, or overall longevity yet, so there are some obvious question marks that surround its first-ever consumer product. Nonetheless, the company has been involved in the EV industry for more than a decade, and the Air looks to be fastidiously developed in all respects — it tops all mainstream vehicles in several categories, and its design brings daring new style to a vehicle class that already sets the bar high in that regard. Those attributes, combined with prices that are generally on par with other rivals, make the Air worthy of consideration.
The Facts
Class
Premium Midsize Car
Body Style(s)
4-door sedan
Passenger Count
5
Drive Wheels
rear-wheel drive, all-wheel drive
Manufacturer
Lucid
Nation of Manufacture
USA
Base Prices
Pure: $77,400
Touring: $95,000
Grand Touring: $139,000
Dream: $169,000
Base Engine
one electric motor (Pure)
Horsepower
620
Std. Transmission
single speed
Avail. Transmission
NA
EPA City Range (MPGe)
NA
EPA Hwy Range (MPGe)
NA
Optional Engine
two electric motors (Touring, Grand Touring, Dream)
Horsepower
620, 800, 933 (1111 hp Dream Edition Performance)
Std. Transmission
single speed
Avail. Transmission
NA
EPA City Range (MPGe)
110 – 130
EPA Hwy Range (MPGe)
111 – 132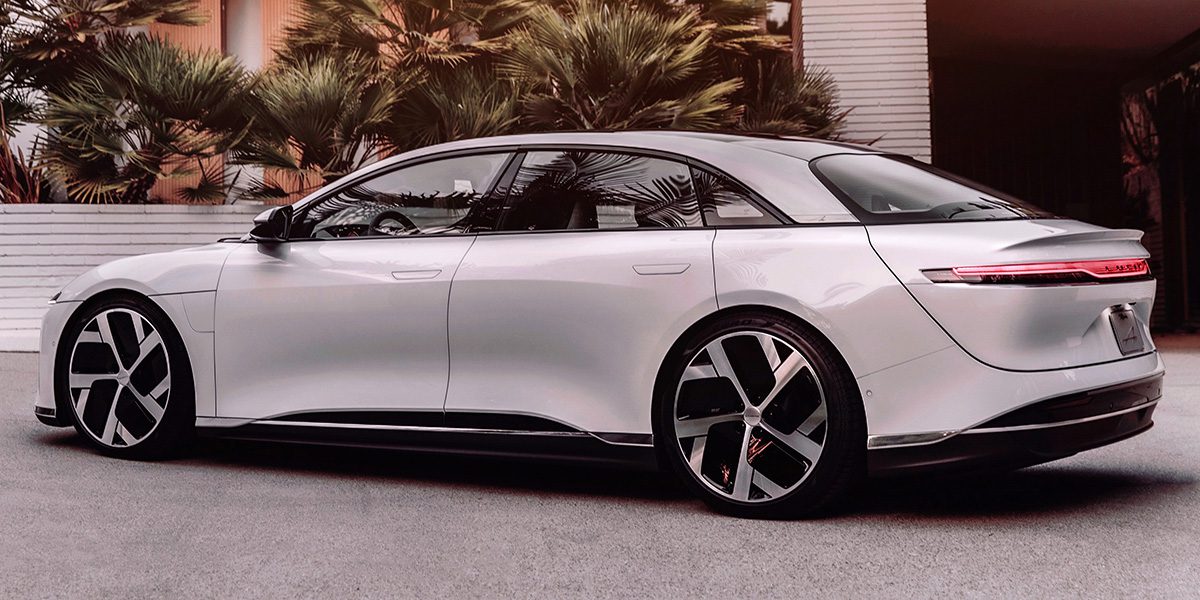 Road Tests and Additional Info