Pros: Overall refinement; fine ride quality and quietness; extra rear-seat room for new sedan design
Cons: Coupe and convertible retain older design and will likely be dropped after this year; limited trunk space; extremely tight rear-seat space in coupe and convertible
CG Says: The C-Class is Mercedes Benz's top-line compact car. It's larger and more expensive than the company's entry-level A-Class and CLA-Class models. The C-Class has standard rear-wheel drive, while the A-Class and CLA-Class have front-wheel drive. All are available with all-wheel drive.
For now, the C-Class is offered in coupe, convertible, and sedan models. The sedan is redesigned for 2022; it's approximately 2.5 inches longer overall than the previous-generation model, and it gets the latest version of Mercedes's MBUX infotainment interface, with new tech features and over-the-air software-update capability. Meanwhile, the coupe and convertible are carried over on the previous C-Class design, which was introduced for 2015 and then refreshed for 2019. The 2022 model year will likely be the last for the C-Class's coupe and convertible body styles—we don't expect them to make the jump to the new-generation C-Class platform.
The new sedan launches solely in C 300 form with a choice of Premium, Exclusive, and Pinnacle trim levels. Higher-performance AMG models are likely to debut in the future, but they will probably be 4-cylinder-powered as well—we don't expect V6 and V8 models to return to the lineup. The carryover C-Class Coupe comes in C 300 and AMG C 43 form, while the Cabriolet is offered in C 300, AMG C 43, and super-performance AMG C 63 S trim.
The C 300 models have a 255-horsepower turbocharged 2.0-liter 4-cylinder engine; the new sedan's version of this engine uses a mild-hybrid system designed to improve fuel economy. The C 43 AMG is powered by a 385-hp turbocharged 3.0-liter V6, while the C 63 S gets a 503-hp turbocharged 4.0-liter V8. All C-Class cars have a 9-speed automatic transmission. Available on the sedan is a rear-wheel-steering system designed to improve stability, handling, and low-speed maneuverability.
Inside the cabin, C-Class coupes and convertibles have a 7.0-inch central display screen, while sedans get a bigger 11.9-inch vertically-oriented screen. Apple CarPlay/Android Auto connectivity are standard on all. Available comfort and convenience features include ventilated front seats, a self-parking system, panoramic sunroof, and a fragrance atomizer for the ventilation system. Mercedes says the sedan's new extra length translates into additional rear-seat room, addressing a previous shortcoming.
Safety-tech features include forward collision warning with automatic emergency braking and pedestrian detection, drowsiness alert, and steering assist that keeps the car centered between lane markings.
Even though they're somewhat long in the tooth, the C-Class coupe and convertible retain some "last of a breed" appeal for their upscale ambiance and available performance engines. The redesigned C-Class sedan promises to be a strong contender in the premium compact-car class by bringing a new level of high-tech features and further refinement of Mercedes's traditional luxury feel.
The Facts
Class
Premium Compact Car
Body Style(s)
4-door sedan, 2-door coupe, 2-door convertible
Passenger Count
4 or 5
Drive Wheels
rear-wheel drive, all-wheel drive
Manufacturer
Mercedes-Benz
Nation of Manufacture
Germany
Base Prices
C 300 Coupe: $48,900
C 300 4MATIC Coupe: $50,900
C 300 Sedan: NA
C 300 4MATIC Sedan: NA
C 300 Cabriolet: $56,450
C 300 4MATIC Cabriolet: $58,450
C 43 Coupe: $61,550
C 43 Cabriolet: $68,050
C 63 S Coupe: $80,250
C 63 S Cabriolet: $88,150
Base Engine
turbocharged 2.0-liter 4-cylinder (C 300 coupe, convertible)
Horsepower
255
Std. Transmission
9-speed automatic
Avail. Transmission
NA
EPA City Range (mpg)
21-22
EPA Hwy Range (mpg)
30-31
Optional Engine
turbocharged 4.0-liter V8 (C63 S)
Horsepower
503
Std. Transmission
9-speed automatic
Avail. Transmission
NA
EPA City Range (mpg)
NA
EPA Hwy Range (mpg)
NA
Optional Engine
turbocharged 2.0-liter 4-cylinder/electric (C 300 sedan)
Horsepower
255
Std. Transmission
9-speed automatic
Avail. Transmission
NA
EPA City Range (mpg)
NA
EPA Hwy Range (mpg)
NA
Optional Engine
turbocharged 3.0-liter V6 (C 43)
Horsepower
385
Std. Transmission
9-speed automatic
Avail. Transmission
NA
EPA City Range (mpg)
NA
EPA Hwy Range (mpg)
NA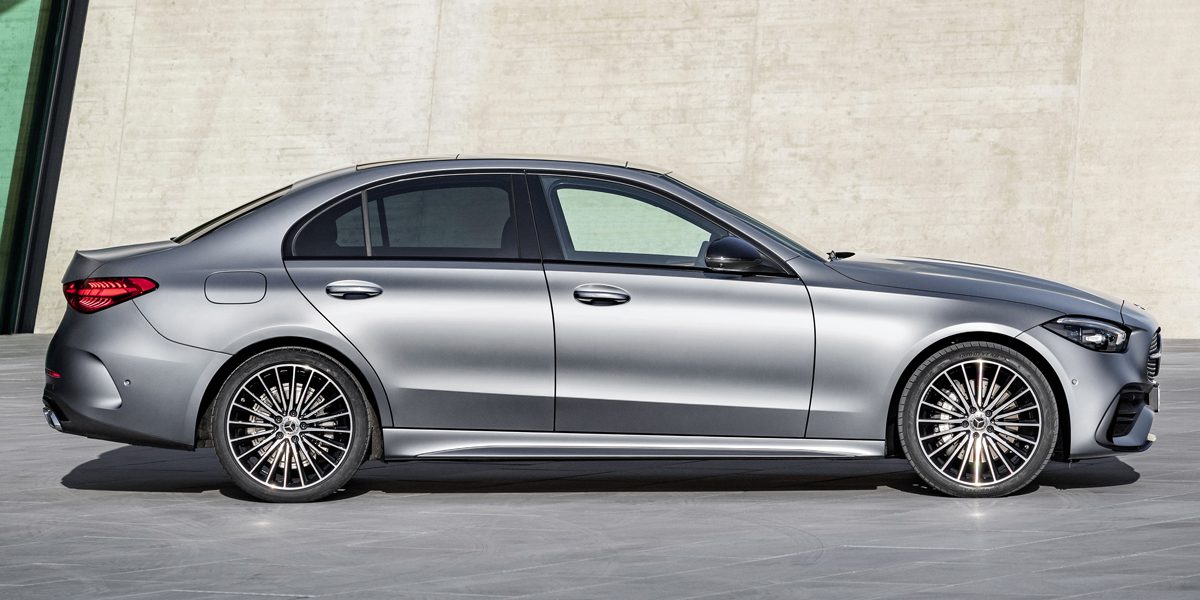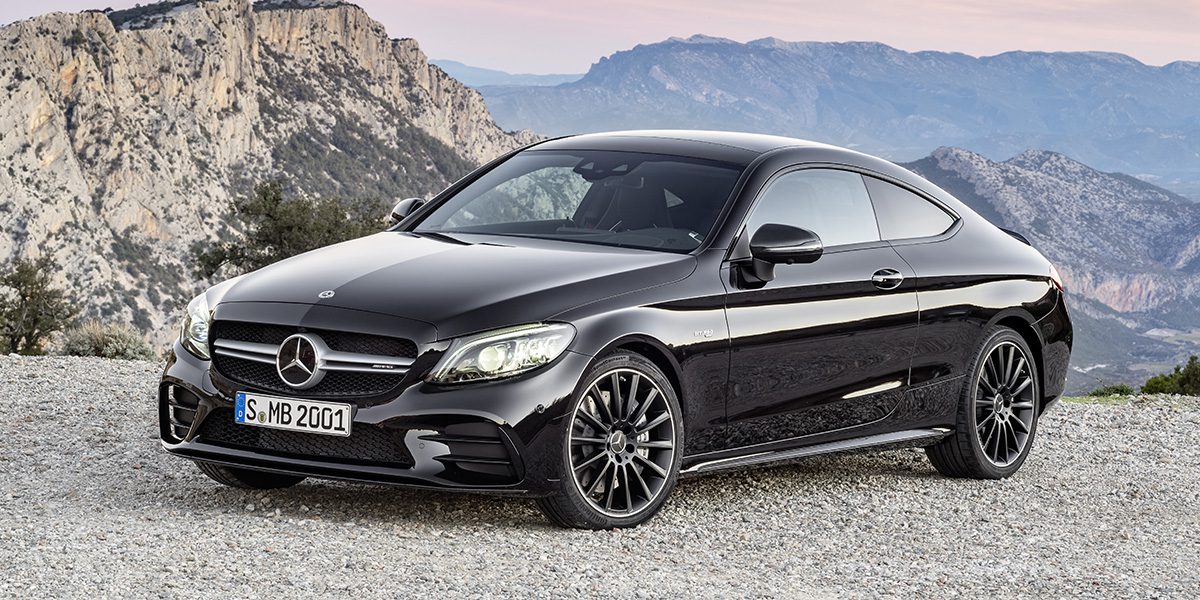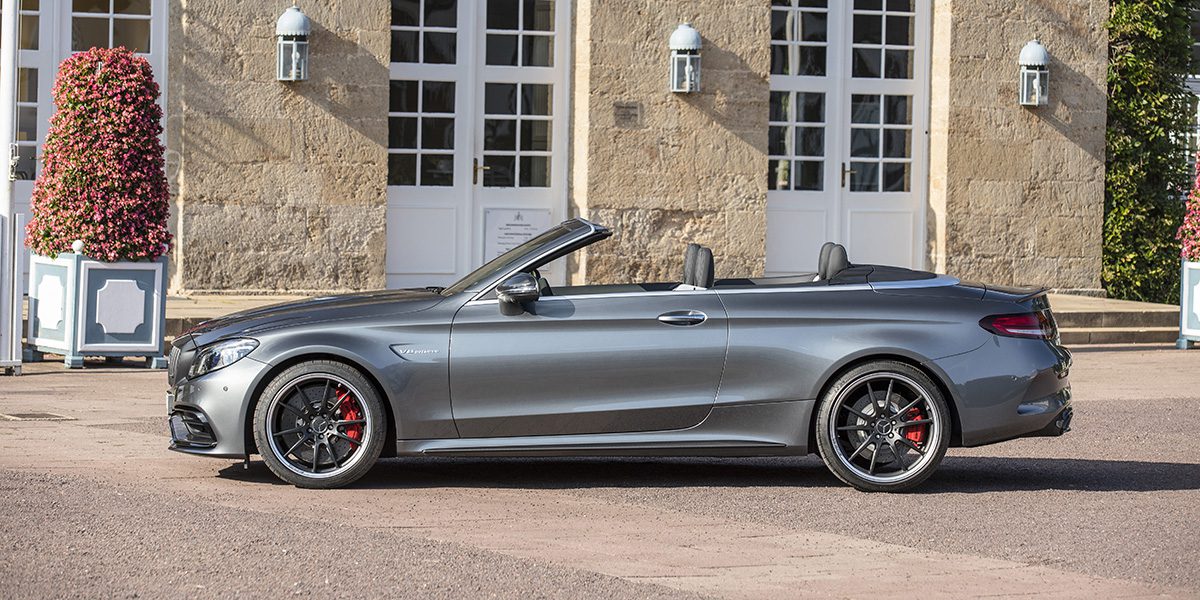 Road Tests and Additional Info