Compact car; Built in Japan
2-door hatchback
4-door wagon
transverse front-engine/front- or 4-wheel drive
Good condition price range: $1,000 – $1,300*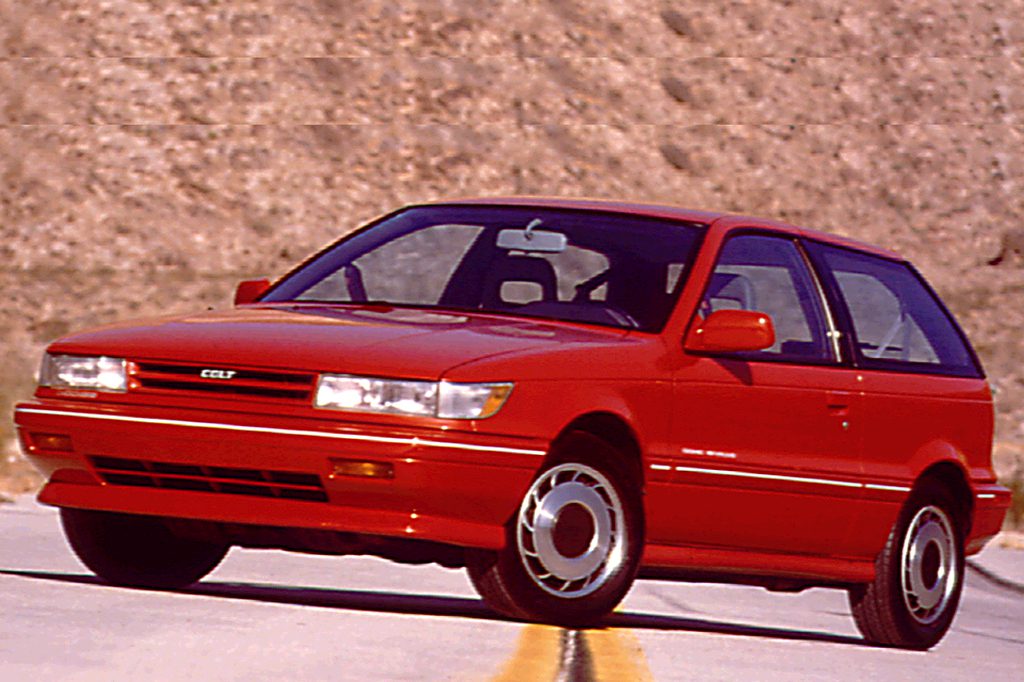 1990 Dodge Colt GT 2-door hatchback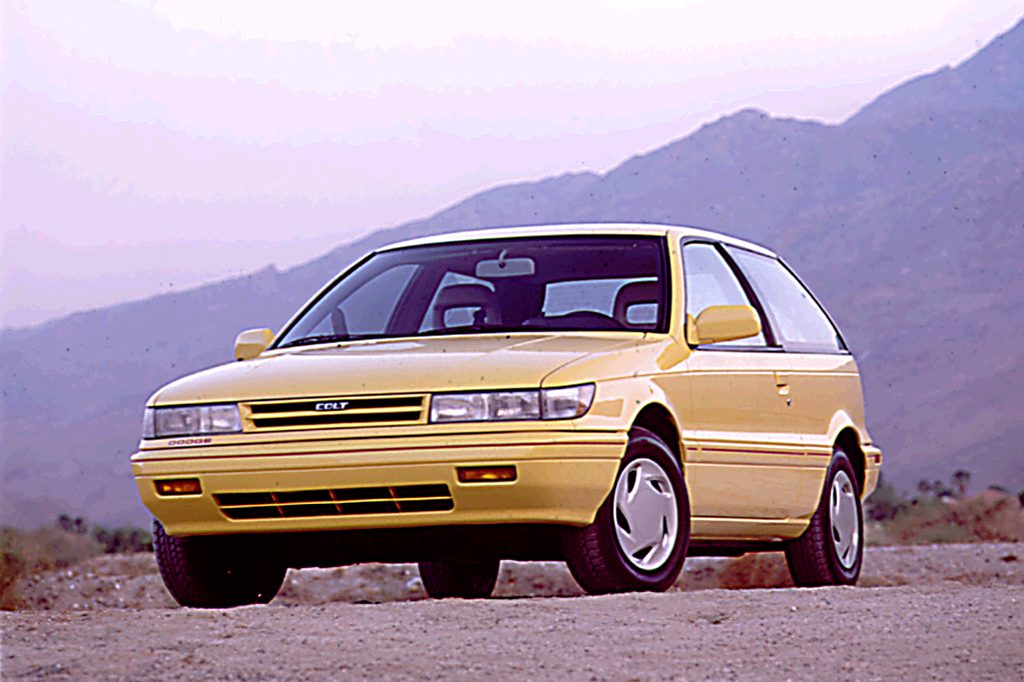 1990 Dodge Colt GT 2-door hatchback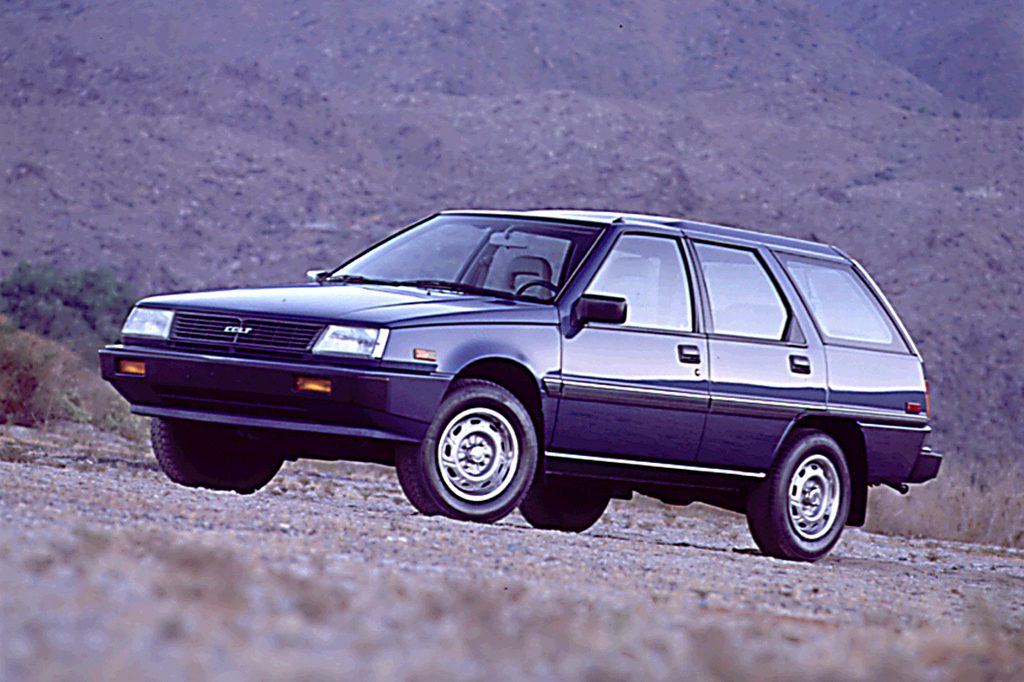 1990 Dodge Colt DL 4-door wagon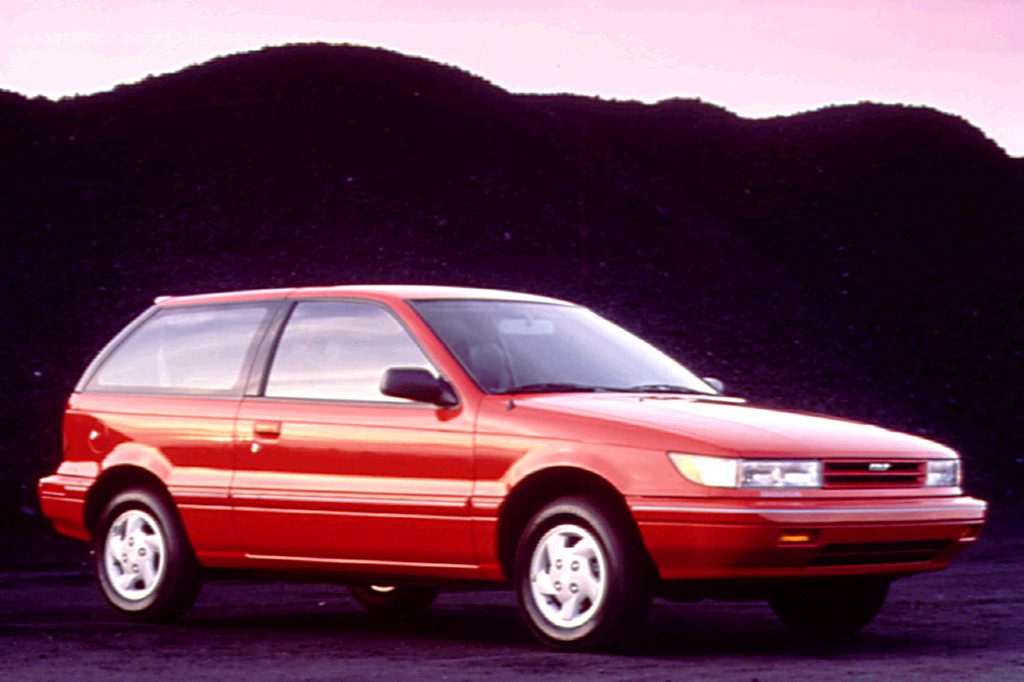 1991 Dodge Colt GL 2-door hatchback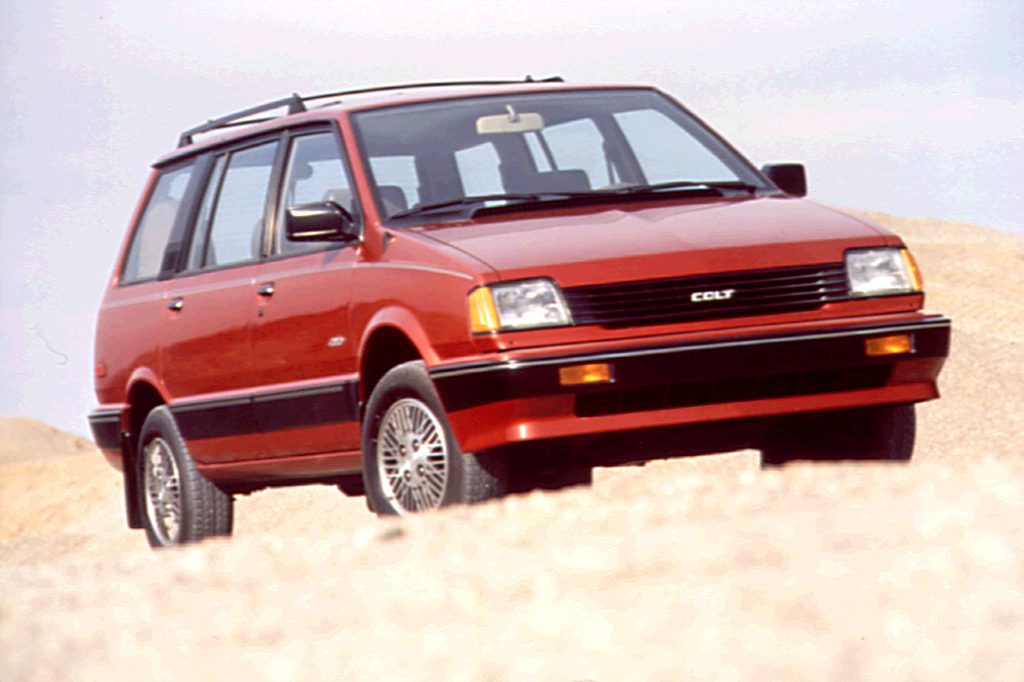 1991 Dodge Colt Vista 4-door wagon
Pros:

Acceleration (dual-cam engine)
Fuel economy
4WD traction (wagon)
Maneuverability

Cons:

Acceleration (w/automatic transmission)
Cargo room (hatchback)
Rear-seat room (hatchback)
Economical and easy to maneuver, Colts are worth a try. These early '90s Colts ranked as "sleepers" in their class–especially the 4WD wagon.
Overview
The 4-door body style had disappeared in 1989, as the Dodge/Plymouth Colt duo took on a new Mitsubishi-built 2-door hatchback form: rounder, longer, wider, and taller. Rear leg room and cargo space grew, and three trim levels were available: base, mid-level GL, and GT. Colts were sold in identical form under the Dodge and Plymouth badges. The closely-related Eagle Summit came only in a 4-door body style, while the Mitsubishi Mirage came as both a 2-door and 4-door. Standard engine on base 2-doors was a 1.5-liter 4-cylinder, making 81 horsepower, with a 4-speed manual gearbox. Colt Gts got a 113-horsepower, 1.6-liter four with a standard 5-speed. All but the base Colt might have an automatic transmission, either 3- or 4-speed, depending on engine. Carried over largely unchanged from the prior generation, the 4-door Colt DL station wagon could have full-time 4-wheel drive. 4WD wagons carried a bigger, 87-horsepower engine (manual shift only), while 2WD wagons had the same 1.5-liter four as the hatchback–but producing 75 horsepower instead of 81. The permanently engaged 4WD system used a center differential with a viscous coupling to split power between front and rear axles as needed to maintain traction. 4WD wagon bodies were raised about two inches to provide additional ground clearance.
Yearly Updates
1991 Colt
For 1991, Colt dropped to a 2-door hatchback only, abandoning the station wagon body and also the GT edition. The basic 1.5-liter 4-cylinder got a horsepower boost to 92 horsepower by virtue of a new 3-valve-per-cylinder design.
1992 Colt
Except for fewer options, Colts changed little this year.