Premium large car; Built in USA
2-door coupe
4-door sedan
transverse front-engine/front-wheel drive
Good condition price range: $1,100 – $1,900*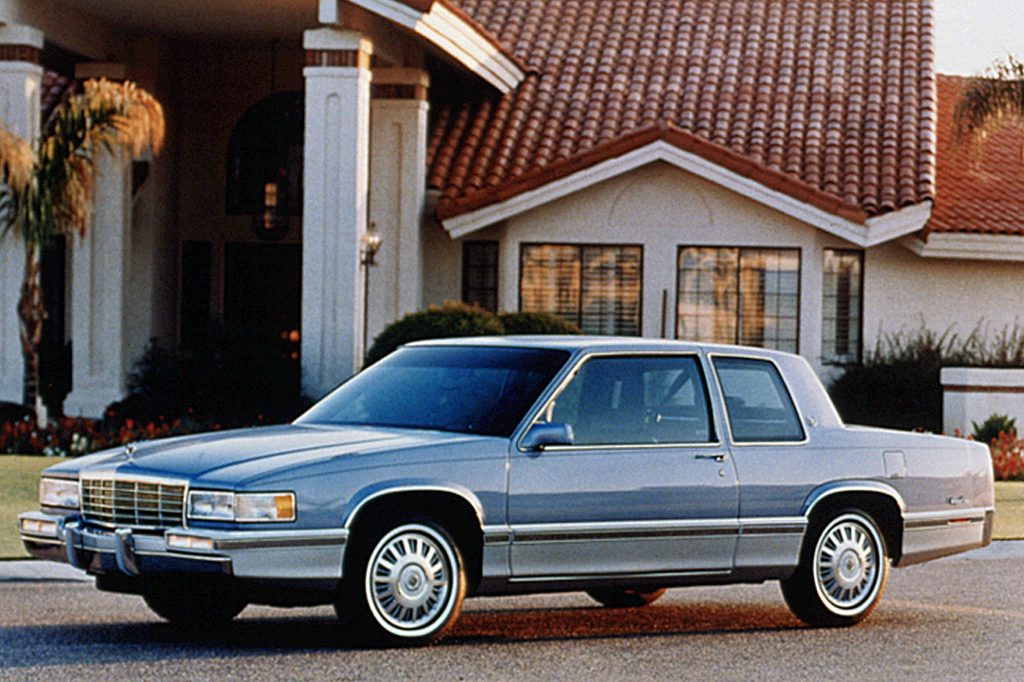 1992 Cadillac Coupe DeVille 2-door coupe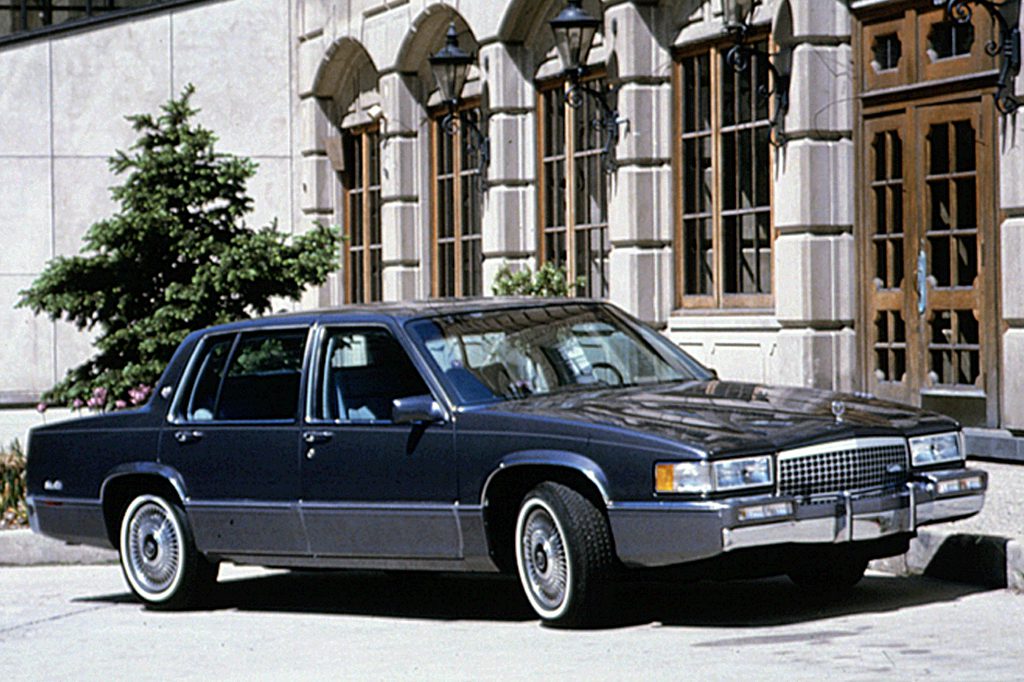 1990 Cadillac Sedan DeVille 4-door sedab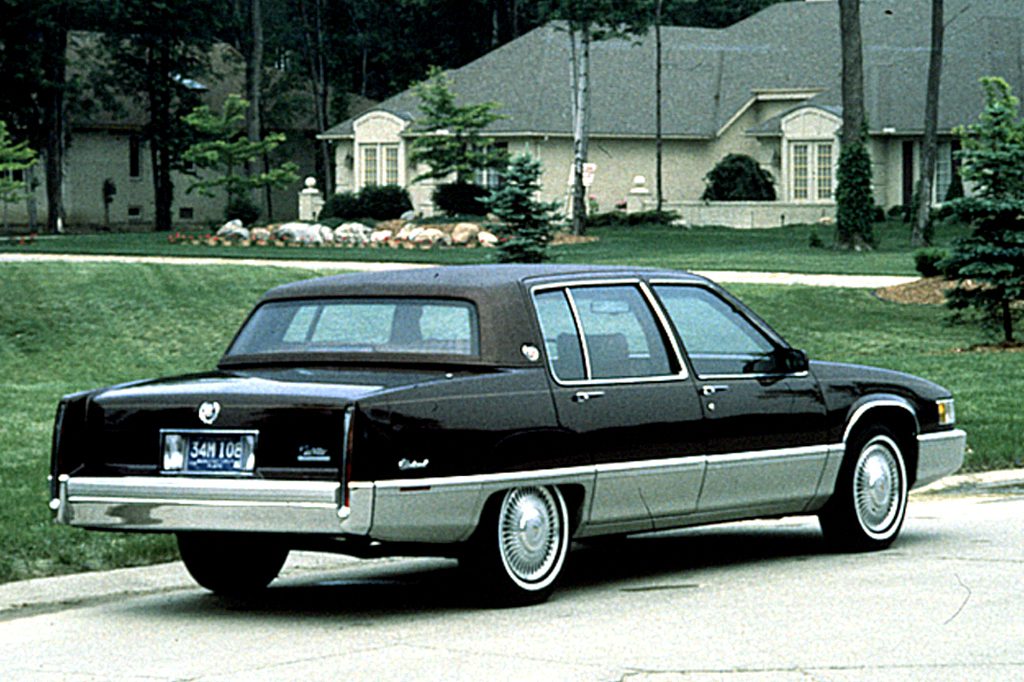 1990 Cadillac Fleetwood 4-door sedan

1992 Cadillac Sedan DeVille Touring Sedan interior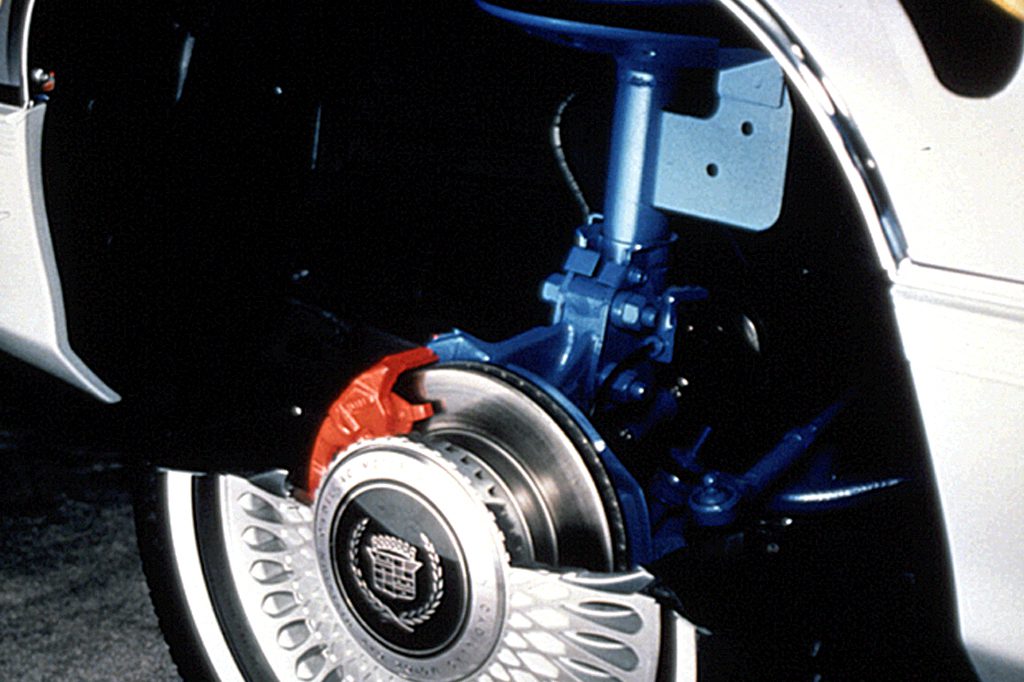 1990 Cadillac DeVille ABS system
Pros:

Acceleration
Antilock brakes
Traction control
Passenger and cargo room
Quietness
Ride
Drivability

Cons:

Fuel economy
Electronic instruments (early models)
Rear visibility
If you're looking for a strong, refined engine plus appealing comfort and a host of convenience features in a full-size front-drive automobile, Cadillac might have just what you seek.
Overview
Restyled in 1989, the DeVille/Fleetwood was two feet shorter than a rear-drive Brougham and carried a transverse-mounted V8 engine. Both 2-door Coupe de Ville and 4-door Sedan de Ville versions were available. Fleetwoods were the plusher variants, while the Fleetwood Sixty Special–only in sedan form–ranked as most luxurious of them all. By 1990, a driver-side airbag was standard. So was GM's "pass-key" theft-deterrent system. Also new for 1990 was a 180-horsepower engine, courtesy of multipoint fuel injection. Antilock braking was standard on Fleetwoods, optional on DeVilles.
Yearly Updates
1991 DeVille/Fleetwood
A new 4.9-liter V8 arrived for 1991, along with an electronically controlled transmission. DeVilles got standard antilock braking. Fleetwoods gained Computer Command Ride (optional on DeVilles) that varies shock damping according to car speed. Cadillacs got a new grille, "power dome" hood, and 15-inch aluminum wheels. EZ-Kool solar-control glass was designed to absorb more ultraviolet and infrared rays. Late in the model year, a DeVille Touring Sedan debuted, with monochrome paint, 16-inch performance tires, quicker-ratio steering, thicker stabilizer bars, and walnut/leather interior trim.
1992 DeVille/Fleetwood
Traction control became optional for 1992. Standard on the Fleetwood and DeVille Touring Sedan, it was optional on other DeVilles. Computer Command Ride was now standard on the Fleetwood and Touring Sedan.
1993 DeVille/Fleetwood
The Fleetwood name was dropped after 1992, transferred to Cadillac's rear-drive model. So, the upmarket model adopted a Sixty Special designation. A new Special Edition option group debuted, with "phaeton" roof and gold trim. All models got speed-sensitive steering. Speed Sensitive Suspension, formerly optional on base models, now was installed across the board. DeVilles were restyled for '94 on a new chassis, with a Northstar V8 engine.