Large pickup truck; Built in USA, Mexico
ext. cab long bed
ext. cab short bed
reg. cab long bed
reg. cab short bed
longitudinal front-engine/rear- or 4-wheel drive
Good condition price range: $1,000 – $2,200*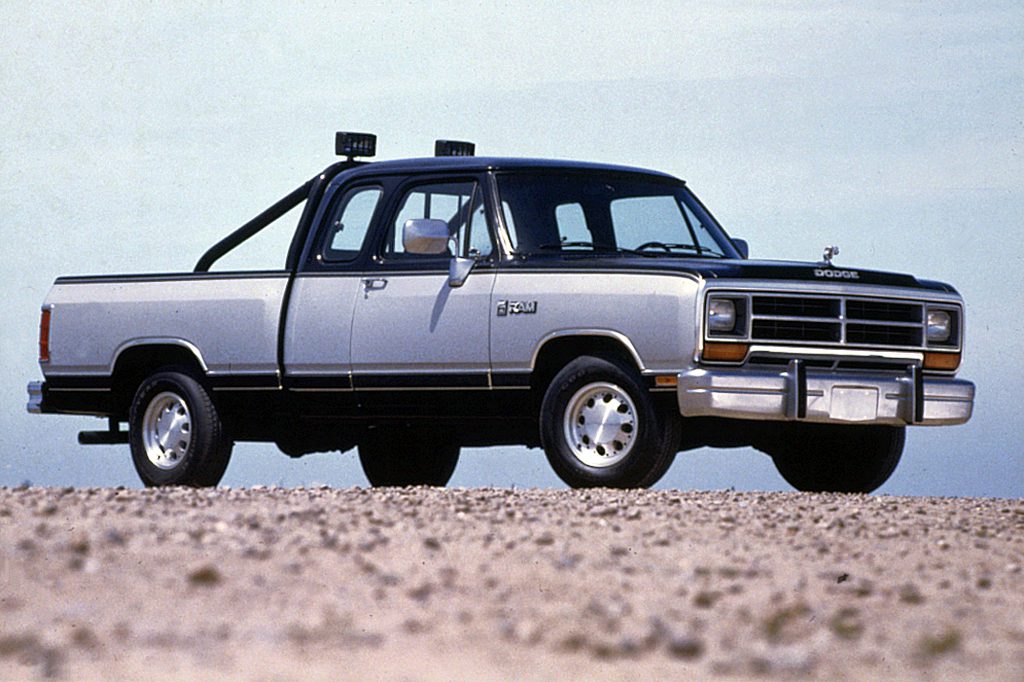 1990 Dodge Ram D150 Club Cab extended cab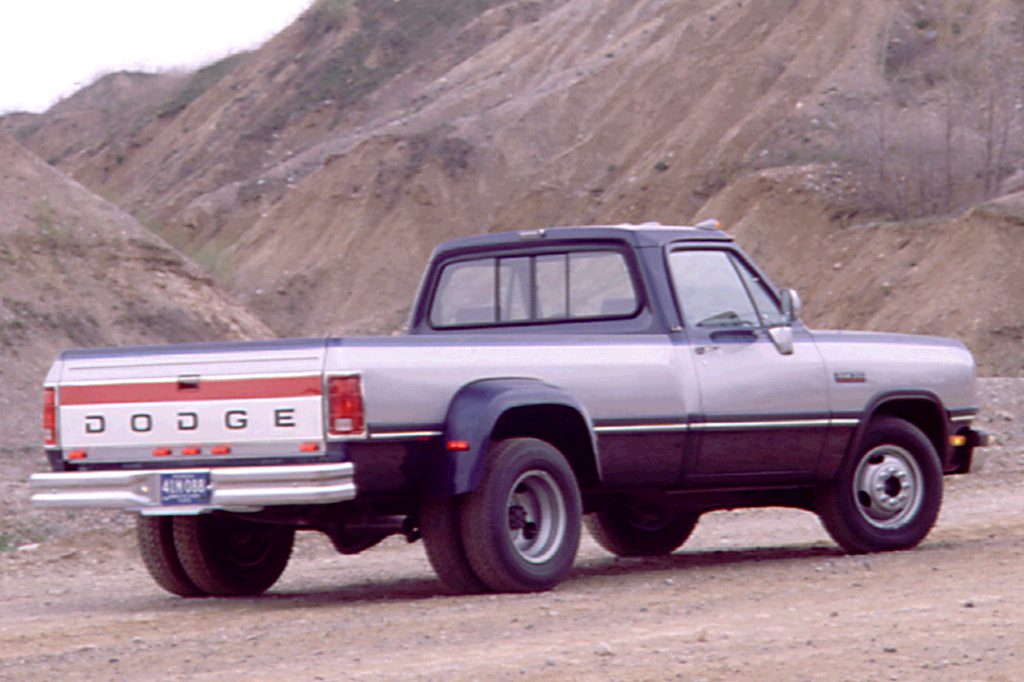 1991 Dodge D350 LE regular cab w/dual rear wheels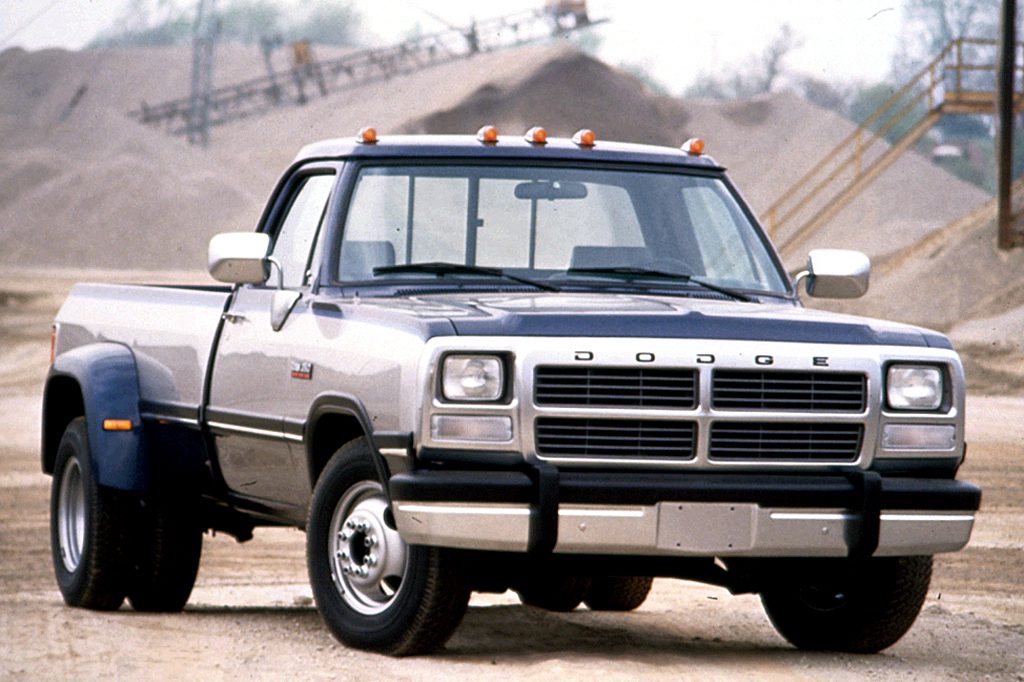 1991 Dodge Ram D350 LE regular cab w/dual rear wheels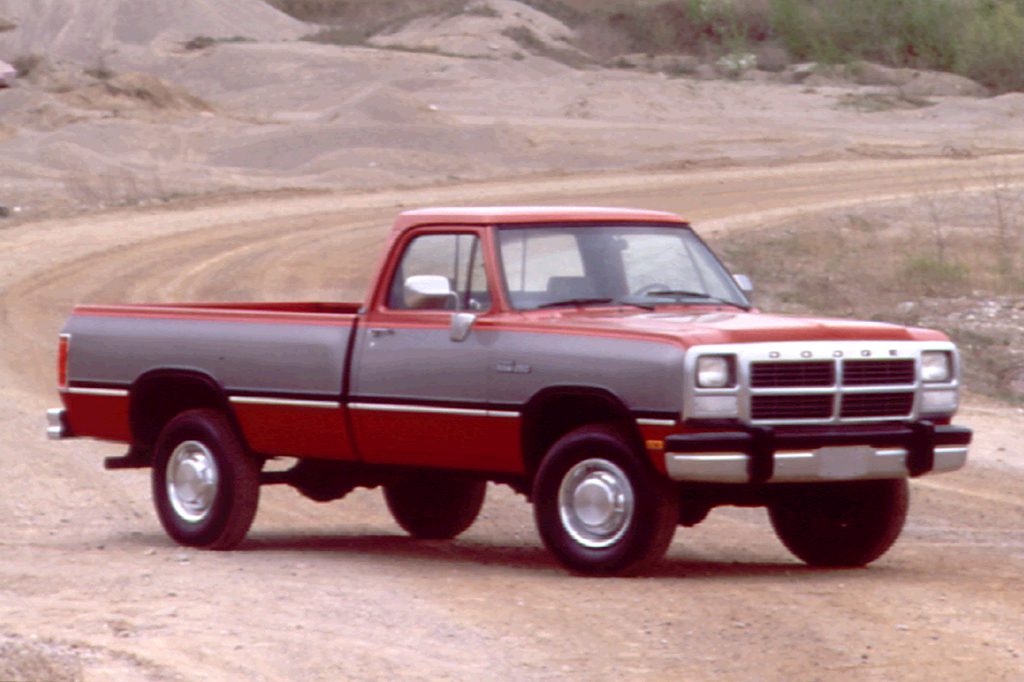 1991 Dodge W250 LE 4WD regular cab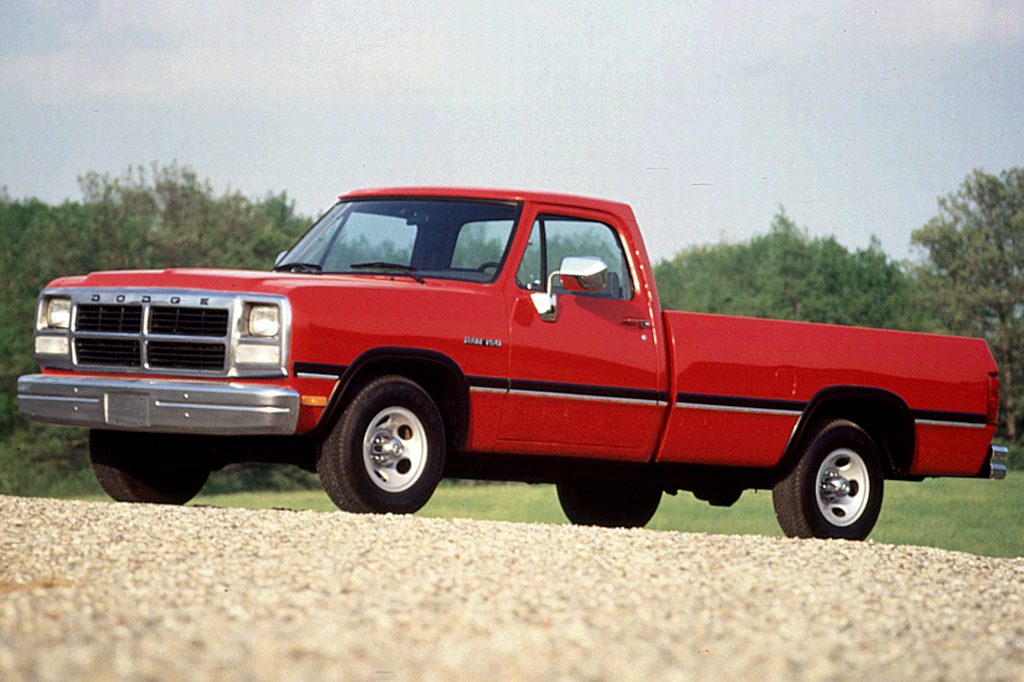 1993 Dodge Ram D150 regular cab
Pros:

Acceleration (V8)
Passenger and cargo room
Trailer-towing capability

Cons:

Acceleration (V6)
Fuel economy
If you need a truck for hard work, look for a Ram. But if leisure activities are your prime consideration, or you prefer a dual-usage vehicle, consider Ford and GM pickups first.
Overview
Full-size, regular-cab Dodge pickups came in two sizes: 115-inch wheelbase with a 6.5-foot cargo bed, and 131-inch with an 8-foot bed. Club Cab models, that were added for 1990 to match Ford and GM rivals, rode a 133-inch wheelbase with the short bed, or 149-inch with the long cargo bed. Two-wheel-drive Rams got a "D" prefix, while 4WD Rams wore a "W" badge. Ram trucks came in three series, which designate payload: 150-series (1/2-ton), 250-series (3/4-ton), and 350-series (1-ton). Regular-cab 150 and 250 models could have the 115- or 131-inch wheelbase, whereas all 350 series regular-cab pickups rode a 131-inch wheelbase. Base engine was a 3.9-liter V6, but most models could get 5.2- or 5.9-liter V8s instead. An optional turbodiesel inline 6-cylinder engine and standard rear antilock brakes had arrived for 1989. Regular-cab trucks came only with a 3-place bench seat. Club Cabs had a standard split-back front bench and side-facing folding rear jump seats.
Yearly Updates
1991 Ram Pickup
A new rear step bumper boosted towing capacity from 3000 to 5000 pounds. Rams wore a new grille with thicker bars and a boldly stamped "Dodge" badge, but the ram's head hood ornament was gone. At mid-year, the Cummins Turbodiesel engine added an intercooler.
1992 Ram Pickup
Gasoline V6 and V8 engines gained power, adopting a "Magnum" designation. The V6 leaped from 125 to 180 horsepower, while the 5.2-liter V8 went from 170 to 230 horsepower.
1993 Ram Pickup
The 5.9-liter gasoline V8 got multi-point fuel injection, jumping from 190 to 230 horsepower and from 292 to 325 pound-feet of torque.