Premium large car; Built in Germany
longitudinal front-engine/all-wheel drive
Good condition price range: $1,500 – $3,200*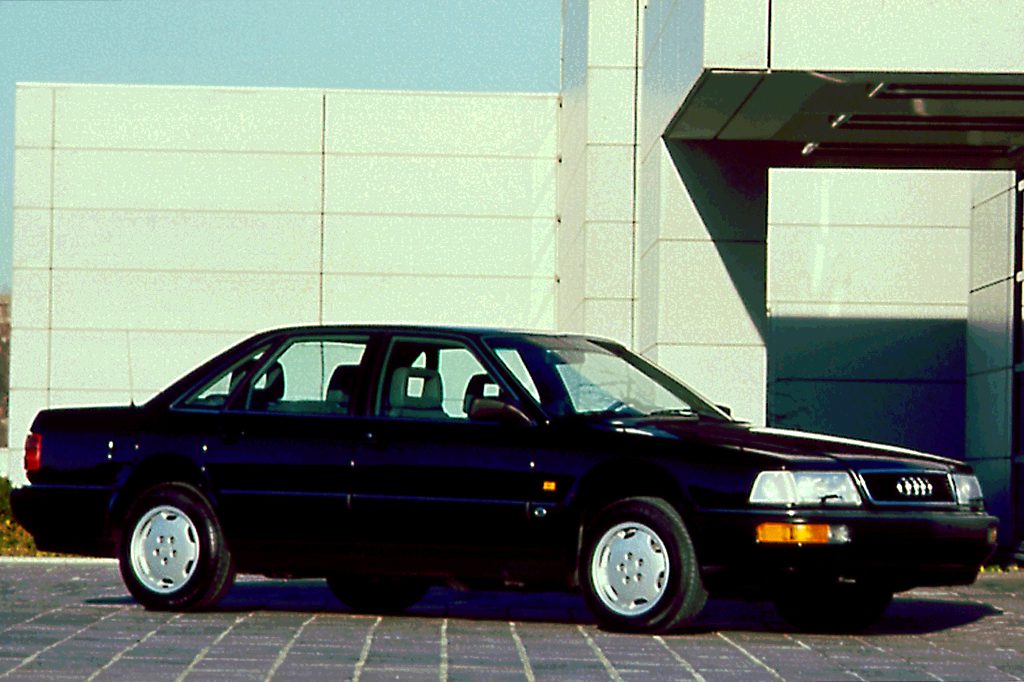 1990 Audi V8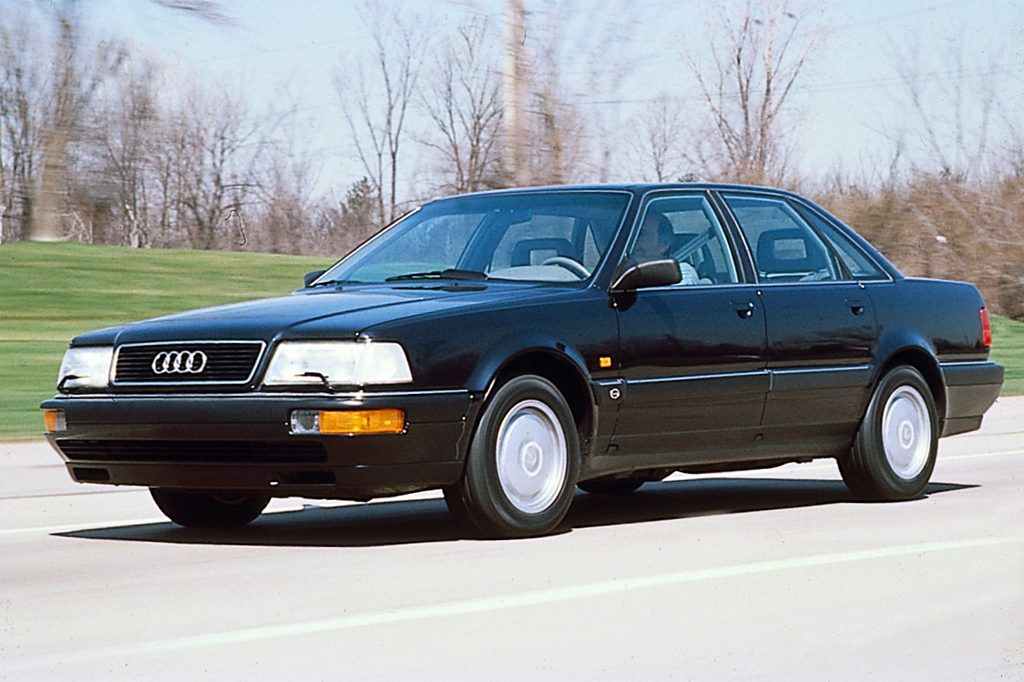 1990 Audi V8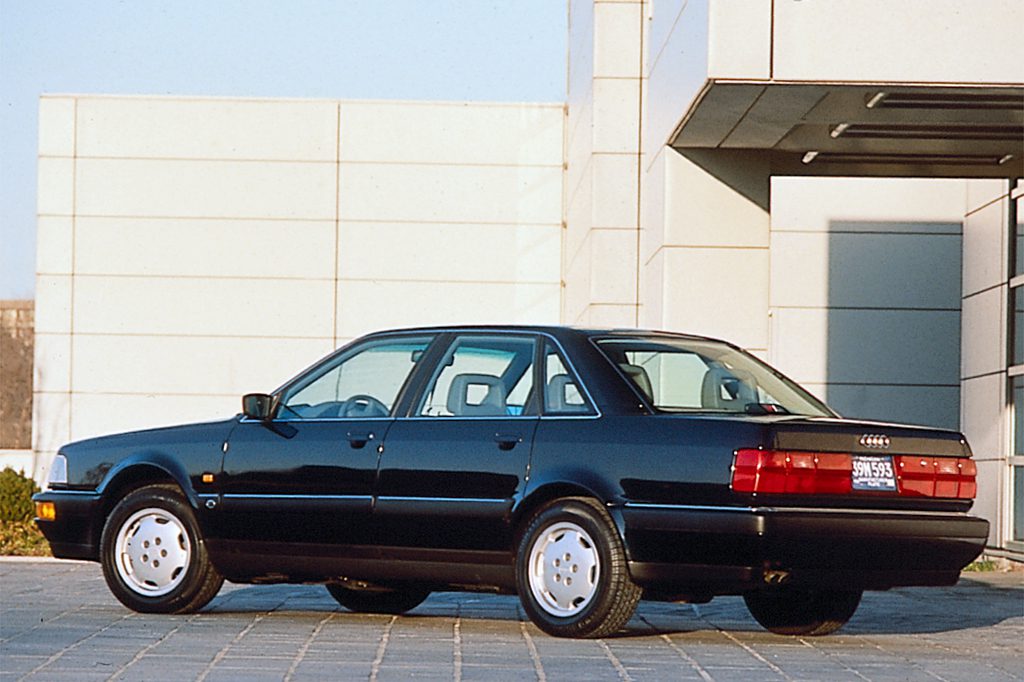 1990 Audi V8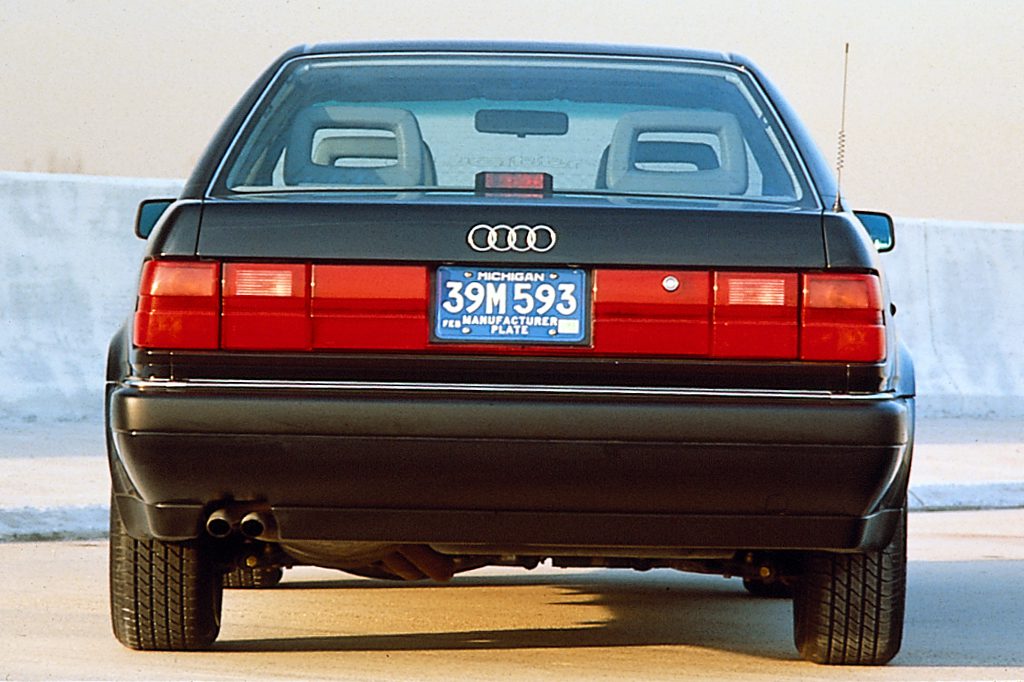 1990 Audi V8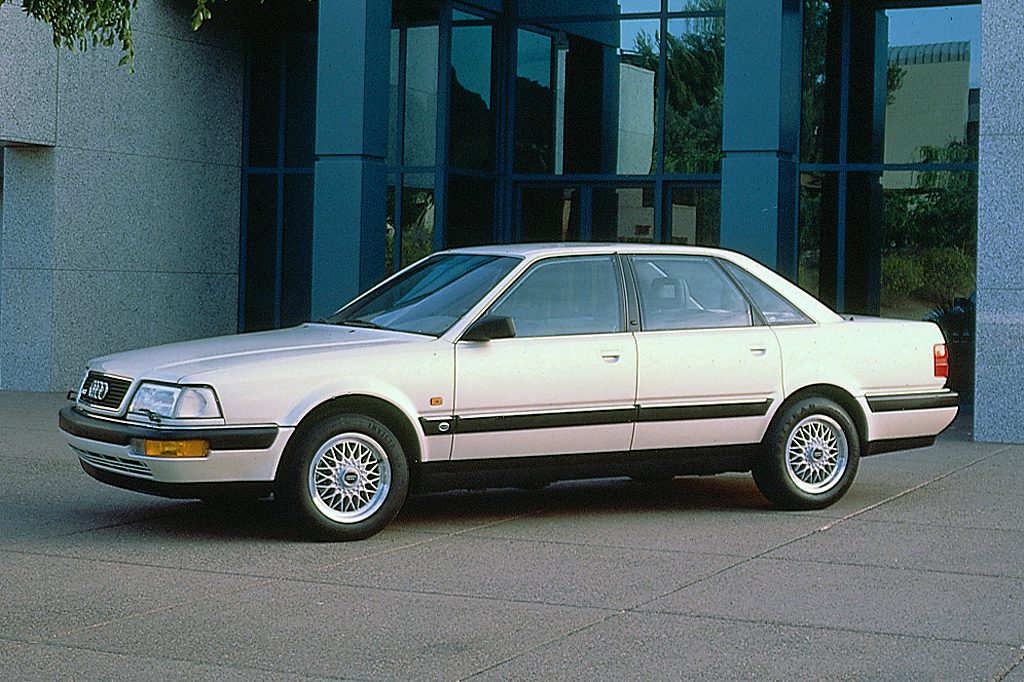 1994 Audi V8 quattro
Pros:

Acceleration
Antilock brakes
Handling/roadholding
AWD traction
Passenger and cargo room

Cons:

Fuel economy
Ride
Road noise
Fast and powerful with the 1992-94 engine, at least, the V8 Quattro boasted nearly every modern safety and comfort feature for its day. What this sedan lacked was an appeal wide enough to generate substantial sales. Prices remain strong even today, but a V8 Quattro can yield a satisfying–if nonfrugal–highway experience.
Overview
On sale in July 1989, Audi's new high-performance luxury "flagship" sedan challenged such logical rivals as BMW, Mercedes-Benz, and Jaguar. Exterior styling resembled Audi's 100/200 series, but only the front and front doors were shared with those models.
Priced at a hefty $47,450, the V8 Quattro held a 240-horsepower, 3.6-liter aluminum V8 engine with dual overhead camshafts and four valves per cylinder. Power went through a 4-speed overdrive automatic transmission to a permanently engaged all-wheel-drive (AWD) system. Normally, engine output was split 50/50 between front and rear axles. When wheel slippage was detected, extra power would be sent to the axle with the greatest amount of traction, giving the best possible chance of getting underway properly. In extreme situations, all the power could temporarily go to either the front or rear, wherever it was most needed.
This was the first Audi Quattro model with an automatic transmission, fitted with three modes: E for higher fuel economy; S for sportier performance; and M for manual operation. An automatic shift lock required that the brake pedal be applied to shift into a drive gear. Standard features included a driver's airbag, antilock brakes, 2-sided galvanized steel body panels, leather upholstery, a Bose sound system, and a cellular phone.
Yearly Updates
1991 V8
A 5-speed manual transmission became available this year, as a no-cost option in place of the standard 4-speed automatic.
1992 V8
A larger engine and a passenger airbag went into the 1992 model of Audi's flagship sedan.
1993 V8
Few changes were evident this season. Only one powertrain was available: the 4.2-liter twin-cam, 276-horsepower V8 engine with 4-speed automatic transmission and permanently engaged 4-wheel drive. The 5-speed manual transmission was gone.
1994 V8
Changes were few for the top-of-the-line Audi's final season in this form. Except for new colors, the only revision was installation of new ellipsoid fog lights within the front fascia. A replacement for the V8 Quattro was expected for 1995, and arrived in 1997 as the A8 series.