Compact car; Built in Japan
2-door coupe
4-door sedan
transverse front-engine/front- or 4-wheel drive
Good condition price range: $1,000 – $1,400*

1990 Subaru Justy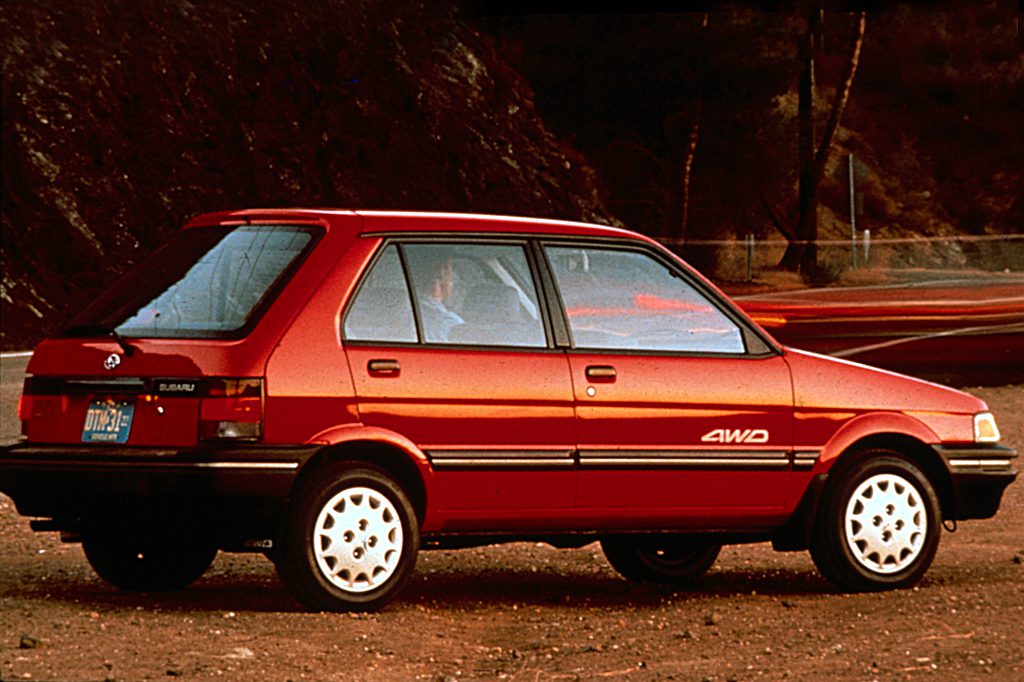 1991 Subaru Justy ECVT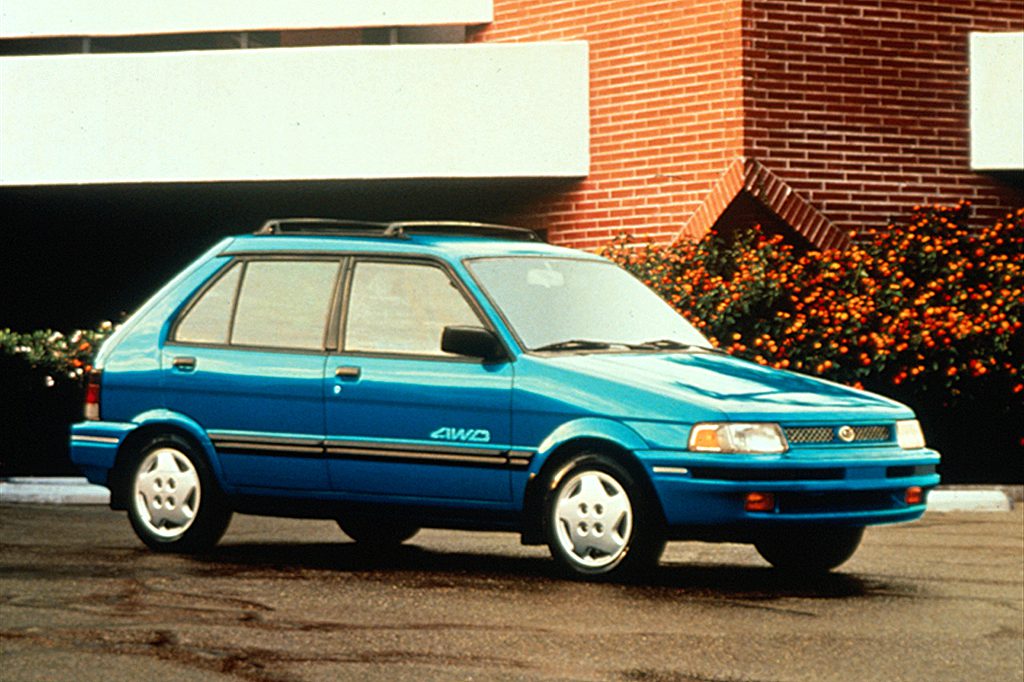 1993 Subaru Justy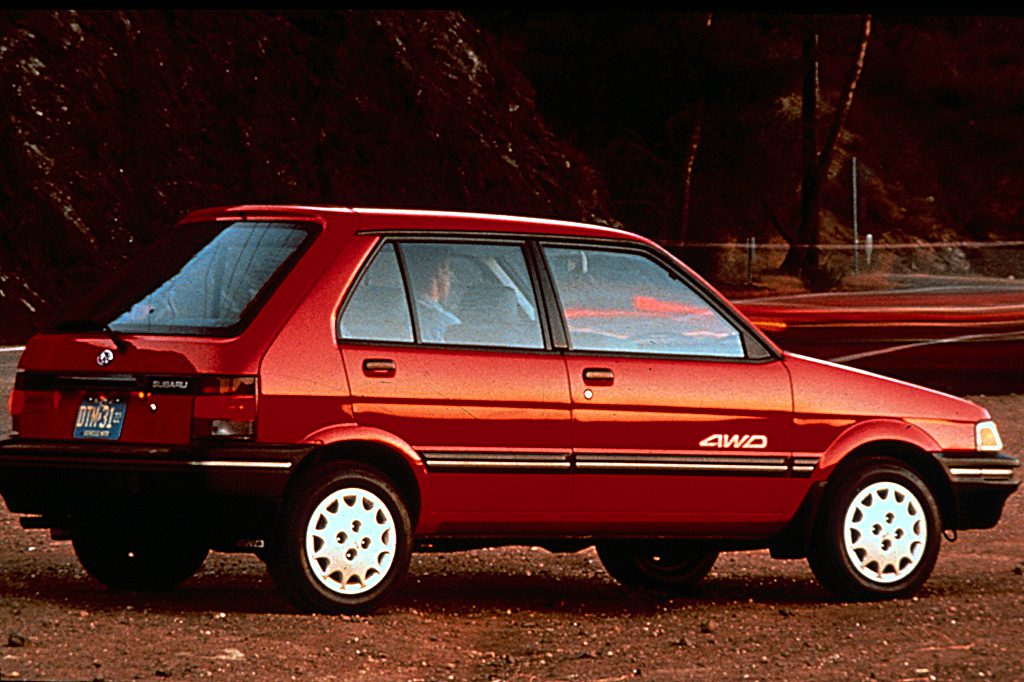 1992 Subaru Justy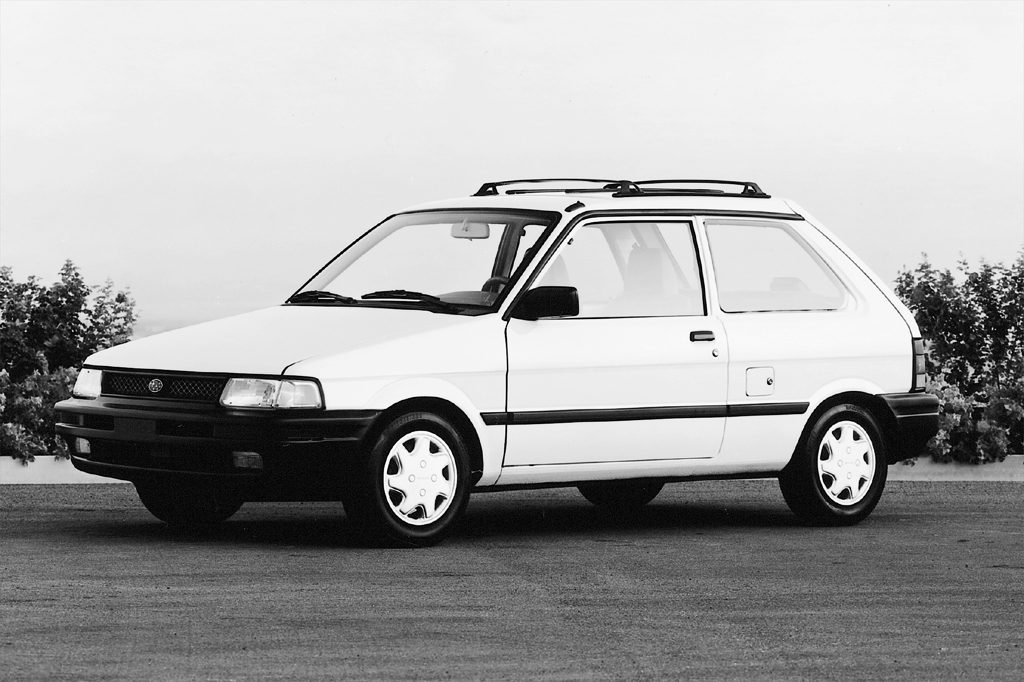 1994 Subaru Justy
Pros:

Fuel economy
4WD traction (GL)
Maneuverability

Cons:

Entry/exit
Noise
Rear-seat room
Ride
Apart from the ECVT unit, Justy is typical of low-priced minicompacts in most categories. With the exception of the 4WD GL, for a combination of low price and high fuel economy, other models would probably be more suitable, including the Ford Festiva and its 1994 Aspire replacement.
Overview
Through its lifespan, Subaru's minicompact was perhaps best known for its available electronically controlled variable-transmission. Dubbed ECVT, it offered an infinite spread of gear ratios. Although the basic idea had surfaced decades earlier, and was used on the Dutch-built DAF in the 1960s, Subaru was unique for offering it in the U.S. market at this time.
Introduced in early 1987, the Justy initially came only as a 2-door hatchback. A 4-door hatchback joined for 1990, on the same 90-inch wheelbase. Both came with either front-wheel drive or on-demand 4-wheel drive.
All models except the base Justy got a 73-horsepower fuel-injected engine for 1990, instead of the carbureted 66-horsepower 3-cylinder. Fuel-injected models got a new intermediate front driveshaft to help reduce "torque steer." A new "Fun Justy" appearance package was introduced for the 2-door model.
Having debuted in 1989, the ECVT unit was now available on 4WD models as well as those with front-drive. With ECVT, a metal belt connects two pulleys that continuously vary the ratio of engine speed to driveshaft speed. Operation can be described as similar to a dimmer switch, as opposed to a 3-way light switch. Justy also was available with an ordinary 5-speed manual transmission.
Yearly Updates
1991 Justy
After only a year in the lineup, the "Fun Justy" appearance package faded away. Otherwise, Subaru's smallest model was little-changed. As before, the 2-door hatchback came in base or GL trim, while the 4-door hatchback was offered only as a GL. Displaying new interior fabric and color-keyed bumpers, the GL could be equipped with optional 4-wheel drive and the ECVT transmission.
1992 Justy
No significant changes were evident on the 1992 models.
1993 Justy
Only one engine was offered this year, as the base model adopted Subaru's fuel-injected 73-horsepower 3-cylinder unit. Cloth seats replaced vinyl upholstery in the base model.
1994 Justy
Justy lost its innovative ECVT transmission for its final season on the market, leaving only conventional 5-speed manual shift. The lineup was trimmed to just two models: a base front-drive 2-door and an upscale 4-door GL with 4-wheel drive, which was activated by pressing a gearshift-mounted button. The base model gained a standard rear defroster and full wheel covers. Justy stuck with motorized seatbelts, rather than an airbag, to meet federal safety requirements.