Compact pickup truck; Built in USA, Japan
longitudinal front-engine/rear- or 4-wheel drive
Good condition price range: $1,000 – $3,200*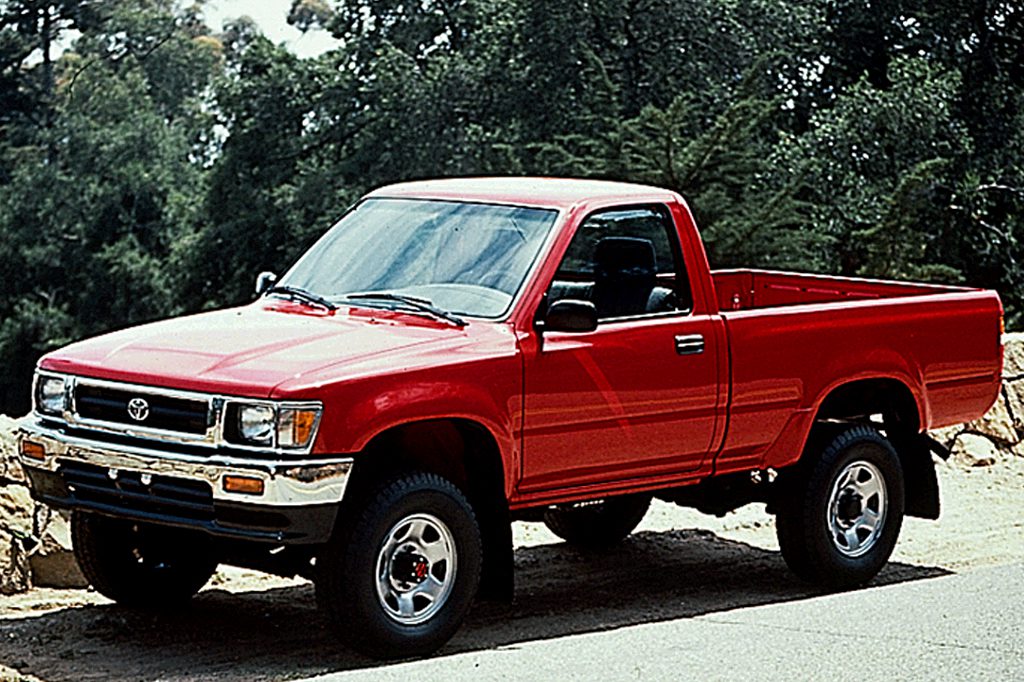 1992 Toyota Pickup DLX 4WD regular cab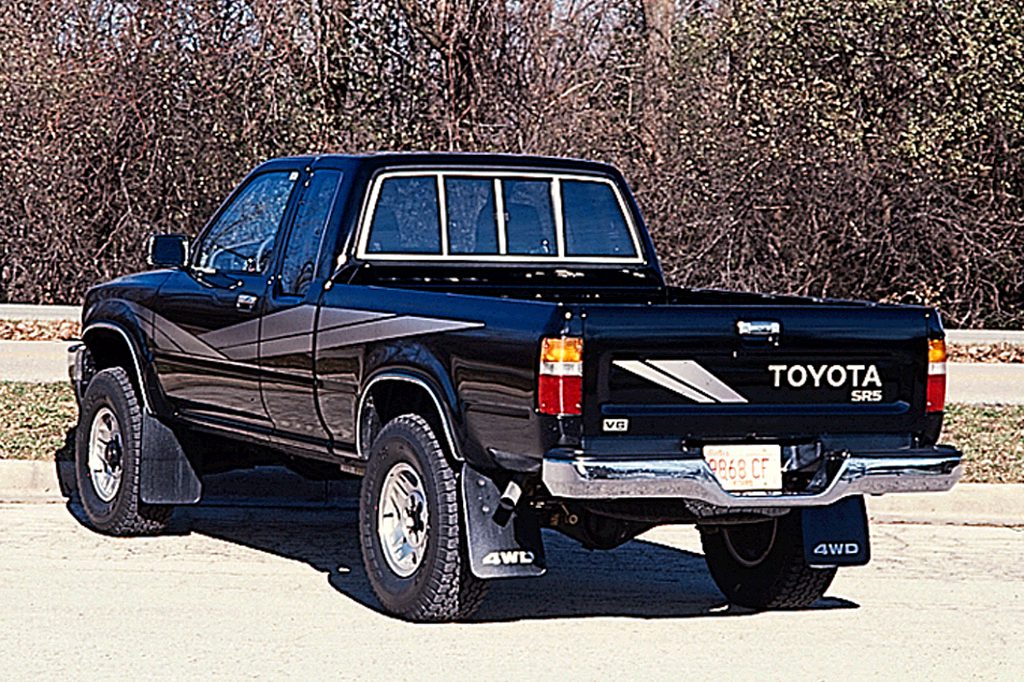 1990 Toyota Pickup 4WD Xrtacab extended cab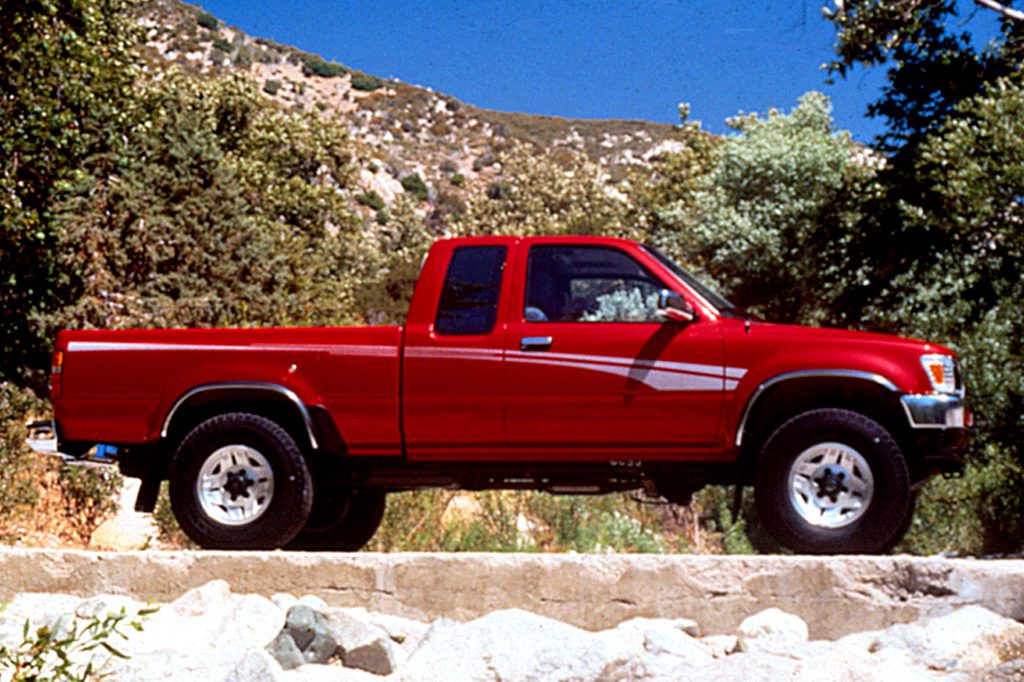 1994 Toyota Pickup 4WD Xrtacab extended cab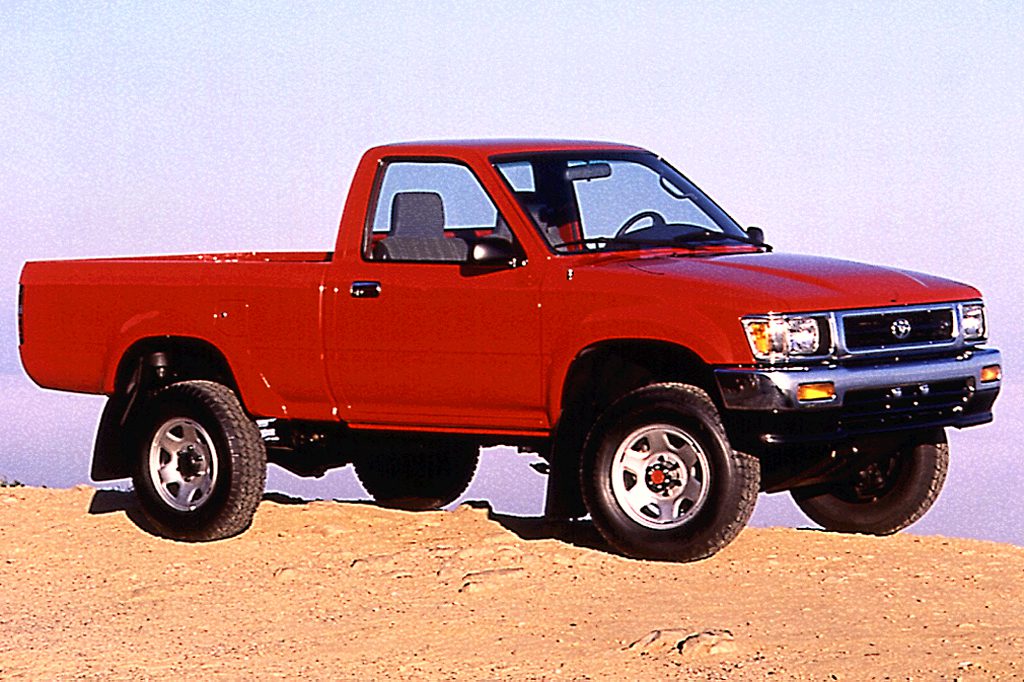 1993 Toyota Pickup 4WD regular cab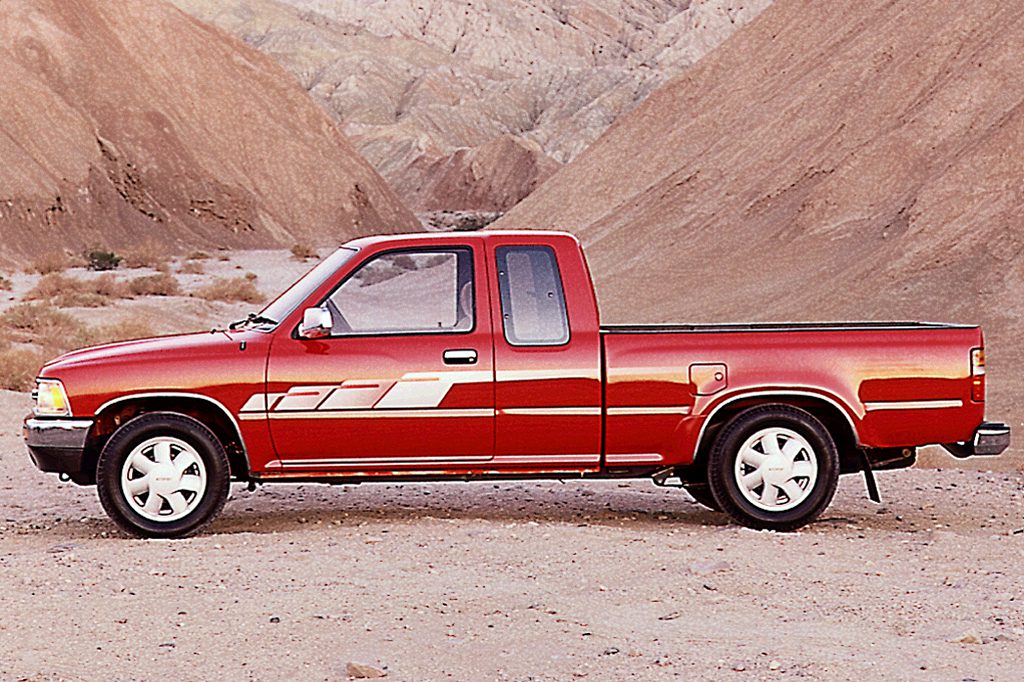 1991 Toyota Pickup Xrtacab extended cab
Pros:

Acceleration (V6)
Reliability

Cons:
While payload and towing capacities are better than the Japanese norm, they don't quite measure up to the domestics. When comparison shopping, Toyota may have an advantage in the fact they have perceptibly higher quality of workmanship, which might offset possible higher prices.
Overview
Compact Toyota pickups gained a restyling for 1989, with shift-on-the-fly part-time 4-wheel drive and rear antilock brakes. The new ABS system was standard on SR5 V6 models, optional on SR5 4-cylinder pickups. Standard powerplants in 1990 included both a fuel-injected and carbureted 2.4-liter 4-cylinder engine, plus an available 150-horsepower 3.0-liter V6. The two 4-cylinder engines provided 102 horsepower and 116 horsepower, respectively. Standard on SR5 V6 models and optional on Xtracab Deluxe pickups was the 3.0-liter V6. The carbureted engine offered a 4-speed manual gearbox, while the other two came standard with a 5-speed manual, with an available 4-speed overdrive automatic.
Yearly Updates
1991 Pickup
For '91 rear-wheel antilock brakes continue as standard on the SR5 models, but are optional on all other Toyota pickups. Standard on the SR5 V6 4×4–and newly optional on all of Toyota's 4WD pickups for '91–is a system the automaker calls 4WDemand. This system has automatic-locking front hubs. Shifting a floor-mounted transfer-case lever engages the front differential and drive shafts, permitting shift-on-the-fly between 2WD and 4WD High at any speed up to 50 mph. Gone for '91 is the carbureted 102-horsepower 2.4-liter 4-cylinder engine.
1992 Pickup
All models get a new front valance panel and a new grille that incorporates the Toyota logo; grilles continue to differ slightly between 2WD and 4WD models. Also added this year is a dashboard storage compartment below the radio.
1993 Pickup
Toyota shelves the heaviest-duty versions of its compact pickup in deference to its new T100 midsize truck and juggles some equipment on the remaining models. Gone for '93 is the long-bed 4WD model; all other models remain available with 2- or 4-wheel drive. Also dropped from the lineup is the 2WD long-bed workhorse, the One Ton model. It had a payload of 2520 pounds, just 50 pounds less than the new 2WD T100's One Ton. Also, new exterior graphics are added and cruise control is no longer available on the 2WD DX. Finally, the 4WD SR5 V6 now has 31-inch tires only when alloy wheels are ordered.
1994 Pickup
Toyota's line of compact pickups return for '94 without a long-bed body style, but with new safety features for the remaining regular cab and extended cab models. New safety features include side door-guard beams and a center high-mount stoplight, both now required on pickups.