Large pickup truck; Built in USA, Mexico, Canada
ext. cab long bed
ext. cab short bed
reg. cab long bed
reg. cab short bed
longitudinal front-engine/rear- or 4-wheel drive
Good condition price range: $1,000 – $5,000*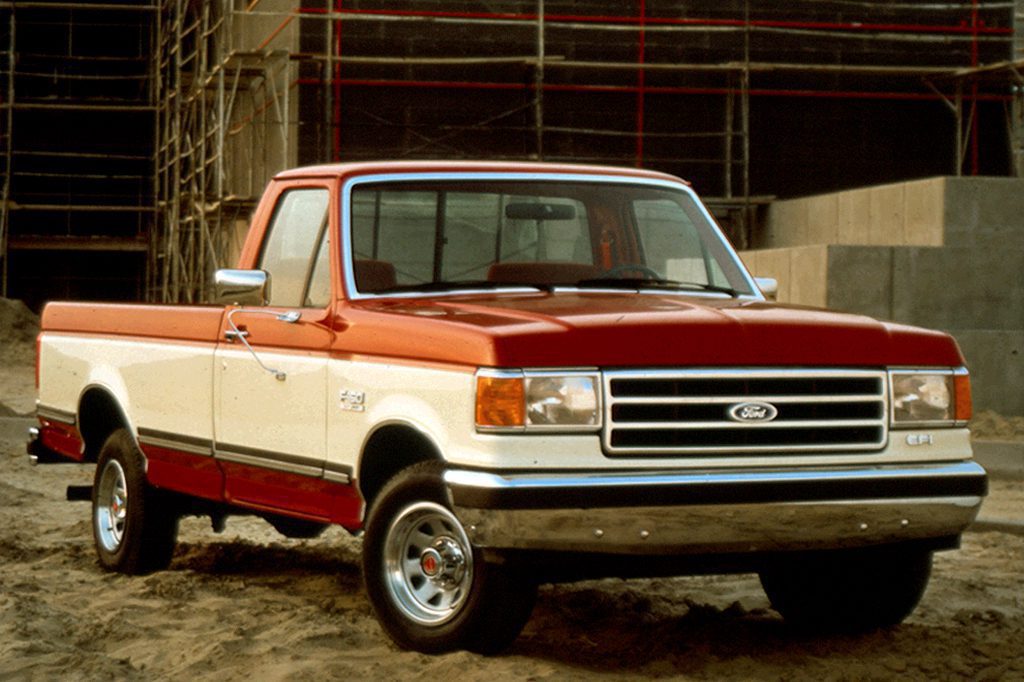 1990 Ford F-150 regular cab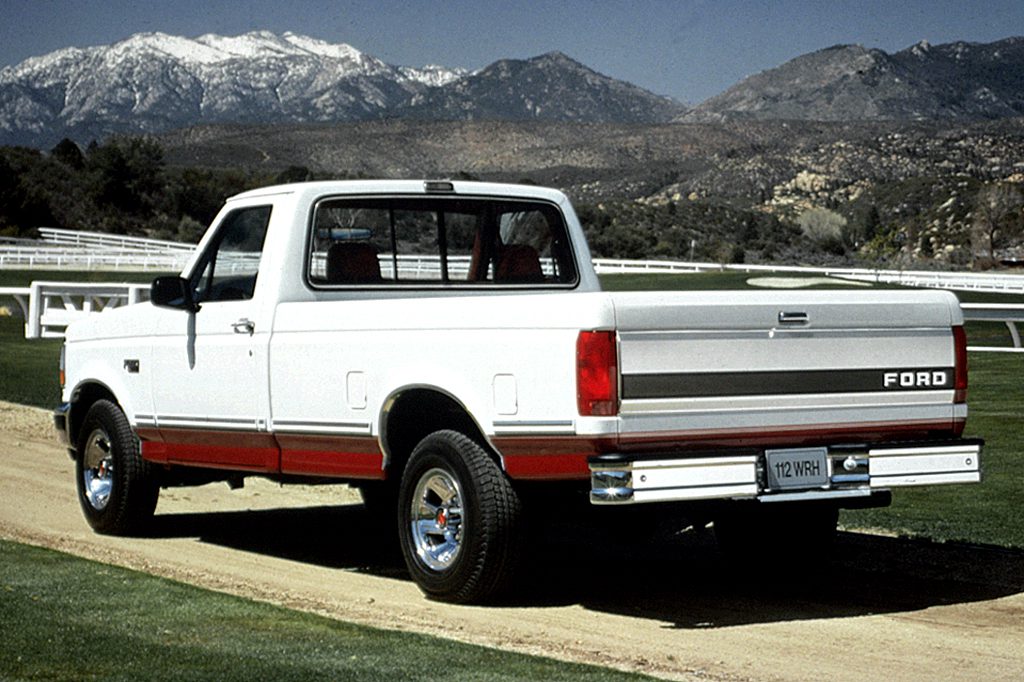 1992 Ford F-150 Lariat regular cab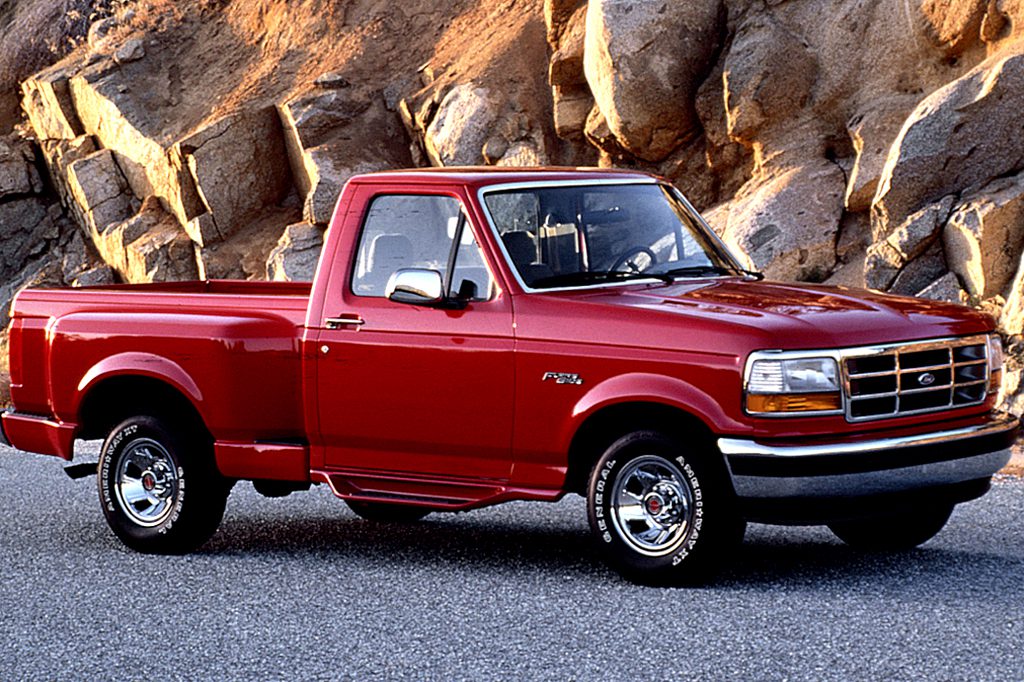 1994 Ford F-150 Flareside regular cab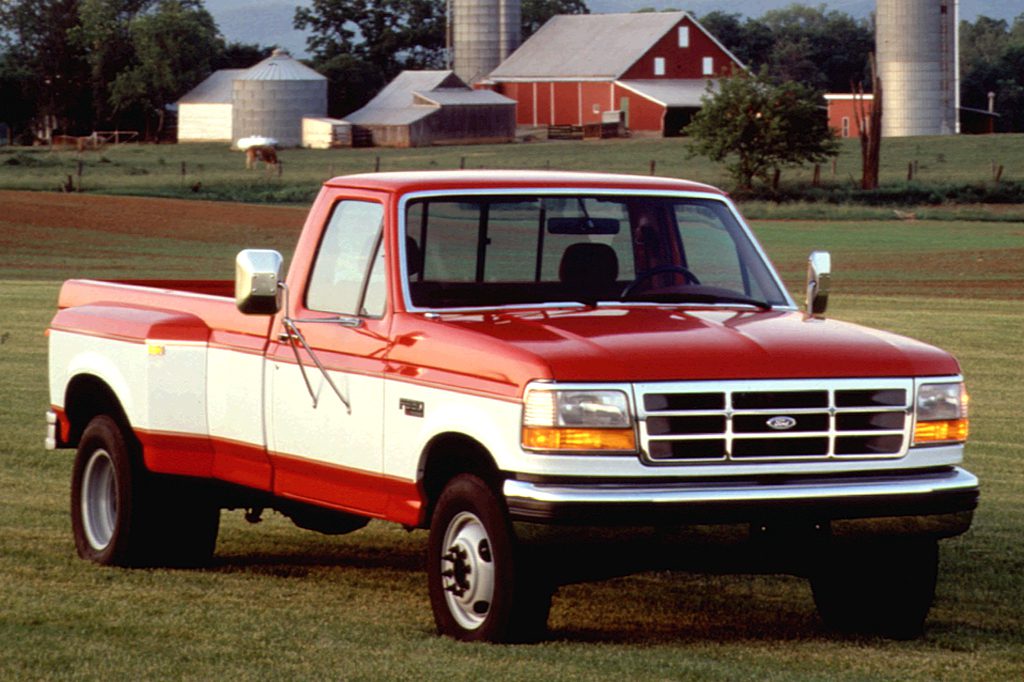 1995 Ford F-350 regular cab w/dual rear wheels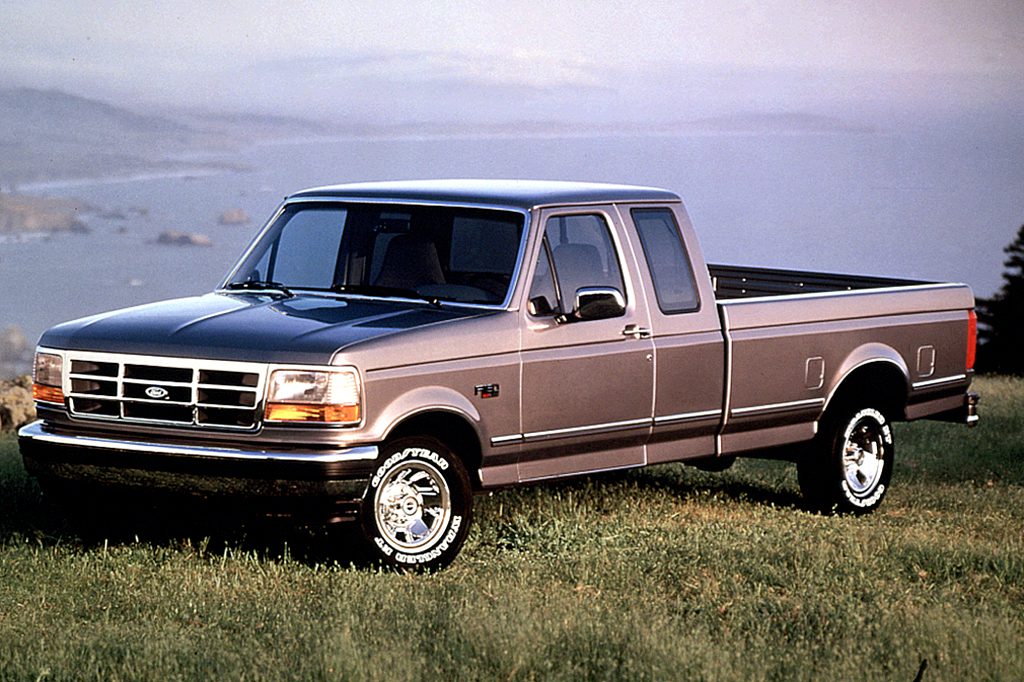 1996 Ford F-150 SuperCab extended cab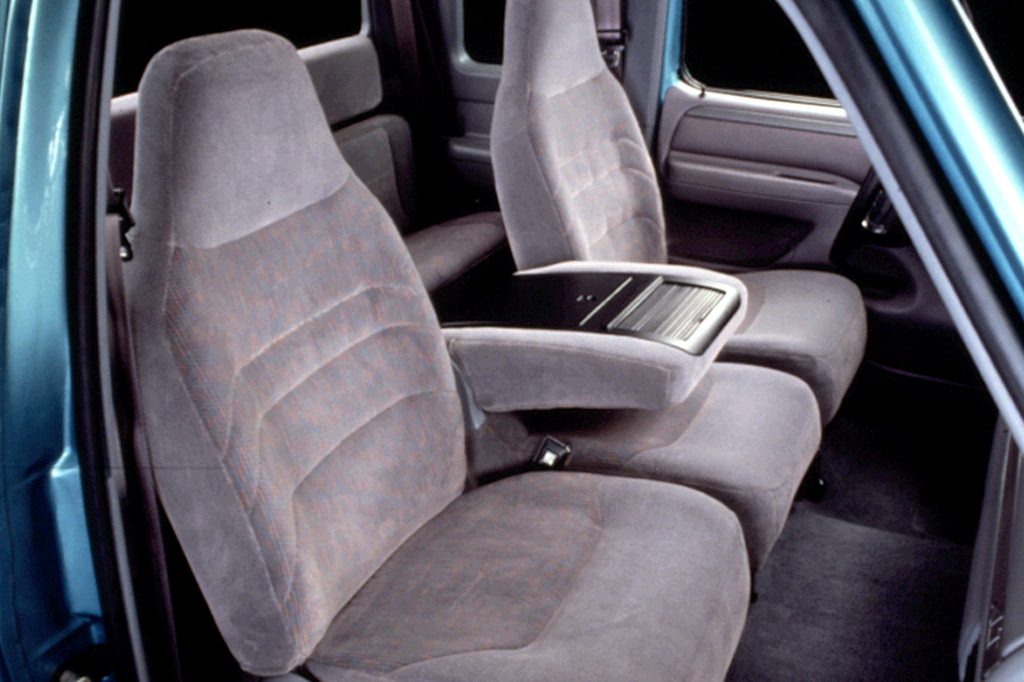 1994 Ford F-150 XLT interior
Pros:

Acceleration (V8)
Passenger and cargo room
Trailer-towing capability

Cons:

Fuel economy
Handling
Interior storage space
Noise
If you're in the market for a pickup in this league, also look at the Chevrolet C/K and Dodge Ram. But we put the F-Series at the top of our list in terms of room, power, payload, and trailer-towing ability.
Overview
Introduced for 1980, Ford's full-size pickups came in three series: F-150 for 1/2-ton capacity; F-250 for 3/4-ton; and F-350 for 1-ton. An F-250 Heavy Duty model also was available. Ford had dropped Flareside trucks with flared rear fenders in 1988, so all F-Series models were called Styleside. The short-bed F-150 had a 116.8-inch wheelbase and 6 3/4-foot cargo bed. A long-bed regular cab rode a 133-inch wheelbase, holding an 8-foot cargo bed. SuperCabs rode a 138.8-inch wheelbase with a 7-foot bed, or 155-inch with an 8-foot bed. Base engine was a 4.9-liter inline six, with a selection of V8 options. Antilock rear braking was standard. Available 4-wheel drive was an on-demand, part-time system. Automatic-locking hubs were phased-in starting in 1989 on F-150 models. Bench seats were standard, and SuperCabs had a folding rear bench. Front captain's chairs were optional, while SuperCabs might have rear jump seats.
Yearly Updates
1991 F-150/250 Pickup
A new "Nite" option package for the F-150 went on sale this year, and the F-Series saw several powertrain changes. Automatic-locking front hubs became standard on F-250 and F-350 4x4s. A Touch Drive (pushbutton) electronic transfer case became available during the year for F-150 4WD models.
1992 F-150/250 Pickup
Ford gave the F-Series a front-end facelift with rounded nose and broader grille, plus a new dashboard. Ford also revived the Flareside (rear-fendered) model in the short-bed F-150 series.
1993 F-150/250 Pickup
A high-performance Lightning model joined in 1993 with a modified 240-horsepower 5.8-liter V8. It's an F-150 2WD regular-cab Styleside short-bed, featuring a lowered sport suspension and 17-inch tires on alloy wheels, among other extras.
1994 F-150/250 Pickup
A driver-side airbag went into 1994 models with a gross vehicle weight below 8500 pounds.
1995 F-150/250 Pickup
A new 7.3-liter turbocharged diesel engine became available, replacing the regular diesel V8.
1996 F-150/250 Pickup
The F-150 lost its SuperCab body and Flareside cargo box this year. An all-new, more rounded F-150 arrived in January 1996 as an early '97 model.