Sporty/performance car; Built in Japan
longitudinal front-engine/rear-wheel drive
Good condition price range: $1,600 – $4,400*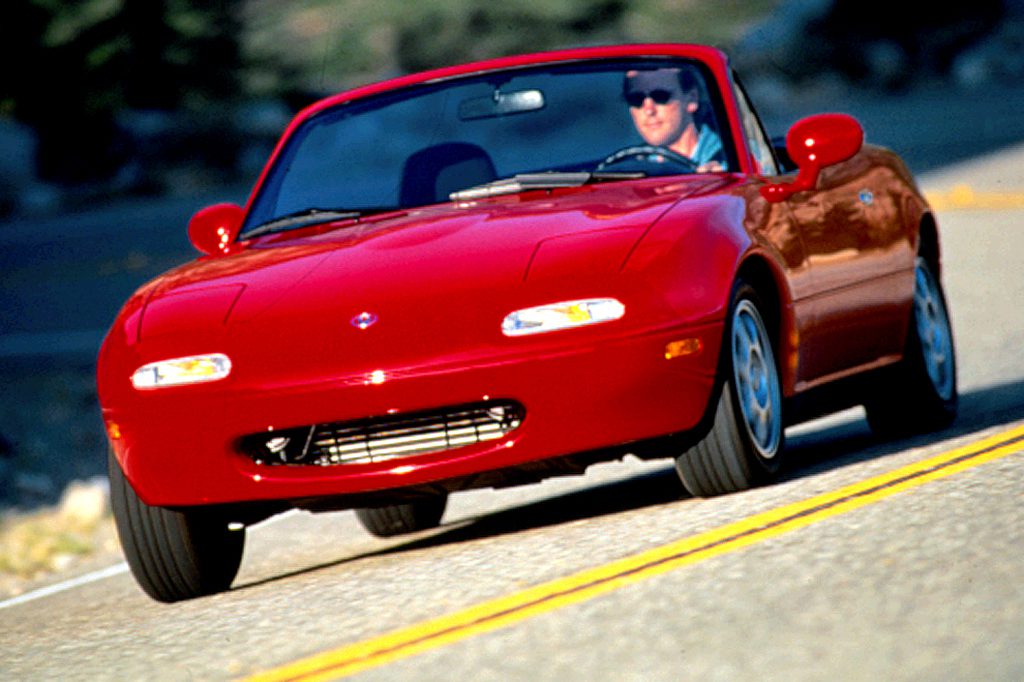 1996 Mazda Miata MX-5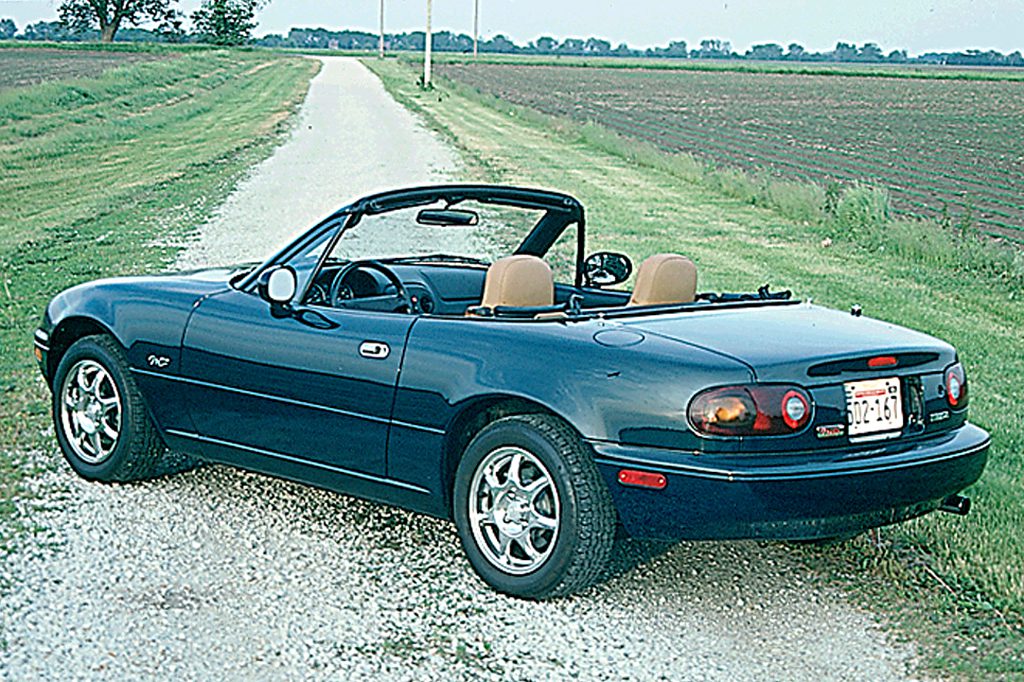 1994 Mazda Miata MX-5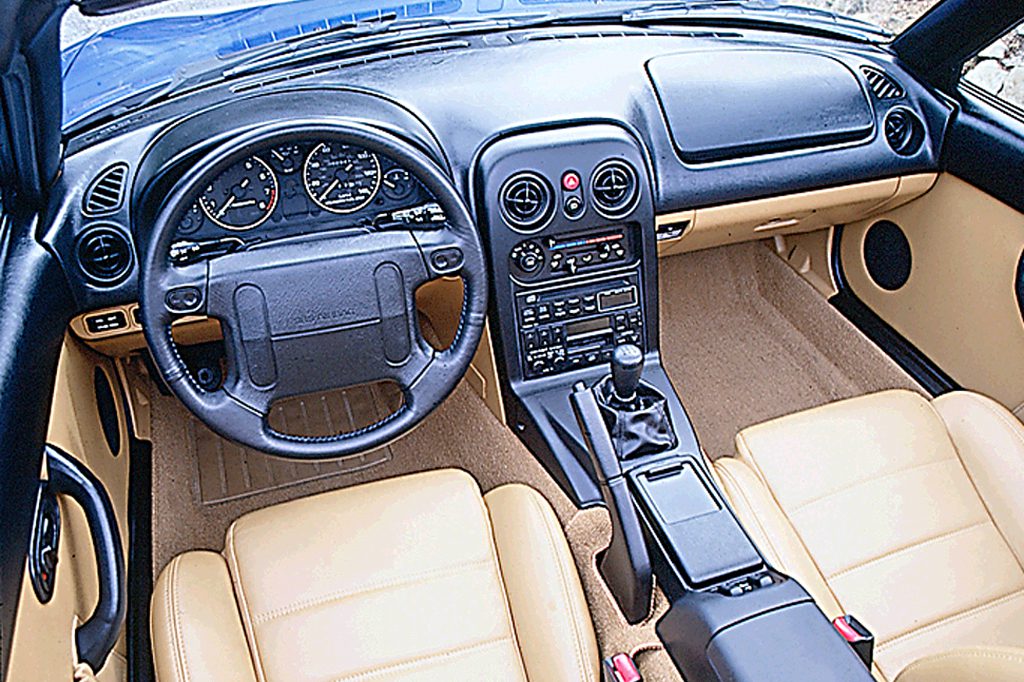 1994 Mazda Miata MX-5 interior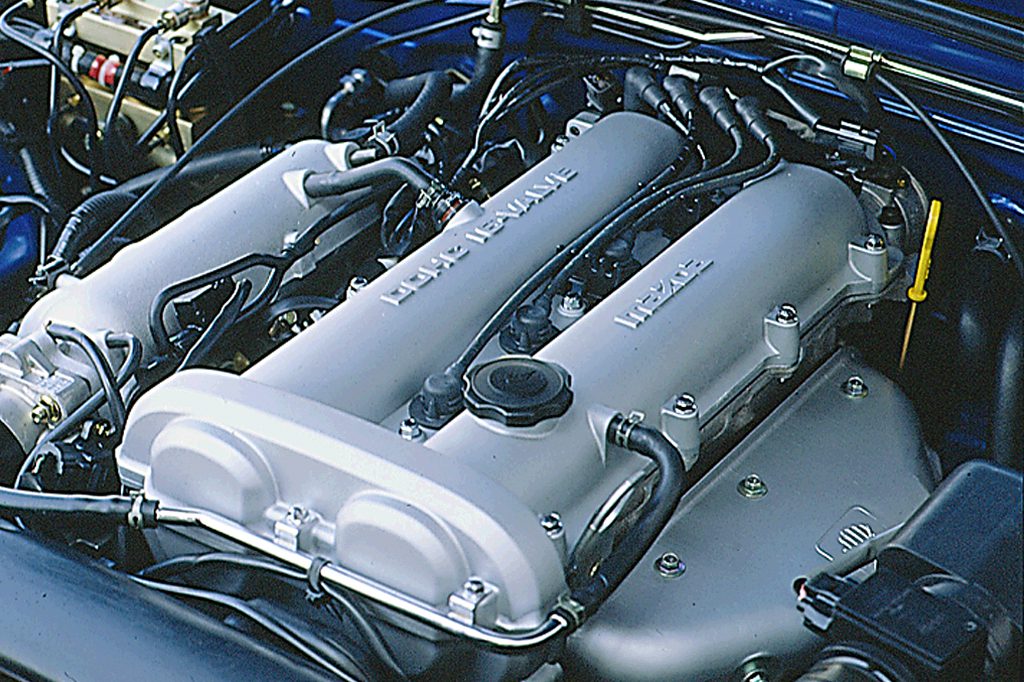 1995 Mazda Miata MX-5 engine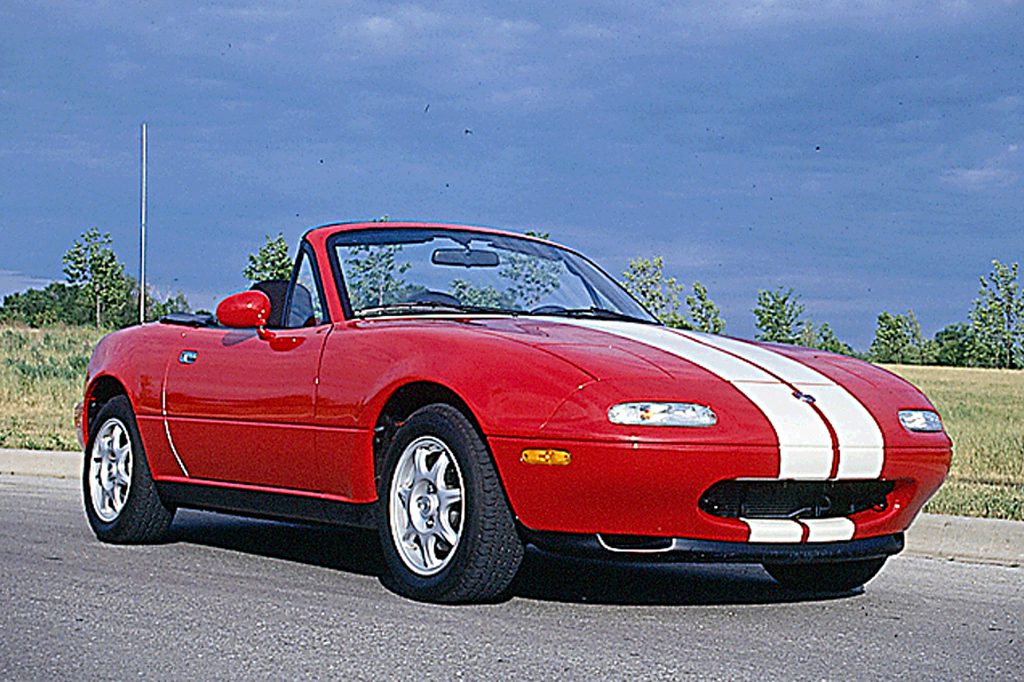 1994 Mazda Miata MX-5 R-Edition
Pros:

Acceleration (w/manual transmission)
Antilock brakes (optional)
Fuel economy
Steering/handling

Cons:
The first-generation Miata still looks and feels as good as it did when it arrived in 1989. If you're looking for an affordable, fun-to-drive sports car, there's little need to search further.
Overview
The Miata performed an overnight resurrection in 1990 on what had previously been a virtually dead market–that of the affordable 2-seat roadster. Initial models arrived in one of three colors–red, white, or blue–with a powertrain consisting of a 116-horsepower, dual-cam 1.6-liter 4-cylinder and a 5-speed manual transmission. Late in the 1990 model year, a 4-speed automatic was added, which dropped the horsepower rating from 116 to 105. All models could be ordered with a removable hardtop. Standard first-year features included a driver-side airbag and a manual folding top.
Yearly Updates
1991 Miata
The most important change for 1991 was the availability of optional antilock brakes. ABS was offered as a stand-alone option and not part of any package.
1992 Miata
For 1992, mechanical and appearance changes were limited to a few convenience items.
1993 Miata
Minor trim and equipment revisions mark the fourth edition of the popular 2-seat convertible sports car.
1994 Miata
A larger engine, a passenger-side airbag, and some structural stiffening mark the first major changes to Mazda's popular roadster since the Miata made its debut in 1990. The 1.6-liter engine gives way to a 1.8-liter unit. While the standard 4-wheel disc brakes have been enlarged, antilock brakes remain optional. Structural stiffening consists of new braces placed in the front and rear suspensions, as well as between the shoulder-belt anchors. Other changes include a new 12.7-gallon fuel tank in place of the 11.9-gallon unit and a new 7-spoke design for the optional alloy wheels. Arriving in the spring were two new versions of the Miata. The M-edition features both leather seating surfaces and wood trim on interior panels. Select the extra-cost R-edition and you find such performance upgrades as a sport-tuned suspension, limited-slip differential, alloy wheels, front/rear spoilers, and an "aero" rear skirt.
1995 Miata
The 1995 Miata returns with only minor changes.
1996 Miata
Like many cars, Mazda made changes inside both doors in order to meet 1997 federal standard for side-impact protection a year early. Along with structural changes to the doors, there's a redesigned interior door panel with map pockets as an added feature. Underneath the hood, Mazda tinkered with the 1.8-liter engine to lower emissions, and in the process managed to squeeze out some extra horsepower and torque.
1997 Miata
The popular Miata convertible shuffles a few optional features, but is otherwise unchanged.
1998 Miata
The original Miata made a short run in anticipation of the spring 1998 arrival of a new model.