Minivan; Built in Japan
longitudinal front-engine/rear- or all-wheel drive
Good condition price range: $1,000 – $3,000*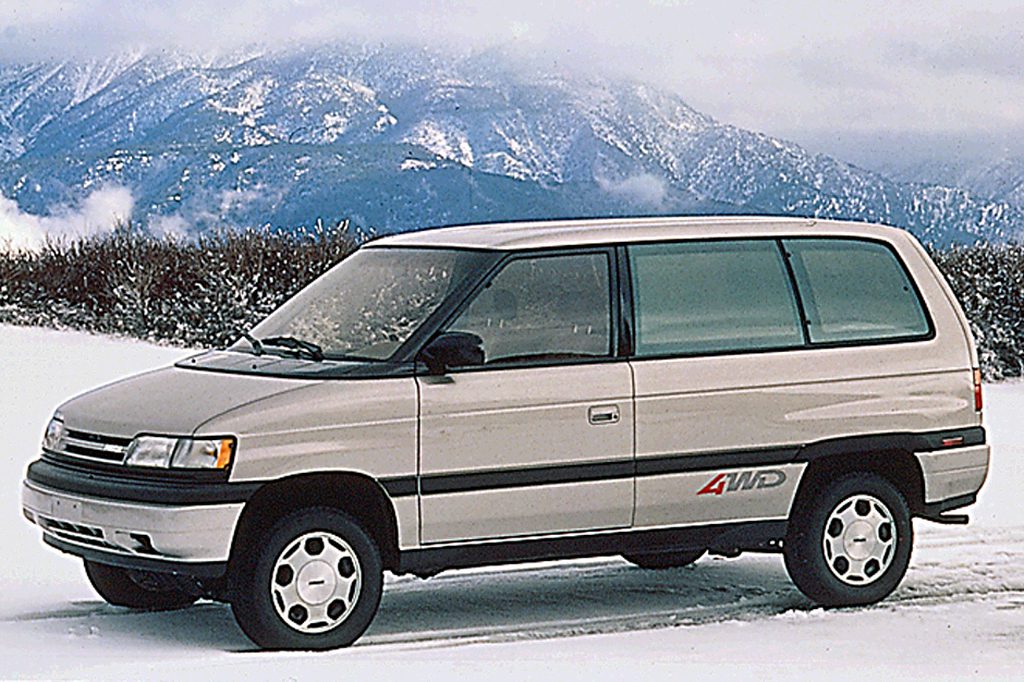 1991 Mazda MPV 4WD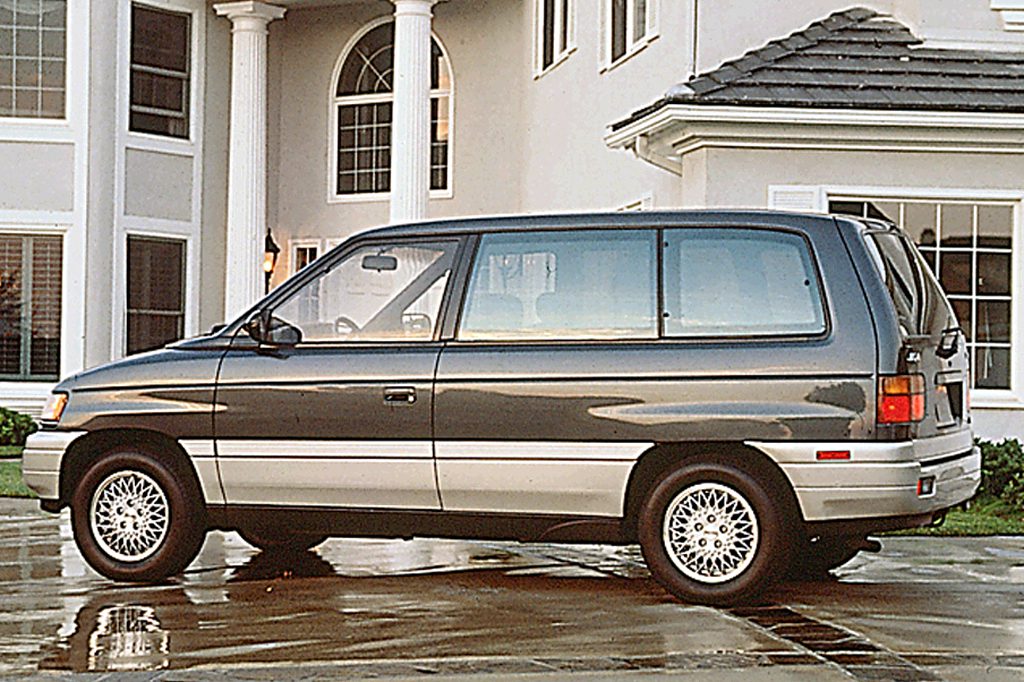 1991 Mazda MPV Special Edition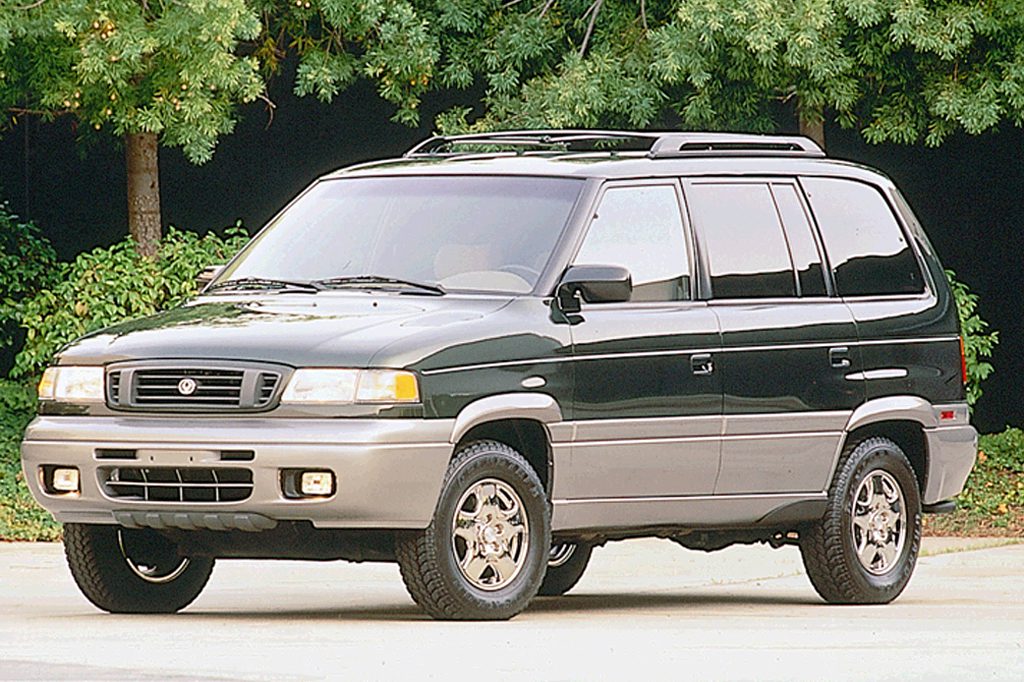 1996 Mazda MPV All Sport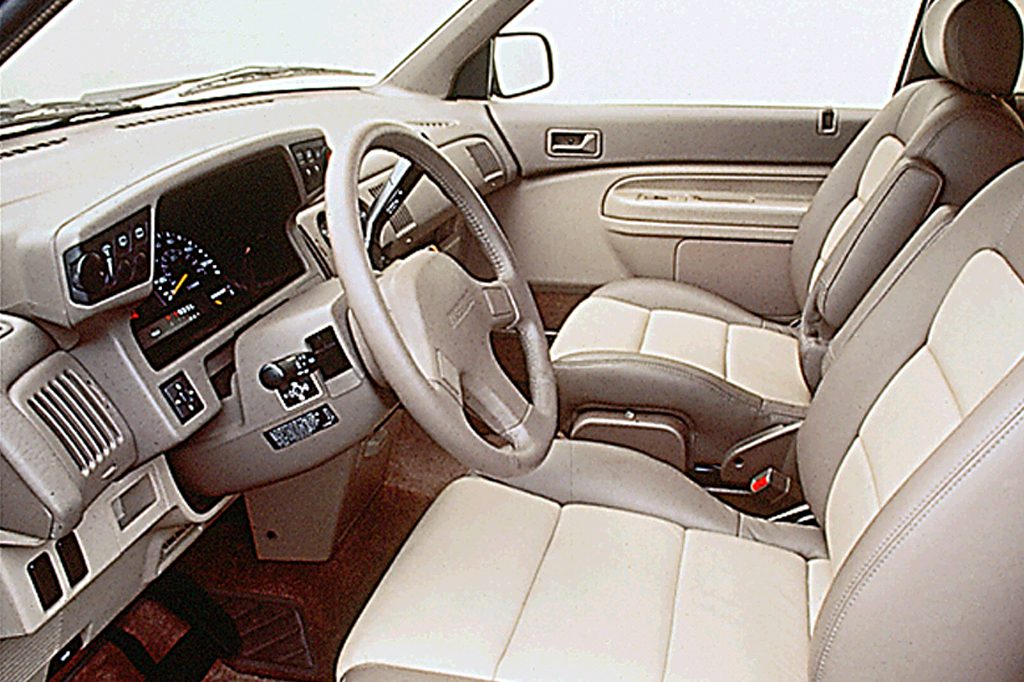 1991 Mazda MPV SE interior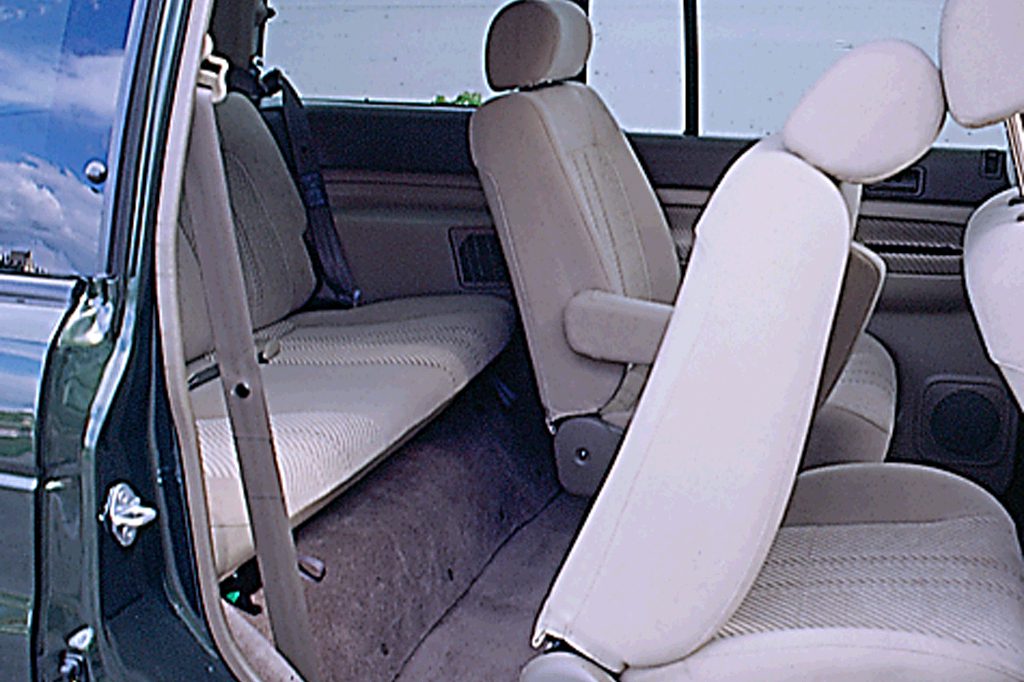 1996 Mazda MPV interior
Pros:

Antilock brakes (optional)
Wet-weather traction (4WD)

Cons:
While recent improvements are welcome, the MPV still lags well behind such class leaders in the field, like the new Chrysler minivans and the Ford Windstar in overall roominess, performance, and value.
Overview
Mazda entered the fast-growing minivan field in 1989 with its rear-drive "Multi-Purpose Vehicle" featuring seating for five or seven. The 4-door MPV featured a side-opening right-rear door in place of the usual sliding door panel. A 121-horsepower 2.6-liter inline 4-cylinder engine was standard. Mazda's on-demand 4WD version came standard with the optional engine, a 150-horsepower 3.0-liter V6. Both engines came linked to either a 5-speed manual or 4-speed automatic transmission. Rear antilock brakes accompanied the 1990 model.
Yearly Updates
1991 MPV
For 1991, Mazda provides its MPV with a new Luxury Package, complete with leather interior, styled alloy wheels from its 929 flagship, and a new 2-tone paint scheme (green over silver).
1992 MPV
Eight-passenger seating and a moonroof are new options for the 1992 Mazda MPV. A couple of powertrain changes were also made. The previously standard 5-speed manual transmission has been deleted entirely. Also, the 3.0-liter V6–optional on 2WD versions and standard on 4WD models–now provides 155 horsepower, up five from last year.
1993 MPV
The MPV is essentially a rerun of 1992, with the only addition being a new keyless-entry system. A driver-side airbag was added in midyear.
1994 MPV
With 1993's midyear driver-side airbag addition, the 1994 MPV gained a center high-mounted brake light and side-door impact beams.
1995 MPV
Mazda made both powertrain changes and altered the price/trim package offerings provided in its 1995 MPV minivan. The new lineup consists of L, LX, and LXE models, all with 7-passenger seating. Taking a look at the powertrain situation, the previous base engine, a 121-horsepower, 2.6-liter 4-cylinder is gone, replaced with the 155-horsepower, 3.0-liter V6 across the board.
1996 MPV
In an effort to remain in the hunt among a growing field of highly competitive minivans, Mazda has added a standard passenger-side airbag, 4-wheel antilock brakes in place of rear-only ABS, and turned all MPVs into 4-door models, thus matching Chrysler as the only other company with a 4-door minivan.
1997 MPV
In an effort to lure sport-utility buyers to the MPV, Mazda added a new All-Sport dress-up package for 1997. Included in the package were a front grille and stone guards, wheel-opening flares, rear bumper guard, roof rack, polished 5-spoke alloy wheels, and a 2-tone exterior paint scheme with extra lower side cladding. Mazda also deleted the base DX model, leaving just the LX and ES.
1998 MPV
MPV returned for '98 with almost no change and did not return for '99. However, an all-new model with front-drive and sliding rear side doors would arrive in 2000.