Minivan; Built in USA, Canada
transverse front-engine/front- or all-wheel drive
Good condition price range: $1,000 – $2,100*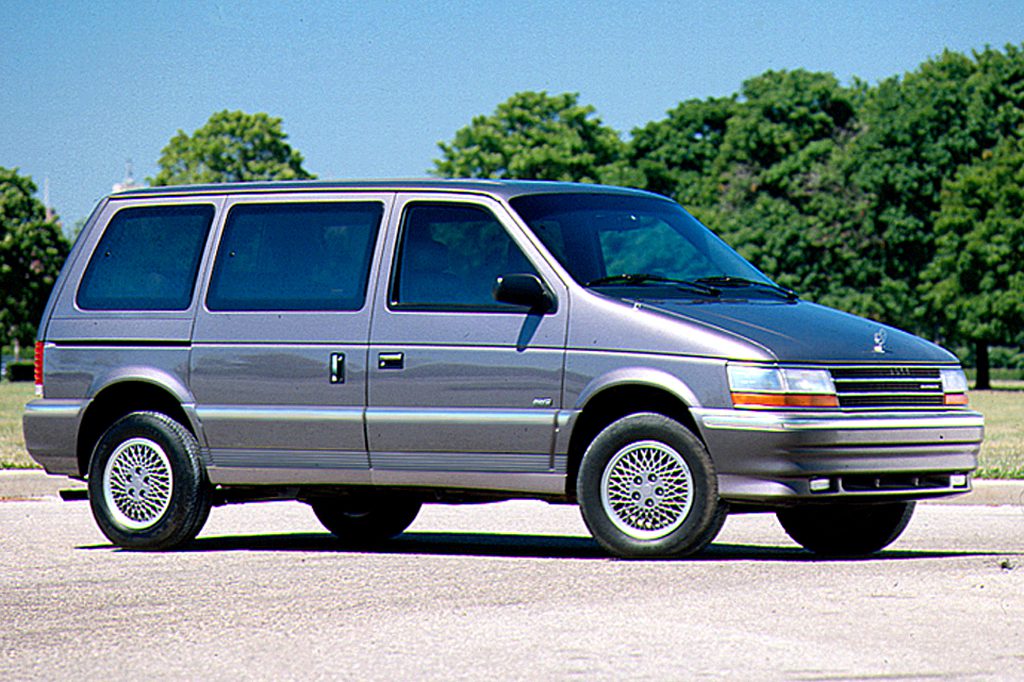 1991 Plymouth Voyager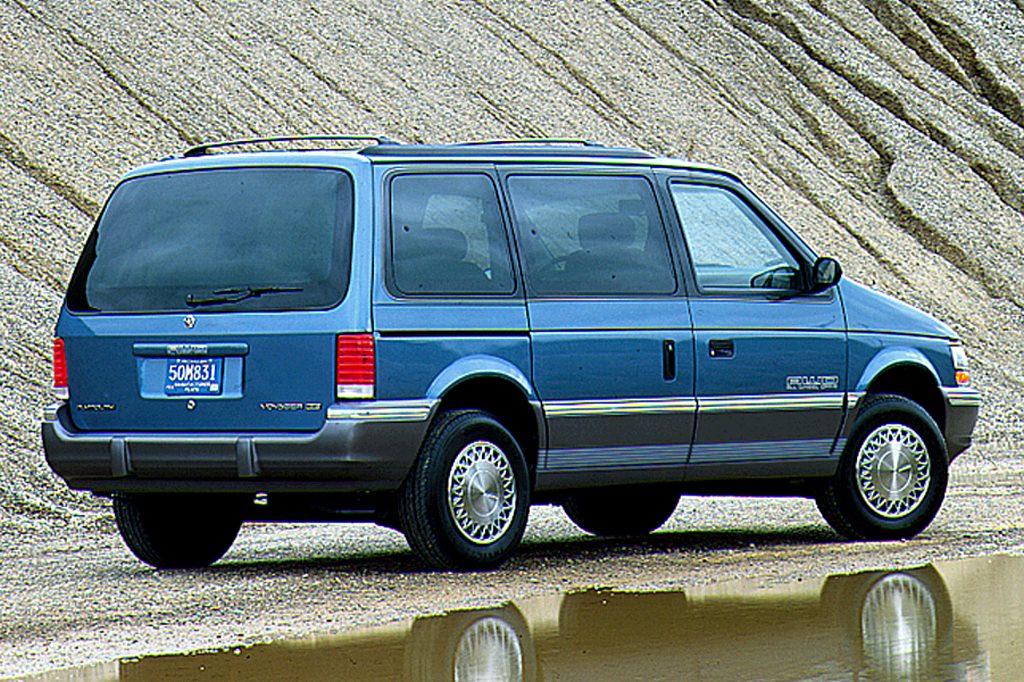 1991 Plymouth Voyager LE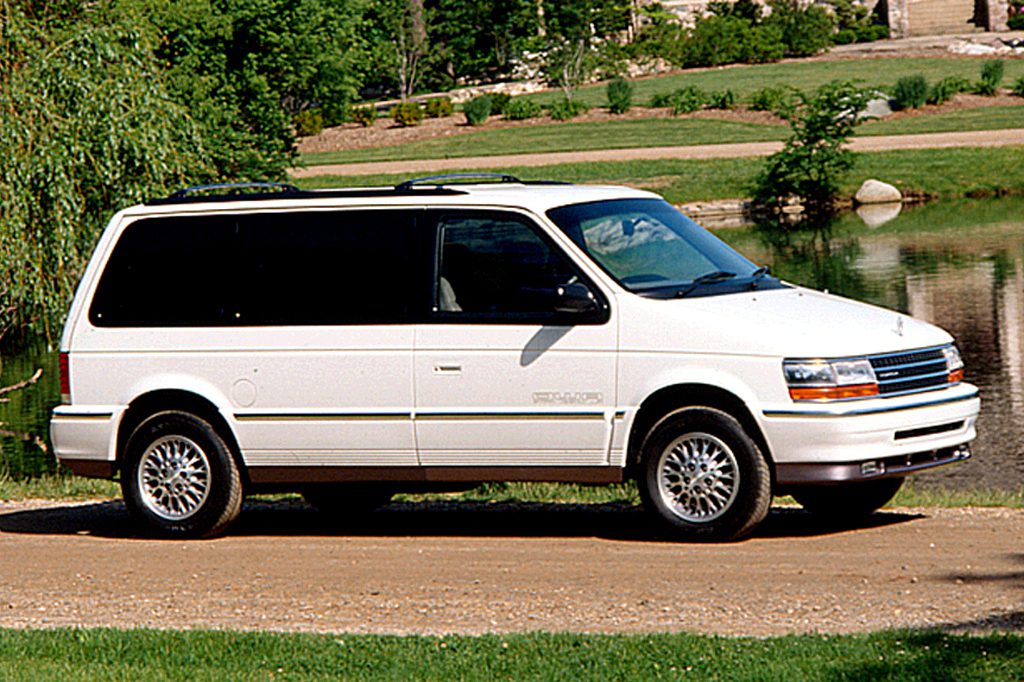 1993 Plymouth Voyager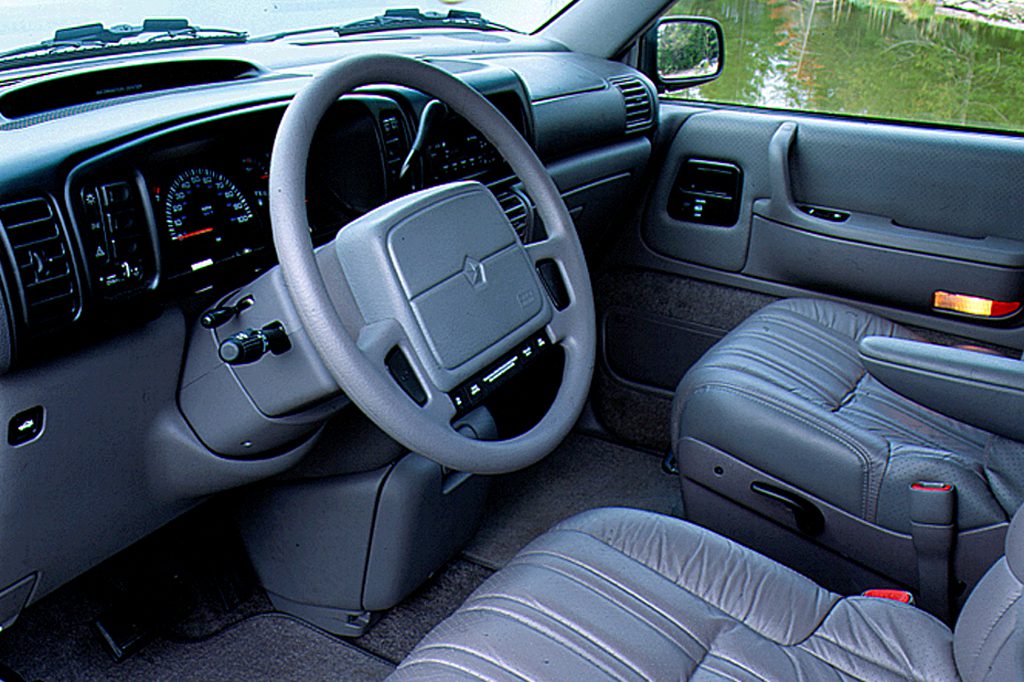 1994 Plymouth Voyager LE interior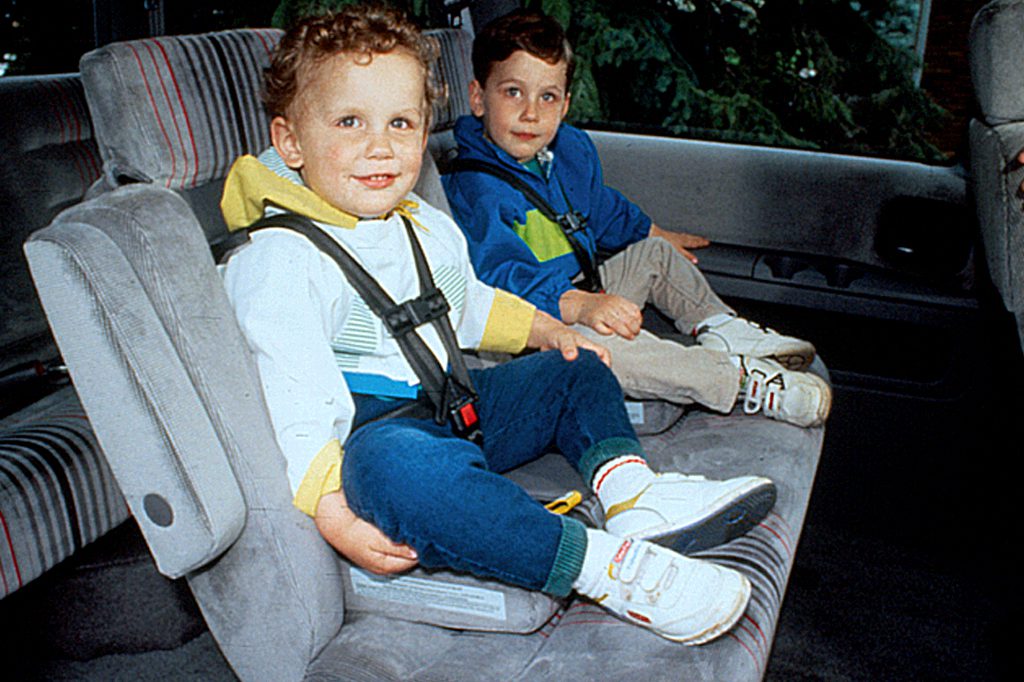 1992 Plymouth Voyager interior
Pros:

Antilock brakes (later models)
Wet-weather traction (AWD)
Passenger and cargo room
Ride

Cons:

Acceleration (4-cylinder)
Fuel economy
With all the revisions, Chrysler reasserted its minivan leadership against a growing number of serious competitors. They remained the best-in-class minivans because they were carlike to drive and offered a range of models and features that no rival yet matched.
Overview
Chrysler unveiled the second generation of its minivan trio in 1991. Major additions included optional antilock brakes and new all-wheel-drive models. The standard-wheelbase Plymouth Voyager continued to be marketed in base, SE, and LE trim levels. The longer Grand Voyager models were provided in SE and LE guise. Under the hood, the regular length models had a naturally aspirated 2.5-liter 4-cylinder as the standard engine and a 3.0-liter V6 as an option. A 3.3-liter V6 was standard on Grand Voyagers and optional on regular-length SE and LE models. Four-cylinder Voyagers came with a 3-speed automatic transmission; in short-wheelbase models, the V6 engines were available with either a 3- or 4-speed automatic, while all Grand Voyagers had the 4-speed gearbox. AWD models required the 3.3-liter V6 and used a permanently engaged full-time system.
Yearly Updates
1992 Voyager
A driver-side airbag is standard for 1992, while Chrysler's new integrated child safety seat is optional on the Voyager. Among other changes for 1992, the Grand Voyager is available with a lower-cost powertrain. A 142-horsepower 3.0-liter V6 and 3-speed automatic can be substituted for the standard 150-horsepower 3.3-liter V6 with its 4-speed automatic. Also, the 5-speed manual transmission can once again be paired with the 2.5-liter base engine.
1993 Voyager
On 7-passenger models, the optional Quad-Command bucket seats replace the middle bench seat. Also, the right bucket tilts forward to ease entry and exit to the rearmost bench. Among other changes, the front shoulder belts become height-adjustable and rear shoulder belts have lower anchor points.
1994 Voyager
New safety features are added to the Voyager, including a passenger-side airbag and side door-guard beams that enable the Voyager to meet all passenger-car safety requirements through 1998. There's also a new, more powerful engine option offered for 1994. A 162-horsepower 3.8-liter V6 is a new option for Grand Voyager LE models. The 3.3-liter V6 has been upgraded to produce 162 horsepower as well. Among other changes for 1994, the dashboard has been redesigned, and all models have new bumper fascias and body moldings.
1995 Voyager
No major changes were made to the '95 Voyager as a redesigned '96 model debuted early.