Premium large car; Built in Germany
2-door coupe
4-door sedan
4-door sedan
longitudinal front-engine/rear-wheel drive
Good condition price range: $2,300 – $9,500*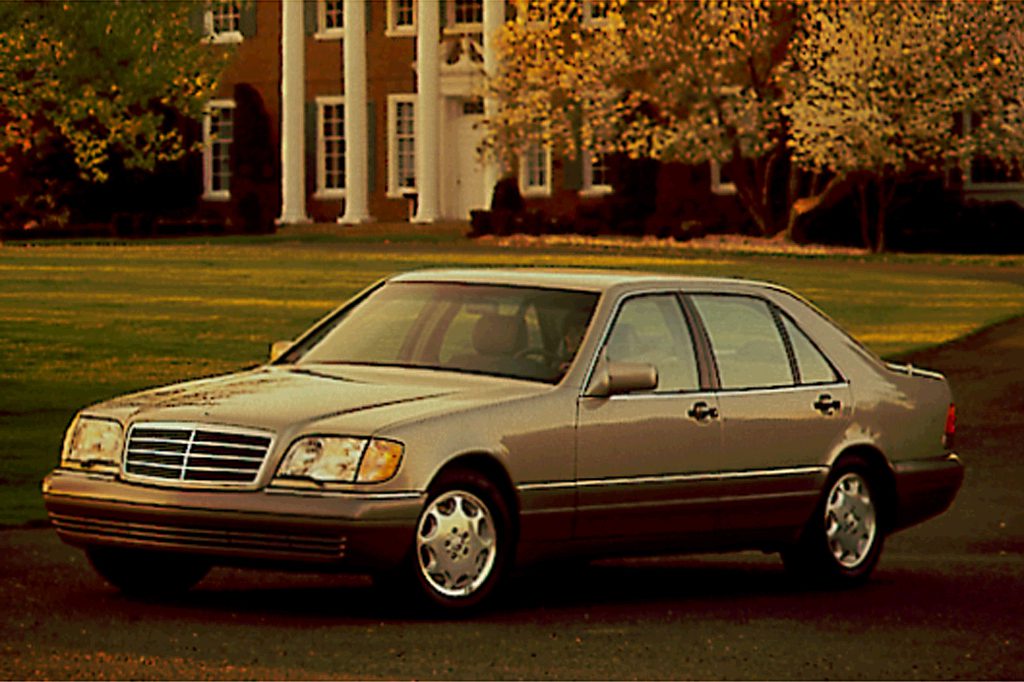 1994 Mercedes-Benz S-Class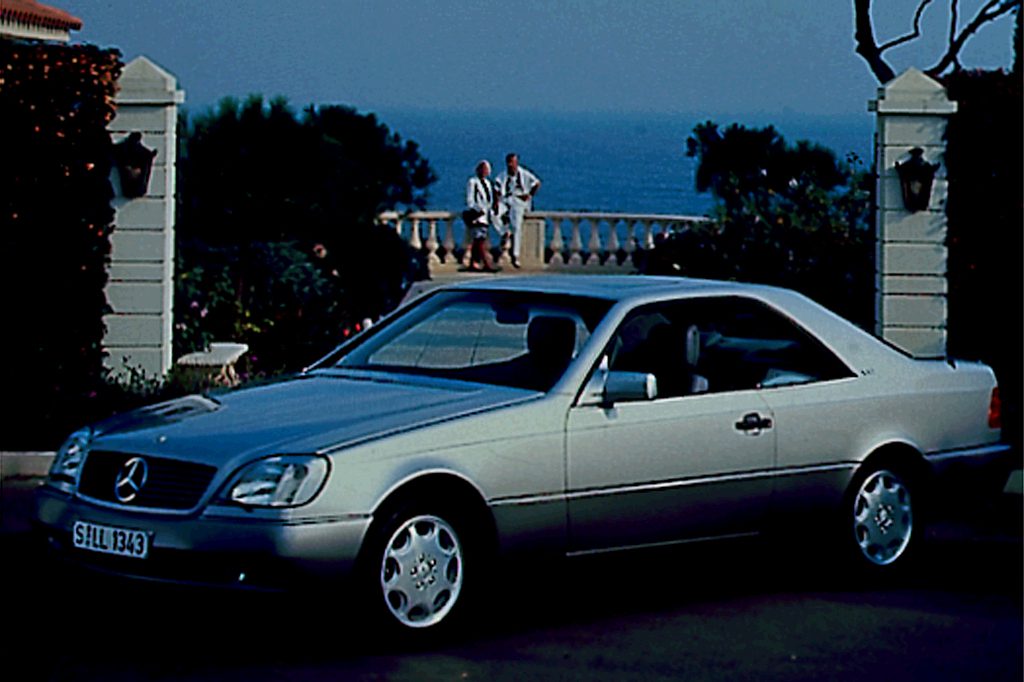 1993 Mercedes-Benz 600 SEC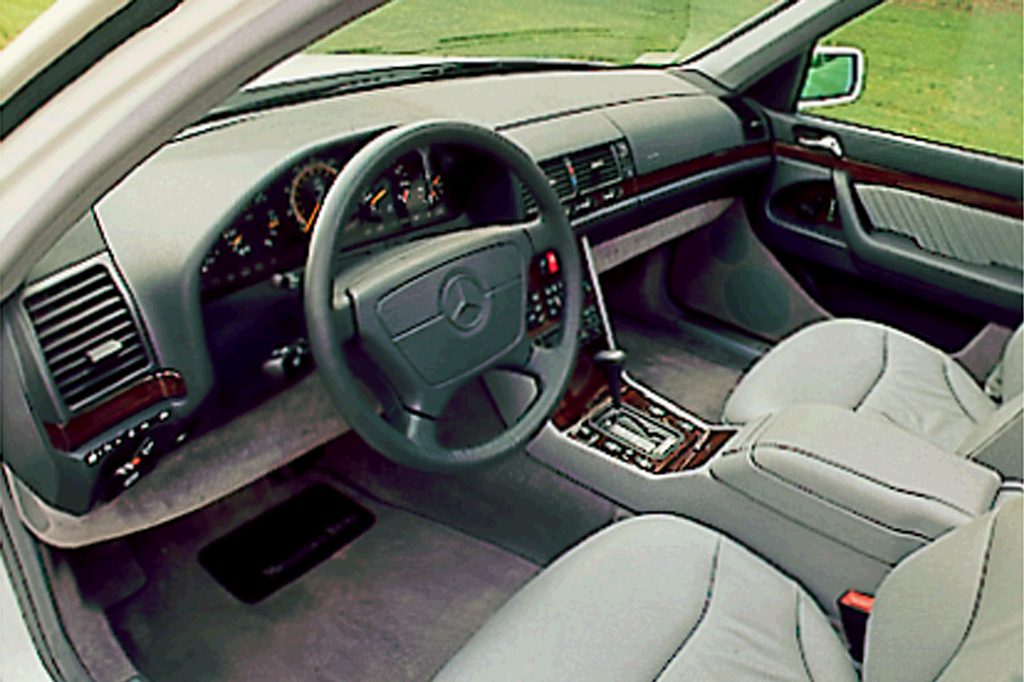 1995 Mercedes-Benz S-Class interior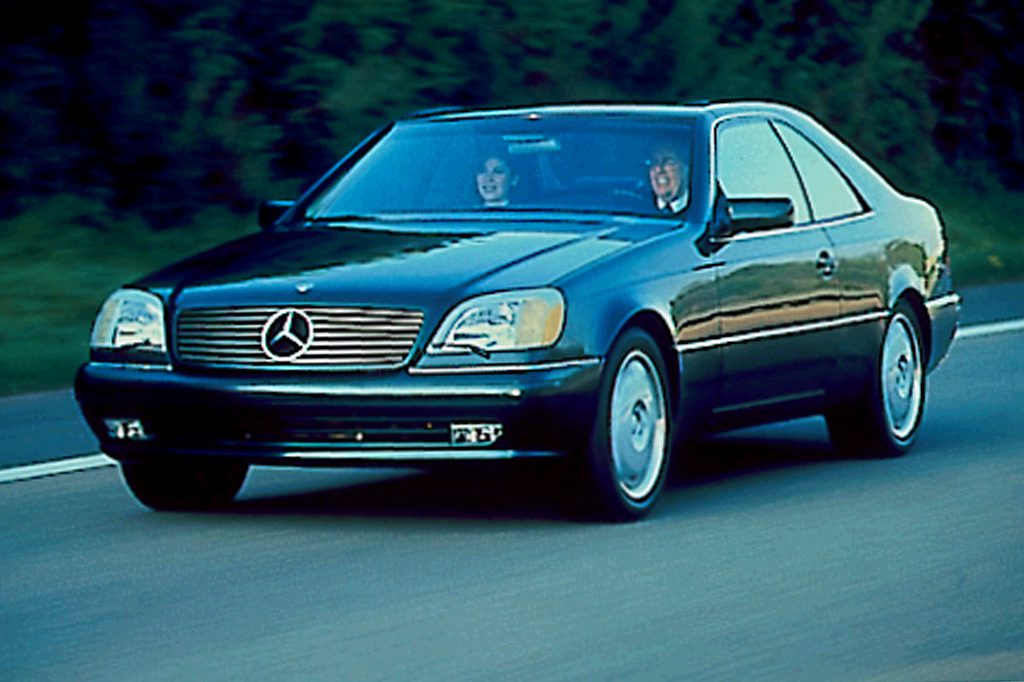 1997 Mercedes-Benz S500 coupe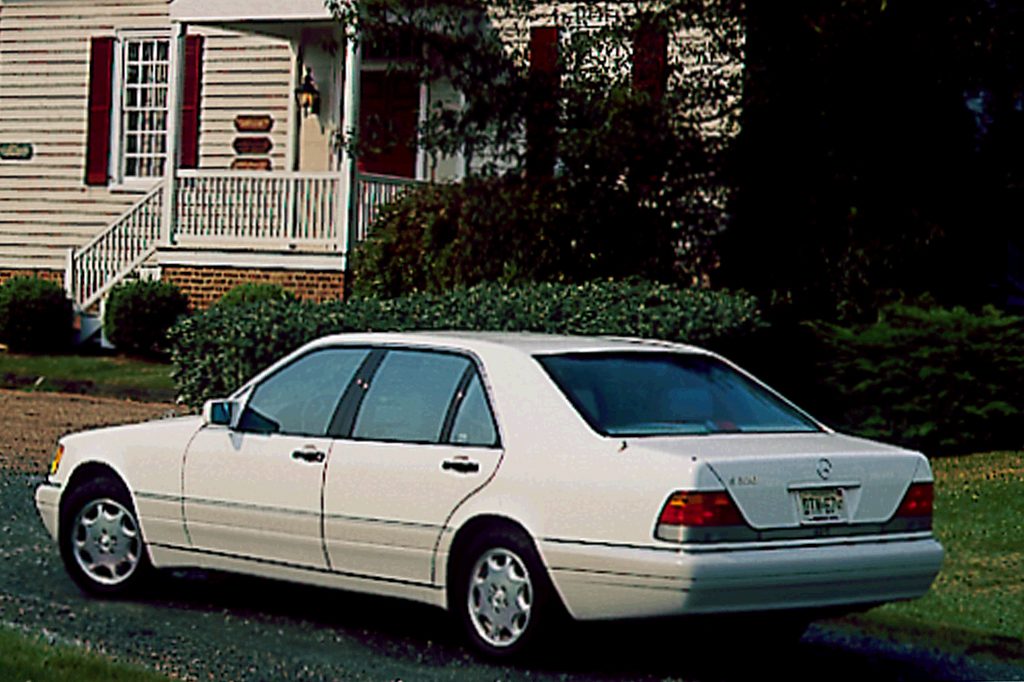 1994 Mercedes-Benz S-Class
Pros:

Acceleration (except S320)
Side airbags (late models)
Passenger and cargo room
Ride
Steering/handling

Cons:
Impressive and big, these top-line sedans were built with evident "cost-no-object" attitude. Monumentally solid body structures make them something special. These are also some of the costliest cars around, secondhand as well as when they were new. So, it's just as well that they have tank-solid structures and superb detail finish. This is, after all, what you expect for such lofty prices. S-Class sedans are among the world's finest automobiles, though plenty of alternatives cost thousands less yet don't lack for luxury and performance. More than most cars, if you're concerned about price, you can't afford one of these Mercedes-Benzes. Simply put, this particular blend of Mercedes-Benz prestige and polish is awfully hard to match.
Overview
Mercedes-Benz's top series switched from its decade-old platform to a new design for 1992: still rear-wheel drive but longer in wheelbase, slightly taller, and a lot heavier. Sedans came in two basic sizes: SE with a 119.7-inch wheelbase, and SEL measuring 123.7 inches. A new 228-horsepower, 3.2-liter 6-cylinder engine went into the 300SE; the 400SE got a 282-horsepower, 4.2-liter V8; the 500SEL carried a 322-horsepower, 5.0-liter V8; and the new 600SEL held a 402-horsepower, 6.0-liter V12. All engines were dual-overhead-cam design with four valves per cylinder. A 4-speed automatic transmission was used, except for the 300SE, which got a new 5-speed automatic. Also available: a 300SD with a 3.5-liter turbodiesel engine. Speed-sensitive power steering was installed. Double-pane side windows had one-touch up/down power. Standard on the SEL models (optional on SE) were such items as traction control, an activated-charcoal ventilation system, power rear seat, heated front seats, and rear self leveling. An automatic-adjusting suspension went into the 600SEL, along with separate rear air conditioning, an electric rear-window sunshade, CD changer, and cellular phone. Rivals included the BMW 7-Series, Jaguar XJ sedan, and Lexus LS 400.
Yearly Updates
1993 S-Class
A coupe joined the original sedans, riding a shorter platform with a 115.9-inch wheelbase. The 400SE turned into the 400SEL, moving to the longer span. Horsepower ratings dropped slightly.
1994 S-Class
This year's models were renamed, clearly reflecting engine size. S320 and S350D sedans rode a 119.7-inch wheelbase; S420, S500, and S600 sedans a 123.6-inch span. Coupes, on the shortest (115.9-inch) wheelbase came in S500 and S600 form. Fuel economy improved a bit this year.
1995 S-Class
Fresh styling went on this season's coupes and sedans. Changes included new front and rear bumpers and lights, the grille, trunklid, and lower body panels. An Electronic Traction System was standard on the S320 and S350. The S320 grew in size, to the 123.6-inch wheelbase.
1996 S-Class
A new Electronic Stability Program became standard on V12 models, optional on V8s. The system applied brakes to individual wheels as needed, to help maintain traction. A new 5-speed automatic transmission went into V8 and V12 models. The S350 turbodiesel was dropped, leaving only gasoline engines in S-Class automobiles.
1997 S-Class
Door-mounted side airbags went into the '97 models. The S320 got the same 5-speed automatic transmission introduced a year earlier in the V8/V12 vehicles. A new occupant detection sensor could deactivate the front passenger airbag. New xenon headlamps were standard on the S500 and S600, optional on others. A new Parktronic parking-assistance system was standard on coupes and optional on sedans.
1998 S-Class
As before, 6-cylinder S320 models came in regular- or longer-wheelbase form. The V8 S420 and S500 used the longer chassis, as did the S600 with its V12 engine. All models had Mercedes' "Brake Assist" system, which automatically applied full braking force in panic stops, responding to rapid brake-pedal movement. The standard "BabySmart" feature automatically deactivated front and side airbags when a special child seat was installed. Mercedes' Electronic Stability Program was standard in the S600, and optional elsewhere. S500 and S600 coupes were rebadged as CL500 and CL600, to avoid confusion with S500 and S600 sedans.
1999 S-Class
For its final outing in this form, nothing changed for Mercedes' largest and most-costly series. A smaller and lighter S-Class was expected as an early 2000 model. To help mark the finale, Mercedes offered 600 copies of a Grand Edition S500 with special Obsidian black paint, black-and-parchment interior, and low-profile tires on 18-inch wheels.