Midsize SUV; Built in USA
longitudinal front-engine/rear- or 4-wheel drive
Good condition price range: $1,100 – $3,500*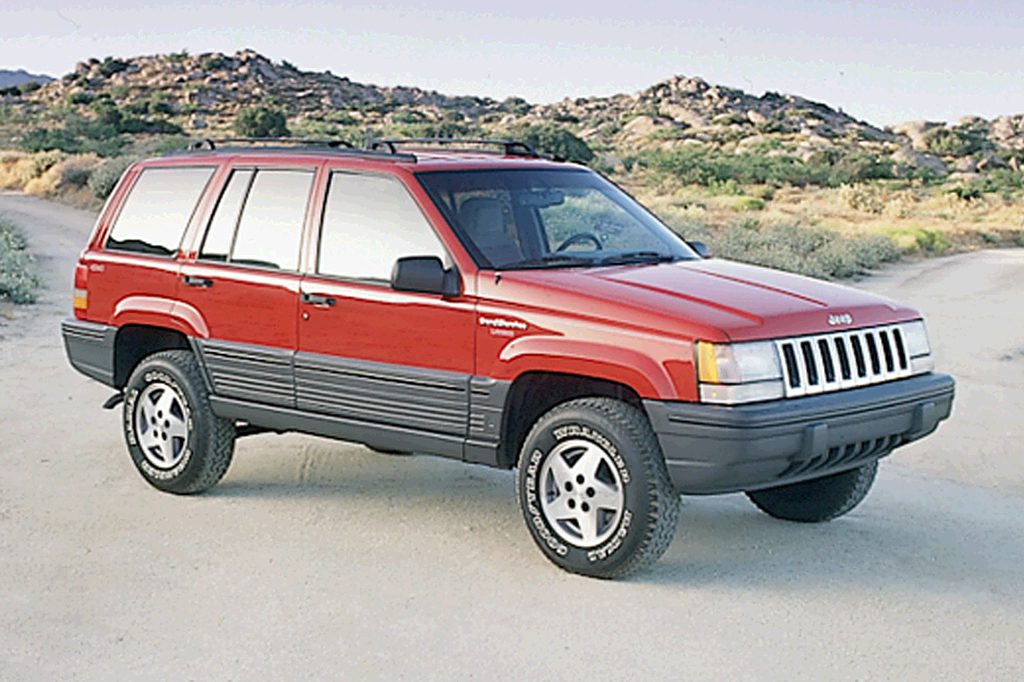 1993 Jeep Grand Cherokee Laredo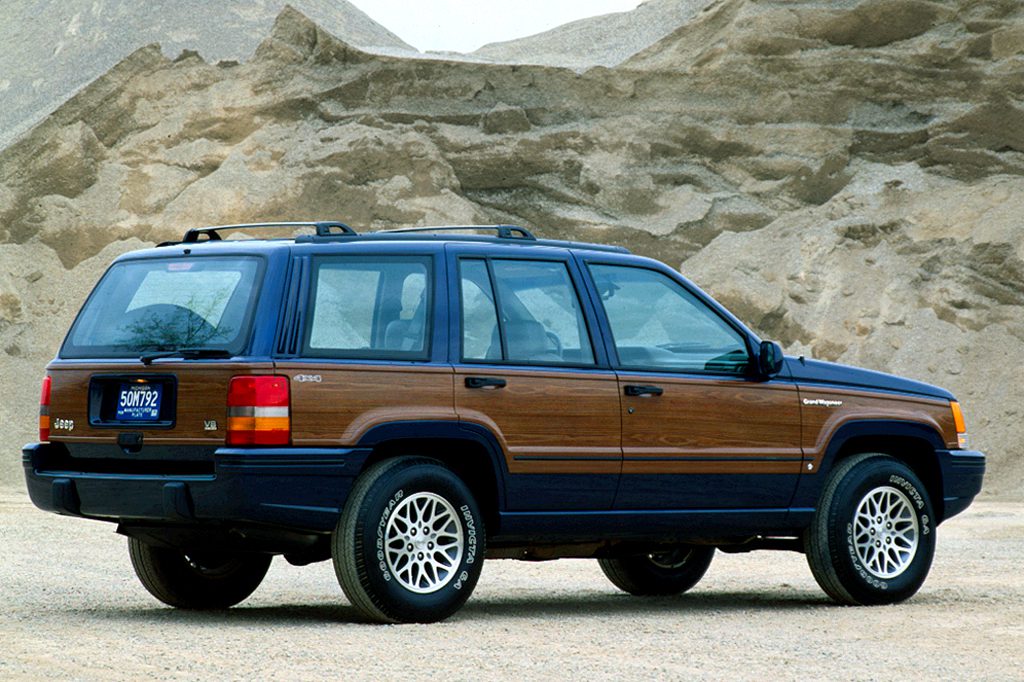 1993 Jeep Grand Cherokee Wagoneer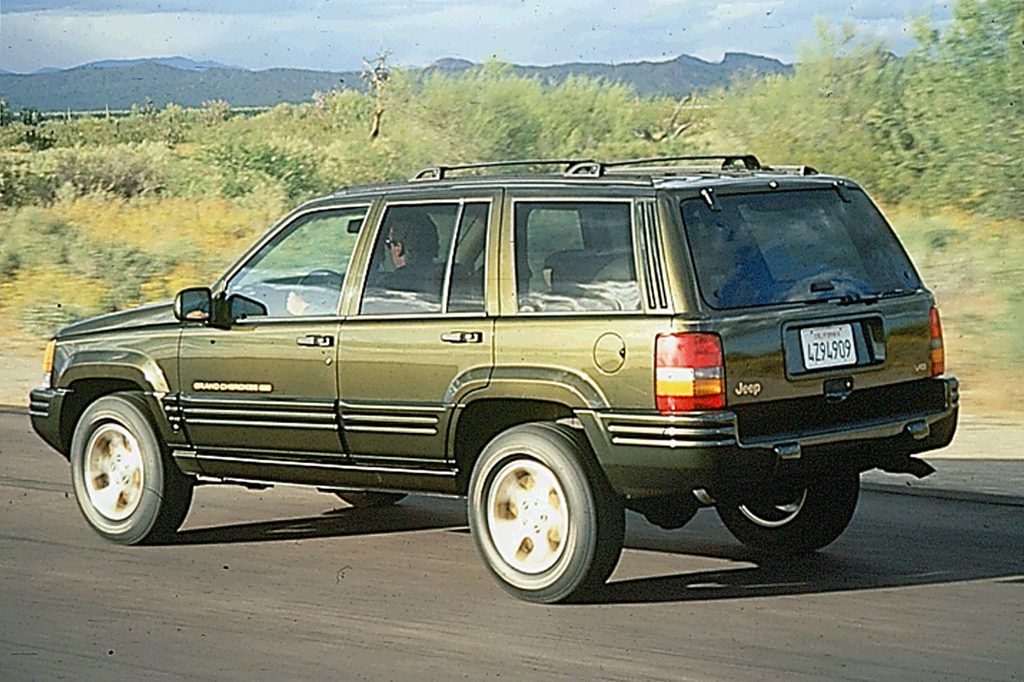 1996 Jeep Grand Cherokee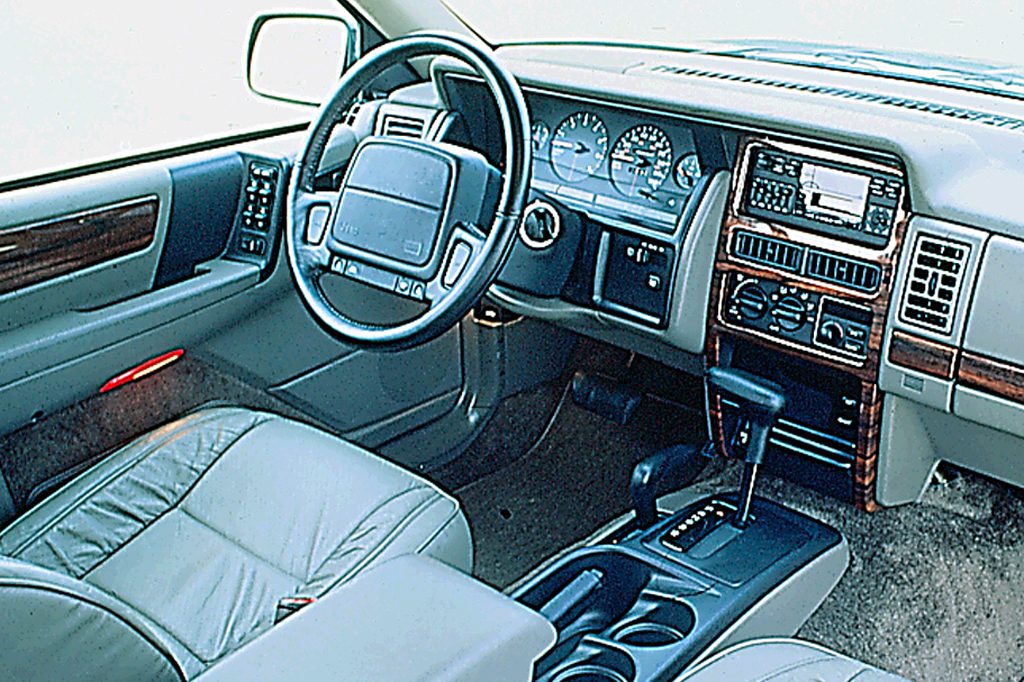 1993 Jeep Grand Cherokee interior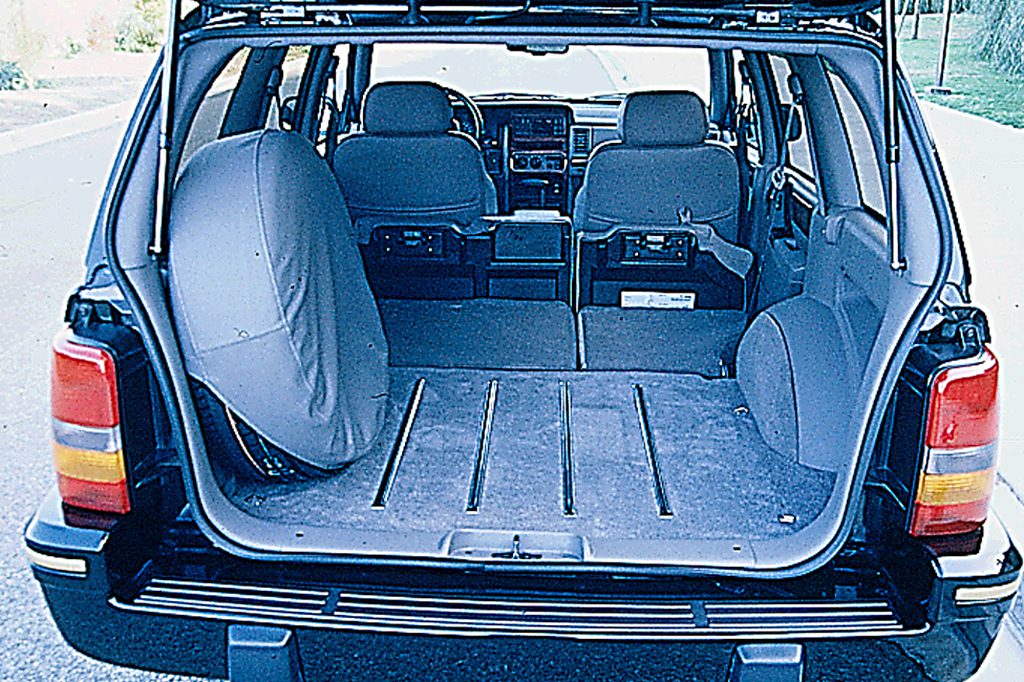 1993 Jeep Grand Cherokee interior
Pros:

Antilock brakes
Wet-weather traction (4WD)
Passenger and cargo room

Cons:

Engine noise
Fuel economy
Reliability (early models)
We rate the Grand a step behind the Ford Explorer, but both lead the field in refinement, ability, and overall quality. An Explorer is more trucklike, a trait that some buyers like and others do not, but the Grand Cherokee offers impressive on- and off-road performance, plus a broad range of engine and 4WD choices. Early Grand Cherokees suffered some reliability problems, so a later model might be a better bet.
Overview
The Grand Cherokee came only in a 4-door body with a one-piece rear liftgate. Standard features included a driver-side airbag, 4-wheel antilock brakes, and a 5-speed manual transmission. A 4-speed automatic transmission was optional. Standard engine for base, Laredo, and Limited models was a 190-horsepower, 4.0-liter 6-cylinder. Later in the 1993 model year, a 5.2-liter 220-horsepower V8 became standard in the new Grand Wagoneer (a one-year-only, top-of-the-line Grand Cherokee). Three distinct 4WD systems were available. Part-time Command-Trac; Selec-Trac, a full-time system that could be switched between 2WD and 4WD; and Quadra-Trac, a permanently engaged 4WD system. Two-wheel-drive models arrived late in the 1993 model run.
Yearly Updates
1994 Grand Cherokee
Side door-guard beams were installed, and the base model was renamed SE. Grand Wagoneers were deleted, but the V8 engine was optional on all models–automatic transmission only.
1995 Grand Cherokee
In 1995, only SE and Limited models were available, plus a Laredo option for the SE. All Grand Cherokees now had all-disc brakes, and the V8 engine gained 15 pound-feet of torque. A flip-up liftgate window joined the option list, and the 5-speed manual transmission was dropped.
1996 Grand Cherokee
A passenger-side airbag was added for 1996, in a redesigned dashboard. Outside, a restyled grille dipped into the front bumper, and optional fog lamps were integrated into that bumper. A new steering wheel contained cruise-control switches and a center horn pad. Front and rear shoulder belts gained height adjustment.
1997 Grand Cherokee
Given the host of revisions made last year, changes to the 1997 Grand Cherokee were minimal.
1998 Grand Cherokee
Jeep added a monster 5.9-liter V8 to a new model named 5.9 Limited. 'The big V8 came only with Quadra-Trac 4WD and an automatic transmission. Jeep's flagship was redesigned for '99.