Premium compact car; Built in Germany
longitudinal front-engine/rear-wheel drive
Good condition price range: $1,800 – $7,700*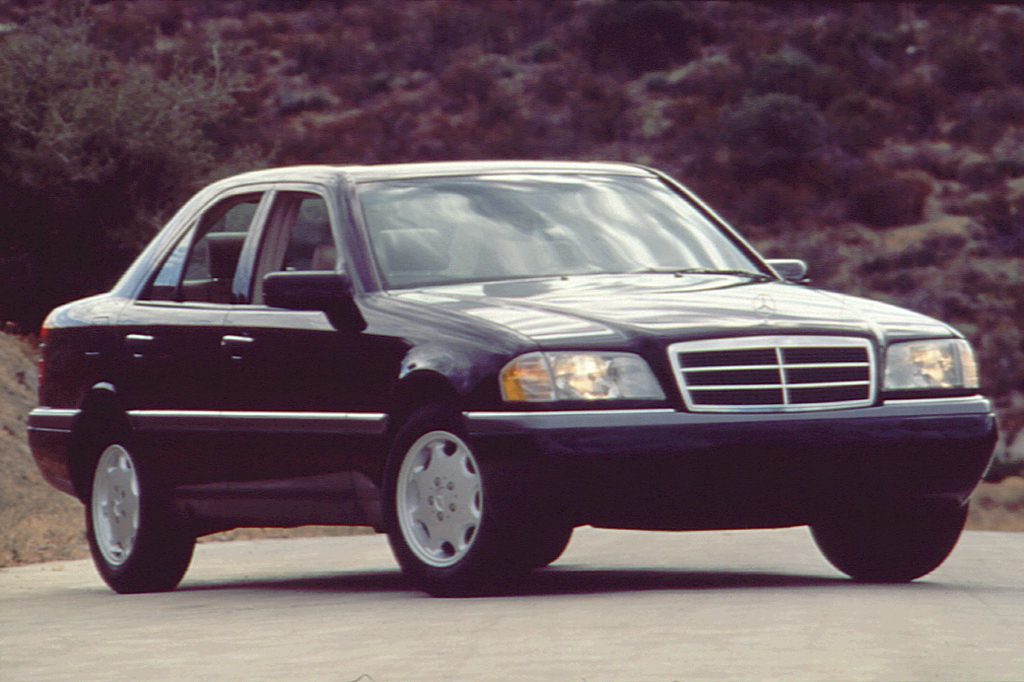 1995 Mercedes-Benz C-Class 4-door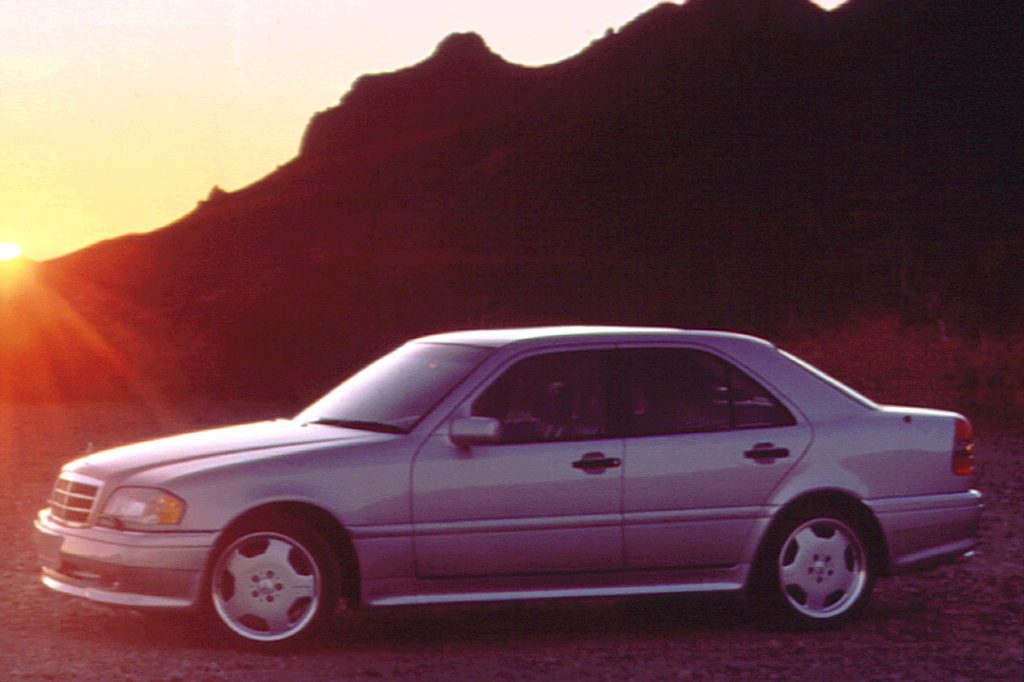 1995 Mercedes-Benz C36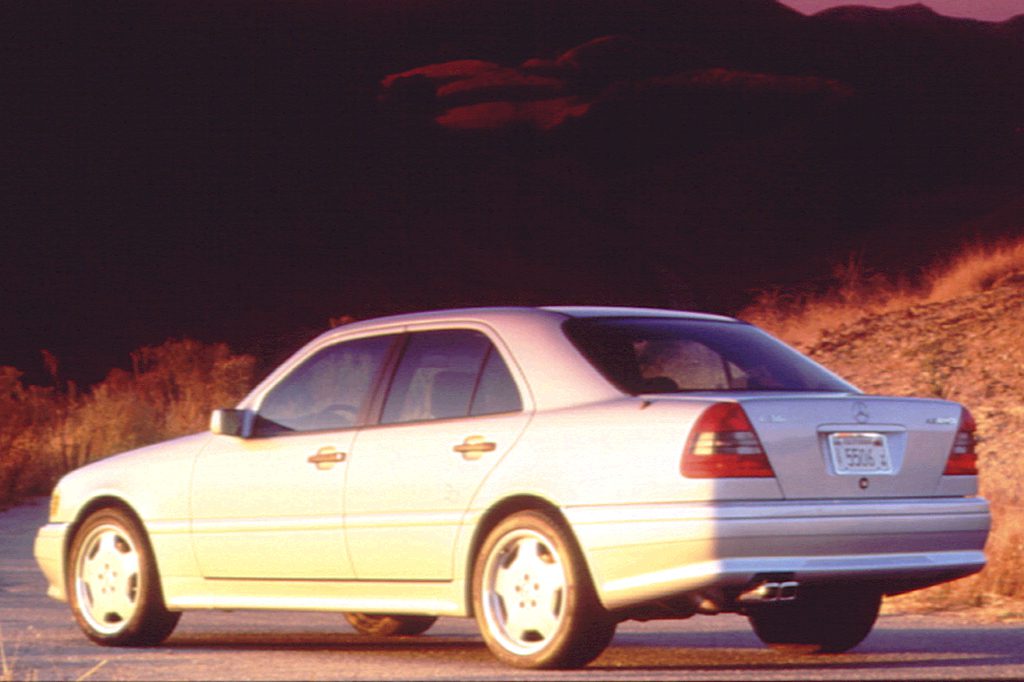 1995 Mercedes-Benz C36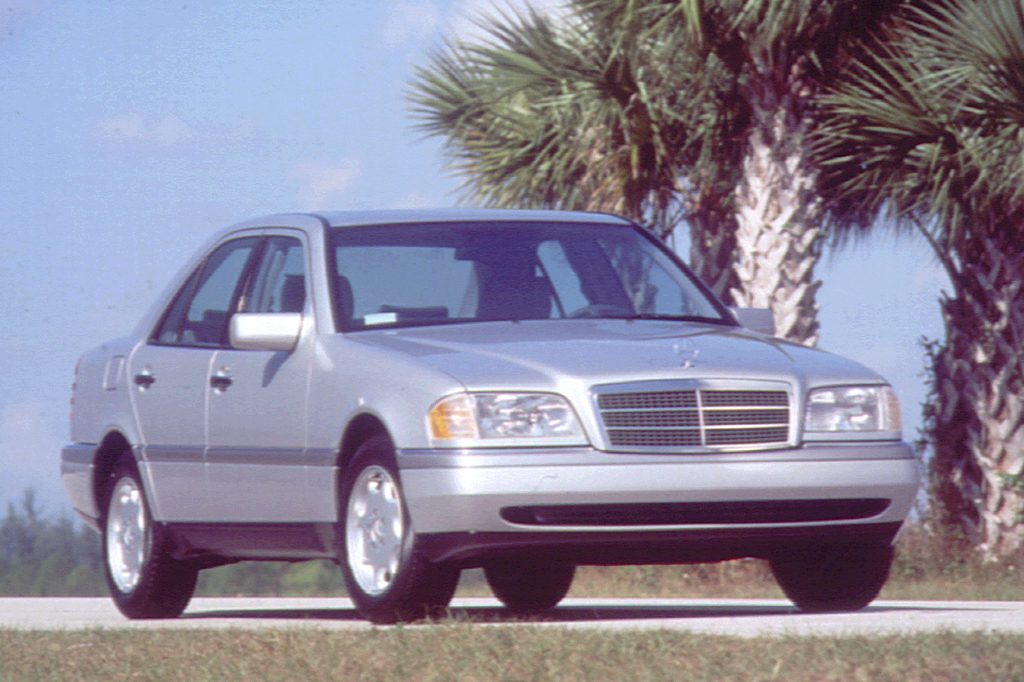 1997 Mercedes-Benz C-Class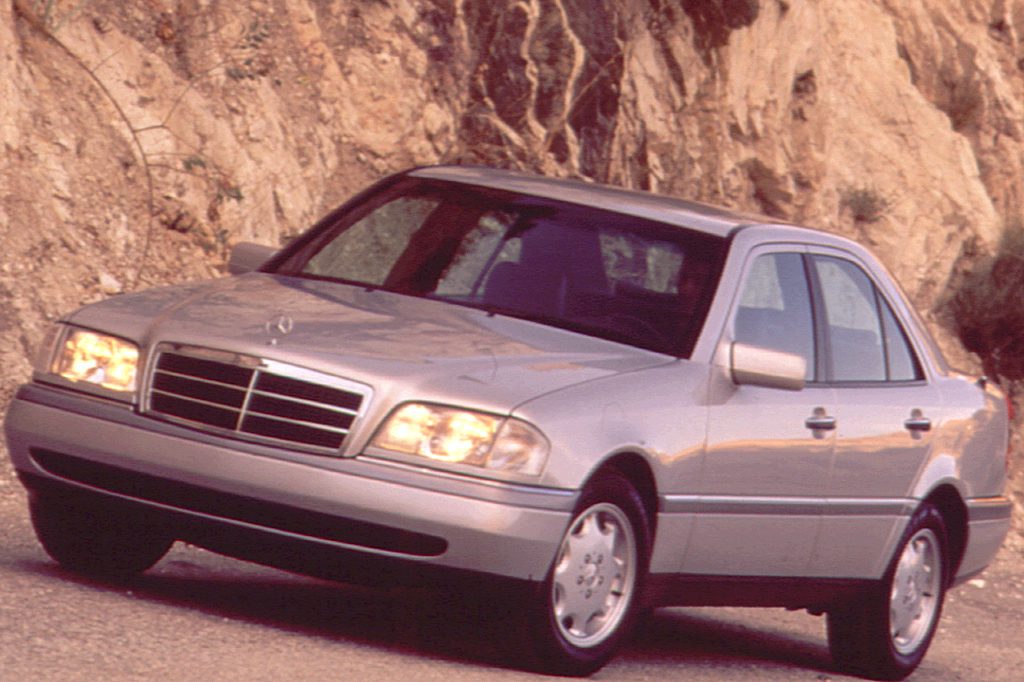 1997 Mercedes-Benz C230
Pros:

Acceleration (C280, C36)
Antilock brakes
Steering/handling

Cons:

Wet-weather traction
Rear-seat room
Road noise
All told, we've been impressed with the C-Class. This sedan is well worth a look if you're shopping in the luxury end of the compact-car league.
Overview
Mercedes-Benz sent its 190-series sedan into retirement after 1993, replacing it with a slightly larger C-Class sedan. Measuring 2.3 inches longer overall than the 190, and 1.2 inches wider, it rode a wheelbase one inch longer. The rear-wheel-drive, compact-size C-Class sedan came in two flavors. The C220 sedan used a 147-horsepower, 2.2-liter 4-cylinder engine with dual camshafts. The C280 sedan held a 194-horsepower, 2.8-liter 6-cylinder engine, also with dual camshafts. All models came with a 4-speed automatic transmission. Dual airbags were installed, along with antilock all-disc braking. Traction control was an option on the C280, governing both the throttle and the brakes.
Yearly Updates
1995 C-Class
A new Electronic Traction System applied brakes to either drive wheel if slippage is noted, transferring more power to the opposite wheel. ETS replaced an automatic-locking differential on the C220's option list. Acceleration Slip Control, a more advanced system that also employed throttle control, remained optional on the C280. This year, it gained a dashboard switch that permitted turning off the throttle-control portion, leaving only the braking function. A high-performance, limited-production C36 sedan debuted in spring of 1995 with a dual-cam 3.6-liter 6-cylinder engine that made 268 horsepower. The C36 model also got a firmer sport suspension, 17-inch wheels and tires, and color-keyed exterior trim.
1996 C-Class
Except for a few new standard features, little changed for the third season of the Mercedes-Benz entry-level sedan.
1997 C-Class
A base C230 model with a 2.3-liter 4-cylinder engine replaced the C220. Horsepower rose only slightly, but torque grew from 155 to 162 pound-feet. A new 5-speed automatic transmission replaced the 4-speed unit, with adaptive electronic control that modifies shift action to match the operator's driving style. The airbag system now includes a front-seat occupant detection sensor, which deactivates the passenger-side airbag if it detects a weight of less than 26 pounds on the seat.
1998 C-Class
The C-Class gets a host of revisions for 1998. Gone is the inline 6-cylinder in the C280, replaced by a V6 engine of the same displacement and horsepower rating. Also new is a high-performance model called the C43. It is powered by a 302-horsepower V8. Other changes include revised styling and a new "Smart-Key" anti-theft ignition system.
1999 C-Class
Changes included a new standard engine for the base model, standard traction control, and a new sport handling package on C230 models. The base engine was a supercharged version of the old and sported an additional 39 horsepower.
2000 C-Class
Automatic transmissions gained Touch Shift manual-shifting capability, with a separate gate. A telescoping steering column and antiskid control moved from optional to standard.