Midsize car; Built in USA, Japan
4-door sedan
4-door wagon
longitudinal front-engine/front- or all-wheel drive
Good condition price range: $1,400 – $3,500*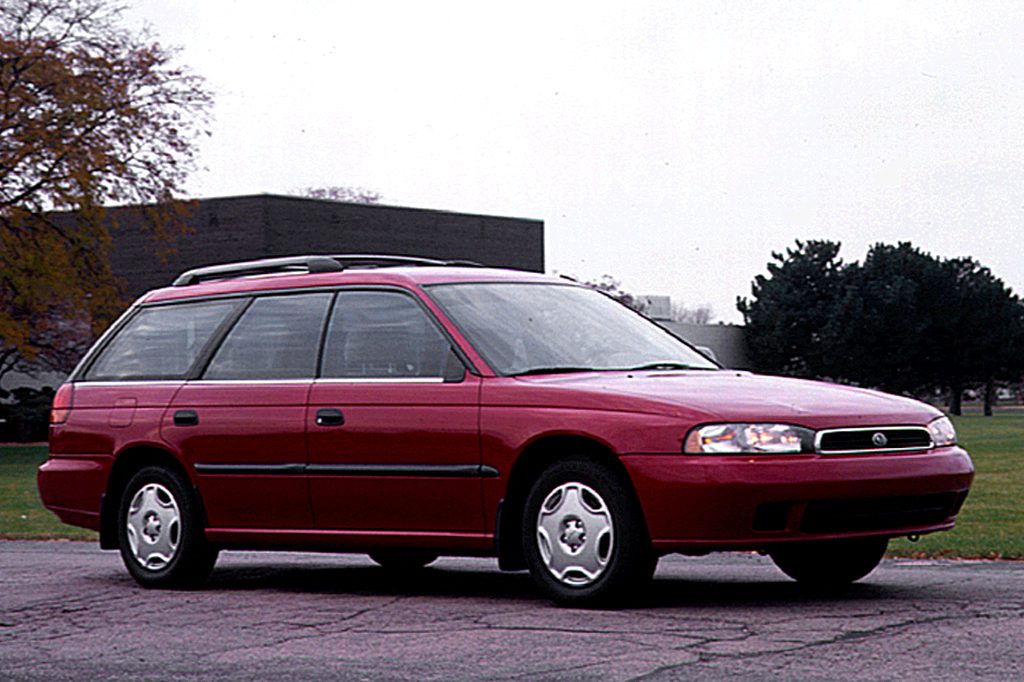 1995 Subaru Legacy Brighton 4-door wagon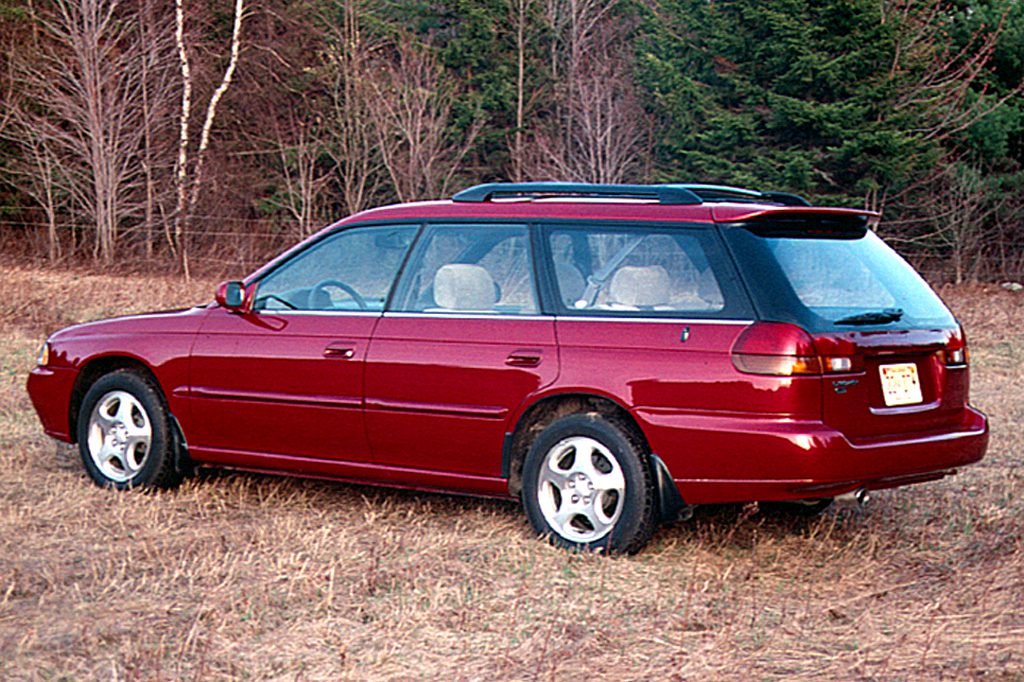 1995 Subaru Legacy LS 4-door wagon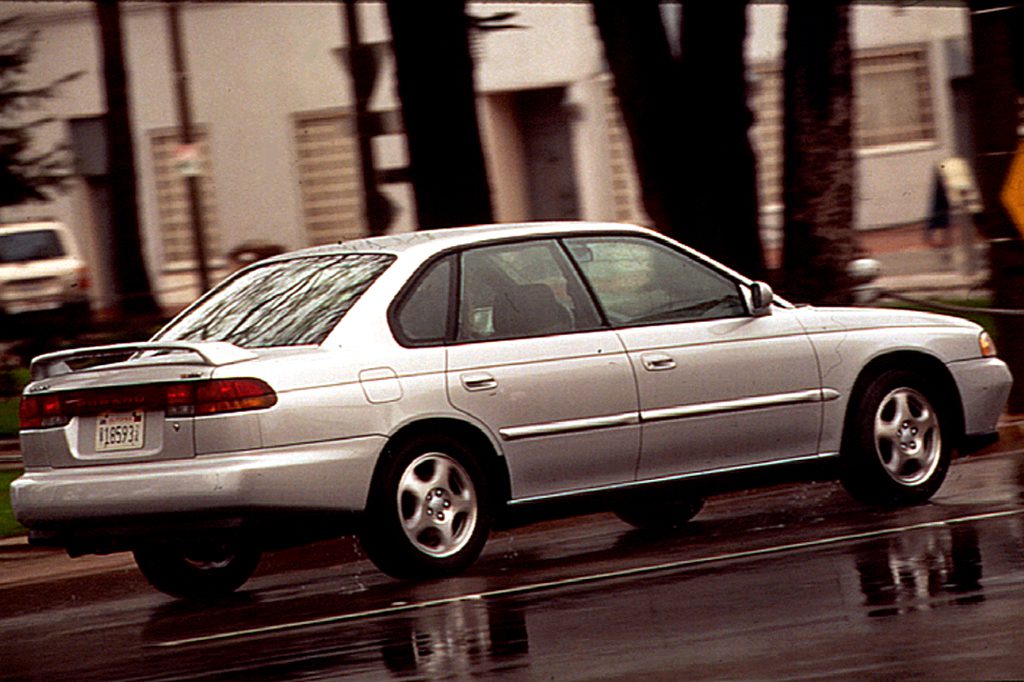 1996 Subaru Legacy GT 4-door sedan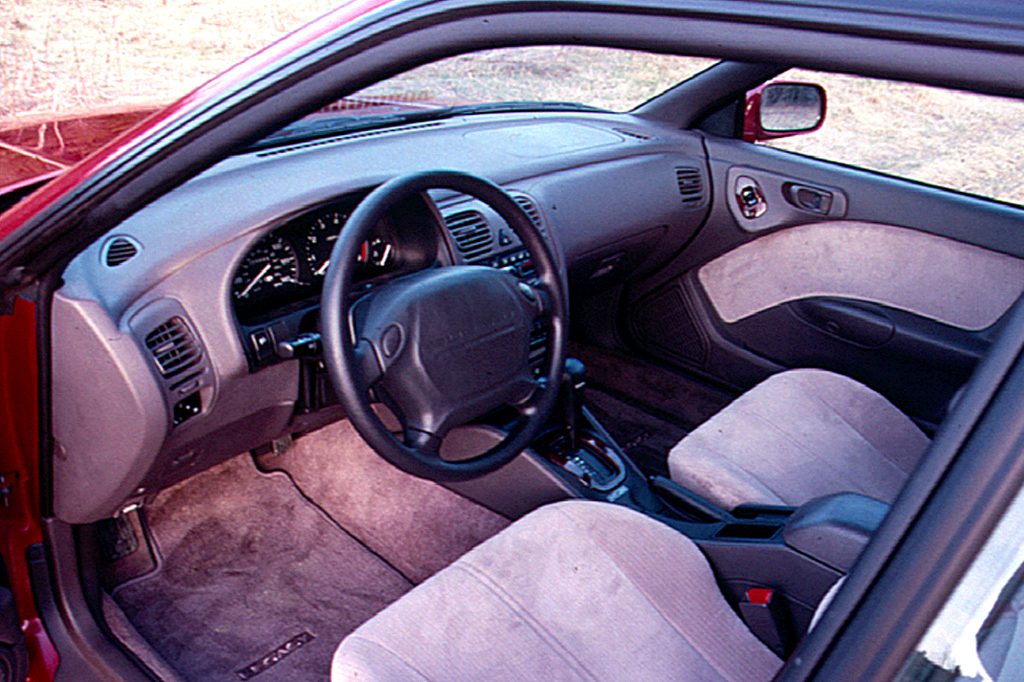 1995 Subaru Legacy LS interior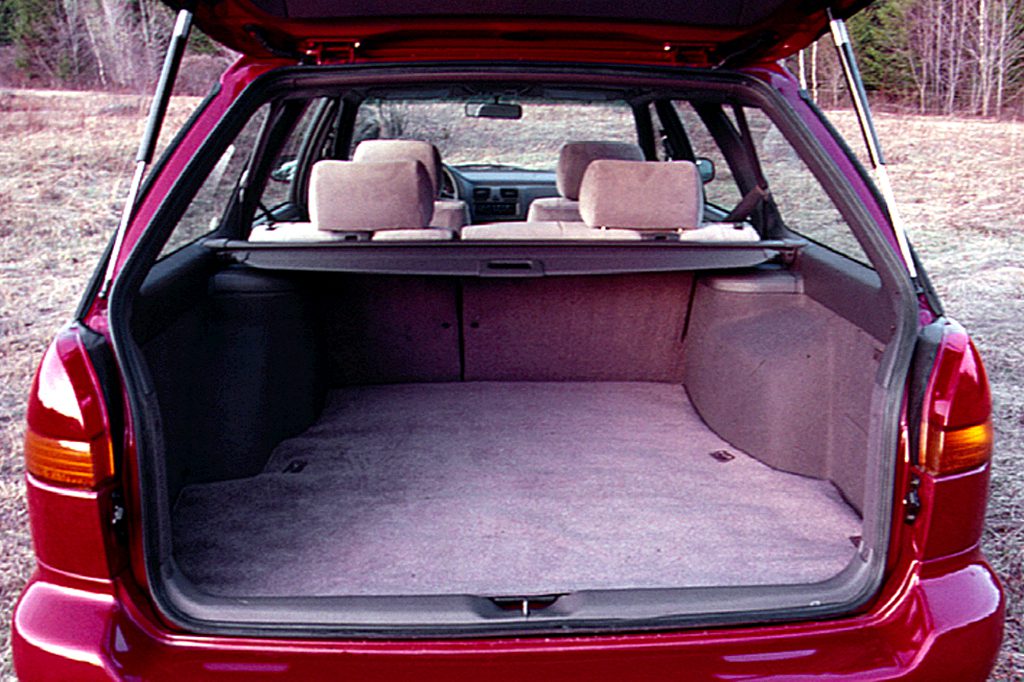 1995 Subaru Legacy LS 4-door wagon interior
Pros:

Antilock brakes (optional)
Wet-weather traction (traction control, AWD)
Passenger and cargo room
Visibility

Cons:

Engine noise
Fuel economy (AWD)
With the addition of dual airbags, the new Legacy was a more competitive entry in the compact class. But its trump card remained the competent line of all-wheel-drive sedans and wagons, which Subaru finally stressed in its advertising.
Overview
Subaru's compact sedans and wagons were redesigned for 1995 and wore new sheetmetal, wrapped around a Legacy that rode on a two-inch-longer wheelbase. Sedans and wagons were offered in either front-wheel or all-wheel drive (AWD). Sedans consisted of base, L, LS, and LSi trim levels. Wagons included base, L, LS, and LSi–plus all-new Brighton and Outback configurations. The base and L had standard front-wheel drive. The LS, LSi, Brighton, and Outback came with AWD, optional on the L. All Legacys were powered by a 2.2-liter, horizontally opposed 4-cylinder engine. All but the LS and LSi came with a standard 5-speed manual transmission. The LS and LSi came with a 4-speed automatic, which was optional on all but the base models. Dual airbags were standard across the board. Antilock brakes were standard on the LS, LSi, and Outback, optional on the L, and unavailable on the Brighton. The rugged-looking Outback model was positioned by Subaru to bridge the gap between a station wagon and a sport-utility vehicle.
Yearly Updates
1996 Legacy
By focusing on AWD models, front-wheel-drive Legacys are trimmed back to just one trim level and two models–the L version of the 4-door sedan and 4-door wagon. The featured attraction for 1996 is the AWD Outback wagon, which arrives with a taller roof, a new grille, white-spoked wheels, and a raised suspension that lifts ground clearance to 7.3 inches, compared to 6.1 inches for the other Legacy models. The LSi wagon gets a new 155-horsepower 2.5-liter flat 4-cylinder and a standard 4-speed automatic–as does the new AWD 2.5GT sedan and wagon.
1997 Legacy
Subaru hopes to build on the success of the Outback by shifting its entire line of Legacy sedans and wagons to all-wheel drive (AWD) and by adding a more luxurious "Limited" model. The 2.2-liter engine Subaru used in the L and Brighton models gains two horsepower (to 137). The same changes are also performed on the larger 2.5-liter flat-four, used in GT, LSi, and Outback models. The result there is a gain of 10 horsepower (to 165). Both engines can now be teamed with a standard 5-speed OD manual or 4-speed automatic.
1998 Legacy
Legacy sees no major change for '98.
1999 Legacy
For '99, all Outbacks got added sound insulation. The Outback Limited added a new grille, body-color exterior mirrors and door handles, and gold-color alloy wheels. A new, slightly bigger Legacy and Outback would appear for 2000.