Compact car; Built in USA, Canada
2-door coupe
2-door hatchback
4-door sedan
transverse front-engine/front-wheel drive
Good condition price range: $1,600 – $4,900*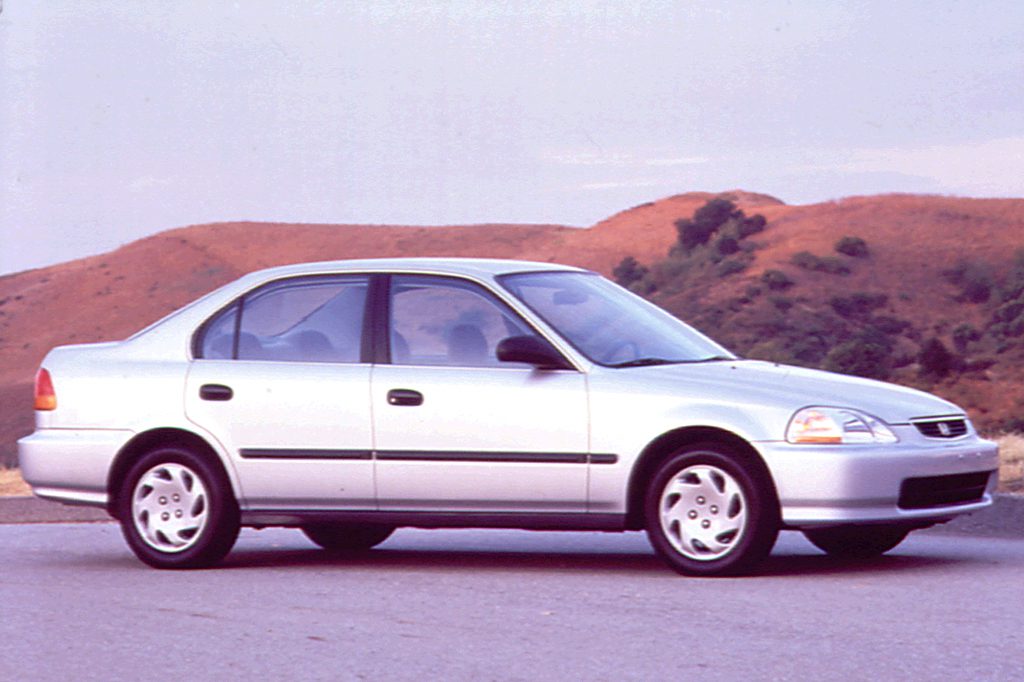 1997 Honda Civic LX 4-door sedan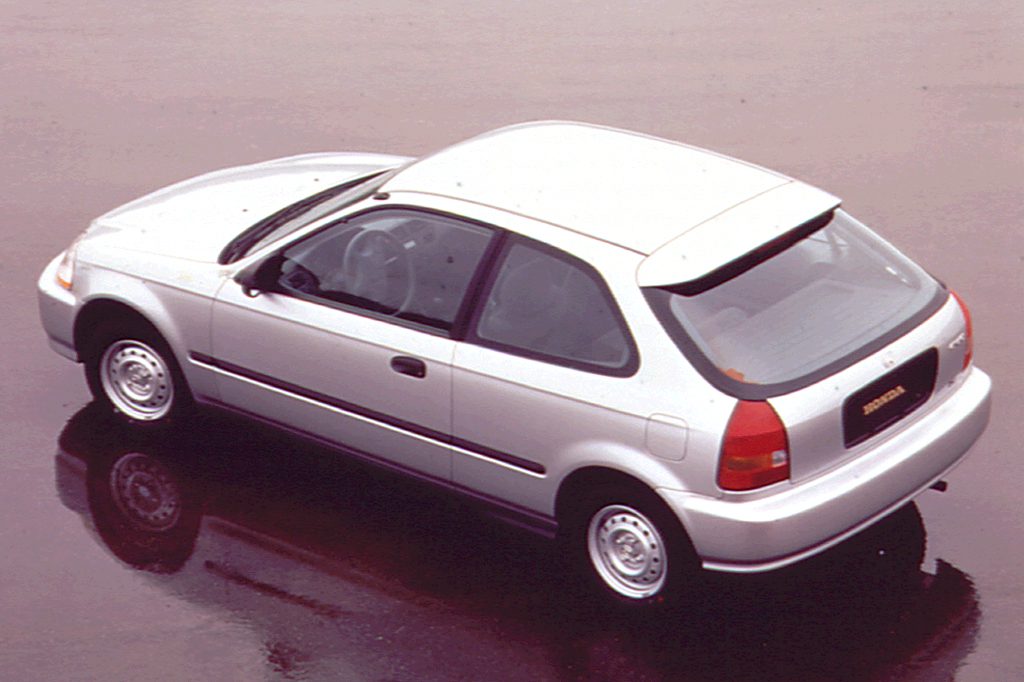 1996 Honda Civic DX 2-door hatchback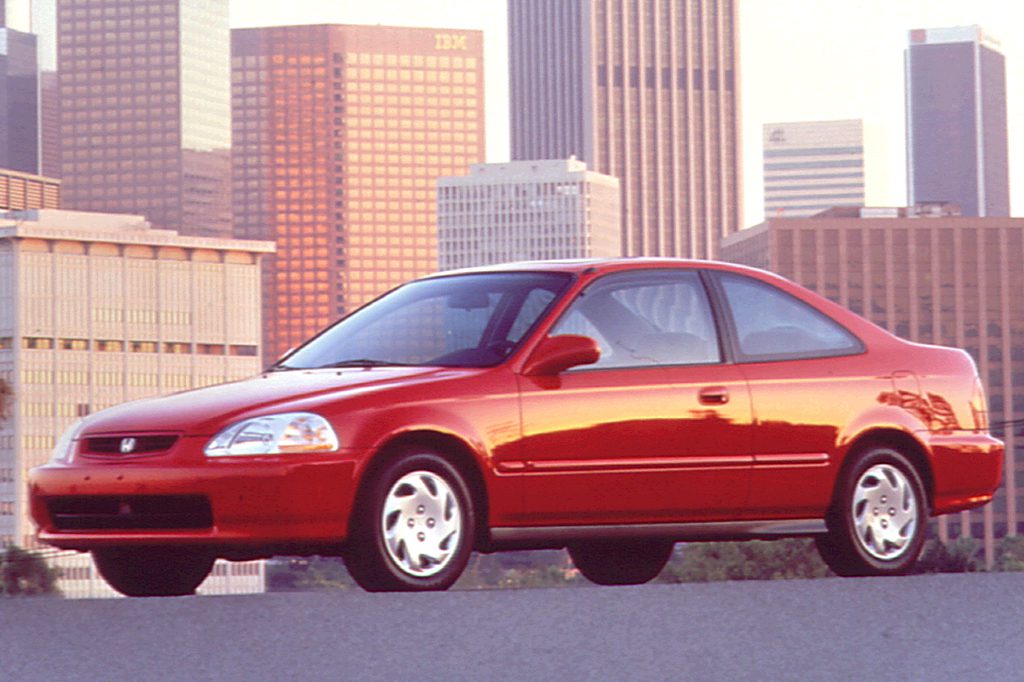 1997 Honda Civic EX 2-door coupe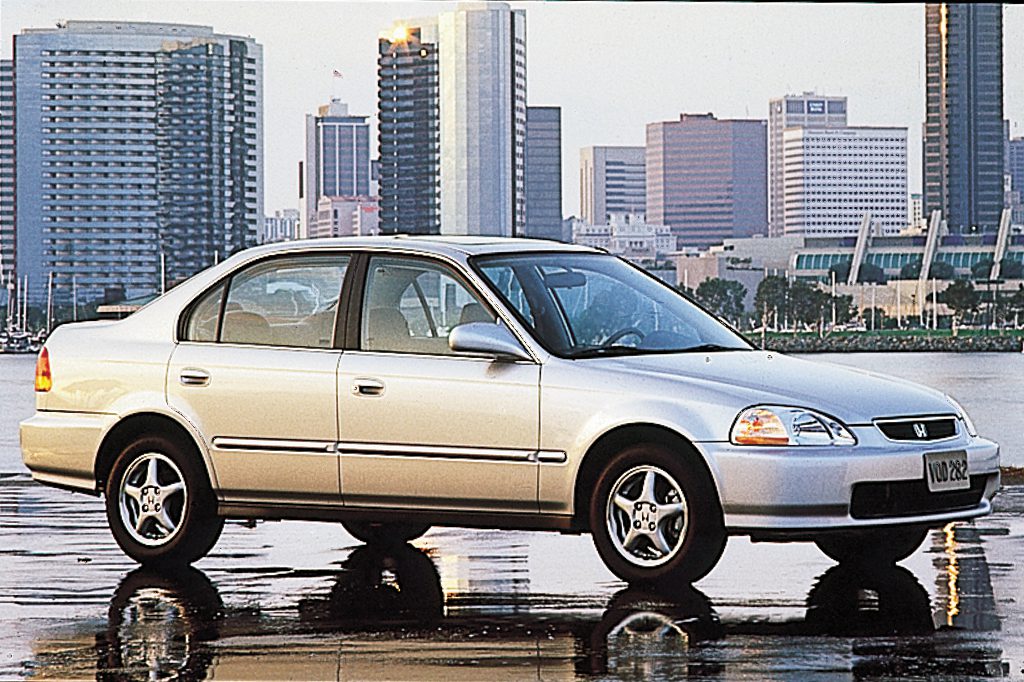 1996 Honda Civic EX 4-door sedan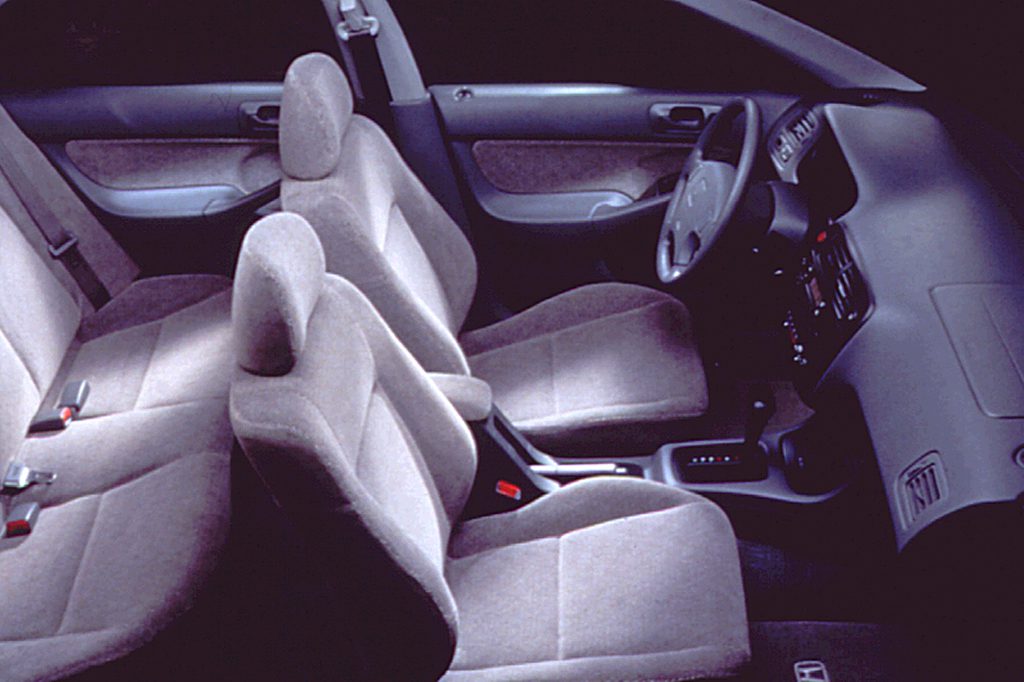 1996 Honda Civic interior
Pros:

Antilock brakes
Fuel economy
Ride
Visibility

Cons:

Rear-seat entry/exit
Road noise
This generation continues Civic's long-standing tradition of reliability and durability. Largely for that reason–coupled with the high new-car prices of LX and EX models, in particular–their resale prices as used vehicles tend to stay high.
Overview
Subcompact front-drive Civics again came in three body styles: 2-door notchback coupe, 2-door hatchback, and 4-door sedan. Coupes and sedans were about 2.3 inches longer, whereas the hatchback grew by 4.3 inches–now riding the same wheelbase as the coupe and sedan. A 106-horsepower 4-cylinder engine powered the CX, DX, and LX, and could be accompanied by either a 5-speed manual or 4-speed automatic transmission. The HX coupe's engine makes 115 horsepower, driving either a 5-speed or the innovative new CVT (continuously variable) automatic transmission. It operates somewhat like an electrical dimmer, in contrast to a 3-way light switch. EX Civics hold a 127-horsepower engine, with either manual or automatic shift. Dual airbags were standard on all models. Antilock brakes were standard on the EX sedan, but optional on the LX sedan and EX coupe.
Yearly Updates
1997 Civic
For 1997, all Civic models wore 14-inch tires. Otherwise, except for the addition of standard wheel covers, changes were minor this year.
1998 Civic
Civic saw little change for '98.
1999 Civic
Honda spruced up the Civic for '99 with minor appearance changes front and rear, plus a revamped dashboard with amber lighting and rotary climate controls in place of sliding levers. Two additional models were added in midyear. The 4-door VP was produced in limited numbers and included air conditioning, keyless entry, and special paint. Also a limited-production model, the 2-door Si got a 160-horsepower engine, 5-speed manual transmission, 4-wheel disc brakes, a rear spoiler, and low-profile tires on 15-inch wheels.
2000 Civic
Redesigned, slightly bigger Civics were expected for 2001, so changes were few for 2000. A standard tilt steering wheel went into the base CX model.