Premium large car; Built in Japan
longitudinal front-engine/rear-wheel drive
Good condition price range: $6,500 – $16,300*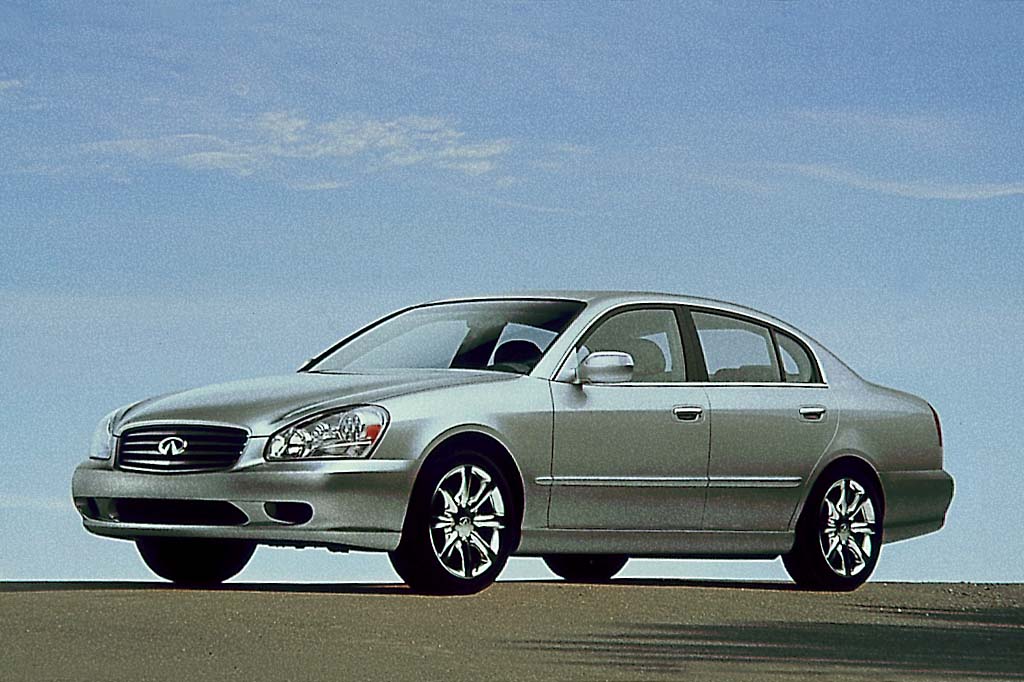 2002 Infiniti Q45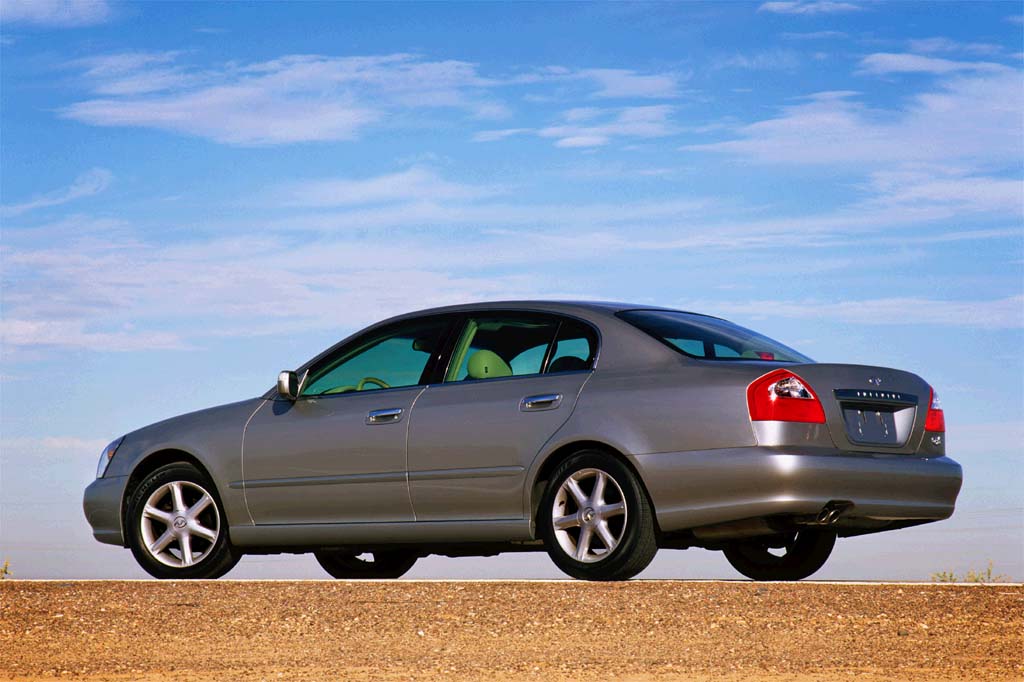 2002 Infiniti Q45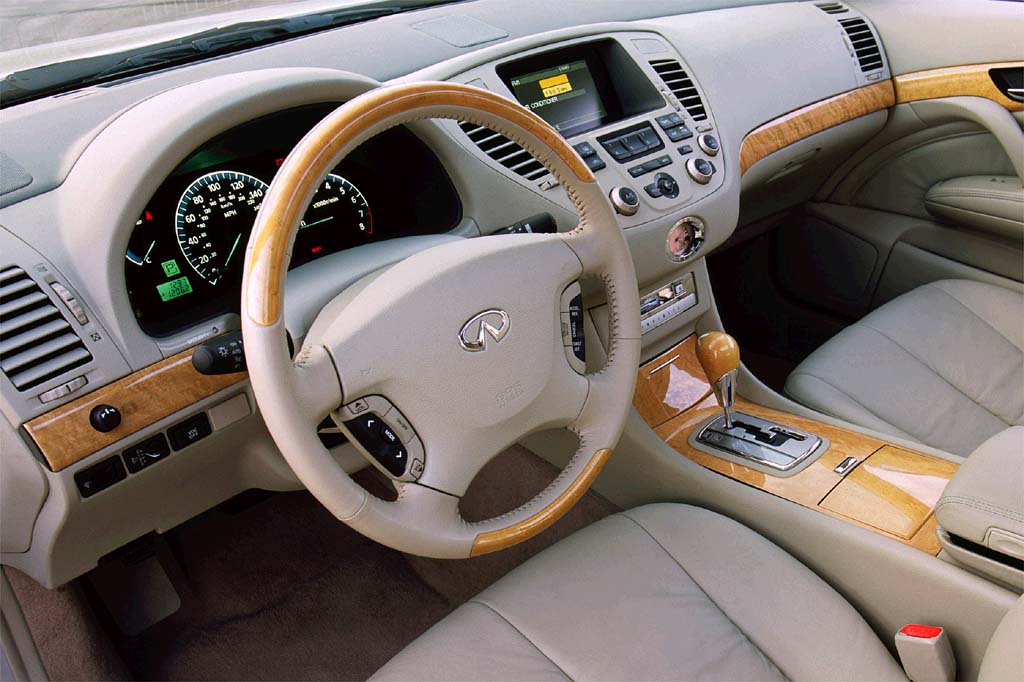 2002 Infiniti Q45 interior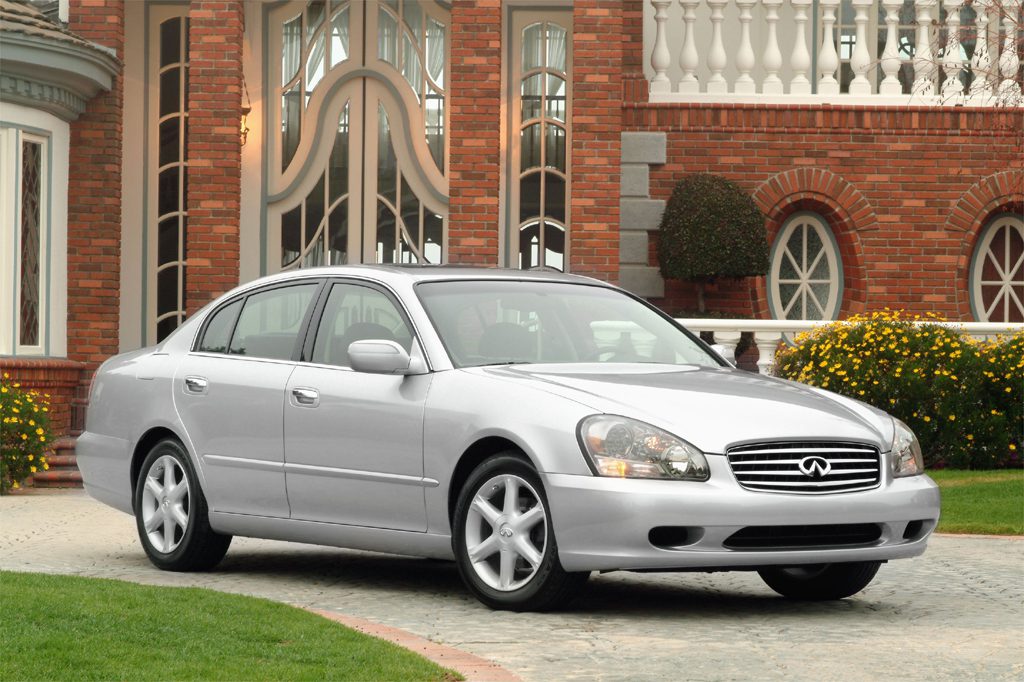 2004 Infiniti Q45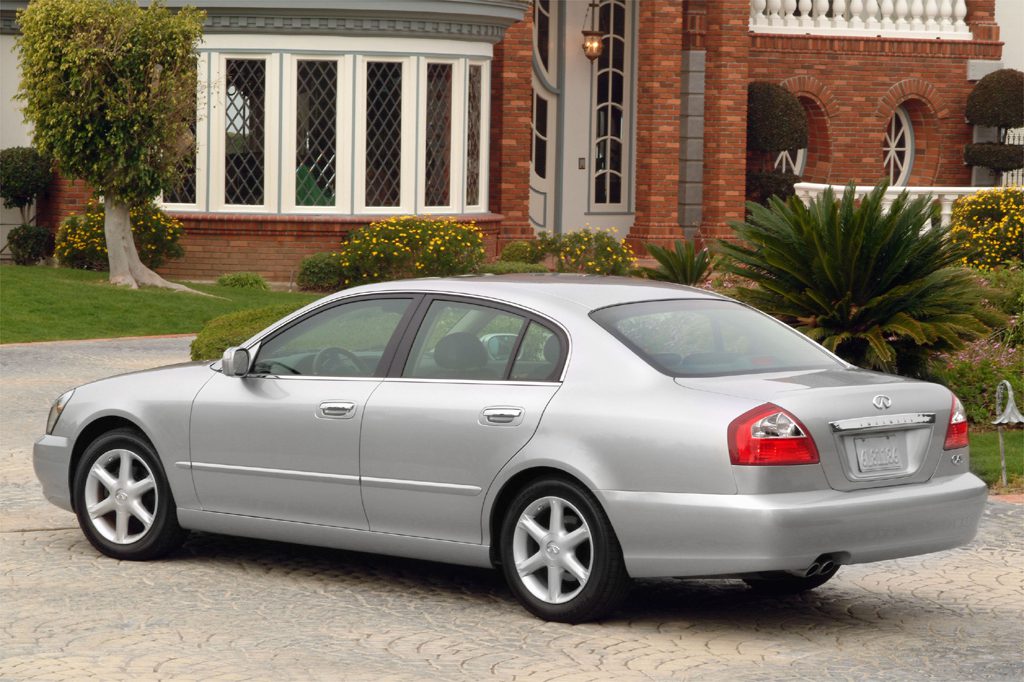 2004 Infiniti Q45
Pros:

Acceleration
Build quality
Quietness

Cons:

Fuel economy
Navigation-system controls
Premium sedans must deliver effortless performance in an atmosphere of uncompromised, spacious refinement. Materials and workmanship of the highest quality, along with at-your-service ergonomics, are also essential when a car costs as much as the Q45. Despite a good reliability record, the Q45 doesn't squarely hit any of these marks.
Overview
Nissan's luxury division redesigned its flagship sedan for 2002. Wider and taller than the 1997-2001 model, the new Q45 rode a longer wheelbase that yielded greater interior space. New styling includes 7-lens headlamps that were claimed to be the world's brightest.
Infiniti sought to revive the Q45's performance roots by installing a 4.5-liter V8 that delivered 74 more horsepower than the prior generation's 4.1-liter. A five-speed automatic transmission, with manual shift gate took the place of the previous four-speed unit.
Antilock four-wheel disc brakes with full power assist were standard, along with antiskid/traction control, 17-inch wheels, front and curtain side airbags, and leather/wood interior trim. An in-dash information screen served an available navigation system, and there was standard voice control for audio, climate, and navigation functions.
A Sport Package option for the base Luxury model added 18-inch wheels, wider tires, and auto-adjusting shock absorbers with firmer sport mode. The Premium Package included a power-reclining rear seat, rear audio/climate controls, and a TV camera that displayed a view of the area behind the car when Reverse was selected.
Radar-based Intelligent Cruise Control became available during the 2002 season. With the Q45, Infiniti competed against the BMW 540i, Lexus LS 430, and Mercedes-Benz E430/E500.
Yearly Updates
2003 Q45
Nissan's luxury-brand flagship sedan touted extra features for 2003. Added as standard were a power trunk lid closer, door-mirror "puddle" lights, and a one-slot in-dash CD changer (replacing a glovebox-mounted cartridge unit).
A Luxury sedan served again as the base model. The Premium version included heated front/rear seats, a power reclining rear seat, rear audio/climate controls, and a rear-view TV camera that worked when the gear selector went into Reverse. Newly standard for this year's Premium sedan were front-seat fan ventilation, power open/close trunk lid, chrome or titanium-colored 18-inch wheels, and digital satellite radio with choice of XM or Sirius service. A Sport Package remained available.
Nissan's Intelligent Cruise Control, a separate option, was designed to automatically adjust speed and maintain a safe following distance. Finally, the Q45 was newly certified as a Low Emissions Vehicle (LEV), a numerically higher rear-axle ratio was used, and minor trim changes occurred inside and out.
2004 Q45
Available in Luxury and Premium trim, the Q45 gained a standard rear-view TV camera and monitor as its only significant change for 2004. It used the same display screen as the navigation system and audio/climate functions.
Premium sedans had 18-inch wheels rather than 17s, an adjustable suspension, heated/cooled front seats, and reclining heated rear seats. Also included were the navigation system and Intelligent Cruise Control. A Journey option for the Luxury sedan added Intelligent Cruise Control, the navigation system, and run-flat tires.
2005 Q45
Q45 gets a mild facelift and some equipment revisions for 2005. Recalibrations to the transmission for '05 are intended to improve response and smoothness. A Premium package adds heated and cooled front seats, reclining heated rear seats, satellite radio, and 18-inch wheels in place of standard 17s. It also includes radar cruise control designed to maintain a set following distance from other traffic.
2006 Q45
The flagship of Nissan's luxury brand adds a Sport version for 2006. Like the base model, it has a 340-hp V8 and a 5-speed automatic transmission with manual shift gate. The Sport model uses a nonadjustable sport-tuned suspension and includes Infiniti's Rear Active Steer system that steers the rear wheels slightly to improve handling. Hands-free cell phone connectivitity is also standard for 2006.