Premium compact car; Built in Germany
2-door convertible
4-door sedan
4-door wagon
transverse front-engine/front- or all-wheel drive
Good condition price range: $4,500 – $41,500*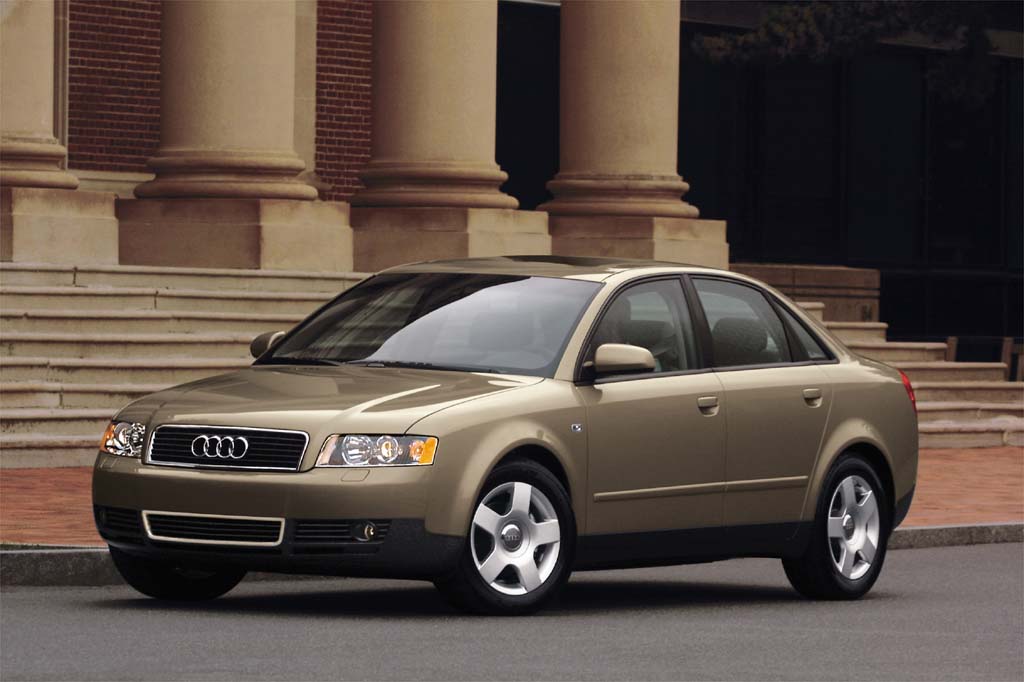 2002 Audi A4 4-door sedan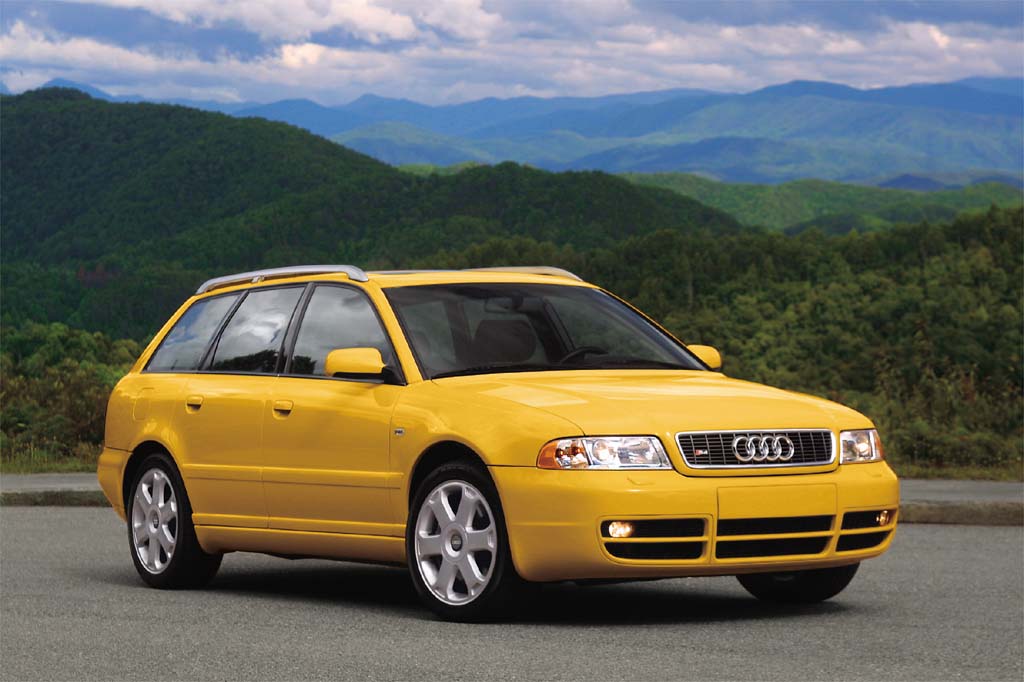 2002 Audi A4 4-door wagon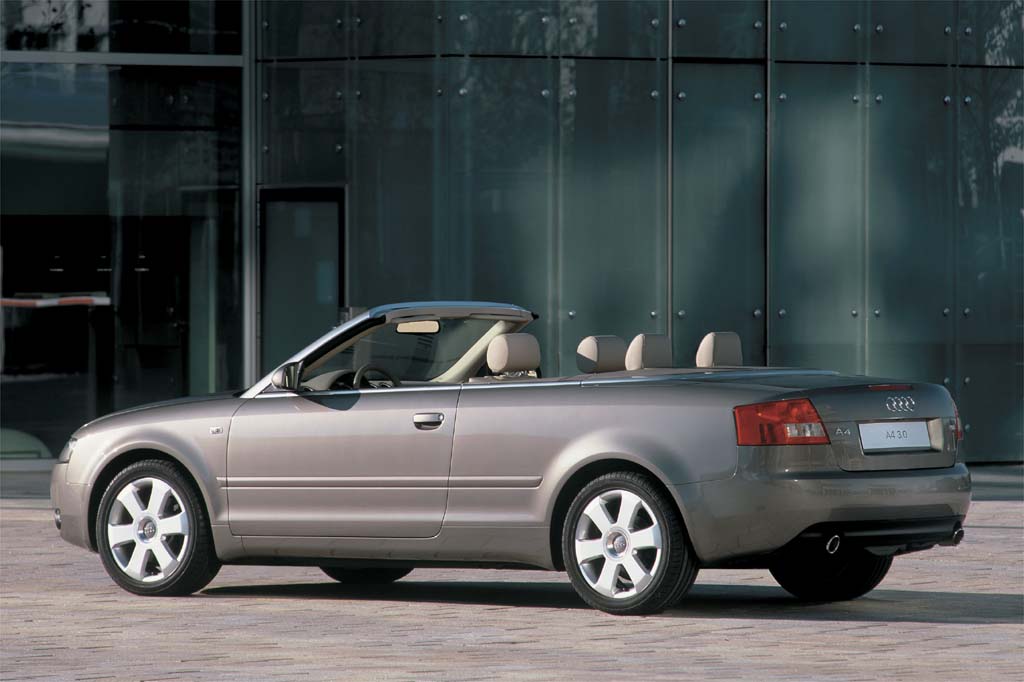 2003 Audi A4 cabriolet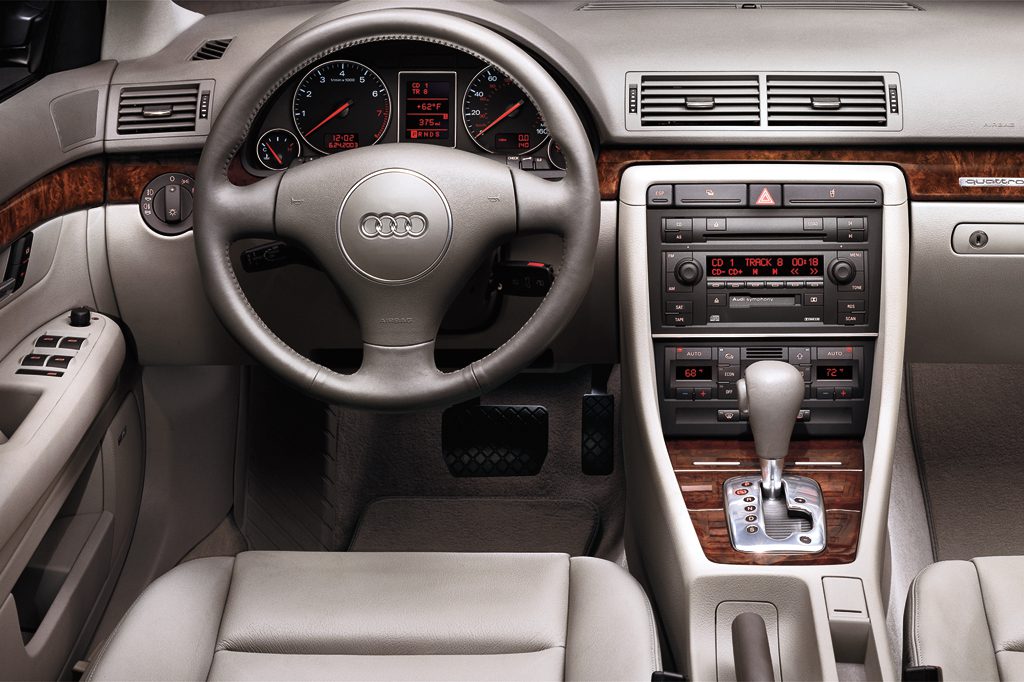 2004 Audi A4 interior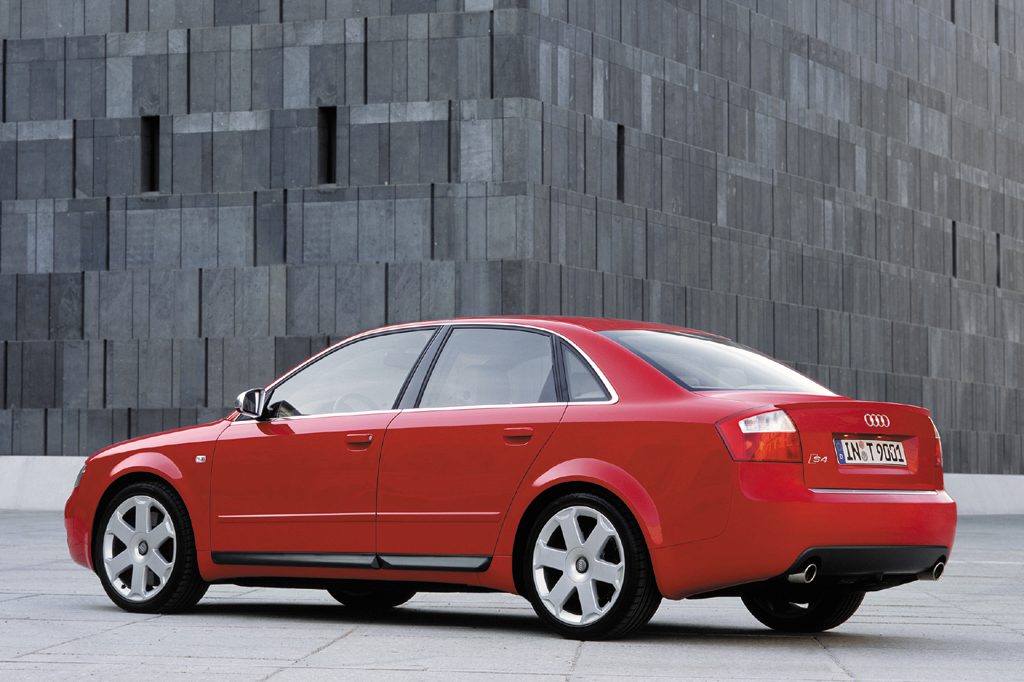 2004 Audi S4 4-door sedan
Pros:

Acceleration
Automatic-transmission performance
Ride
Steering/handling

Cons:

All-wheel drive
Interior materials
An A4 matches or beats most any class rival for refinement, performance, features and variety of body styles. BMW, Infiniti, Jaguar, Mercedes-Benz and Volvo offer all-wheel-drive models, but no competitor matches Audi's impressive CVT.
Overview
Audi's least-expensive and top-selling model, the near-luxury A4, earned a full redesign for 2002. Slightly larger inside and out, the new A4 sedan and Avant wagon introduced an optional continuously-variable transmission (CVT).
The redesigned 1.8T sedan had a turbocharged 1.8-liter, 170-horsepower four-cylinder engine. The 3.0 model used a 3.0-liter V6 rated at 220 horsepower–a gain of 30 hp. Audi's quattro all-wheel drive was standard on S4 models and available on other models in place of front-wheel drive. Quattro A4s used a manual transmission or a conventional five-speed automatic.
Audi's new CVT furnished variable (not fixed) drive ratios without using conventional gears, and also had six preset "manual-shift" ratios that could be accessed via a separate shift gate or by steering-wheel buttons. CVT was available only on front-drive sedans with the 3.0-liter V6.
Antilock braking, an antiskid system and curtain and front side airbags were standard. Sedans and wagons also had head-protecting curtain side airbags, and rear torso airbags were optional. Options included a navigation system and rear obstacle warning. An available Sport package included a firmer suspension with performance tires on 17-inch wheels.
Rivals included the BMW 3-Series, Lexus IS 300, and Mercedes-Benz C-Class.
Yearly Updates
2003 A4/S4
Audi added a Cabriolet (convertible) body style to its A4 lineup for 2003. Cabriolets got their own exterior styling and interior trim, with a power folding top that contained a heated glass rear window. Convertibles included front side airbags that provided head and torso protection. Small support bars behind the convertible's rear seats pop up automatically to protect occupants in an impending rollover. Sedans and convertibles came with standard front-wheel drive. Wagons had quattro all-wheel drive as standard equipment. Audi's CVT was standard on convertibles and the 3.0 front-drive sedan, and available for the 1.8T front-drive sedan. All models could have GM's OnStar assistance system with extra-cost e-mail service. New options included 17-inch all-season tires to replace the usual 16s, a power driver's seat for 1.8T models, and steering-wheel audio/climate controls for the 3.0 series. Leather seats were now standard in 3.0 models, and optional for 1.8T versions. Full leather upholstery was available for V6 models.
2004 A4/S4
High-performance S4 models returned for 2004, using the new A4 design. Initially offered in sedan and Avant wagon body styles, the S4 used a 340-horsepower, 4.2-liter V8 engine and a six-speed manual or six-speed automatic transmission. The sport suspension included 18-inch wheels. An S4 Cabriolet joined the group in midseason. Availability of all-wheel drive expanded this year. Quattro was standard on Avants, optional for sedans, and newly available for the 3.0 Cabriolet. For quattro models, a new six-speed manual transmission replaced the previous five-speed unit. CVT was standard on convertibles and front-drive 3.0 sedans, and available for the front-drive 1.8T sedan.
2005 A4/S4
Early '05 models carried over unchanged. The A4 got freshened styling and new engines for "2005.5." The 1.8 turbo grew to 2.0 liters while the V6 went from 3.0 liters to 3.2. The S4 kept its 4.2-liter V8.
2006 A4/S4
No significant changes were made to the A4/S4 in 2006.
2007 A4/S4
S4s got revised front and rear styling for 2007.
2008 A4/S4
The 2008 Audi A4 was largely unchanged, pending a redesign due in calendar 2008 as a 2009 model. New for 2008 was an RS 4 Cabriolet.