Premium midsize car; Built in Japan
2-door coupe
4-door sedan
longitudinal front-engine/rear- or all-wheel drive
Good condition price range: $6,800 – $15,300*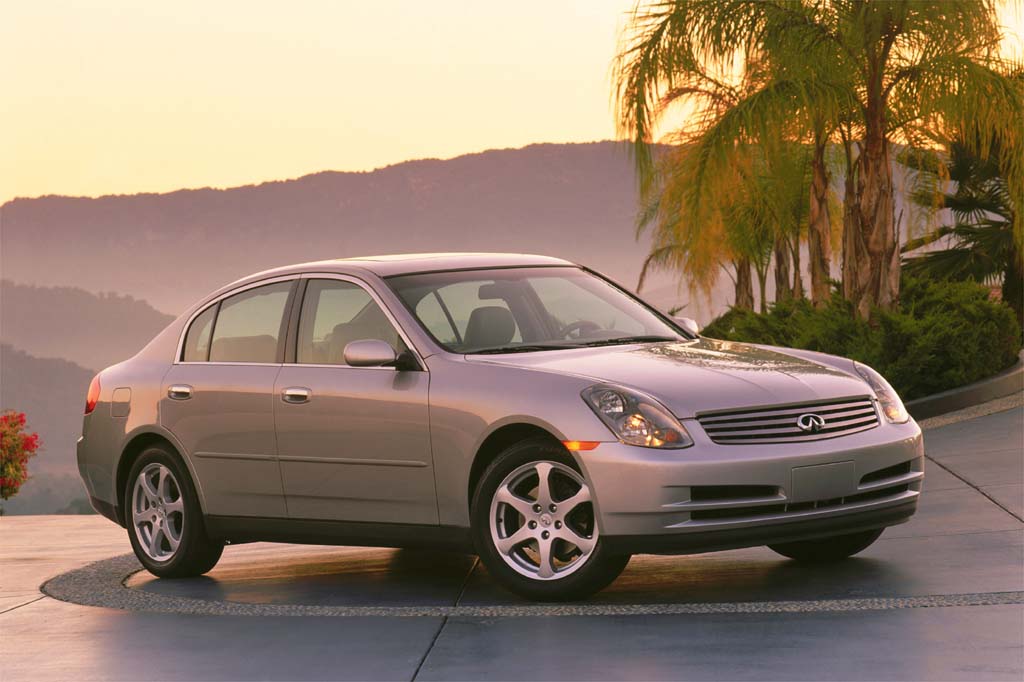 2003 Infiniti G35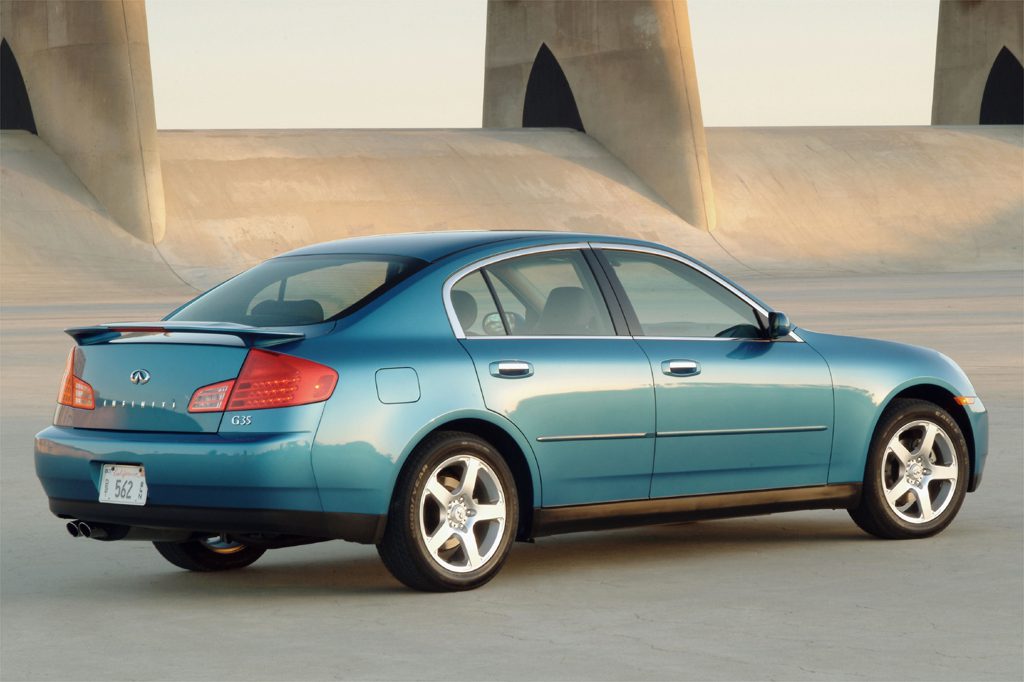 2004 Infiniti G35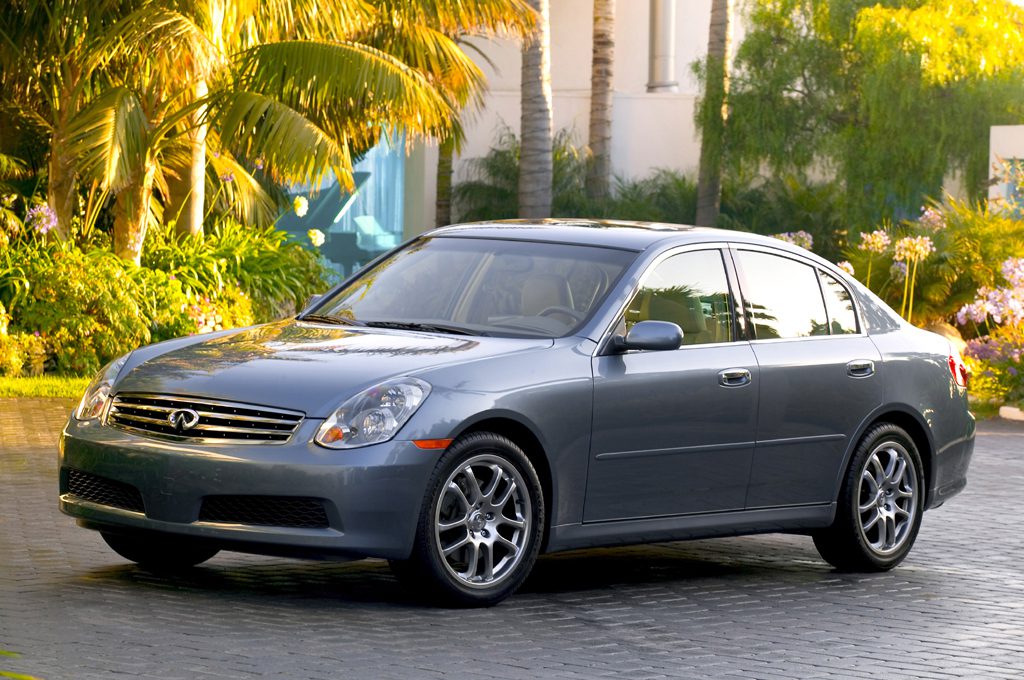 2005 Infiniti G35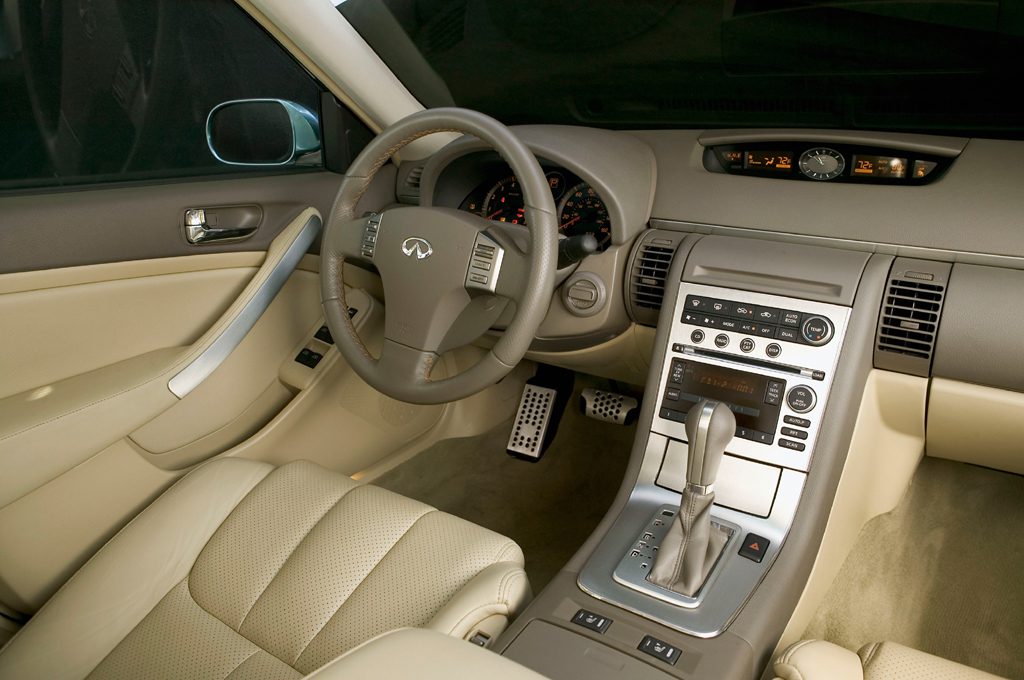 Infiniti G35 interior
Pros:

Pass/Merge Acceleration
Available All-wheel drive
Automatic-transmission performance
Ride/handling

Cons:

Fuel economy
Rear-seat entry/exit
Ride w/Sport Suspension
Infiniti isn't as prestigious a brand as BMW, Lexus or Mercedes, and doesn't quite match them (or Audi) for refinement, detail finish, and materials. Still, in performance, style and space–and all-wheel drive after 2003–the G35 earns a Recommend rating. It's a credible and less-expensive alternative to rival models from those automakers.
Overview
Introduced in spring of 2002, as an early 2003 model, Infiniti's newest near-luxury sedan headed into that autumn with a coupe companion and a second transmission choice. Aimed at enthusiast drivers, these cars shared a basic rear-wheel-drive platform and V6 powerteam.
Sedans used a 260-horsepower engine, versus 280 horsepower for the coupe. The sedan was one of the longest near-luxury cars in wheelbase and overall length, and took a sportier tack than Infiniti's front-drive I35.
Essentially, the G35 coupe was a stretched version of Nissan's new-for-2003 350Z sports car, with a small fold-down back seat, different styling, and a greater luxury emphasis. It had less power than the Z-car, but more than the G35 sedan.
Both G35s offered a five-speed automatic transmission with manual shift gate; or later in the season, a six-speed manual. The manual transmission also became available in sedans, early in calendar 2003. Both body styles had antilock four-wheel disc brakes with full power brake assist, front side airbags, curtain side airbags (covering front seat only in coupes), and an in-dash CD changer.
The Luxury sedan came with fabric upholstery and 16-inch wheels, and had no options. The Luxury Leather sedan added leather upholstery, a power driver's seat, and 17-inch wheels. Xenon headlights went from optional to standard at midyear. The Luxury Leather sedan could be upgraded with wood interior trim, a sunroof, and a Premium Package that included reclining rear seatbacks and a firmer Sport-Tuned Suspension with performance tires.
All coupes came with xenon lights and with suspension tuning equivalent to that of the sedan's sport-tuned setup. The base coupe rode on 17-inch wheels and contained cloth upholstery. With leather upholstery, coupes got 18-inch wheels, a limited-slip differential, heated front seats, steering-wheel audio controls, and other amenities. Manual-transmission coupes got uprated brakes.
Bose digital audio and DVD navigation were available for all G35s, as was satellite radio with a choice of XM or Sirius service. Competitors included the Acura TL, Audi A4, BMW 3-Series, and Cadillac CTS.
Yearly Updates
2004 G35
Introduction of an all-wheel-drive sedan highlighted 2004 changes for Infiniti's sporty near-luxury car. The new Leather AWD sedan had a Snow Mode that allowed the driver to lock in a 50/50 front/rear torque split. Rear-drive G35s were available with a five-speed automatic transmission or a six-speed manual. The AWD model came only with automatic.
For 2004, the base sedan joined other sedans with standard 17-inch wheels. It had fabric upholstery and newly heated outside mirrors. The Leather sedan added heated front seats. Manual-transmission sedans gained a limited-slip differential. Manual-shift coupes had upgraded brakes and 18-inch wheels, versus 17s. All G35s gained a standard tire-pressure monitor.
2005 G35
More power and revised styling marked the 2005 models. Automatic-transmission sedans adopted the coupe's 280-horsepower V6. Manual-shift coupes and sedans now held a 298-horsepower engine. The all-wheel-drive G35x came only with automatic. A limited-slip differential and sport suspension were standard on manual-transmission models. Coupes with the manual gearbox rode on 19-inch tires, the G35x sedan had 17-inch tires, and other automatic models had a choice of wheel sizes.
2006 G35
A keyless-entry/engine-start system and wireless cell phone link are newly available for Infiniti's entry-level cars for 2006.
2007 G35
Infiniti revamps its lowest-priced sedan for 2007, giving it more power and new styling inside and out. The coupe version of the G35 continues in its 2003-2006 form for '07. See 2007-2008 Infiniti G report for sedan information.