Premium large SUV; Built in USA
longitudinal front-engine/all-wheel drive
Good condition price range: $13,500 – $42,000*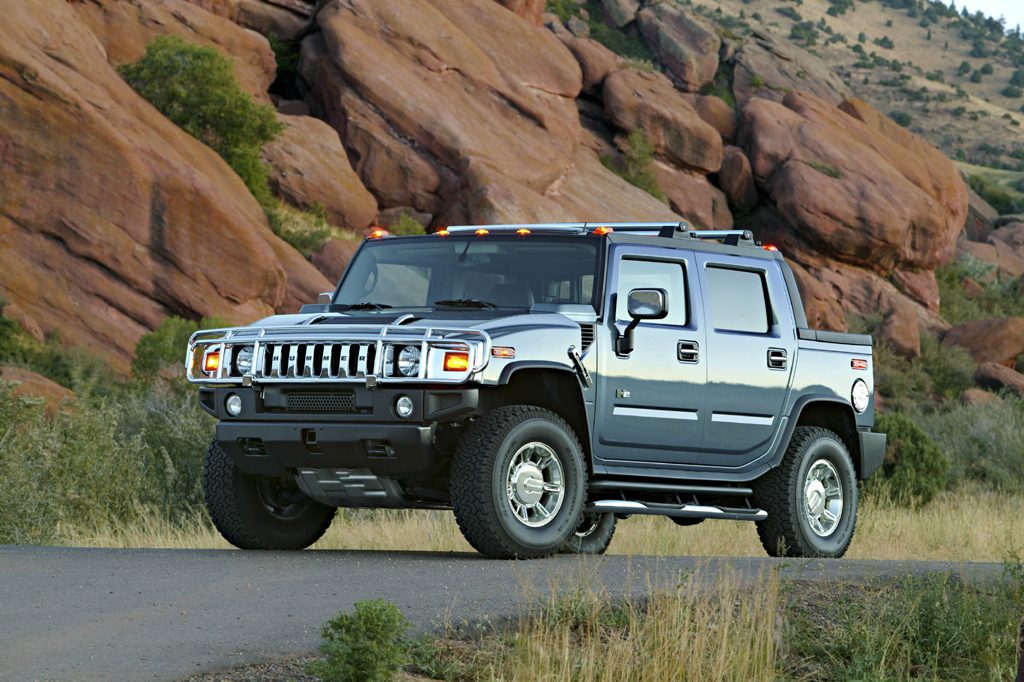 2005 Hummer H2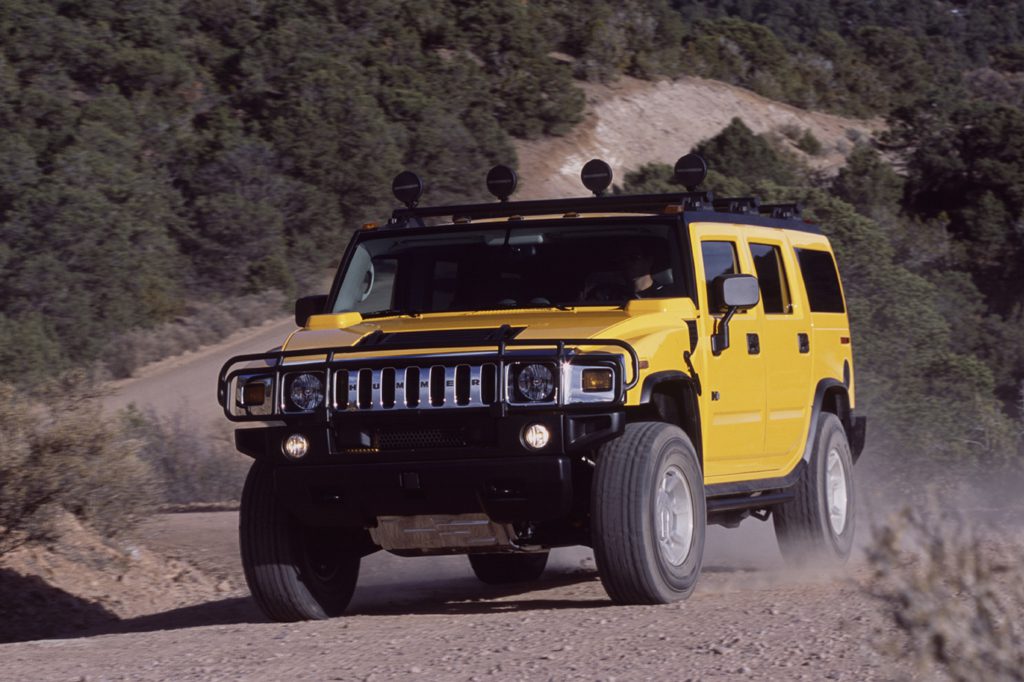 2004 Hummer H2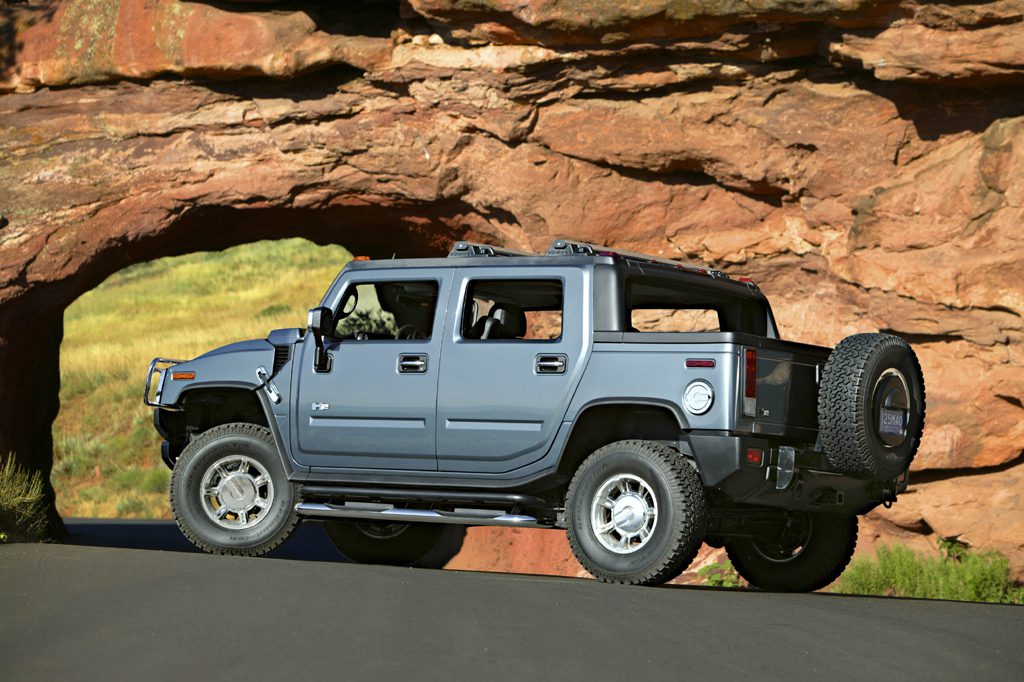 2005 Hummer H2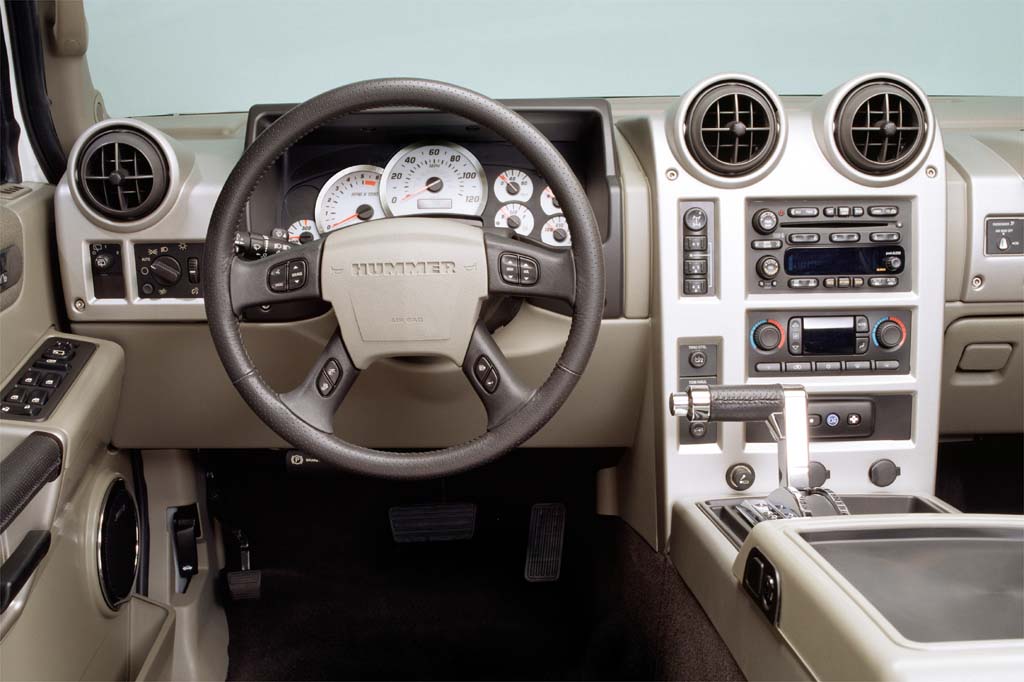 2003 Hummer H2
Pros:

Trailer-towing capability

Cons:

Entry/exit
Fuel economy
Noise
Steering/handling
For better or worse, the H2 carries over many big-Hummer styling cues and makes a unique image statement. It's highly capable off-road, and fairly civilized on-road, but limited cargo room leaves the H2 short on utility. Seating comfort and capacity can't match other big SUVs. Similar money can buy any number of more-luxurious, more refined competitors. Look for a less-exaggerated model with more interior room, comfort, and practicality plus superior workmanships and greater fuel economy.
Overview
Launched for 2003, this new "junior" Hummer borrowed styling from its military-based big brother, but was designed as a more-civilized, less-costly SUV. Like the larger, original Hummer–now called the H1–the H2 was built by AM General in Indiana. However, it was designed in conjunction with General Motors, which now owned the Hummer brand. H2s were sold through selected GM dealerships, most of them Cadillac franchises.
Compared to a Chevrolet Tahoe, the H2 was 9 inches shorter in length, but its wheelbase was nearly 7 inches longer and it was more than 2 inches wider. It was also some 1300 pounds heavier. Standard seating was for five occupants, with a single-passenger third-row seat optional. The H2 took its 6.0-liter V8, four-speed automatic transmission, and major chassis components from GM's full-size pickup trucks. All-wheel drive was standard: designed for severe off-road use with low-range gearing, specific throttle-pedal and traction-control settings, for on- and off-pavement activity. A locking rear differential was installed, too.
Luxury sport-utility vehicle competitors included the GMC Yukon/Denali and Toyota Land Cruiser. An H2 could tow as much as 7000 pounds. Standard features included antilock four-wheel disc brakes, chassis skid plates, GM's OnStar assistance system, power front seats, a split folding second-row seat, and 17-inch wheels. Side airbags were not available. Options included heated leather front and second-row seats, a sunroof, chrome appearance package, and an Adventure package with self-leveling rear air-spring suspension.
Yearly Updates
2004 H2
A navigation system became available for 2004, part of a combination radio/navigation unit that put the video screen in the audio faceplate. During 2004, engine output rose to 325 horsepower.
2005 H2
An SUT offshoot of the original H2 wagon joined for 2005, with a pickup truck-like cargo bed. Seating five like the regular H2, it replaced the wagon's enclosed cargo area with a 3-foot-long, 5-foot-wide open cargo bed. The SUT had GM's midgate wall behind the rear seat. Fitted with a power-retractable window, the midgate folded along with the back seat to extend bed length to 6 feet.
2006 H2
A Pacific Blue Limited Edition package for 2006 bundled Hummer's audio/navigation system with DVD entertainment, carbon-fiber interior accents, and special blue paint. Also included were a roof rack, roof-mounted off-road lights, and brush guards for the grille and taillights. Hummer launched a new, smaller H3 model this year, which would also be the finale for the mammoth H1.
2007 H2
A rearview camera became optional for 2007 on this military-styled SUV from General Motors' Hummer brand.
2008 H2
The 2008 Hummer H2 got a redesigned interior and a more powerful engine. Hummer updated its big SUV's passenger compartment for 2008, and a 2-passenger 3rd-row seat became available. Also new was a 393-hp 6.2-liter V8 that replaced a 325-hp 6.0-liter. Maximum towing capacity was increased from 6500 lb to 8000.
2009 H2
The H2 gained the ability to run on E85 ethanol-blended fuel, and 2nd-row bucket seats were newly available on the wagon. A wireless cell-phone link, heated steering wheel, and power-tilt steering column were newly available.