Compact SUV; Built in USA
transverse front-engine/front- or all-wheel drive
Good condition price range: $5,400 – $20,700*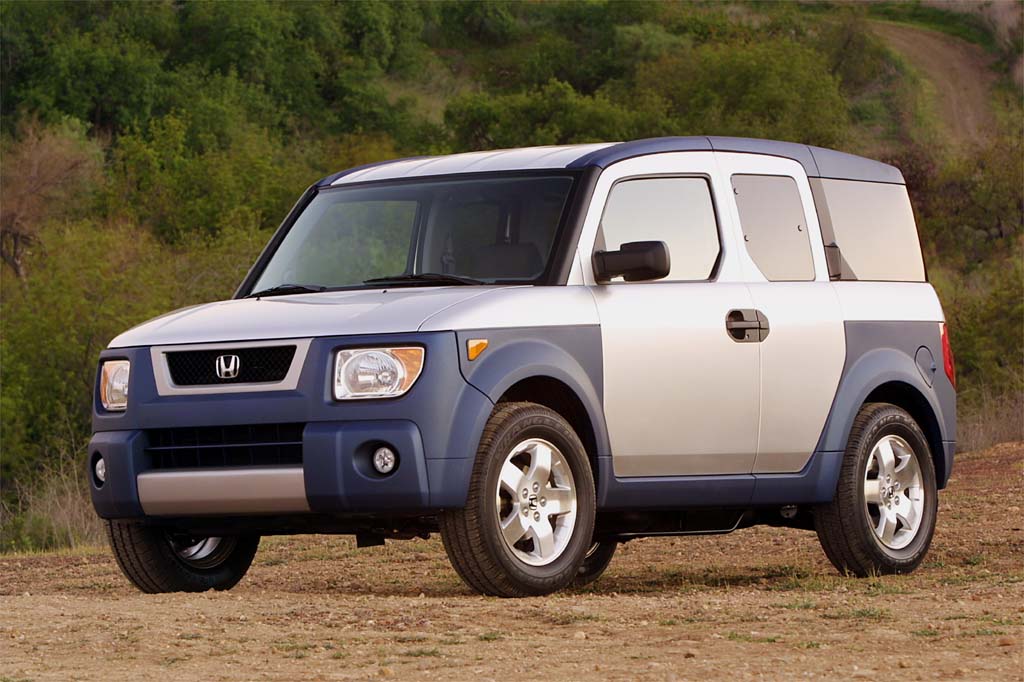 2003 Honda Element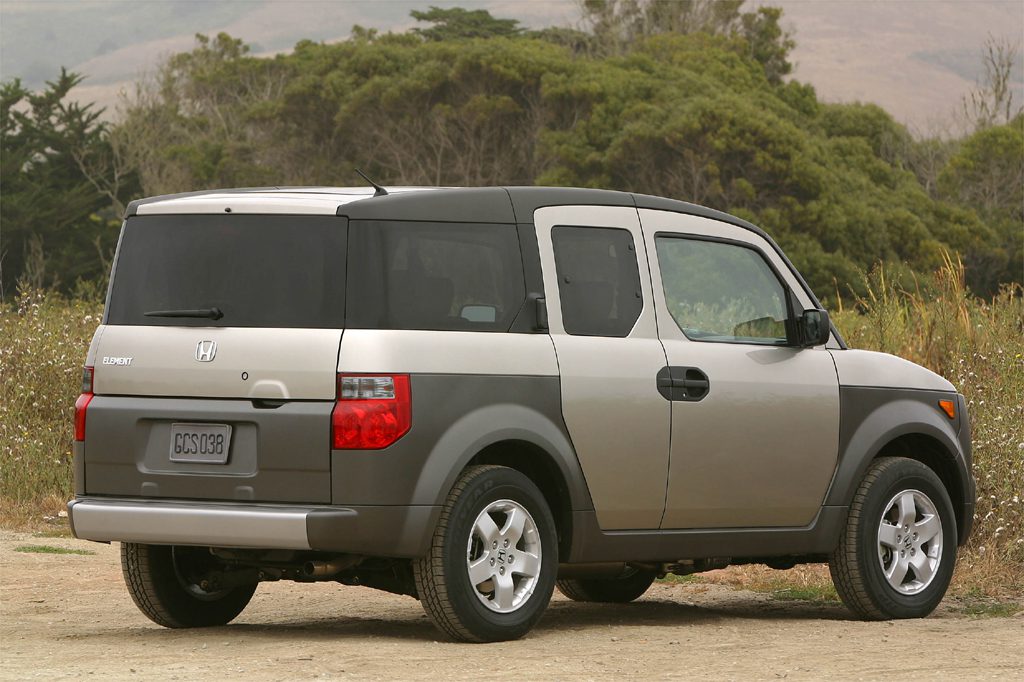 2004 Honda Element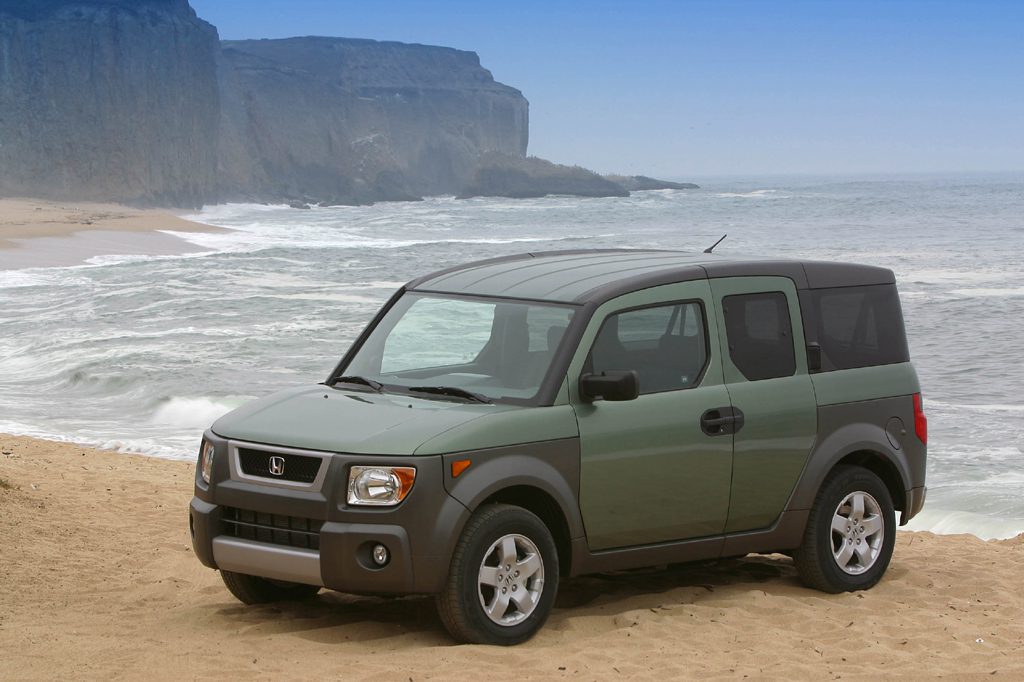 2005 Honda Element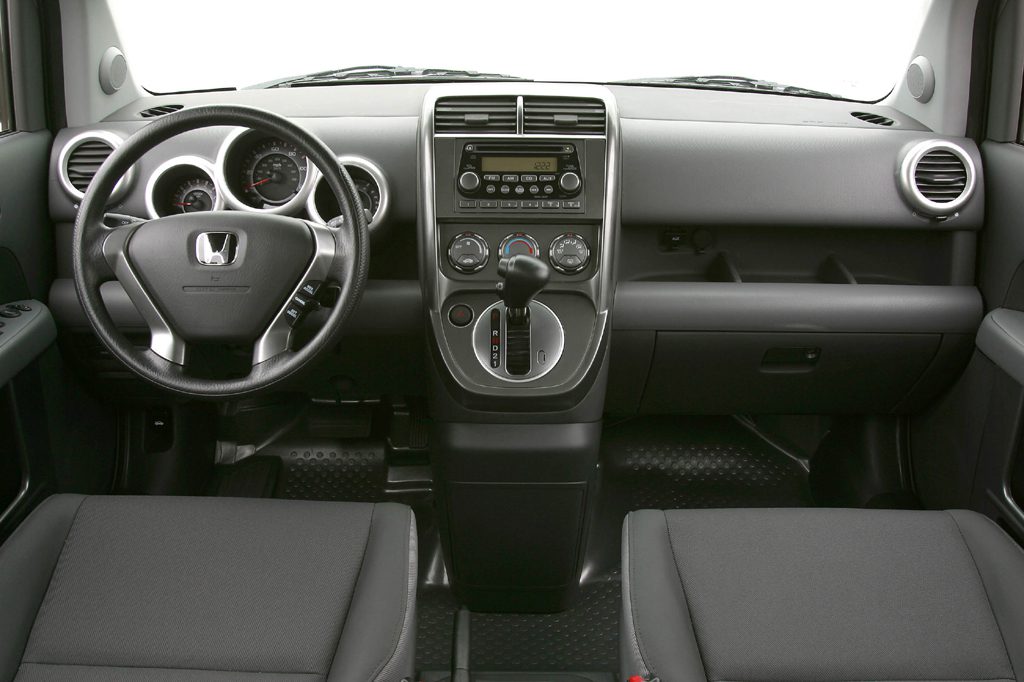 Honda Element interior
Pros:

Cargo room
Control layout
Passenger room

Cons:
Rather than a strict SUV, the Element is more like a motorized sports gear tote, for "active lifestyle" folks. Though not designed for comfort, or for serious off-roading, it's a versatile, practical, and roomy compact wagon that incorporates Honda's expected solid workmanship and thoughtful features. That earns the Element a Recommended rating.
Overview
Based on Honda's CR-V, this new youth-oriented compact SUV featured novel interior touches and unique wagon styling. With its center-opening side doors, and no center body pillars, the Element was a bit taller and wider, and up to 200 pounds heavier, than a CR-V. Both models shared a four-cylinder engine, as well as manual and automatic transmissions. The Element also offers the same front-wheel drive or all-wheel drive layout, without low-range gearing.
Unlike CR-V, the Element had a combination upper liftgate and drop-down tailgate, rather than a swing-out door with a glass hatch.
As in some extended-cab pickups, the Element's rear-hinged back doors were shorter than the fronts, and could not be opened or closed independently. While the CR-V seats five, the Element carries four occupants on front bucket seats and a split rear bench. Weighing j30 pounds, the back bench's sections could be swung up to the side or removed to yield more cargo space.
AWD models included a tilt/removable glass "skylight" over the cargo bay. Base DX Elements were equipped for owner personalization, and thus came without factory audio. Upscale EX editions included a 270-watt CD audio system, plus alloy wheels, two-tone interior trim, cruise control, power mirrors, and air conditioning (which was optional for DXs).
All models had water-resistant cloth upholstery, rubberlike textured floor covering, 16-inch wheels, and four-wheel disc brakes. EXs added ABS and offered front side airbags as an exclusive option. Competitors included the Ford Escape, Honda CR-V, Jeep Liberty, Mazda Tribute, and Subaru Forester, though Honda's Element differed from each of these in style and personality.
Yearly Updates
2004 Element
Honda's youth-oriented compact SUV got only minor changes for 2004. EX models gained a passenger-seat armrest and remote keyless entry. Air conditioning was a dealer-installed option for DX models.
2005 Element
For 2005, the LX Element matched the upscale EX with standard cruise control and power mirrors. No DX model remained. Side airbags and ABS were standard on the EX.
2006 Element
Antilock brakes are standard for 2006.
2007 Element
More safety features, a new sporty model, and a touch more power marked 2007 for Honda's boxlike SUV. For 2007 the 156-hp 4-cylinder engine gains 10 hp. Available were a 5-speed manual transmission, and for '07, a 5-speed automatic that replaced a 4-speed. Element came in LX, EX, and new-for '07 SC trim. The SC was not available with AWD. ABS was standard. Front side airbags were standard on all models; they previously were unavailable on the LX. Curtain side airbags were also standard; they previously were unavailable on any Element. LX and EX models also got revised front styling for '07.
2008 Element
The 2008 Honda Element was basically unchanged.
2009 Element
The 2009 Honda Element got freshened styling and some new features. Newly available on Element EX and SC models with automatic transmission were a voice-activated navigation system and rearview camera.
2010 Element
The 2010 Honda Element received a new "Dog-Friendly" option package. This package, exclusive to the EX, includes equipment that makes for easier and safer transportation of a canine, such as a cargo-area pet bed, a cargo-area ramp for pet entry and exit, and all-weather floormats. Also for 2010, manual transmission was no longer offered for the Element.
2011 Element
The 2011 Honda Element lineup shrinks, losing the sport-themed SC, for what will be its final model year.