Premium large car; Built in Germany
4-door sedan
4-door sedan
longitudinal front-engine/all-wheel drive
Good condition price range: $12,000 – $63,000*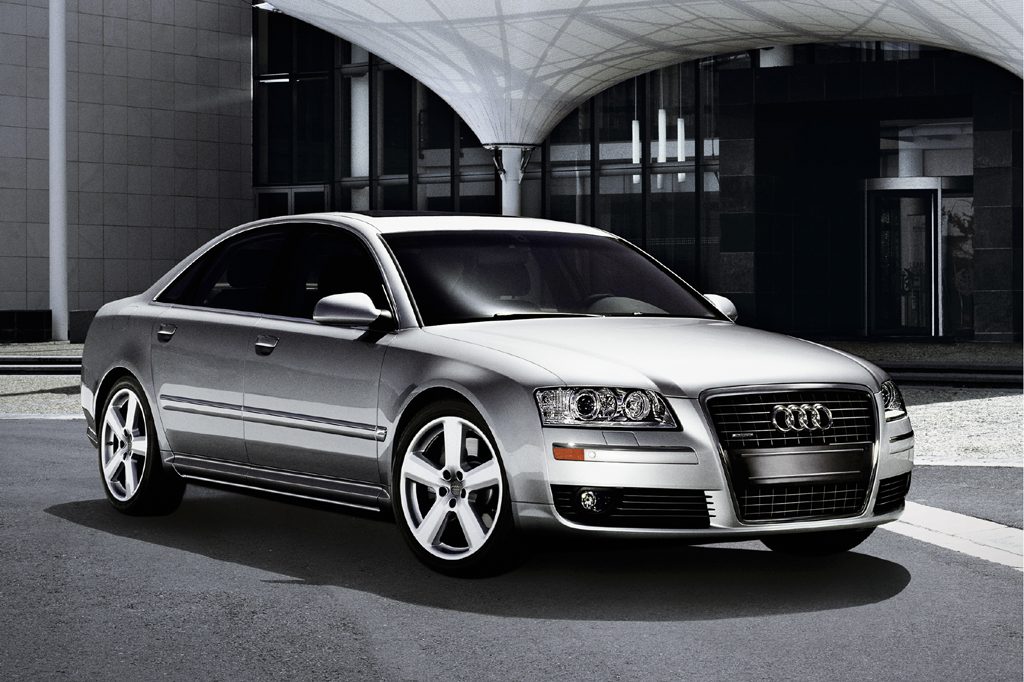 2006 Audi A8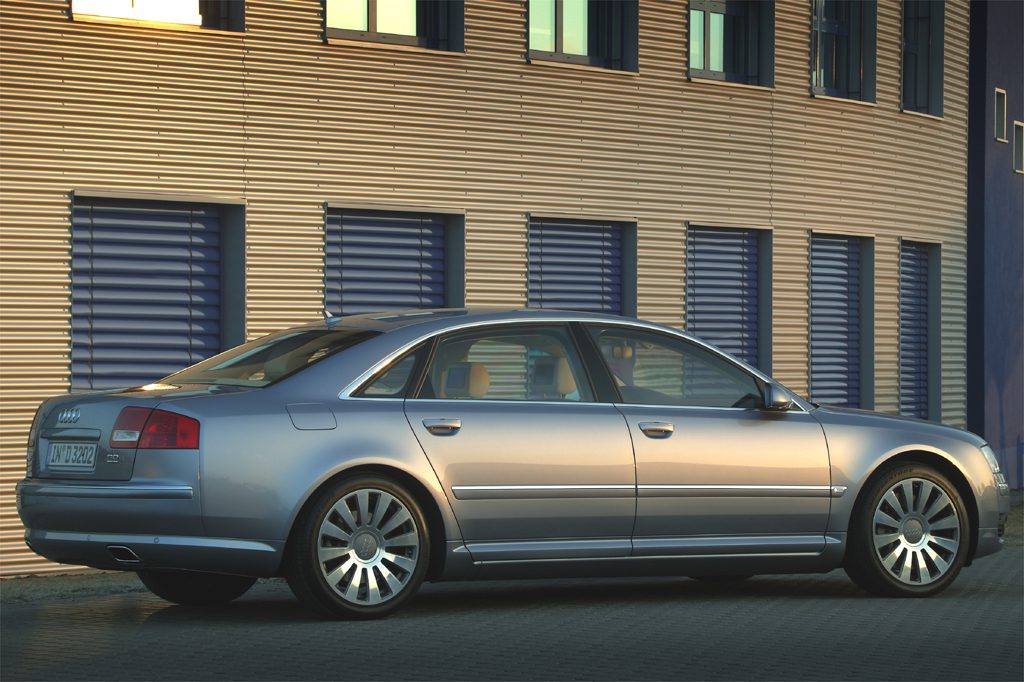 2005 Audi A8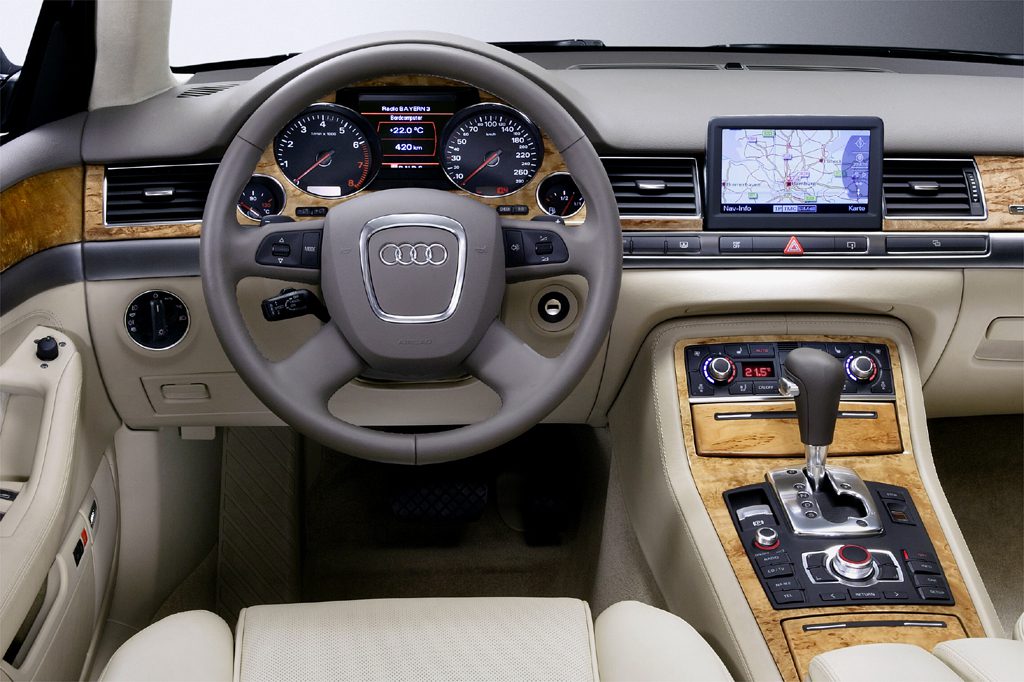 2005 Audi A8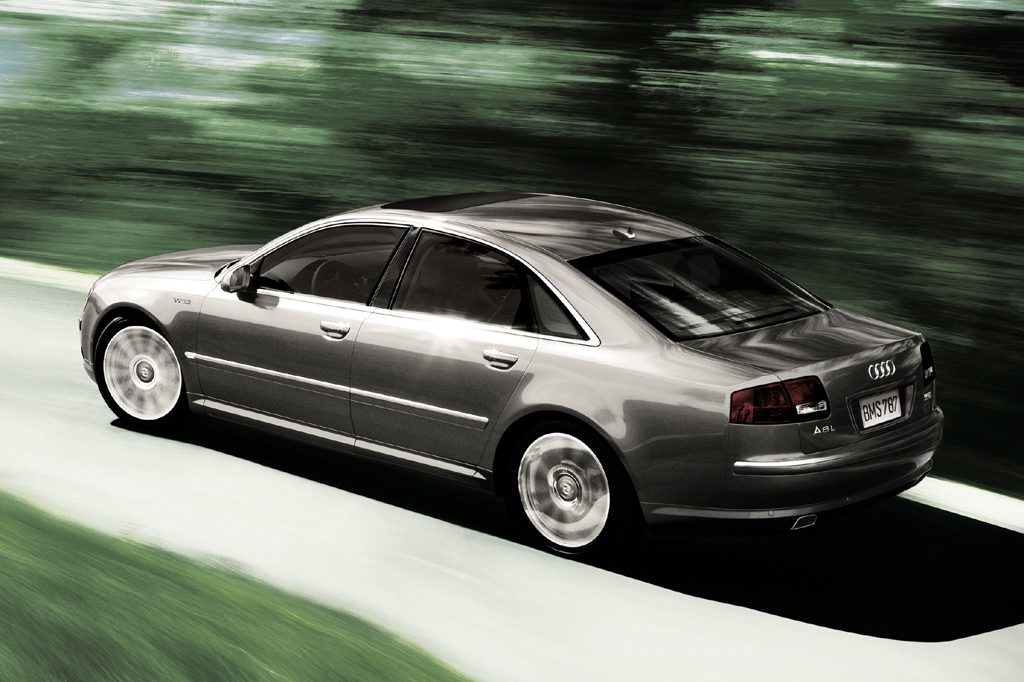 2006 Audi A8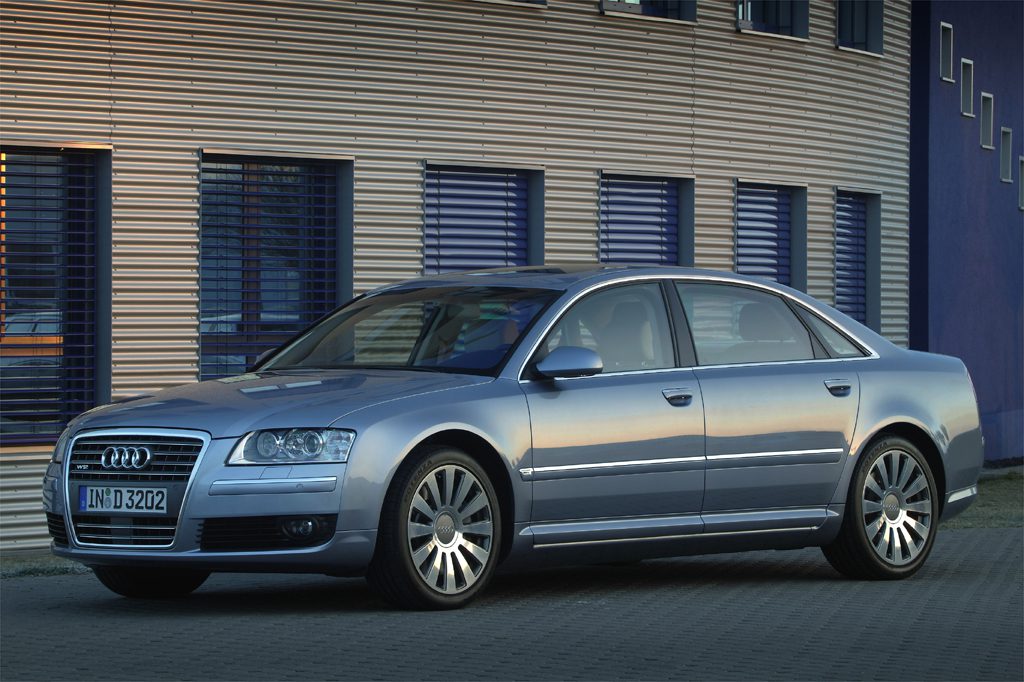 2005 Audi A8
Pros:

Acceleration
Handling/roadholding
Interior materials
Passenger room

Cons:
Audi's complex MMI control system and adjustable air suspension needlessly complicate what is otherwise a world-class luxury car. MMI centralizes too many accessory functions into a single console control, and the air suspension can't seem to deliver an optimal ride/handling balance. Still, with class-competitive performance and amenities, the A8 is a credible alternative to the BMW 7-Series and Mercedes-Benz S-Class. Audi trails those brands for prestige, but the A8 trumps its European rivals for interior decor, standard AWD, and new-car base price, and is a formidable adversary to any competitor's flagship sedan. Because resale value isn't as strong as BMW or Mercedes, used-car buyers can find one that's a little cheaper.
Overview
Audi redesigned its luxury flagship sedan for 2004, giving it more power and an adjustable suspension. The A8 L retained its aluminum-intensive construction, but now came in only one body length with a wheelbase 2.5 inches longer than the former "stretched" L version.
Exterior dimensions were virtually unaltered. Curb weight increased by 240 pounds, and styling changed subtly.
Inside, occupants had 1.5 inches less front head room, but about an inch more rear leg space. The A8's engine was again a 4.2-liter V8, which gained 20 horsepower, rated at 330. A six-speed automatic transmission with manual shift gate and sport mode was the sole transmission. It replaced a five-speed automatic.
Audi's quattro all-wheel drive remained standard. Replacing conventional steel springs was an air suspension with four driver-selectable settings: ride-oriented Comfort, self-adjusting Automatic, sporty Dynamic, and Lift for deep snow for unpaved surfaces.
Front and rear side airbags, front knee airbags, and curtain side airbags were standard. So were ABS, antiskid control, xenon headlights, and a navigation system. Among the options were heated front and rear seats (and steering wheel), front-seat massagers, and 18- and 19-inch wheels (versus standard 17s). Also available was cruise control designed to maintain a set distance from traffic ahead. Rivals include the Lexus LS 430 and Mercedes-Benz S-Class, along with Volkswagen's short-lived Phaeton.
Yearly Updates
2005 A8
A short-wheelbase model, priced lower, joined the original A8 L for 2005. Measuring just over 5 inches shorter in both wheelbase and length, the regular-size A8 has less standard equipment. During the model year, a W12 version was added, on the A8 L's body, with 19-inch wheels and a 450-horsepower engine. Standard on the W12 were an obstacle-detection system and keyless access, which were optional on other models. A DVD entertainment system also was standard, and exclusive to the W12.
2006 A8
Except for a revised grille, not much changed for 2006. A newly available Sport Package for the A8 and A8 L included a sport-tuned adaptive air suspension, steering-wheel gearshift paddles, and 19-inch tires.
2007 A8
Audi's largest, most expensive car got more V8 power and gained a performance model for 2007. Added was the S8, a sporty regular-length model with a 450-hp V10.
2008 A8
The 2008 Audi A8 carried over with no major changes.
2009 A8
The 2009 Audi A8 was largely unchanged.
2010 A8
For 2010, the sporty S8 and ultra-luxury W12 models were discontinued. Nineteen-inch wheels were newly standard on all models. Ventilated and massaging front seats were newly standard on the A8 L.