Compact SUV; Built in Austria
longitudinal front-engine/all-wheel drive
Good condition price range: $10,500 – $29,000*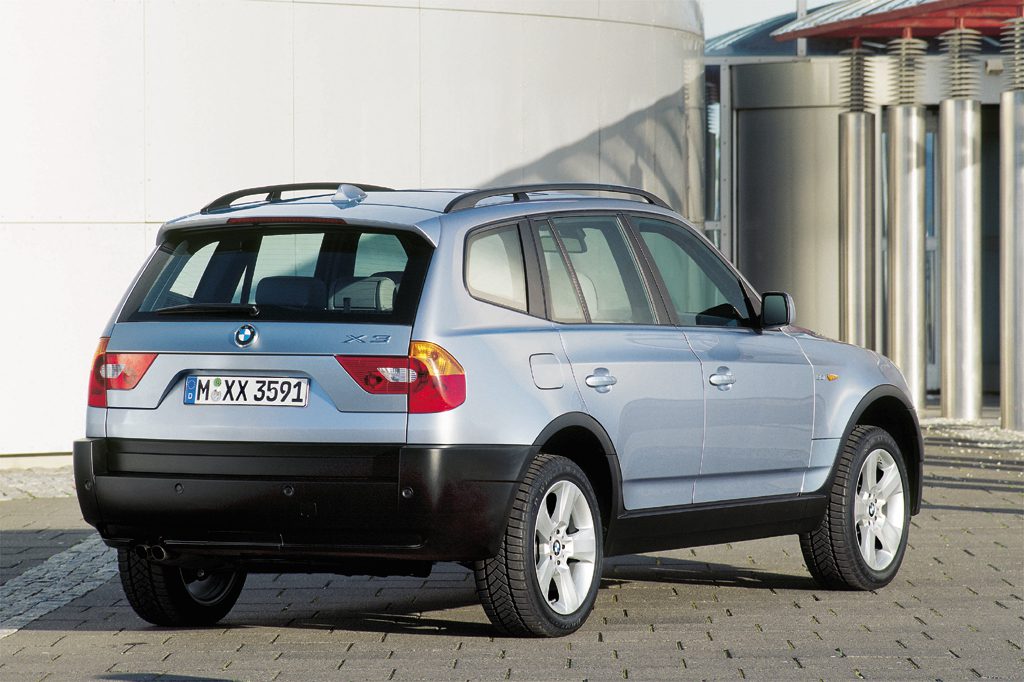 2004 BMW X3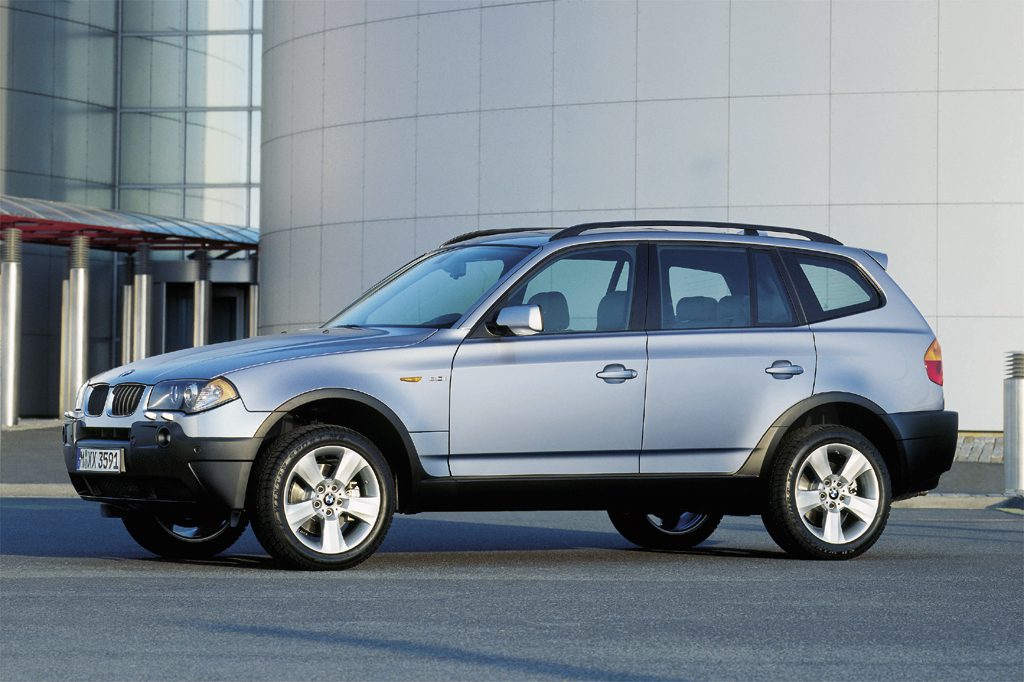 2004 BMW X3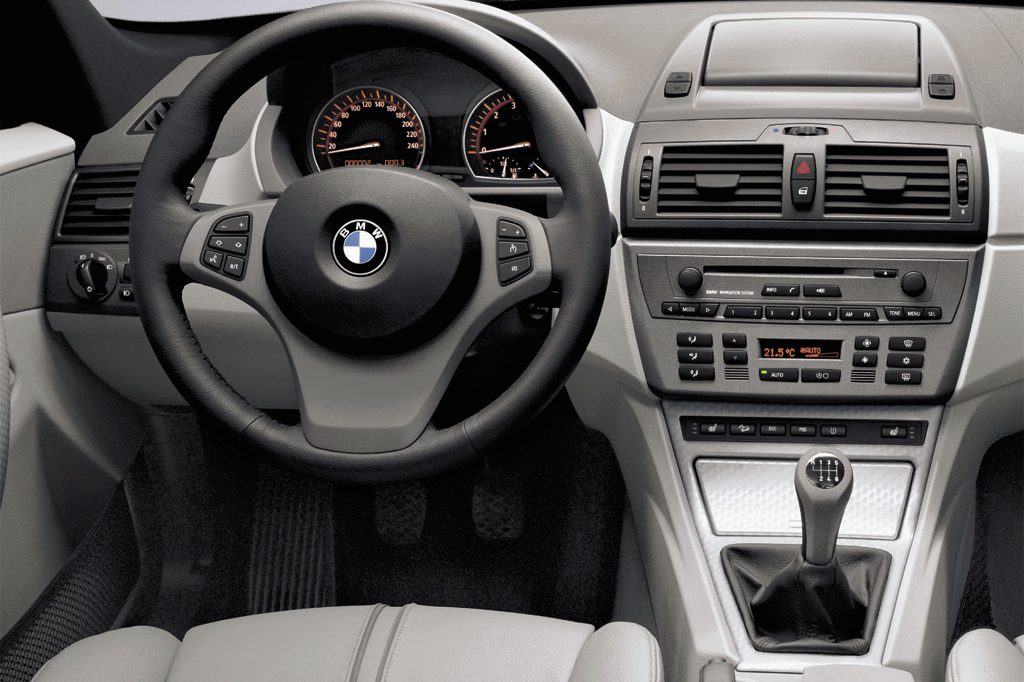 2004 BMW X3
Pros:

Acceleration
Cargo room
Seat comfort
Steering/handling

Cons:
Base prices nudged the new X3 into premium-SUV territory. Adding desirable options anchored it there: A 2.5i with automatic transmission and Premium Package listed for about $35,500. A loaded 3.0i could approach $48,000. Comparatively strong resale value has kept secondhand prices on the high side, too. Like BMW's 3-Series cars, the X3 gives up outright size to most like-priced competitors, but delivers sporty performance and solid quality.
Overview
BMW's first compact sport-utility vehicle was an all-wheel-drive wagon based on the platform used by the German company's sporty 3-Series cars. Although the X3 was about 3 inches longer in wheelbase and body length than the 3-Series station wagon, its taller body and SUV-style 8.0 inches of ground clearance made it 9.5 inches taller overall. Its 71 cubic feet of cargo room ranked among the most of any compact SUV, and beat BMW's larger X5 SUV by 16.6 cubic feet.
Passenger space virtually matched the more costly X5's, but the X3 weighed some 600 pounds less. Despite 8-inch ground clearance, the X3 was intended for only light-duty off-road duties. BMW's new xDrive AWD system was designed largely to enhance on-road handling.
The X3 borrowed its inline six-cylinder powertrains from the 3-Series: The X3 2.5i had a 184-horsepower 2.5-liter, while the X3 3.0i held a 225-horsepower 3.0-liter. Both teamed with a six-speed manual transmission or an optional five-speed automatic, with manual shift gate.
Each X3 seated five and had a liftgate without separate-opening glass. Like the AWD system available in 3-Series cars, the X3's did not include low-range gearing. However, its hill descent control could automatically limit steep downhill speeds to a crawl.
Antilock all-disc brakes and BMW's Dynamic Stability Control traction/antiskid control were standard. Front side airbags and front/rear head-protecting tubular side airbags also were standard; rear torso side airbags were optional.
The X3 2.5i arrived at dealerships early in 2004, several months after the 3.0i. The 3.0i came with 17-inch wheels, but could be equipped with 18-inch all-weather tires, or, as part of a Sport Package, with summer performance tread. The Sport option also included a firmer suspension and sport front seats.
Other 3.0i standard features included power front seats and a tilt/telescoping steering column. Options included a navigation system, xenon headlamps, front- and rear-obstacle detection, leather and wood interior trim, and BMW's Panorama dual sunroof with a sliding front panel and glass rear skylight. With the X3, BMW competed against the Acura MDX, Lexus RX, Cadillac SRX, Mazda Tribute, Audi A4 Avant, and Mercedes-Benz C-Class 4Matic wagon.
Yearly Updates
2005 X3
Little changed for the X3 in the 2005 model year.
2006 X3
Only the X3 3.0i wagon remained into 2006, as the base 2.5i model was dropped.
2007 X3
More power and a subtle restyle marked this compact SUV for 2007. For '07 the 3.0i was rebadged 3.0si for a new engine with 260 hp, 35 hp more than the outgoing 3.0i. The available automatic transmission now had 6 speeds vs. 5. The available Sport Package included firmer suspension and 18-inch wheels, with 19s available separately. Appearance changes involved new bumpers and lights, along with cabin-trim revisions.
2008 X3
The 2008 BMW X3 continued unchanged from 2007.
2009 X3
The 2009 BMW X3 was largely unchanged.
2010 X3
The 2010 BMW X3 was largely unchanged for what would be its final model year in its current design. Note that X3 was slated to be redesigned for 2010, but this will happen for model-year 2011.