Subcompact car; Built in South Korea
4-door hatchback
4-door sedan
transverse front-engine/front-wheel drive
Good condition price range: $3,200 – $11,200*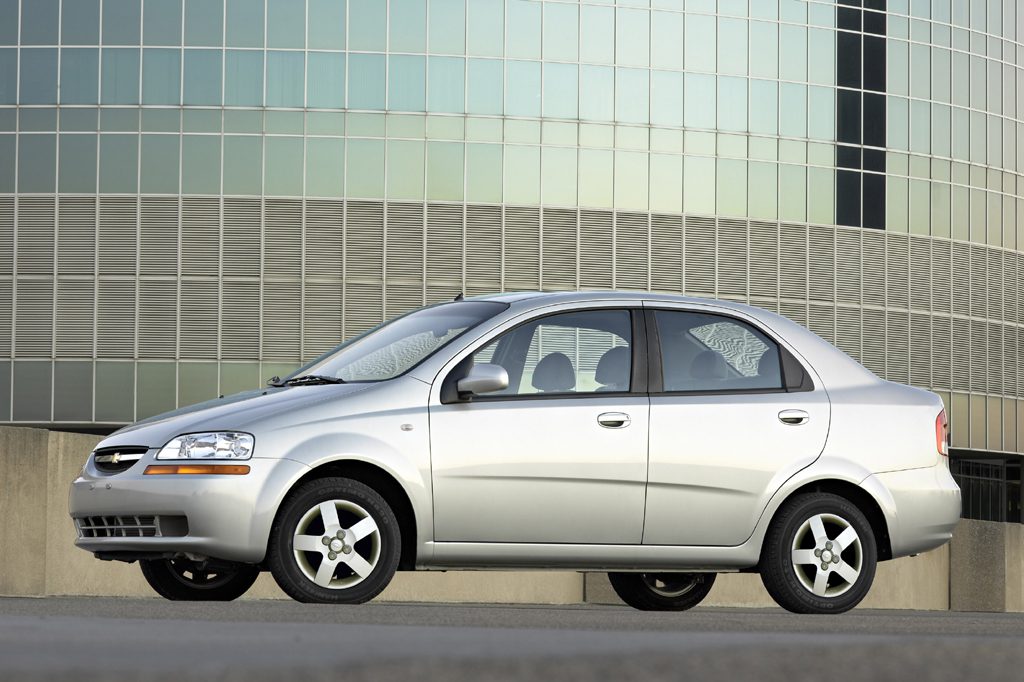 2005 Chevrolet Aveo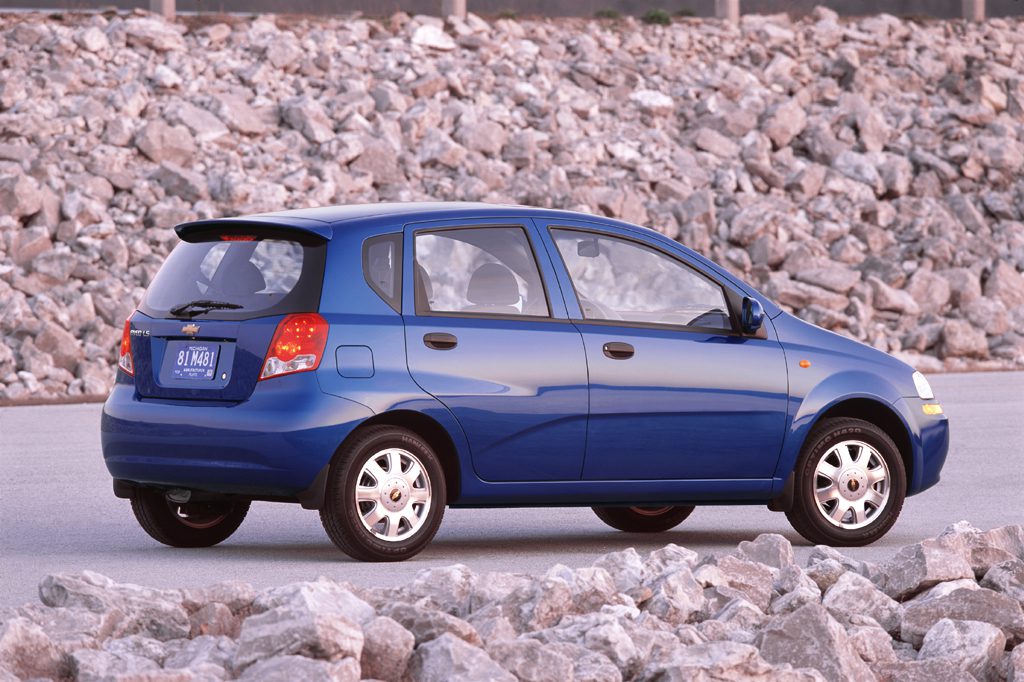 2004 Chevrolet Aveo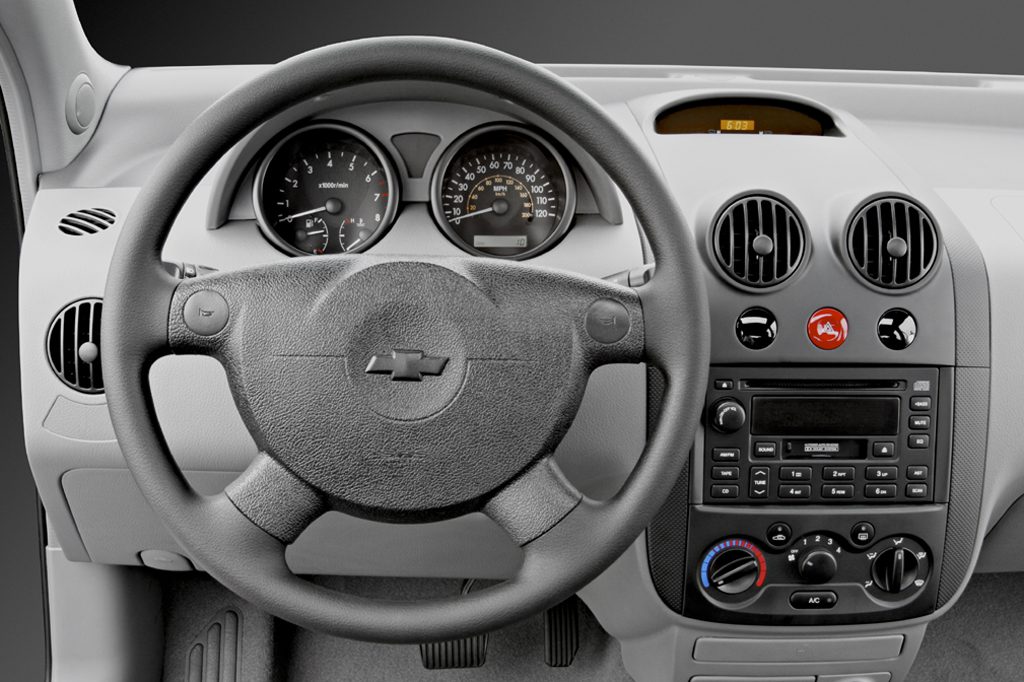 2004 Chevrolet Aveo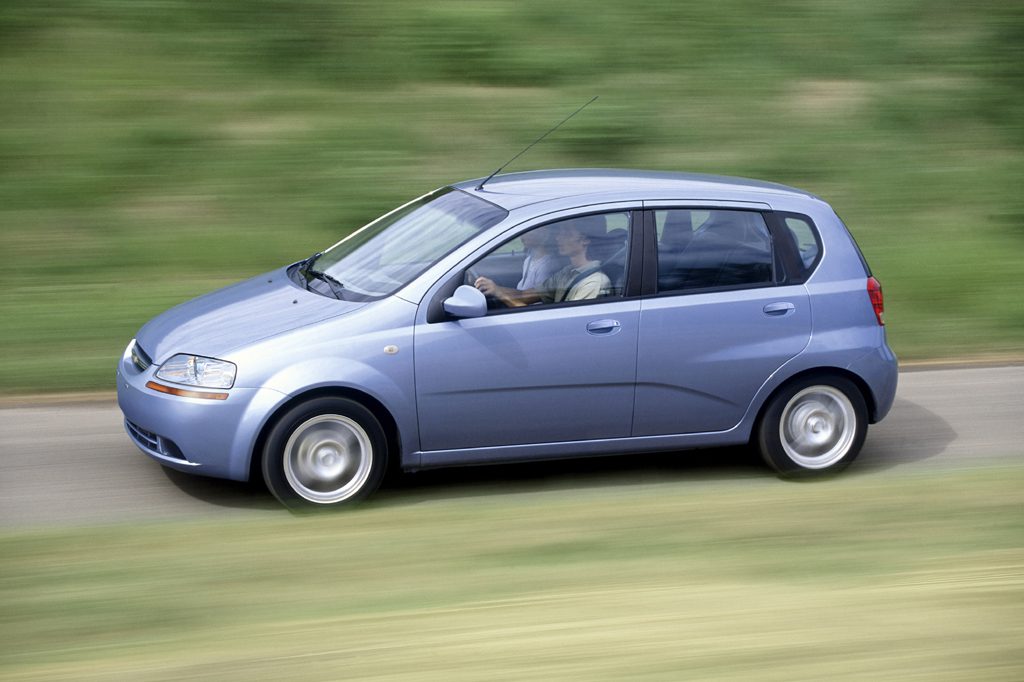 2005 Chevrolet Aveo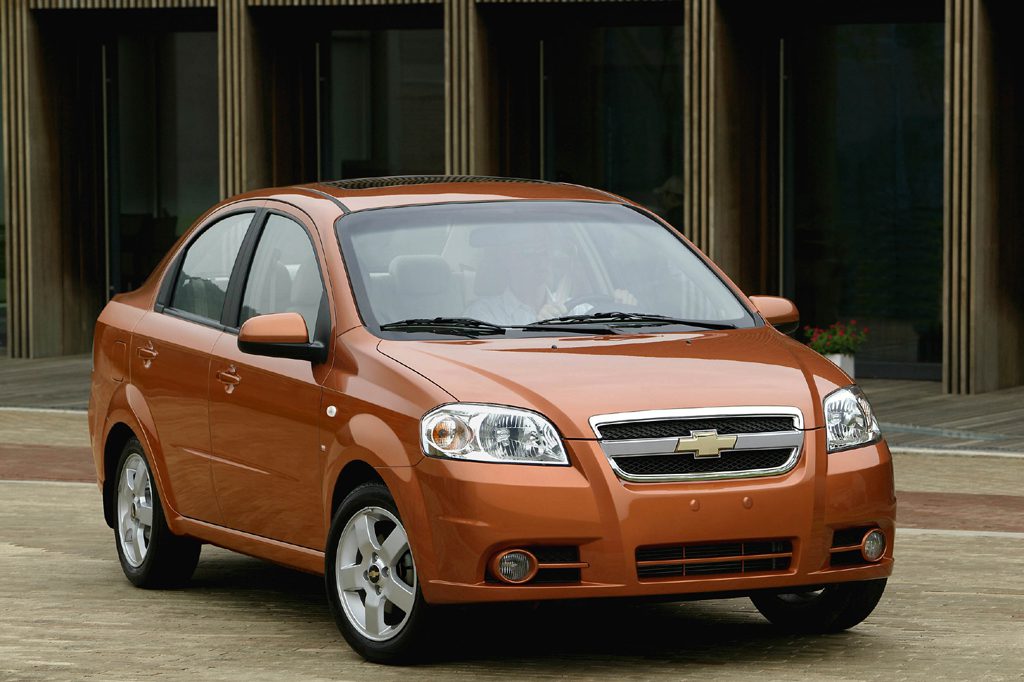 2007 Chevrolet Aveo
Pros:

Fuel economy
Maneuverability

Cons:
Surprisingly refined and likable, Aveo stacks up well against other budget-priced cars, such as the Hyundai Accent and Kia Rio. Still, an unproven track record is a minus. Shoppers considering any of these models would be well advised to look at larger, more-established rivals if their budget permits. Recent Accents and Rios have curtain-type side airbags.
Overview
Chevrolet introduced a new entry-level front-drive subcompact model for 2004. Essentially, it put a Chevrolet badge on a car designed by the now-bankrupt Daewoo Motor Company, Ltd. Named Aveo, the car was built in South Korea by GM Daewoo Automotive Technologies, which had been formed after it bought parts of Daewoo.
Aveo was offered as a four-door hatchback and a slightly longer four-door sedan. Both body styles ranked among the smallest and least-expensive cars sold in the U.S. A 103-horsepower four-cylinder was the sole engine. A manual transmission was standard, and a four-speed automatic optional.
Aveos came in SVM (Special Value Model), Base, and LS versions. Standard equipment included a tilt steering wheel, height-adjustable driver's seat, and split folding rear seat. Available features included antilock braking, cabin air filtration, power windows and locks, and heated mirrors; a sunroof joined the list later. No side airbags were available.
Chevrolet placed the Aveo on sale nationwide in early 2004, with prices starting at a frugal $9,995, including destination. Potential rivals included the Ford Focus, Honda Civic, and Hyundai Elantra, as well as the Nissan Sentra, Kia Rio, and Hyundai Accent.
Yearly Updates
2005 Aveo
This year's lineup included SVM, LS, and LT models. Standard air conditioning and optional ABS were exclusive to the LS and LT. Alloy wheels, power windows and locks, and heated mirrors were standard for the LT, which was the only model to offer an optional sunroof. Restyled wheel covers went on SVM and LS versions. All Aveos added black roof-pillar trim.
2006 Aveo
Front side airbags became standard for 2006, and 15-inch wheels were available. Cruise control and remote keyless entry were now standard for LT models, and optional for the LS. Honda, Nissan, and Toyota all launched new subcompact cars during 2006.
2007 Aveo
Sedan versions of Chevrolet's smallest car got revised body work for 2007. Aveo sedans retained the wheelbase of 2004-2006 models, but were 3 inches longer overall and got freshened exterior and interior styling. The Aveo 4-dr hatchback was renamed Aveo5 for '07, but it repeated the styling and features of the 2004-2006 model. LS trim returned for both body styles. The base SVM model came only as a hatchback. Newly standard on sedans was a digital audio player plug-in.
2008 Aveo
The only change of note was that 15-inch wheels were now optional on LS sedans.
2009 Aveo
Hatchbacks were restyled and all 2009 Aveos came standard with OnStar assistance.
2010 Aveo
The 2010 Chevrolet Aveo lineup received a modest bump in horsepower (2 hp).
2011 Aveo
The 2011 Chevrolet Aveo is largely unchanged for what will be its final model year in its current design.