Large car; Built in Canada
longitudinal front-engine/rear- or all-wheel drive
Good condition price range: $7,500 – $31,500*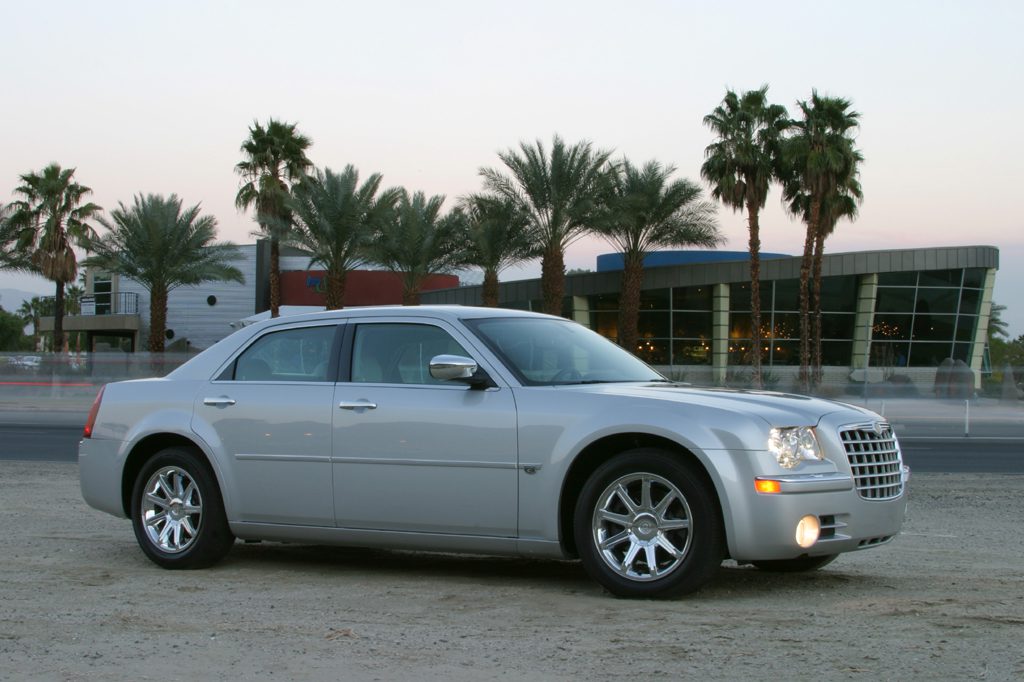 2005 Chrysler 300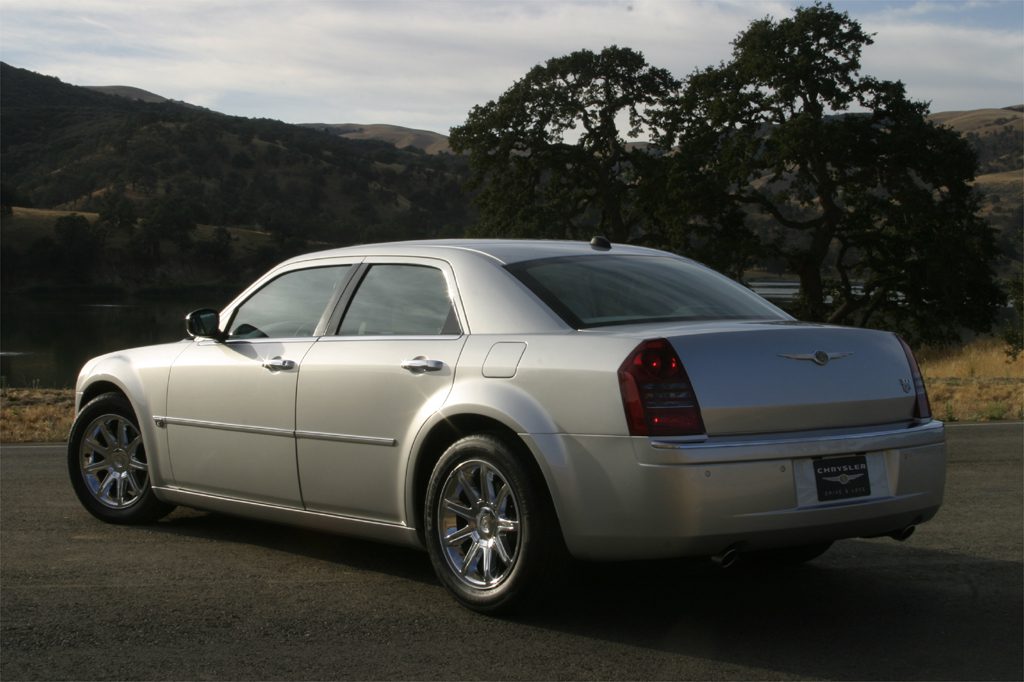 2005 Chrysler 300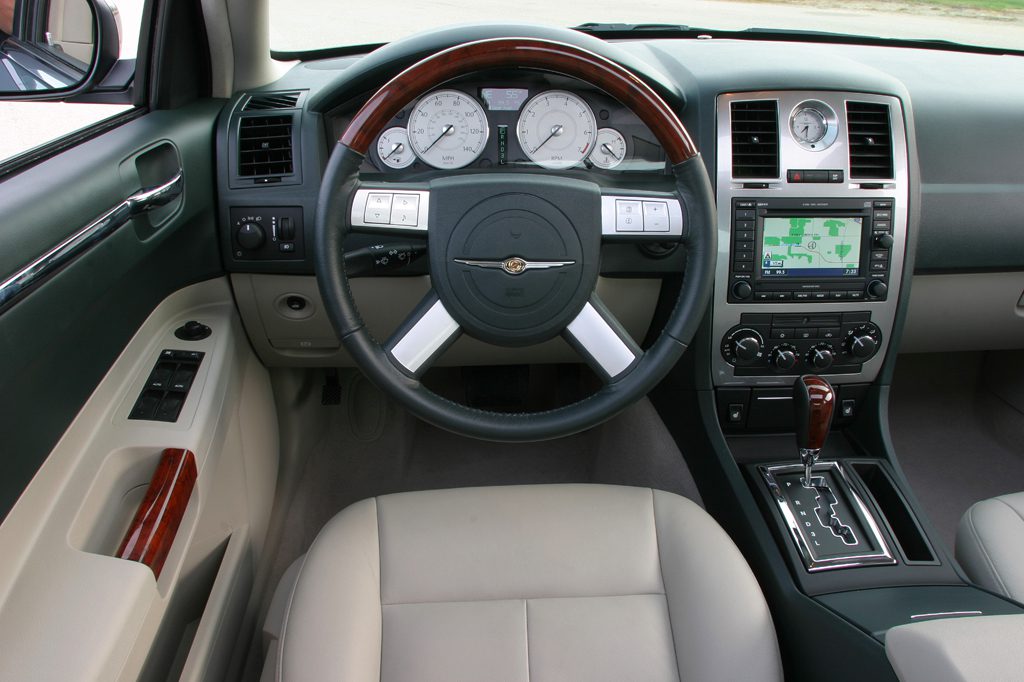 2005 Chrysler 300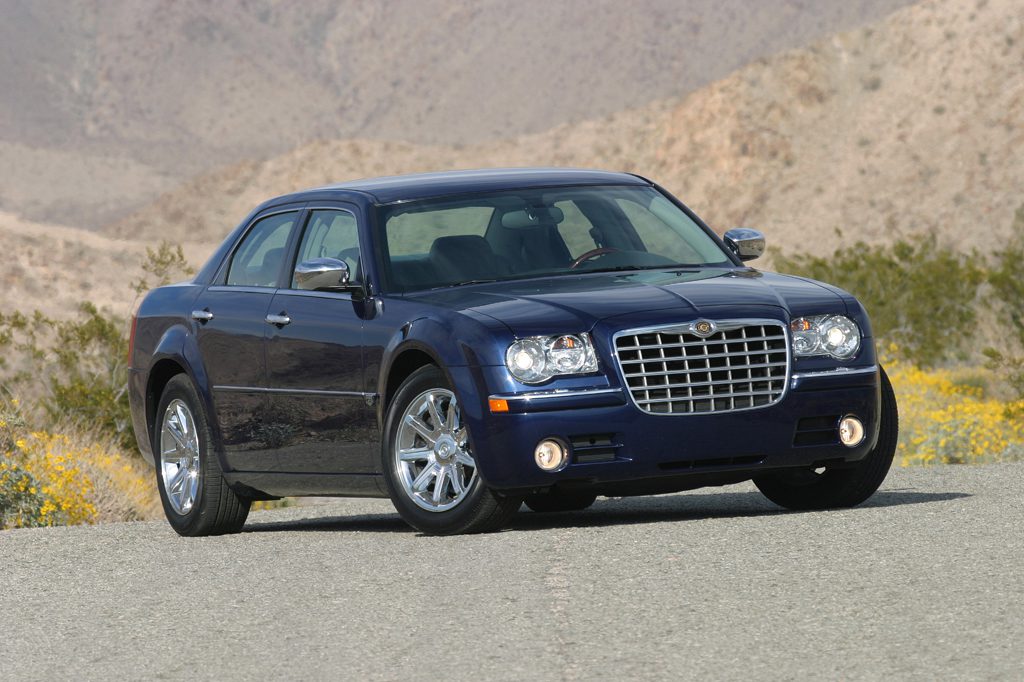 2005 Chrysler 300
Pros:

Acceleration (300C)
Passenger room
Ride/handling

Cons:

Acceleration (2.7 V6)
Fuel economyv (300C)
Rear visibility
Acceleration with the 2.7-liter V6 is weak, but the boldly styled 300 is an otherwise Best Buy combination of performance, roominess, and value. The startling SRT8 outpowers cars costing twice as much with little compromise of the 300's other virtues
Overview
Chrysler christened a new flagship for 2005, switching from the front-wheel-drive V6-powered Chrysler 300M to an entirely new car that offers a choice of rear-drive and all-wheel drive, plus V8 power. The luxury-oriented 300 sedan shared its platform with the Dodge Magnum wagon and Dodge Charger sedan.
Four models of the 300 were offered: base, Touring, 300C, and 300C SRT-8. The base had a 190-hp V6, the Touring a 250-hp V6. The high-performance 300C and SRT-8 got V8s bearing Chrysler's Hemi badge. The 300C had a 340-hp 5.7-liter, the SRT-8 a 425-hp 6.1. Exclusive to the 5.7 V8 was Chrysler's Multi-Displacement System, which deactivates four cylinders under cruise conditions to save fuel. AWD was available on Touring and 300C models. Rear-drive V6 models had a 4-speed automatic transmission. AWD and V8 versions used a 5-speed automatic with manual shift gate. Four-wheel disc brakes were standard. The SRT-8 had Brembo-brand brakes, sport suspension, and special seats and trim. ABS and traction/antiskid control were optional on the base 300, standard on the others.
Tilt/telescope steering wheel and power driver seat were also standard. The SRT-8 had 20-inch wheels, the 300C and AWD Touring 18s, the others 17s. Available features included curtain side airbags, adjustable pedals, satellite radio, and Chrysler's UConnect, which uses the audio system as a hands-free, wireless link to cell phones.
Yearly Updates
2006 300
Chrysler's 300 continued unchanged in 2006.
2007 300
Chrysler added a long-wheelbase body style to this luxury-oriented sedan for 2007. Touring and 300C models also became available with all-wheel drive. Optional for those models was the W.P. Chrysler Executive Series package that included the long-wheelbase body. It added 6 inches to the wheelbase and more rear-seat legroom. Also new for '07 was available heated rear seats and adaptive cruise control.
2008 300
The 2008 Chrysler 300 got slightly freshened exterior and interior styling. All 2008 300 models got a revised dashboard and front-end appearance.
2009 300
The only change of note was that the 300's optional Hemi V8 gained 19 hp for a total of 359.
2010 300
The 2010 Chrysler 300 lineup gained two new models: the mid-line Touring Plus and the sport-themed 300S.