Midsize SUV; Built in USA
longitudinal front-engine/all-wheel drive
Good condition price range: $13,800 – $31,500*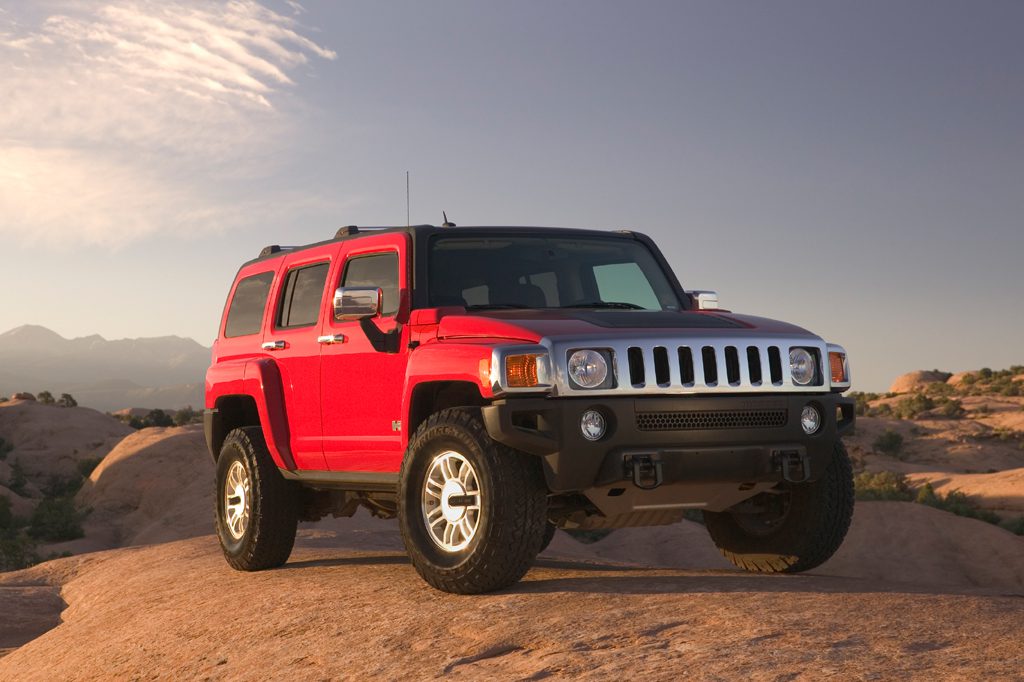 2006 Hummer H3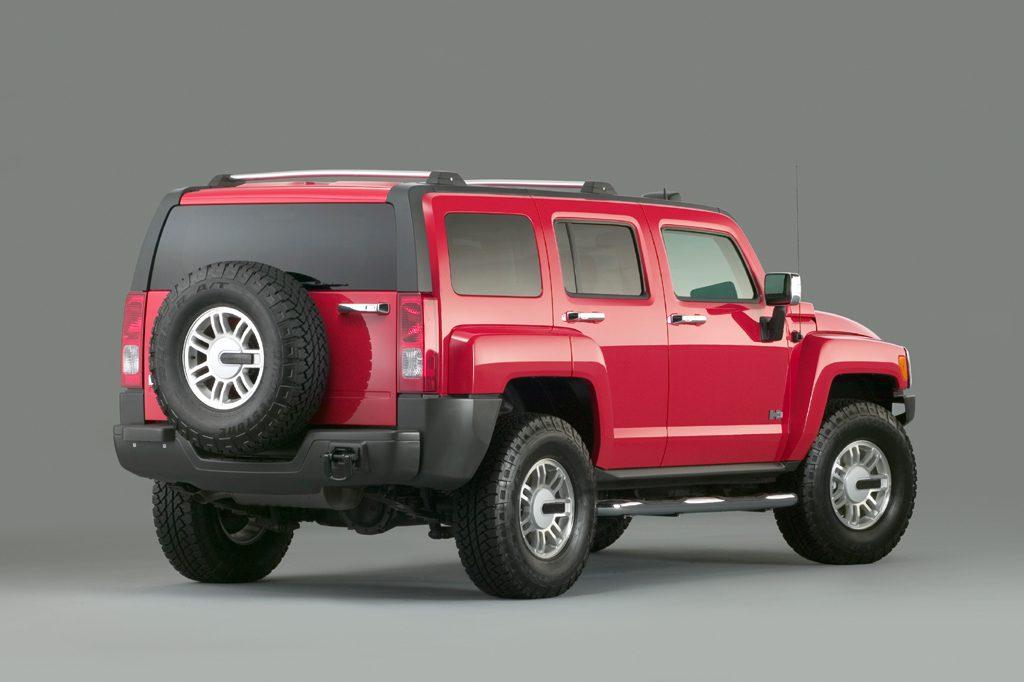 2006 Hummer H3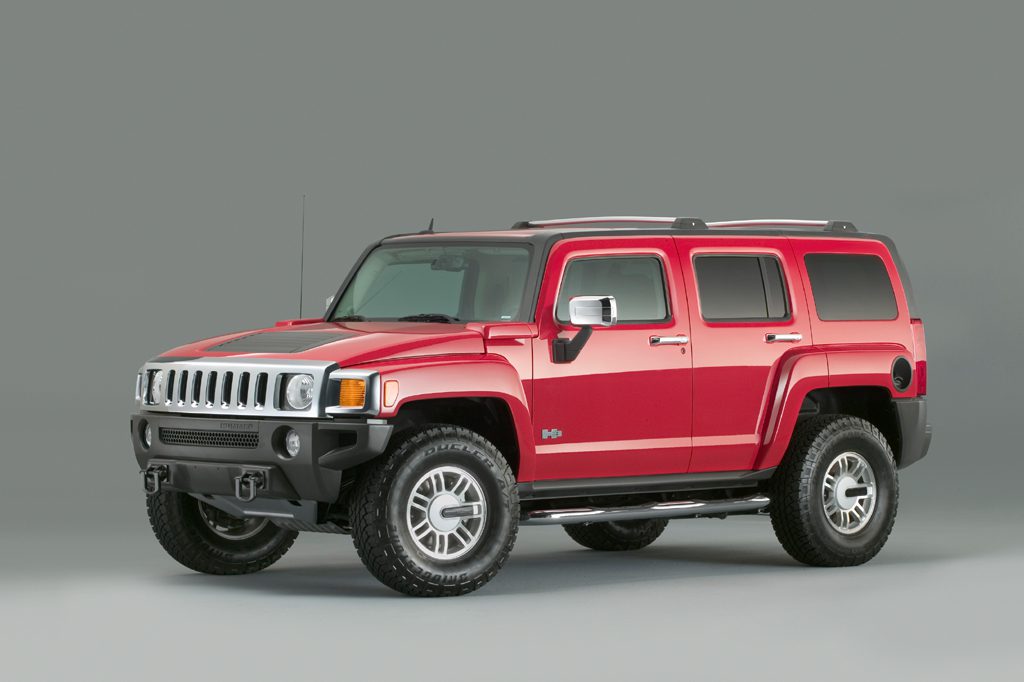 2006 Hummer H3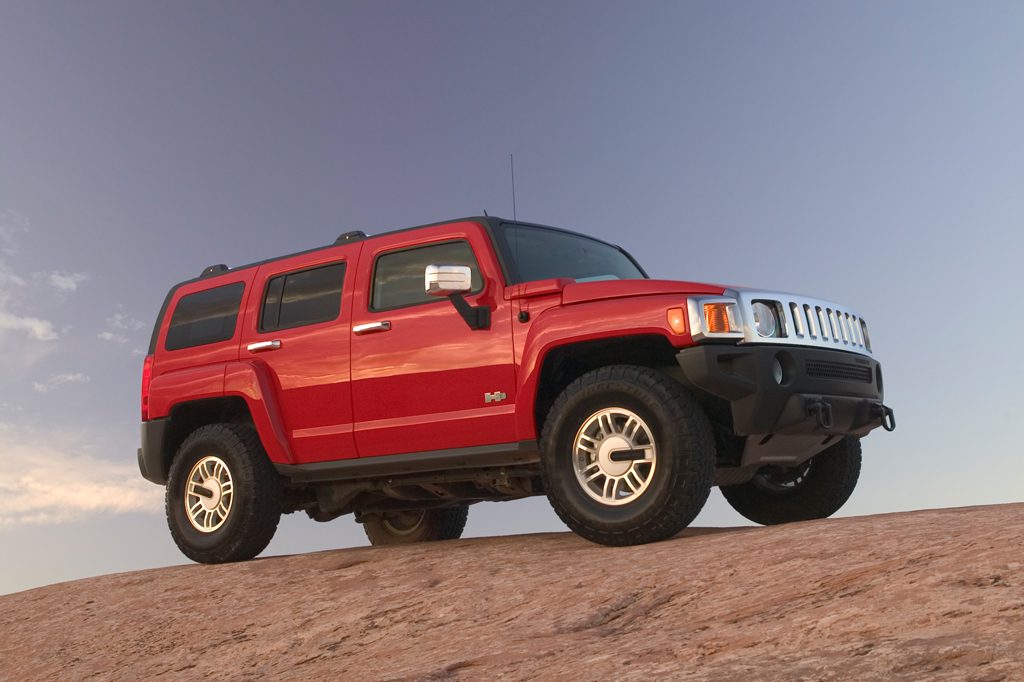 2006 Hummer H3
Pros:

Cargo room
Control layout and materials

Cons:

Acceleration (highway)
Fuel economy
Rear-seat comfort
Steering/handling
Hummer's smallest offering is also its most sensible SUV–but that's faint praise indeed. H3 combines comfortable accommodations and decent on-pavement dynamics with the promise of real off-road proficiency. Still, shoppers looking for more power and passenger room are better served by the similarly capable Jeep Grand Cherokee. A host of like-priced rivals are quieter and offer six- or eight-cylinder engines, while matching the H3's assets. Even so, for adventure seekers who are comfortable with Hummer styling, the H3 is worth a look.
Overview
General Motors-owned Hummer fielded its first midsize sport-utility vehicle for 2006, ready to compete against the Ford Explorer, Jeep Grand Cherokee, and Toyota 4Runner. Seating five passengers, the H3 shared a powertrain and truck-type body-on-frame architecture with GM's midsize Chevrolet Colorado and GMC Canyon pickup trucks.
Compared to Hummer's H2, the H3 was 11 inches shorter in wheelbase, 3.3 inches shorter overall, 6.5 inches wider–and 1700 pounds lighter. Sole engine was a Vortec 220-horsepower inline five-cylinder, mated to a five-speed manual transmission or a four-speed automatic. This was the first Hummer to offer a choice of transmissions. Each H3 came with all-wheel drive that included low-range gearing.
An H3 could ford 16 inches of water at 20 mph, according to Hummer; 24 inches if slowed to 5 mph. Ground clearance was 9.1 inches, and the H3 could climb 16-inch vertical steps and rocks.
An available Adventure Off-Road Suspension Package included special suspension tuning, ultra-low transfer-case gearing, and a locking rear axle. All H3s had antilock four-wheel disc brakes, tire-pressure monitor, and StabiliTrak traction/antiskid control. Available but not standard were head-protecting curtain side airbags with rollover deployment.
All H3s also had split folding rear seats, 16-inch alloy wheels, underbody shielding, and a swing-open rear cargo door with fixed glass and outside-mounted spare tire. Also standard was GM's OnStar assistance. Options included a sunroof, leather upholstery, heated front seats, and satellite radio.
Yearly Updates
2007 H3
Output from the H3's five-cylinder engine grew from 220 to 242 horsepower for 2007. A new H3x trim package included chrome styling add-ons, leather upholstery, and 18-inch wheels.
2008 H3
The 2008 Hummer H3 got a top-line Alpha model that brought V8 power to this midsize SUV lineup. The new Alpha sported a 300-hp 5.3-liter V8 borrowed from General Motors' large pickups.
2009 H3
A crew-cab pickup-truck body style (called H3T) was added to the H3 roster. Otherwise, the lineup for this off-road-ready midsize SUV was largely unchanged.
2010 H3
The 2010 Hummer H3 was largely unchanged for what was its final model year.