Sporty/performance car; Built in USA
2-door convertible
2-door hatchback
transverse front-engine/front-wheel drive
Good condition price range: $7,400 – $26,000*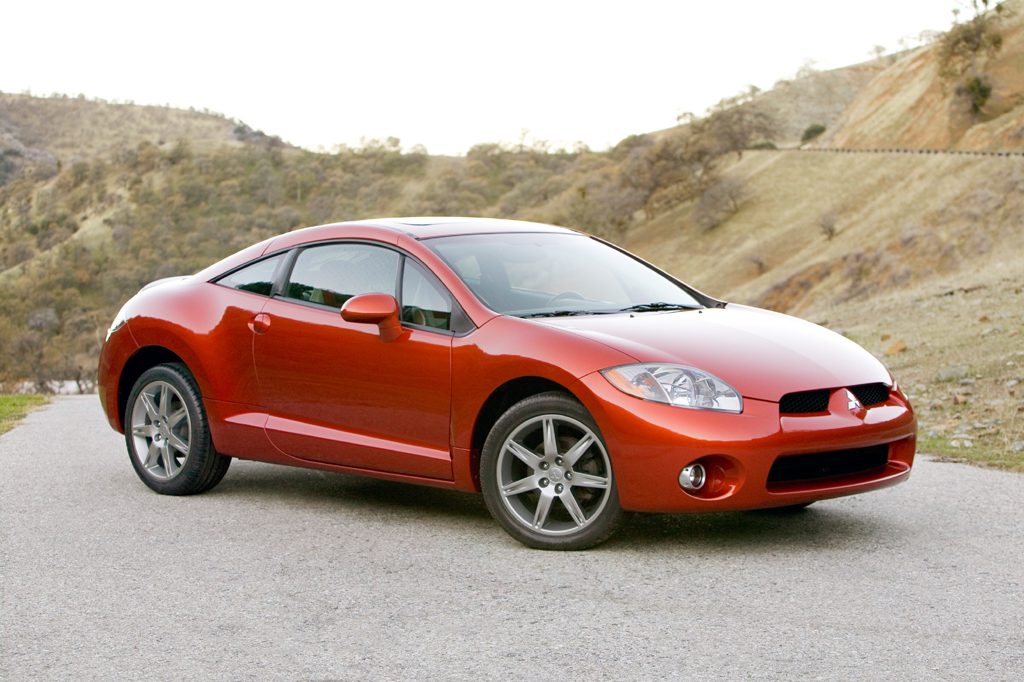 2006 Mitsubishi Eclipse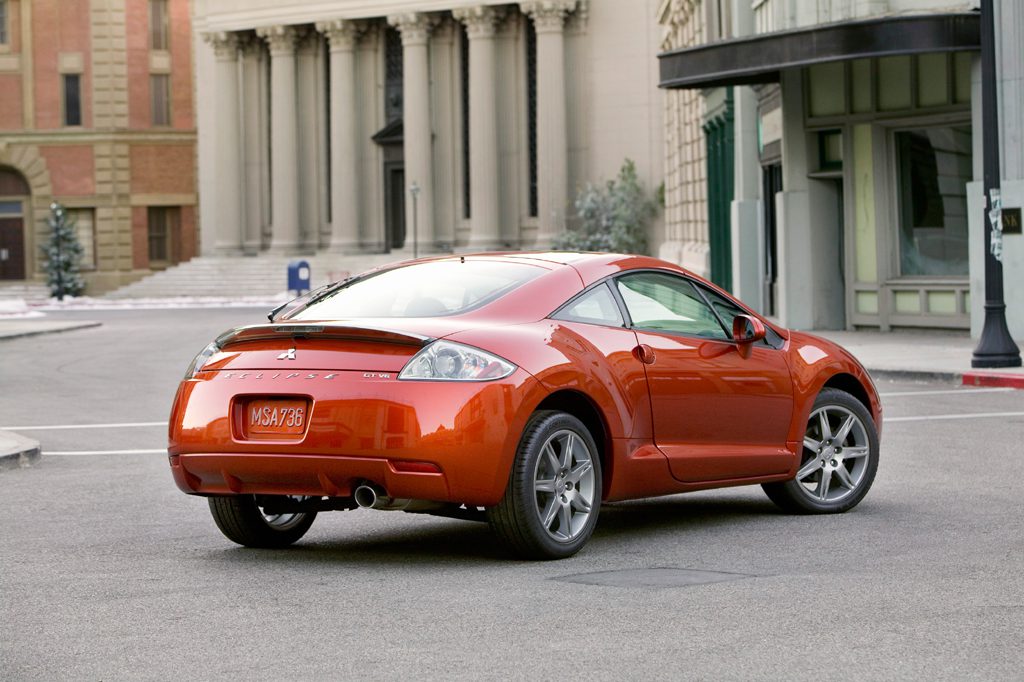 2006 Mitsubishi Eclipse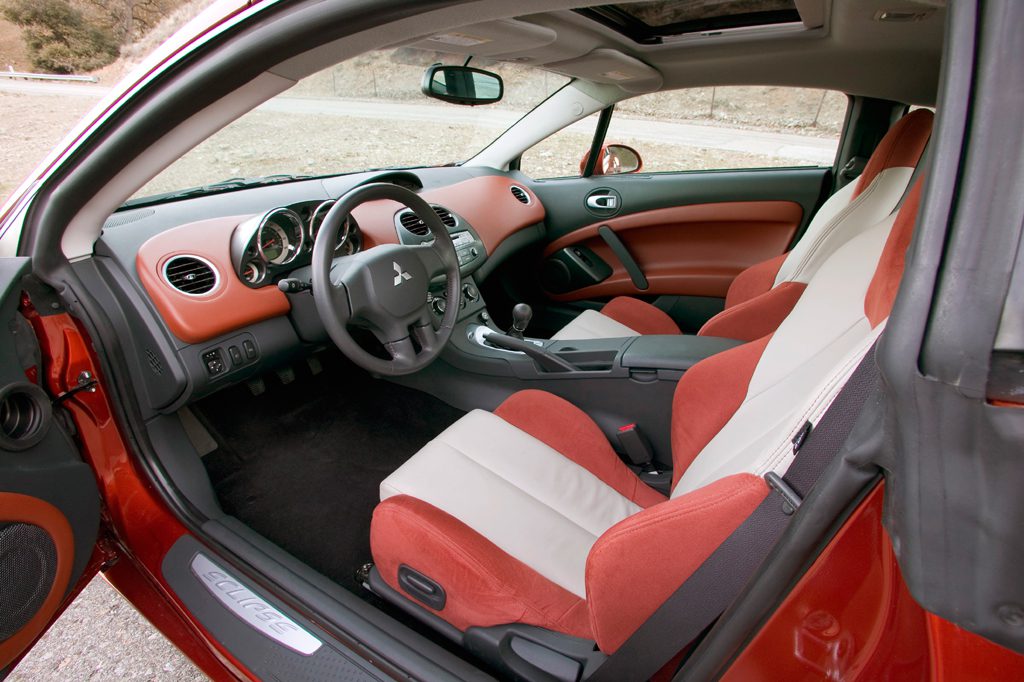 2006 Mitsubishi Eclipse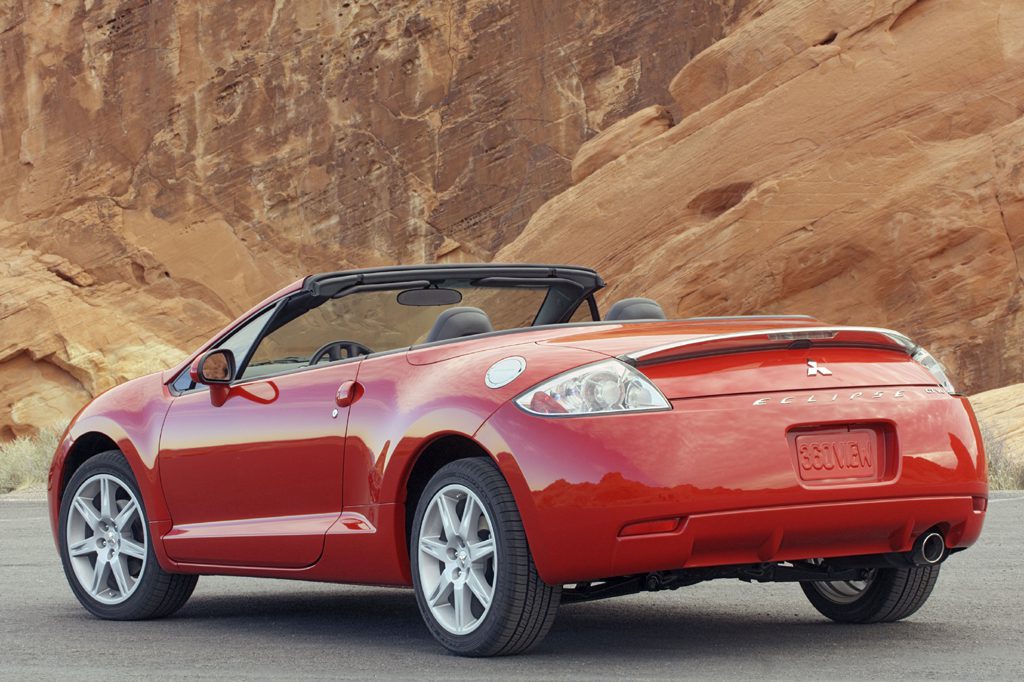 2007 Mitsubishi Eclipse
Pros:

Acceleration (V6)
Steering/handling
Brake performance

Cons:

Cargo room (convertible)
Maneuverability
Noise
Back-seat passenger room and comfort
Ride
Cramped, noisy and difficult to see out of, Eclipses sacrifice a lot for the sake of style. No version possesses the handling poise of competitors that benefit from lighter weight and either rear- or all-wheel drive. Still, their sporty character and powerful available V6, as well as the new convertible, can appeal to buyers who value youthful appearance over balanced performance. Despite Mitsubishi's tarnished brand image, resale value of some Eclipse versions is fairly strong, so secondhand bargains may not be so easy to find.
Overview
Fresh styling, more power, and added safety features keynoted the redesigned 2006 Eclipse, again manufactured in Illinois. This sporty hatchback coupe came in four-cylinder GS and V6 GT models, both with front-wheel drive. Potential rivals included the Acura RSX and Honda Civic Si, as well as the Ford Mustang and Scion tC. A convertible was expected, as in the prior generation, but it did not arrive until the 2007 model year.
Most dimensions were little-changed from the 2000-05 Eclipse, but the 2006 coupes grew 3.3 inches wider and were some 360 pounds heavier. All Eclipses came with front torso side airbags, which were previously limited to top-line models. Also standard were head-protecting curtain side airbags that protected the front seating row only.
The GS's 2.4-liter engine rose from 147 horsepower to 162. The GT's V6 grew from a 210-horsepower 3.0-liter to a 263-horsepower 3.8-liter. Both came with a standard manual transmission: a five-speed for GS, a six-speed for GT. Automatic transmissions with a manual shift gate were optional; four-speed for the GS, and a five-speed for GT.
Traction control was standard on the GT, but unavailable for the GS. No antiskid system was offered. Antilock four-wheel disc brakes were standard. So were 17-inch wheels; 18s were available for the GT.
Other no-cost features included air conditioning, cruise control, power windows, a CD player, and 50/50 split folding rear seat. GT-exclusive options included aluminum pedals, automatic climate control, and leather upholstery with heated front seats. Optional for both models were a sunroof and a 650-watt Rockford Fosgate audio system.
Yearly Updates
2007 Eclipse
A Spyder convertible joined the original coupe for 2007. Equipped with a fabric power top and heated glass rear window, the four-passenger Spyder came in GS and GT trim, just like the coupe. Mitsubishi's V6 engine produced 263 horsepower in coupes, but 260 hp in the convertible. Front side airbags were standard in both body styles. Coupes had curtain side airbags for front occupants only. Leather upholstery with heated front seats was available in convertibles and GT coupes.
2008 Eclipse
Added for 2008 was a new top-line SE coupe. It had the GT's V6 engine engine and a few added features lincluding an antiskid system, leather upholstery, and a sunroof.
2009 Eclipse
Eclipse received some slight styling revisions, mainly to the front and rear fascias.
2010 Eclipse
The 2010 Mitsubishi Eclipse was largely unchanged.
2011 Eclipse
The 2011 Mitsubishi Eclipse lineup saw a few changes, including deletion of the available manual transmission on GT models.
2012 Eclipse
There were no changes of note to the 2012 Mitsubishi Eclipse in what would be its final model year.