Midsize car; Built in Canada
transverse front-engine/front-wheel drive
Good condition price range: $2,200 – $15,200*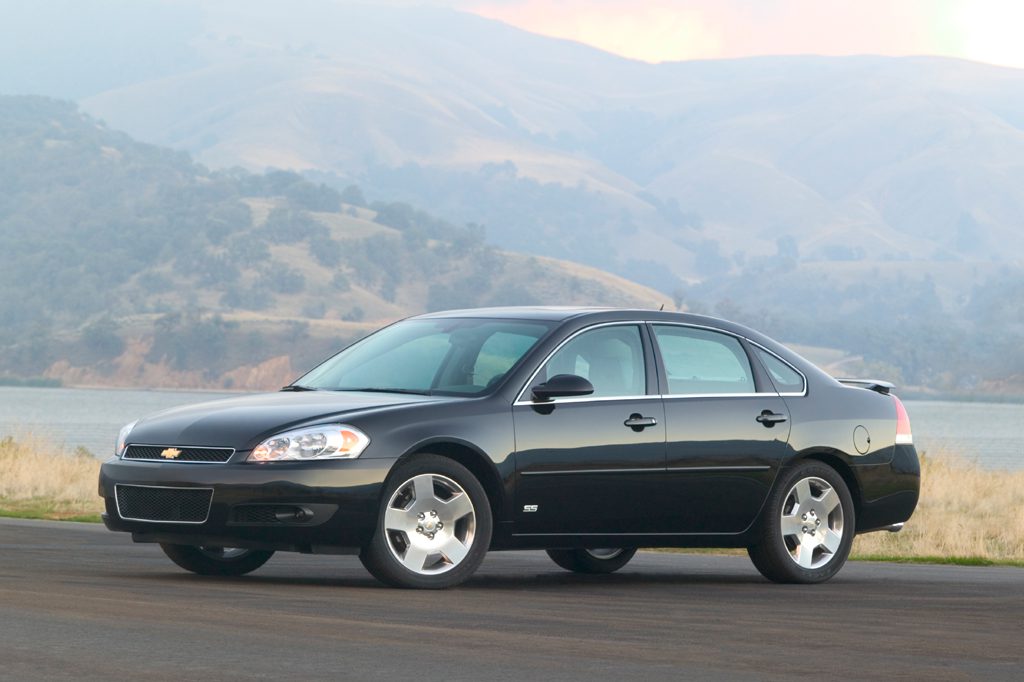 2006 Chevrolet Impala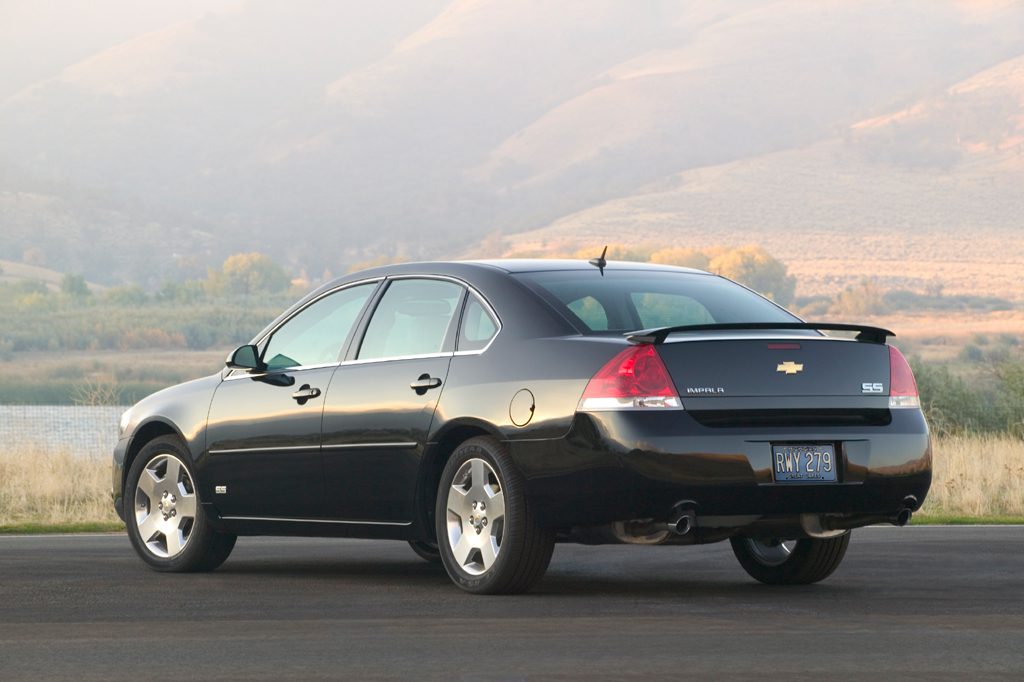 2006 Chevrolet Impala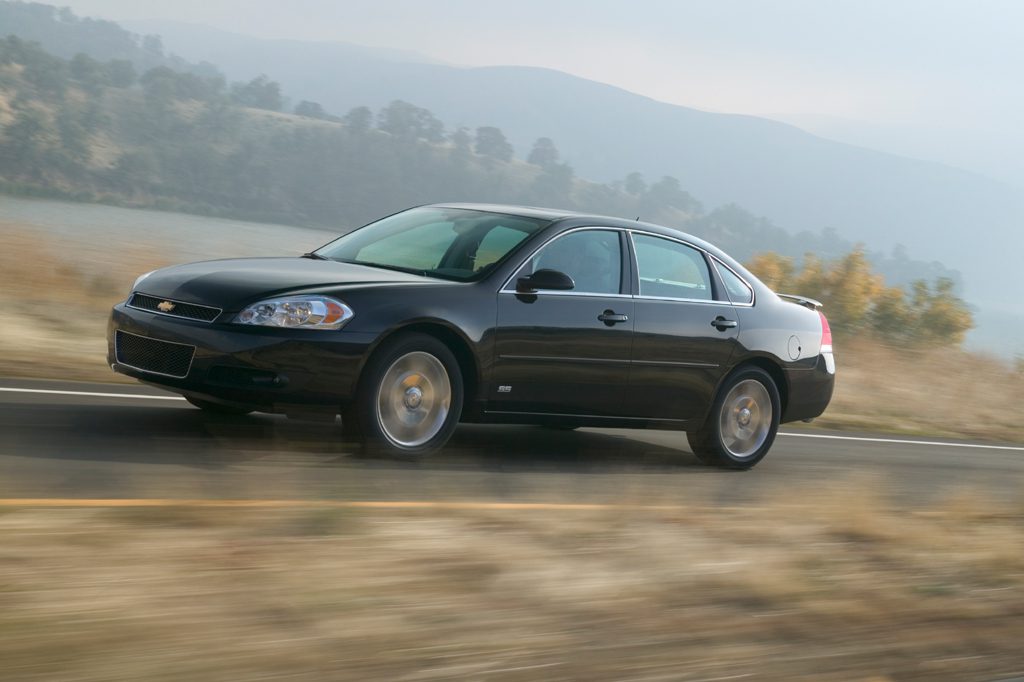 2006 Chevrolet Impala
Pros:

Acceleration (SS)
Ride
Seat comfort
Steering/handling (SS)

Cons:

Fuel economy (SS)
Rear-seat room and comfort
Ride (w/16-inch tires)
Chevrolet's top-selling sedan is affordable, relatively roomy, and has competent road manners.
Overview
Chevrolet updated its largest sedan (and equivalent Monte Carlo coupe) for 2006 with new engines, reworked suspensions, and revised exterior styling. Front-drive competitors included the Honda Accord, Nissan Altima, and Toyota Camry.
Both the midsize Impala sedan and the Monte Carlo coupe were offered in LS, LT 3.5, LT 3.9, LTZ, and sporty SS trim. LS and LT 3.5 models came with a 211-horsepower, 3.5-liter V6 (up 30 hp from 2005's base engine) that could run on E85 ethanol-blended fuel. LT 3.9 and LTZ sedans held a 242-horsepower, 3.9-liter V6. Chevrolet's SS models got a 303-horsepower 5.3-liter V8 with GM's Displacement on Demand, which deactivated four cylinders under light throttle conditions to save fuel. Supercharged models were no longer offered.
All came with a four-speed automatic transmission. SS models had a sport suspension and 18-inch tires; others rode on 16- or 17-inch rubber, depending on the model. Available for all Impala models except the SS was a front bench seat for six-passenger capacity. The SS came only with front buckets.
Head-protecting curtain side airbags were standard in Impalas, but not available for Monte Carlo coupes. Front torso side airbags were optional. Antilock braking, traction control, and a tire-pressure monitor were available. GM's OnStar Assistance was standard. Additional options included a remote starter that turned the engine on via the keyfob, leather upholstery, and satellite radio.
Note that for 2014, a new Impala (see separate report) was introduced while the old generation continued as Impala Limited and was only available for the fleet market.
Yearly Updates
2007 Impala
New for the 3.9-liter V6 and carried over for the V8 was GM's Active Fuel Management, which deactivated half of the engine's cylinders while cruising, to save fuel. A tire-pressure monitor became standard, and SS Impalas gained leather-appointed seats.
2008 Impala
The 2008 Chevrolet Impala was largely unchanged, though the available 3.9-liter V6 joined its 3.5-liter sibling in being able to run on E85 ethanol-blended fuel. The similar 2-door Monte Carlo coupe was discontinued.
2009 Impala
The 2009 Chevrolet Impala was largely unchanged. A wireless cell-phone link was newly standard on the LT 3.9, LTZ, and SS.
2010 Impala
The V8-powered SS was dropped, but there were few other changes for 2010.
2011 Impala
The 2011 Chevrolet Impala is largely unchanged.
2012 Impala
For 2012, the Impala's previous 3.5- and 3.9-liter V6 engines were replaced by a 300-horsepower 3.6-liter V6, and the four-speed automatic was replaced by a six-speed. The new V6 could be run on E85 ethanol-blended fuel.
2013 Impala
After receiving an engine upgrade in 2012, Impala saw no major changes for 2013.
2014 Impala
A revamped Impala based on the large Buick LaCrosse debuted in calendar 2013 as a 2014 model (see separate report). However, the old Impala soldiered on another year as the Impala Limited and was only sold to fleets.