Sporty/performance car; Built in Japan
longitudinal front-engine/rear-wheel drive
Good condition price range: $5,100 – $24,200*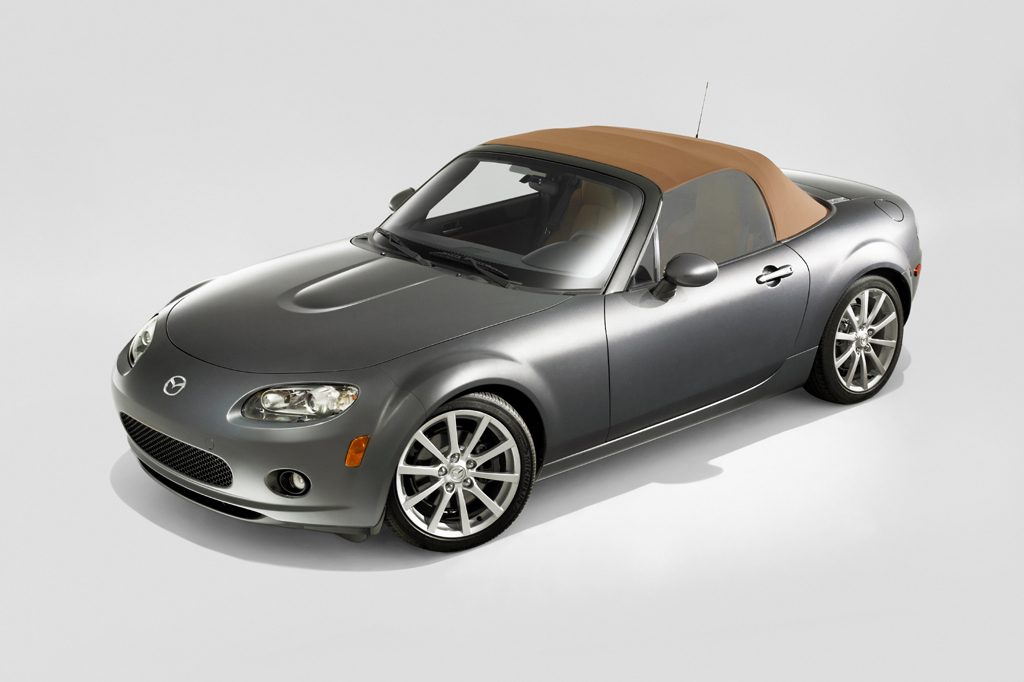 2006 Mazda MX-5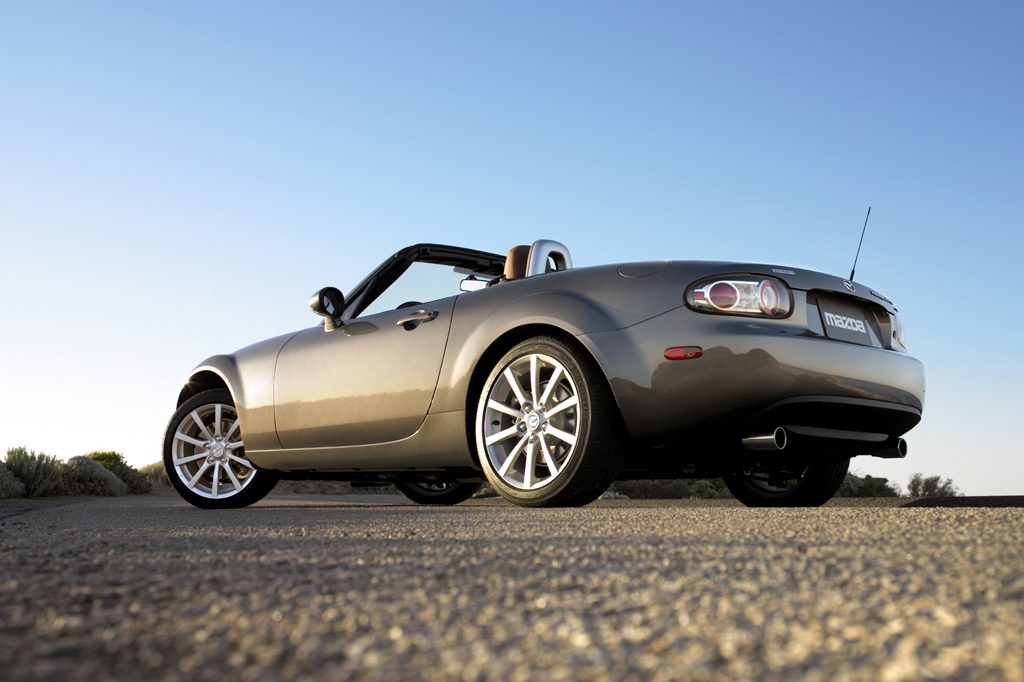 2006 Mazda MX-5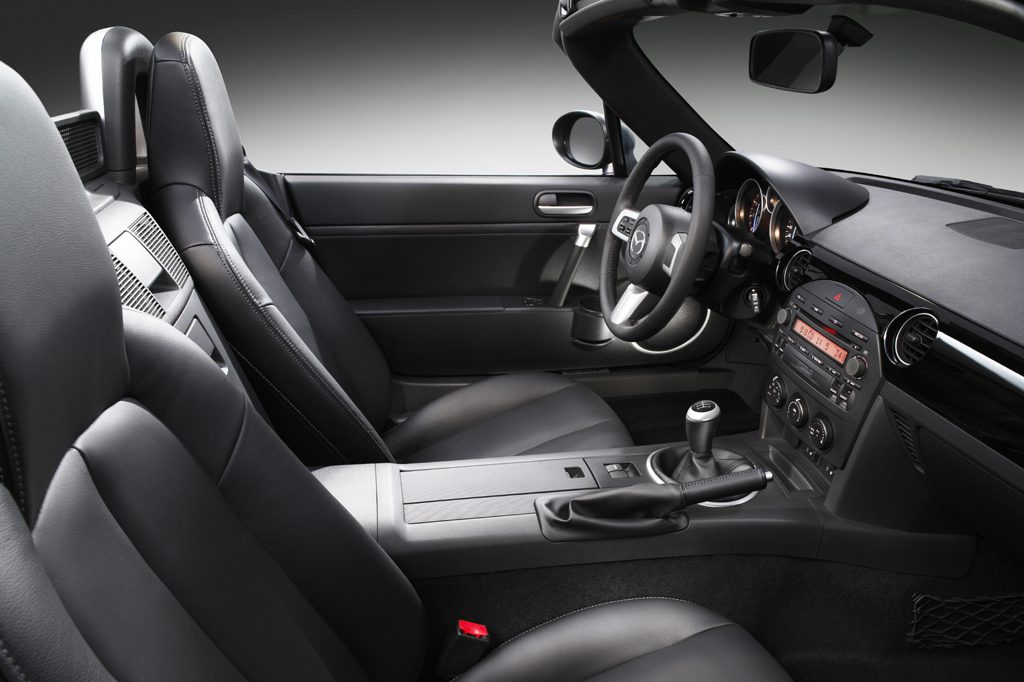 2006 Mazda MX-5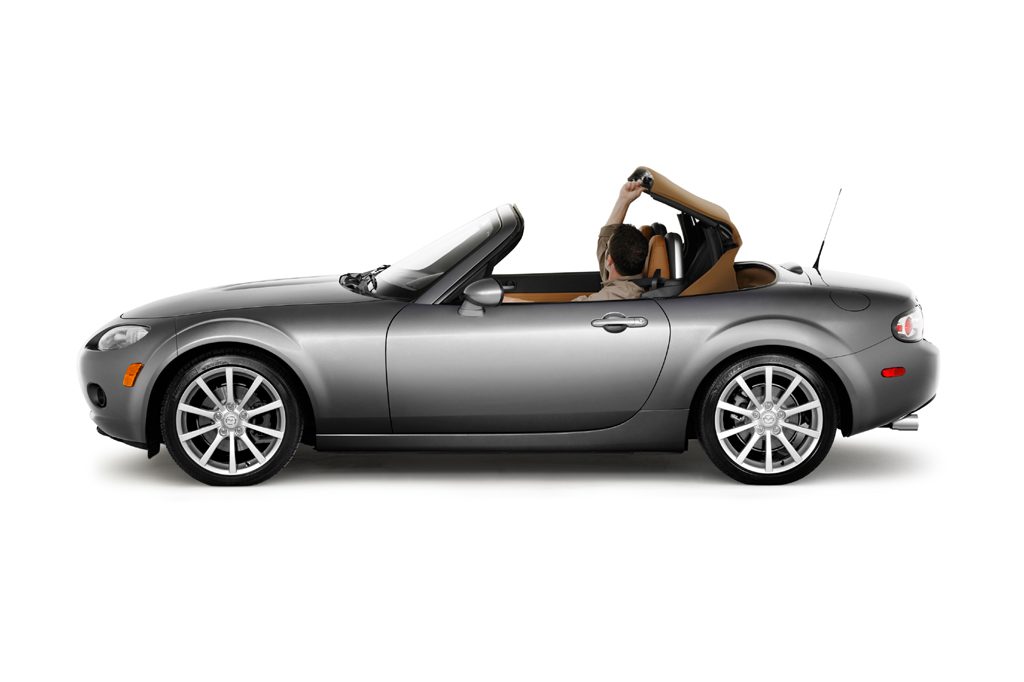 2006 Mazda MX-5
Pros:

Acceleration
Control layout/ materials
Steering/handling
Brake performance

Cons:

Cargo room
Noise
Passenger room and comfort
Ride
For better or worse, Mazda's 2006 redesign traded a little bit of this two-seater's lithe nature for a more masculine bearing. In the bargain, it gained power and safety features at new-car prices starting well below the prior version. As always, the current MX-5 delivers as much driving pleasure–if not outright power–as two-seat sports cars costing thousands more. Mazda manages to combine open-air fun with surprising practicality, including a remarkably well-engineered retractable hardtop. Beware, though: Strong resale values keep secondhand prices high.
Overview
Mazda redesigned its popular two-door sports car for 2006, but retained four-cylinder power and the general design that had helped make Miata the best-selling two-passenger convertible in the world. The U.S. version of this third-generation Miata adopted the MX-5 model name, as used on the car in other markets since its 1990 introduction.
Compared to the 1999-2005 Miata, the rear-wheel-drive MX-5 was longer by 2.5 inches in wheelbase and 1.6 inches overall, and was 1.7 inches wider. Base curb weight increased by about 50 pounds. Sole engine remained a four-cylinder, but it was a 170 horsepower, 2.0-liter, in place of a 1.8-liter that produced 142 horsepower.
MX-5 came in six models: Club Spec, base, Touring, Sport, Grand Touring, and 3rd-Generation Limited. A manual transmission was standard: five-speed on Club Spec, base, and Touring, but six-speed on the others. Optional on Touring, Sport, and Grand Touring models was a six-speed automatic transmission with steering-wheel shift paddles; Miata's previous automatic had been a four-speed.
Side airbags designed to protect both head and torso were standard; So were antilock four-wheel disc brakes. Traction control, antiskid system, and sport suspension were available.
MX-5 came with a manual-folding soft top, with a heated glass rear window; a removable hardtop was optional. Sport, Grand Touring, and 3rd-Generation Limited have 17-inch wheels; others were 16-inch. The 3rd-Generation Limited came with a sport suspension, satellite radio, xenon headlights, and special trim. Mazda had few true competitors for the MX-5, apart from the more costly Honda S2000 and the new Pontiac Solstice–plus its coming-soon 2007 counterpart, the new Saturn Sky.
Yearly Updates
2007 MX-5
Retractable-hardtop versions of Mazda's sports car became available for 2007. The solid roof opened or closed in 12 seconds and stole no luggage space, though it added 77 pounds to the car's weight. Mazda continued to offer a removable hardtop for soft-top models. This year's lineup included the SV (soft-top only), along with Sport, Touring, and Grand Touring models, each of which could have either a fabric top or the new retractable hardtop. Mazda's four-cylinder engine made 170 horsepower with a manual gearbox, but 166 hp with an automatic transmission. SV and Sport models had a five-speed manual; others, six-speed. All but the SV could have the six-speed automatic with paddle shifters.
2008 MX-5 Miata
The 2008 Mazda MX-5, also known as the Miata, was largely unchanged.
2009 MX-5 Miata
The MX-5 Miata received a revised grille as part of a mild styling update.
2010 MX-5 Miata
The 2010 Mazda MX-5 Miata was largely unchanged.
2011 MX-5 Miata
The 2011 Mazda MX-5 Miata saw no major changes.
2012 MX-5 Miata
There were no noteworthy changes to the 2012 Mazda MX-5 Miata.
2013 MX-5 Miata
For 2013, Mazda replaced the mid-line Touring model with a new Club variant. Club was a sporty trim level that added a sport suspension, 17-inch wheels (base Sports had 16s), and a limited-slip differential (manual-transmission models only).
2014 MX-5 Miata
The MX-5 Miata was unchanged for 2014.