Midsize car; Built in USA
transverse front-engine/front-wheel drive
Good condition price range: $8,500 – $13,500*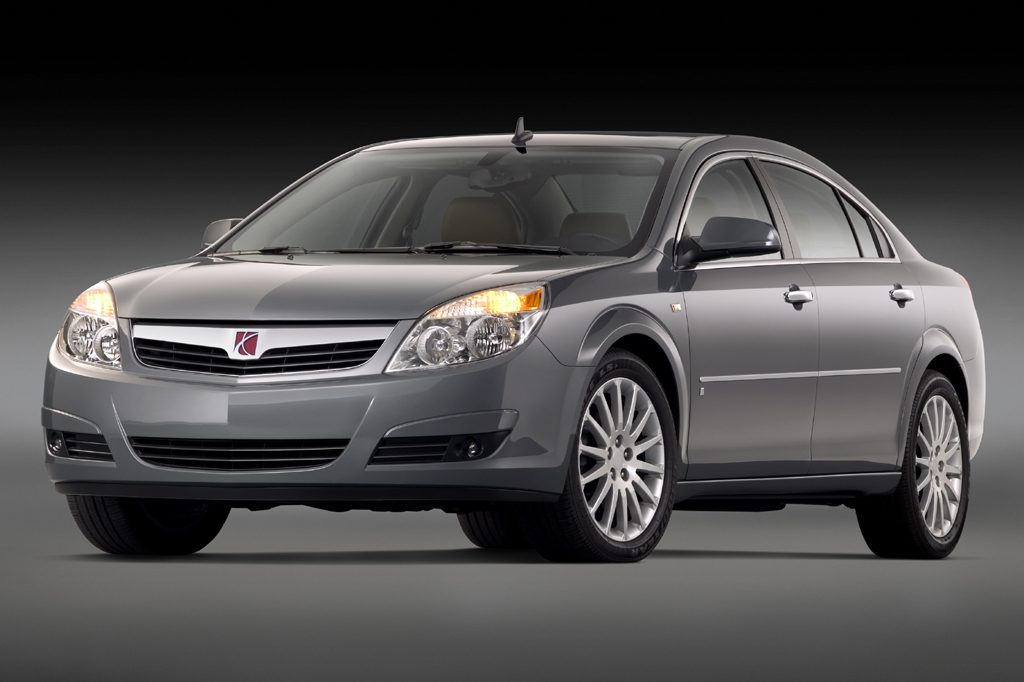 2008 Saturn Aura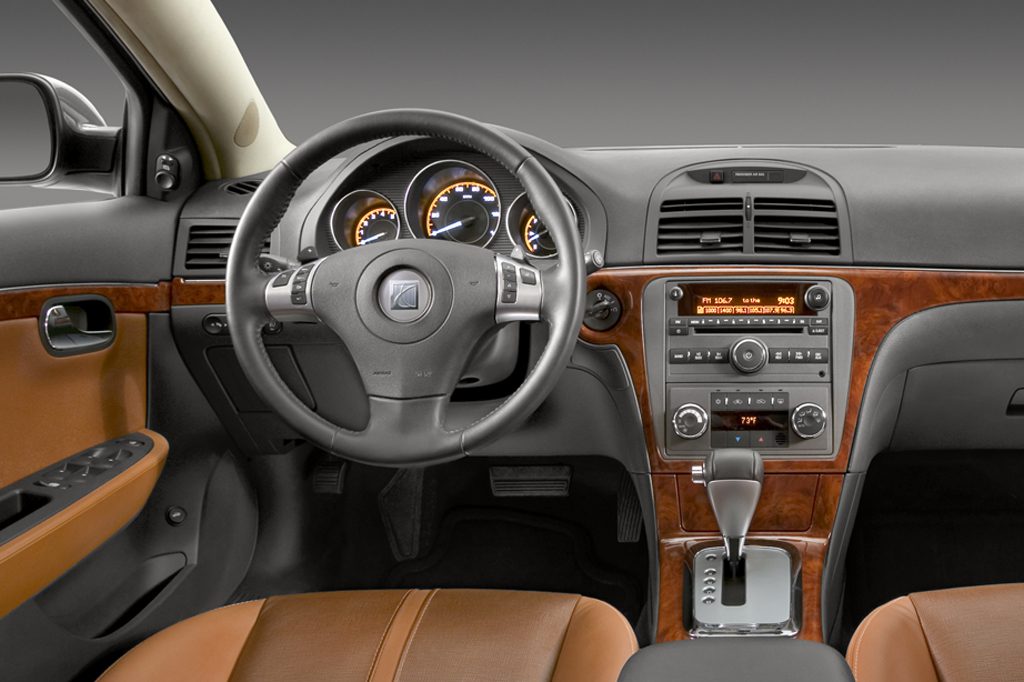 2008 Saturn Aura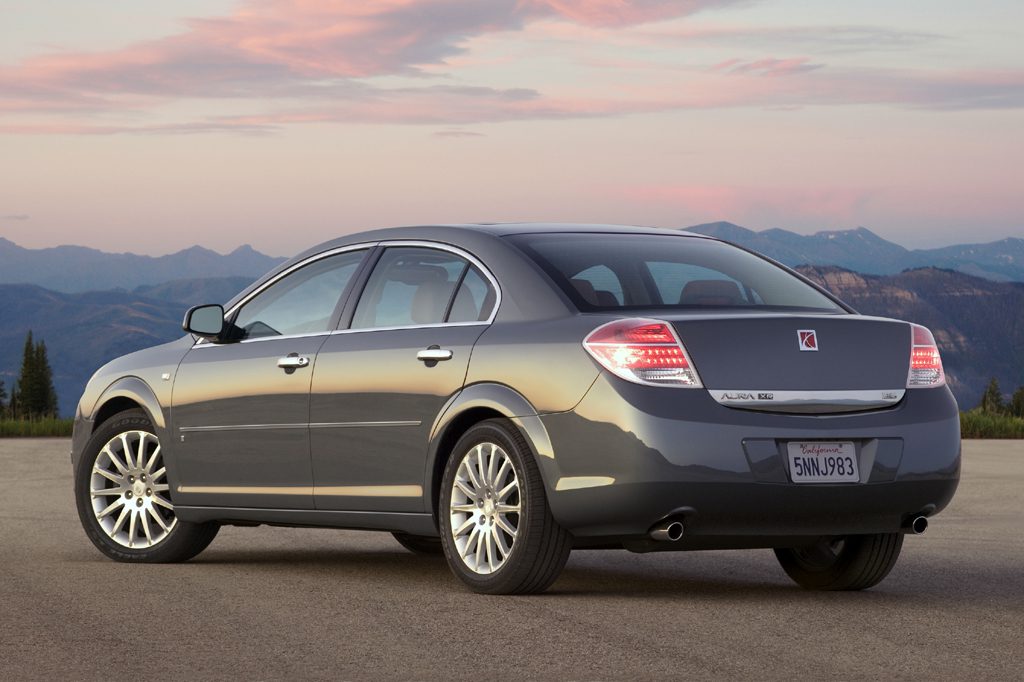 2008 Saturn Aura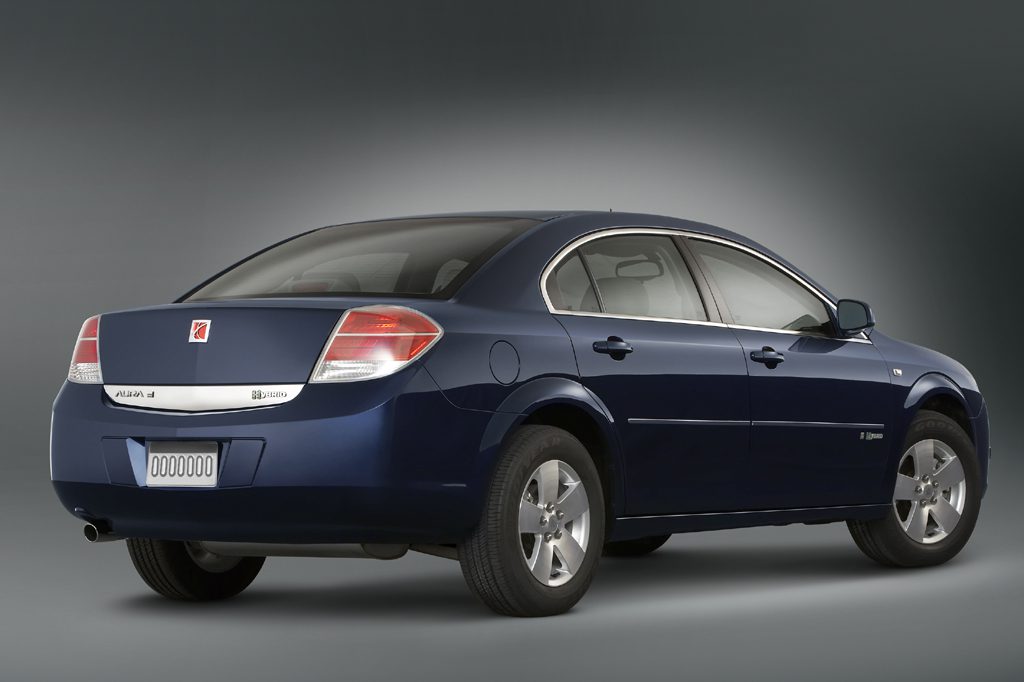 2008 Saturn Aura
Pros:

Acceleration (V6)
Seat comfort
Steering/handling

Cons:

Cargo room (Hybrid)
Engine noise (Hybrid)
Road noise
Wind noise
Brake-pedal feel
This impressive midsize sedan is a Recommended pick. Aura shines for its sporty road manners, comfortably controlled ride, and mechanical polish. It's also roomy and comfortable, feels solid, and offers a lot for the money, including essential standard safety features. The available Green Line model is a budget-friendly alternative to the most costly Toyota Camry Hybrid. One final bonus: Saturn's strong reputation for customer satisfaction. Used-Aura prices are likely to be close to average.
Overview
Aura bowed for 2007 as the first midsize car at General Motors' Saturn division since the demise of the slow-selling 2000-2004 L-Series. This V6 sedan shared a wheelbase and front-wheel-drive architecture with the Chevrolet Malibu Maxx hatchback and Pontiac G6 models, but differed in styling and price. Aura came in XE and uplevel XR models. The XE had a 224-horsepower V6 engine and a four-speed automatic transmission. Saturn's XR got a 252-hp V6 with a six-speed automatic, with steering-wheel paddles for manual shifting.
Both models included antilock braking and traction control. An antiskid system was standard on XR, but unavailable for the XE sedan. Front side airbags and curtain side airbags were standard. So were automatic climate control and OnStar assistance. Options included leather upholstery, power-adjustable pedals, a sunroof, and a "panoramic" sunroof with a tilt-up front section and three rear-sliding panels. With the Aura, Saturn competed against major midsize sedans, including the Honda Accord, Nissan Altima, and Toyota Camry.
During the 2007 model year, Saturn introduced a Green Line sedan with a hybrid (gasoline/electric) powertrain, consisting of a four-cylinder engine and battery-powered electric motor.
Yearly Updates
2008 Aura
A new 169-horsepower four-cylinder XE-4 model joined the carryover XE-6 with its V6 engine, now rated at 219 horsepower. GM's StabiliTrak antiskid system became standard on all models except the XE-4, which used essentially the same gasoline engine as the Green Line Hybrid. Chevrolet introduced a redesigned Malibu sedan for 2008, with architecture similar to the Aura.
2009 Aura
An XR 4-cylinder model was added to the lineup with the same 169-hp 2.4-liter engine as the XE. The XE V6 was dropped, leaving the XR V6 as the sole V6 model. The Green Line hybrid was now called, simply, "Hybrid." Newly available for 2009 was a wireless cell-phone link.