Large pickup truck; Built in Mexico, Canada, USA
crew cab
ext. cab
ext. cab
ext. cab
reg. cab long bed
reg. cab short bed
longitudinal front-engine/rear- or 4-wheel drive
Good condition price range: $8,200 – $40,000*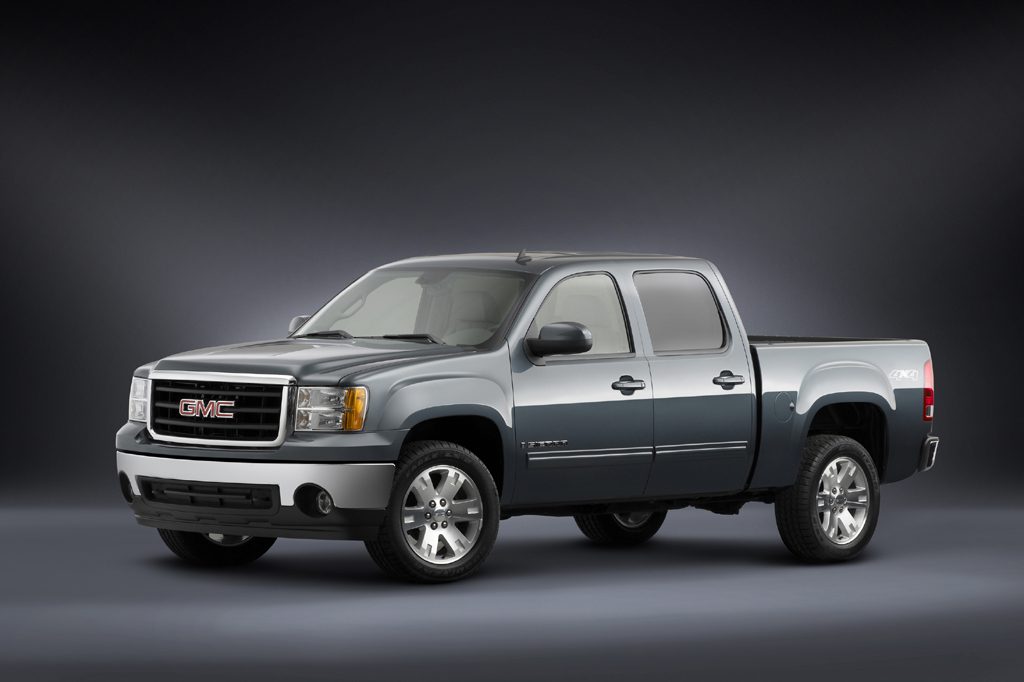 2008 GMC Sierra 1500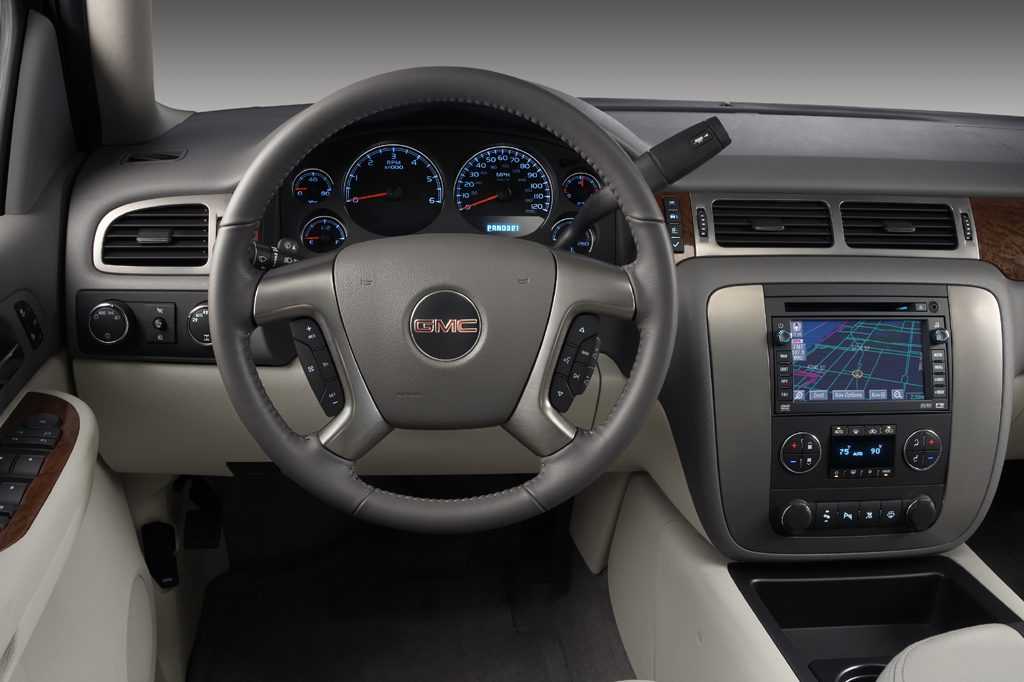 2008 GMC Sierra 1500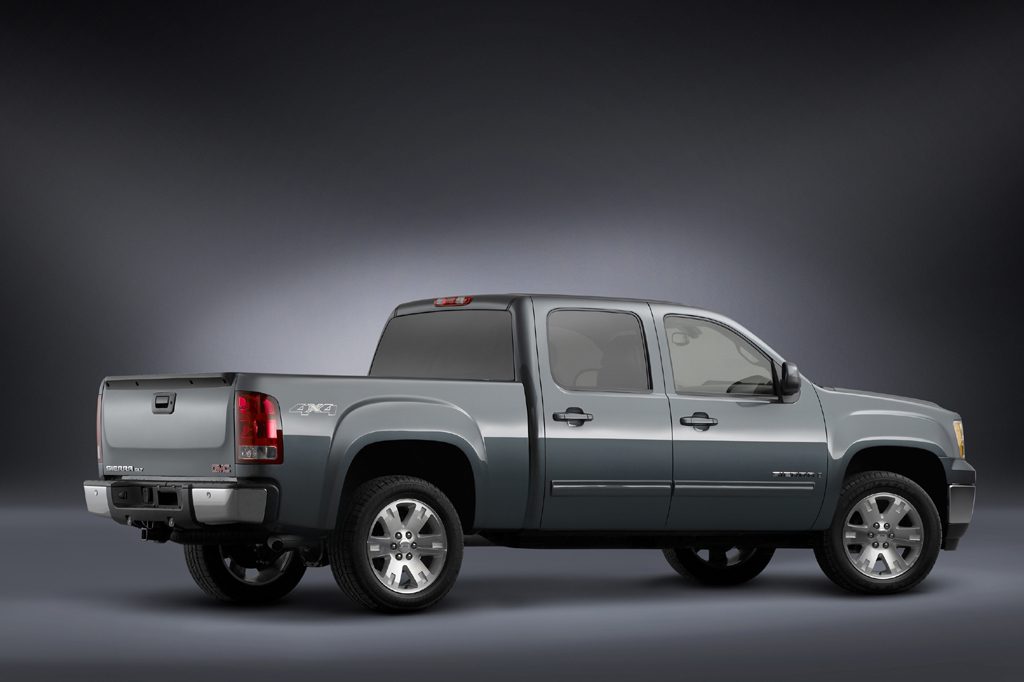 2008 GMC Sierra 1500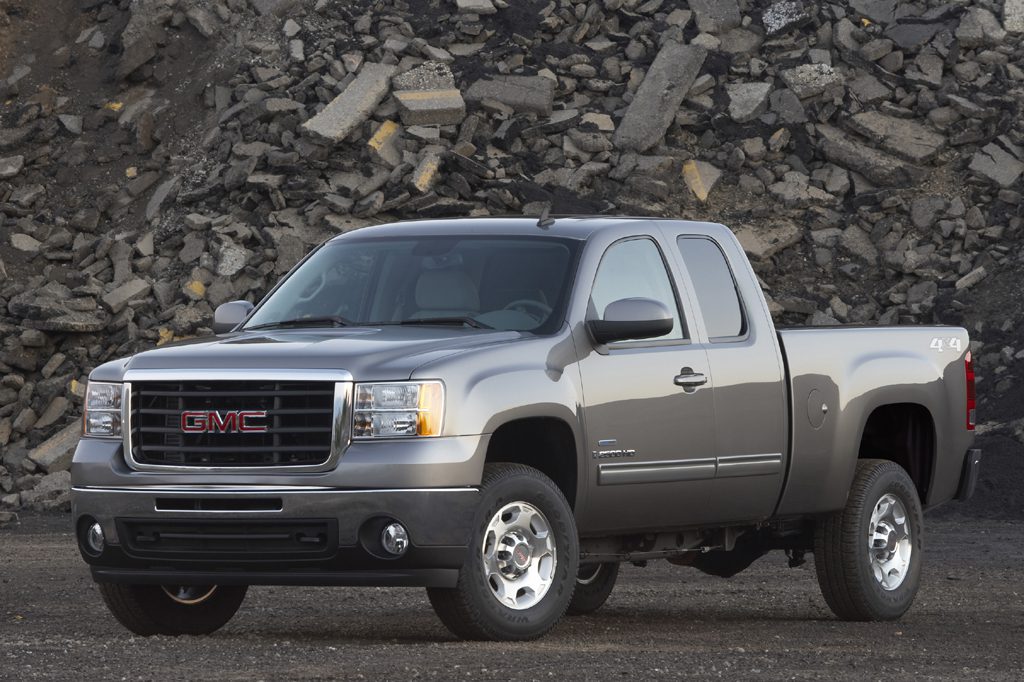 2008 GMC Sierra 1500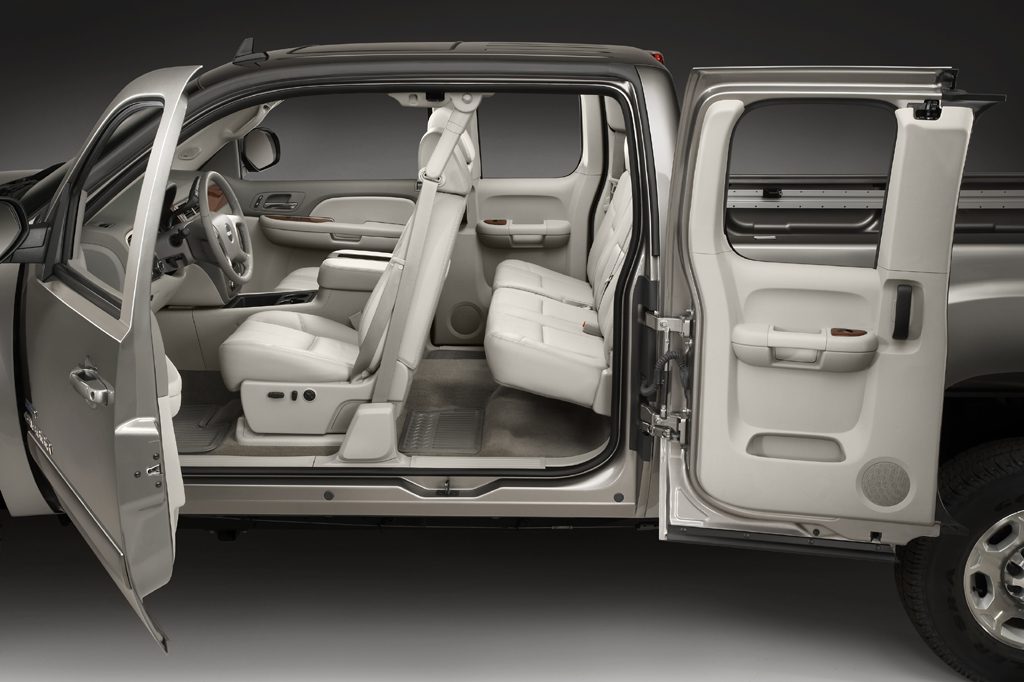 2008 GMC Sierra 1500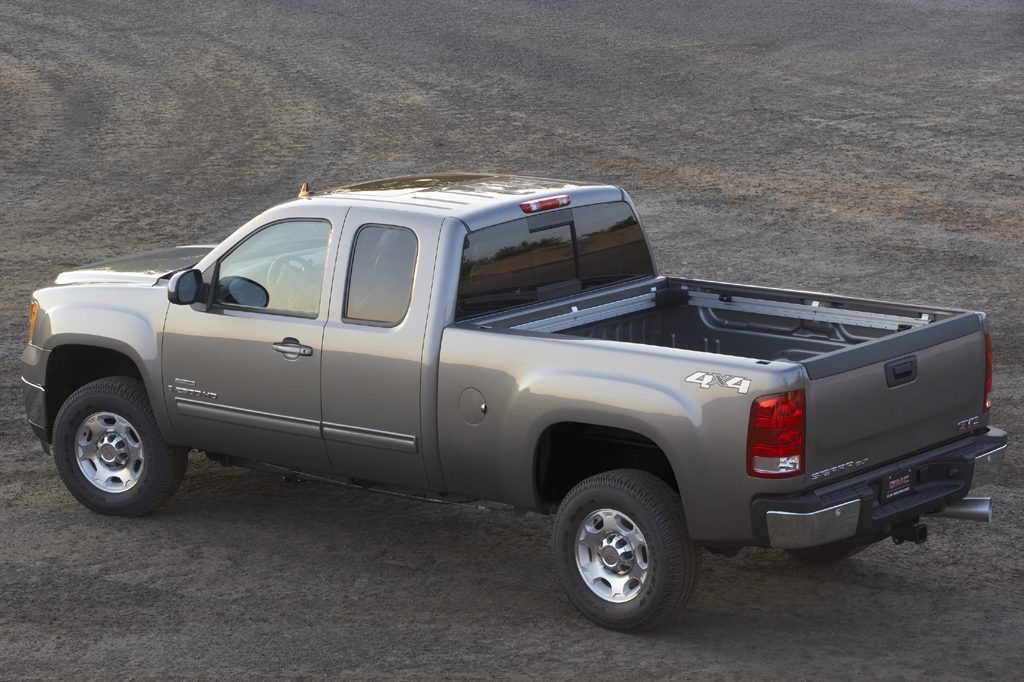 2008 GMC Sierra 1500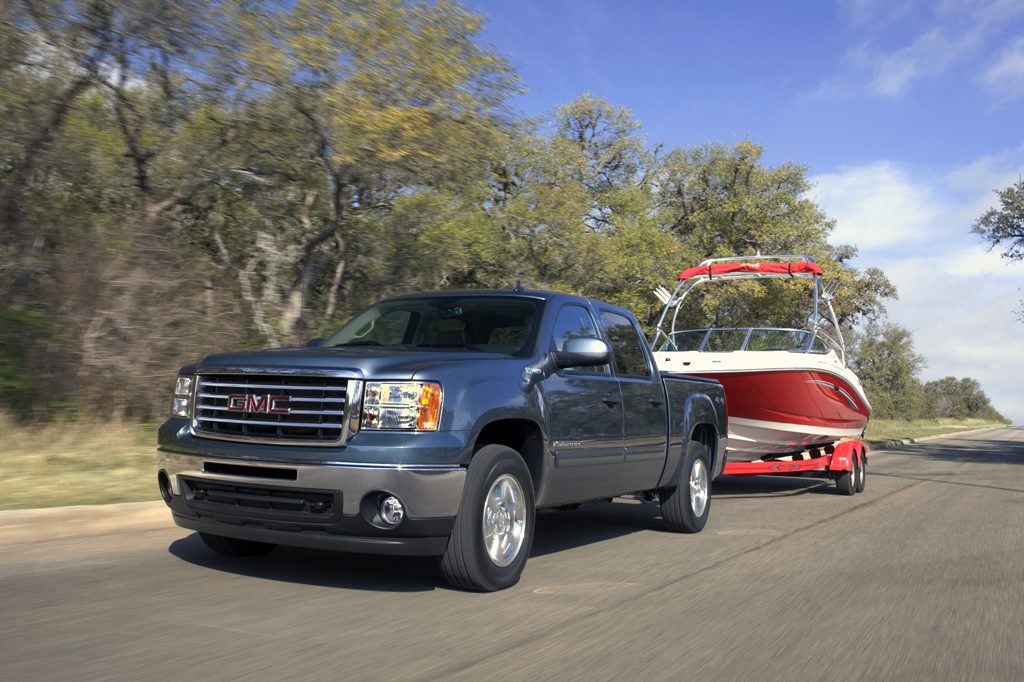 2012 GMC Sierra 1500 Front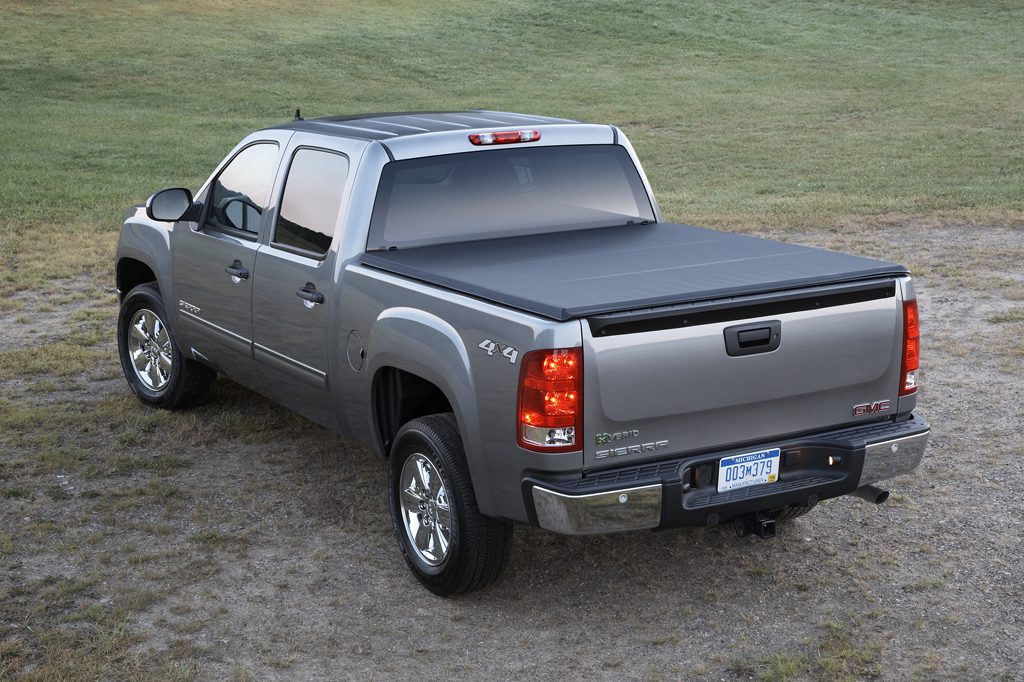 2012 GMC Sierra 1500 Rear
Pros:

Transmission operation
Quietness (for a truck)
Seat comfort
Brake performance

Cons:

Fuel economy
Steering/handling
GMC's redesigned-for-2007 Sierra and the similar Chevrolet Silverado are among the best large pickup trucks for refinement and available features. Any truck buyer, new or used, would be well-advised to give these Recommended (2007-2012) picks a long, hard look.
Overview
Redesigned for 2007 like the similar Chevrolet Silverado, GMC's Sierra full-size pickup truck got fresh styling, more power, and new features. Temporarily, at least, the new model sold alongside the Sierra Classic, which was a carryover of the previous (1999-2006) design. Chevrolet offered a similar Classic model in 2007.
Unchanged in wheelbase, the redesigned Sierras measured 3 inches longer overall and 1.5 inches wider. Regular, extended-cab, and crew cab body styles returned. Extended-cabs had rear-hinged back doors that do not open independently of the fronts, but they opened wider than before. Extended and crew cabs included a three-person rear bench seat, and were available with either front bucket seats or a bench.
Regular-cab models could be equipped with either a 6.5- or 8.1-foot cargo bed. Crew cabs had a 5.8-foot bed. Extended-cabs came in all three bed lengths. Two distinct interiors were offered, called "Pure Pickup" and "Luxury Inspired."
Available engines, depending on cab and bed configurations, were a 195-hp V6, or V8s rated at 295, 315, and 367 hp. All V8s gained power for 2007. Some engines were capable of running on E85 (an ethanol/gasoline blend) and features GM's Active Fuel Management cylinder deactivation. A four-speed automatic transmission was standard; manual shift no longer was offered. Rear-wheel drive was standard. Two four-wheel-drive systems were available: a basic setup that should not be left engaged on dry pavement, and GM's Autotrac that could handle dry surfaces. Both 4WD systems included low-range gearing.
Sierras were offered in Work Truck, SLE, and SLT trim levels that corresponded to similar versions of Chevrolet's Silverado. Unique to GMC was the top-line Sierra Denali crew cab, which came with rear-drive or all-wheel drive and a 403-hp V8, six-speed automatic transmission, distinct trim, and additional standard features.
Four suspensions were available: Z83 and Z85 for ride comfort, Z60 street-performance for maximum handling capabilities, and Z71 for off-roading. Standard on all models were ABS and, for 2007, GM's OnStar assistance. Curtain side airbags, traction control, and an antiskid system with rollover sensors were newly available on selected models. Other new options included a power-sliding rear window, remote engine start, navigation system, power-adjustable pedals, rear-obstacle detection, and power rear-side windows for extended cabs. GMC competed against the Ford F-150 and Toyota Tundra as well as Chevrolet's Silverado.
Yearly Updates
2008 Sierra 1500
A new off-road-oriented All Terrain model was added, and XM satellite radio was newly standard.
2009 Sierra 1500
The 2009 Sierra 1500 lineup gained a gas/electric hybrid model and newly available 6-speed automatic transmission and wireless cell-phone link.
2010 Sierra 1500
The 2010 GMC Sierra was slated to receive a new turbodiesel V8 engine, but its introduction was indefinitely delayed due to GM's precarious financial position. The horsepower of the 4.8-liter V8 increased from 295 to 302. Otherwise, the 2010 GMC Sierra 1500 lineup saw few changes.
2011 Sierra 1500
The 2011 GMC Sierra 1500 was largely unchanged.
2012 Sierra 1500
There were no changes of note to the 2012 GMC Sierra 1500.
2013 Sierra 1500
Nothing of significance was new for 2013. The Sierra was redesigned for 2014.