Large SUV; Built in USA
4-door wagon
4-door wagon
longitudinal front-engine/rear- or all-wheel drive
Good condition price range: $13,700 – $51,500*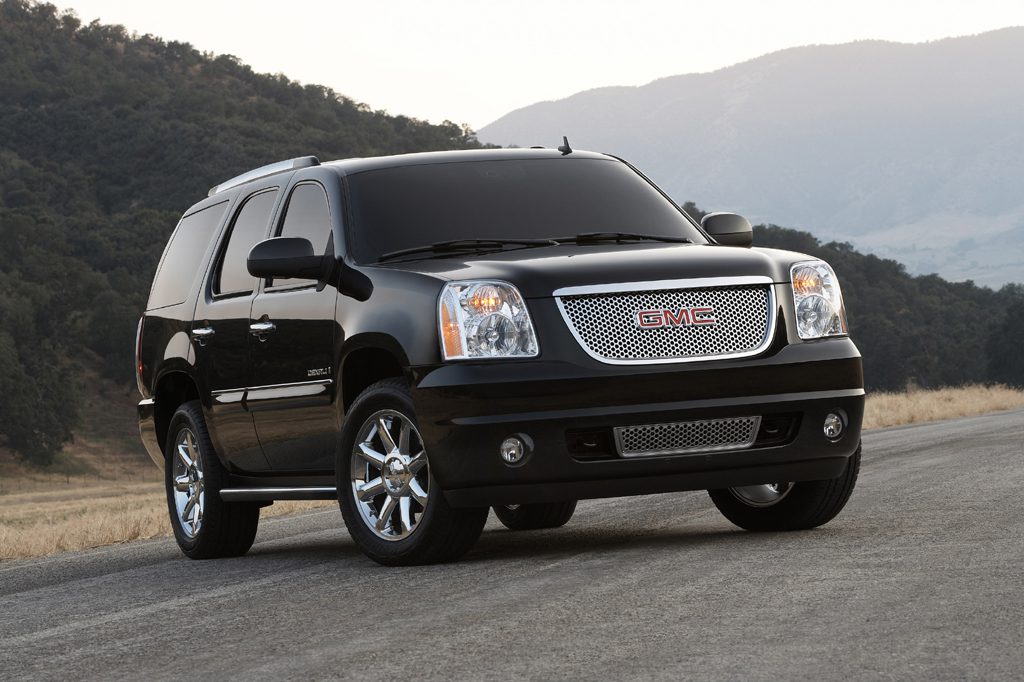 2007 GMC Yukon Denali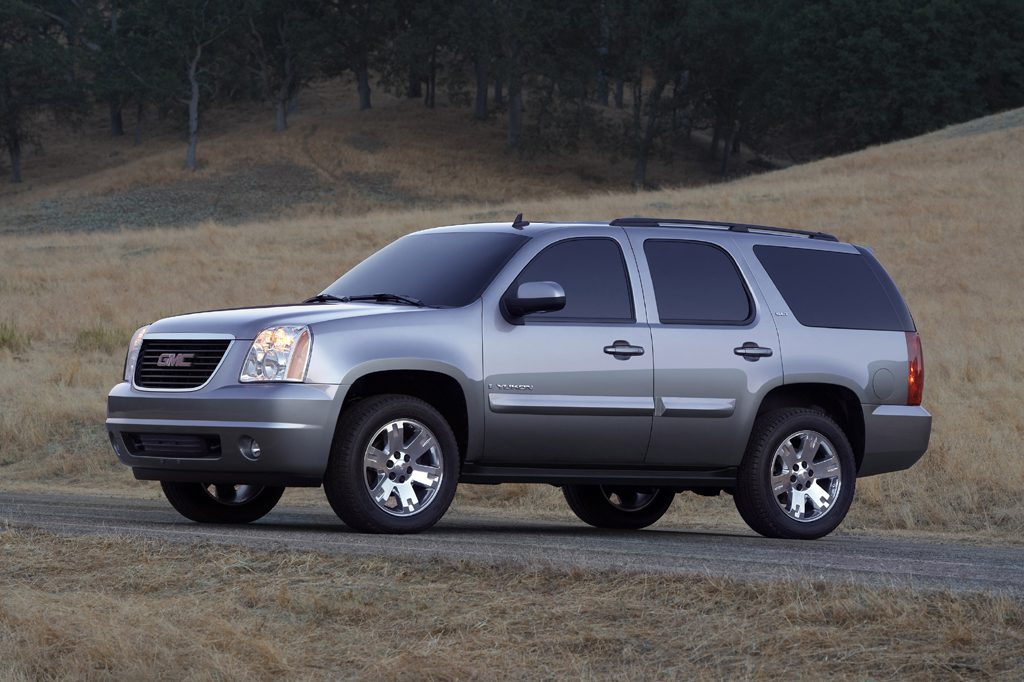 2007 GMC Yukon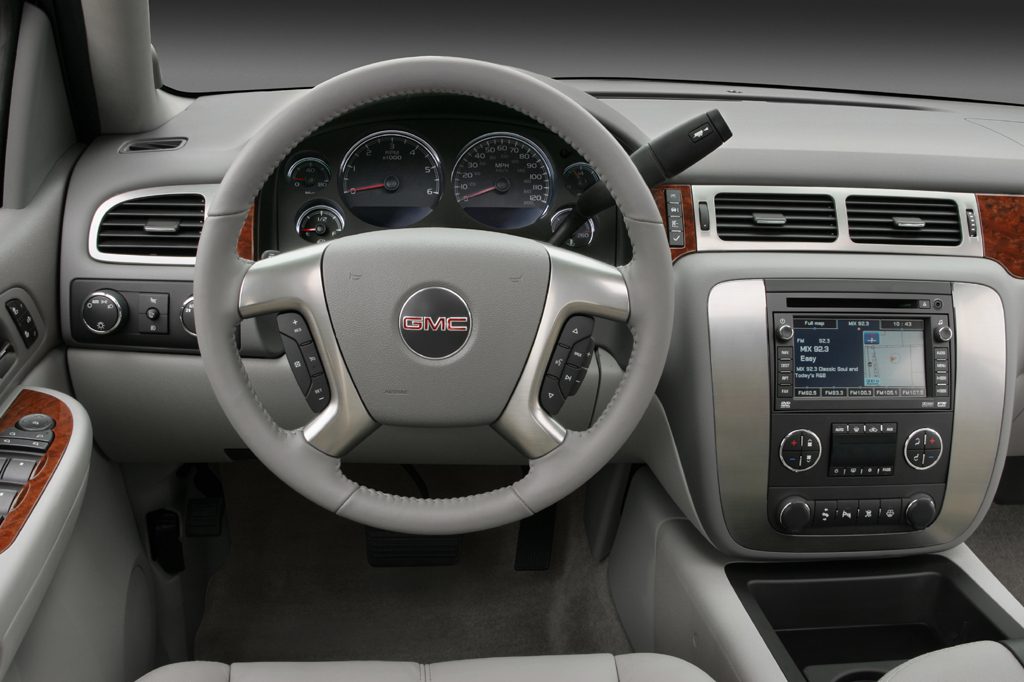 2007 GMC Yukon
Pros:

Cargo room
Quietness
Seat comfort

Cons:

Fuel economy (except Hybrid)
Steering/handling
GM's 2007 redesign of its large Chevrolet and GMC SUVs addressed the most egregious flaws of their 2000-2006 predecessors: sloppy steering and subpar interior appointments. Third-row accommodations in the regular-length versions are still best suited for children. But for smooth power, utility, and surprising overall refinement, these are first-rate trucks. A carefully optioned Yukon SLE or SLT has been the best choice in the GMC lineup. Like the Tahoe, it's a Best Buy (2007-12) value among large SUVs. Yukon's performance and accommodations mirror those of comparably equipped Tahoes, and the Yukon XL is similar to Chevrolet's Suburban. Yukons are promoted as an upscale alternative to Tahoe, and the Denali is positioned just below Cadillac's Escalade. Despite more power and luxury touches, Denali fails to deliver enough of either to justify its higher prices and thirst for premium-grade fuel.
Overview
GMC redesigned its large sport-utility vehicles for 2007, giving them more power, new features, and fresh styling. Regular Yukons and the longer-wheelbase Yukon XL models shared a new platform with the 2007 Cadillac Escalade, as well as the closely related Chevrolet Tahoe and Suburban. Yukon XL wagons were 14 inches longer in wheelbase than regular Yukons, measured 20 inches longer overall, and offered nearly 30 cubic feet more cargo volume. In addition to Chevrolet's Tahoe and Suburban, GMC competed against the Ford Expedition and Toyota Sequoia.
Both Yukon and Yukon XL wagons came in SLE, SLT, and luxury Denali models. SLE and SLT versions offered a choice of rear-drive or four-wheel drive, which could be left engaged on dry pavement and included low-range gearing. Denali editions had specific styling and all-wheel drive, without low-range gearing.
Standard on the rear-drive SLE model was a 295-horsepower, 4.8-liter V8. A 320-hp, 5.3-liter V8 was optional on that model and standard on other Yukons. Available on the Yukon XL was a 355-hp, 6.0-liter V8. Each of these engines used a four-speed automatic transmission and incorporated GM's Active Fuel Management cylinder deactivation system. Yukon Denalis got a 380-hp V8 and six-speed automatic transmission.
Antilock braking and traction/antiskid control with rollover sensors were standard. GM's self-adjusting Autoride suspension was available on SLT models, and standard on Denalis. Curtain side airbags that covered all seating rows and included rollover deployment were standard on SLT and Denali, and optional for SLE.
Yukons seated up to nine passengers. Denalis held up to eight. In all models, the second- and third-row seats folded and the third row was removable. As in GM's other large SUVs, a spring-release option could flip the second-row seats to provide third-row access. GM's OnStar assistance was standard. A power liftgate, remote engine start, rear-obstacle detection, and power-adjustable pedals were standard on Denali, and available on other models.
DVD entertainment and a navigation system with rearview camera also were available.
Yearly Updates
2008 Yukon/Denali
A gasoline/electric hybrid model debuted for 2008 with a 320-horsepower 6.0-liter V8 that paired with an electric motor. Yukon Hybrids could run on either or both power sources, depending on driving demand. Under most conditions, the engine would shut off when the vehicle came to a stop. Hybrids required no plug-in charging. GMC's optional 6.0-liter V8 for Yukon XL models gained 11 hp to 366.
2009 Yukon/Denali
The 2009 GMC Yukon lineup gained an available 6-speed automatic transmission, while the high-end Denali model's 6.2-liter V8 gained 23 hp for a total of 403. Denali-exclusive updates for 2009 included the addition of heated and cooled front seats and a power-tilt steering column. The Hybrid's horsepower increased to 332.
2010 Yukon/Denali
The 2010 GMC Yukon XL's optional 6.0-liter V8 was dropped and the Denali's 6.2-liter became optional.
2011 Yukon/Denali
The 2011 GMC Yukon is largely unchanged.
2012 Yukon/Denali
The 2012 GMC Yukon got a revised infotainment system, and some features previously reserved for high-end models trickled down to lower-line ones. Line-topping Denalis gained standard blind-spot alert.
2013 Yukon/Denali
Yukon stood pat for 2013.
2014 Yukon/Denali
SLE models gained more standard equipment for 2014. Otherwise there were few changes to Yukon before its 2015 model-year redesign.