Premium sporty/performance car; Built in Germany
2-door convertible
2-door coupe
longitudinal front-engine/rear-wheel drive
Good condition price range: $8,000 – $30,900*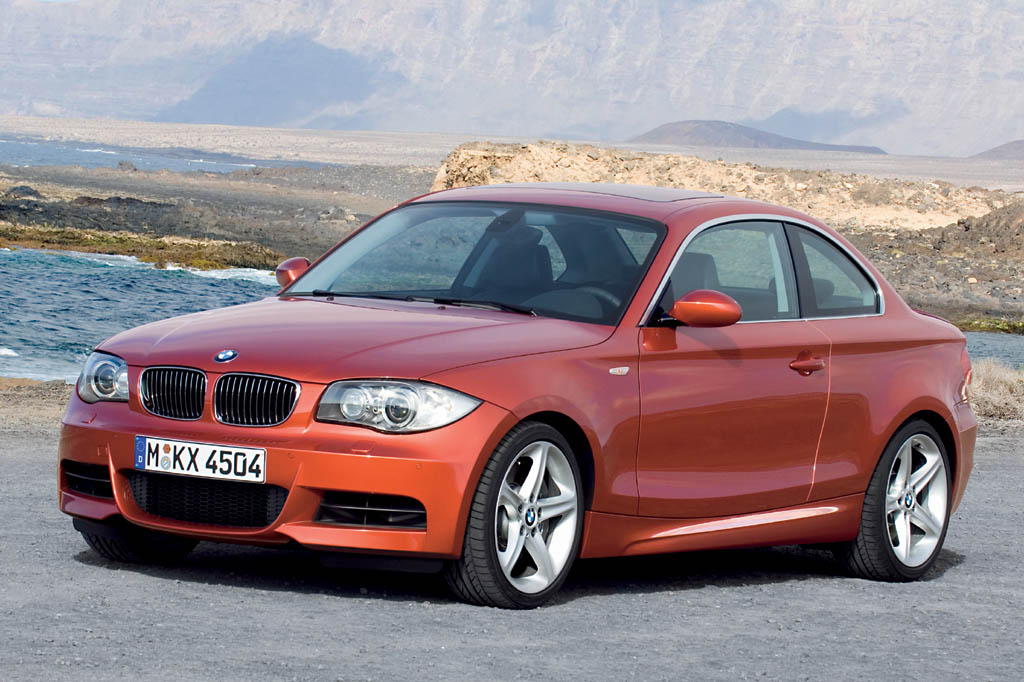 2008 BMW 1-Series Front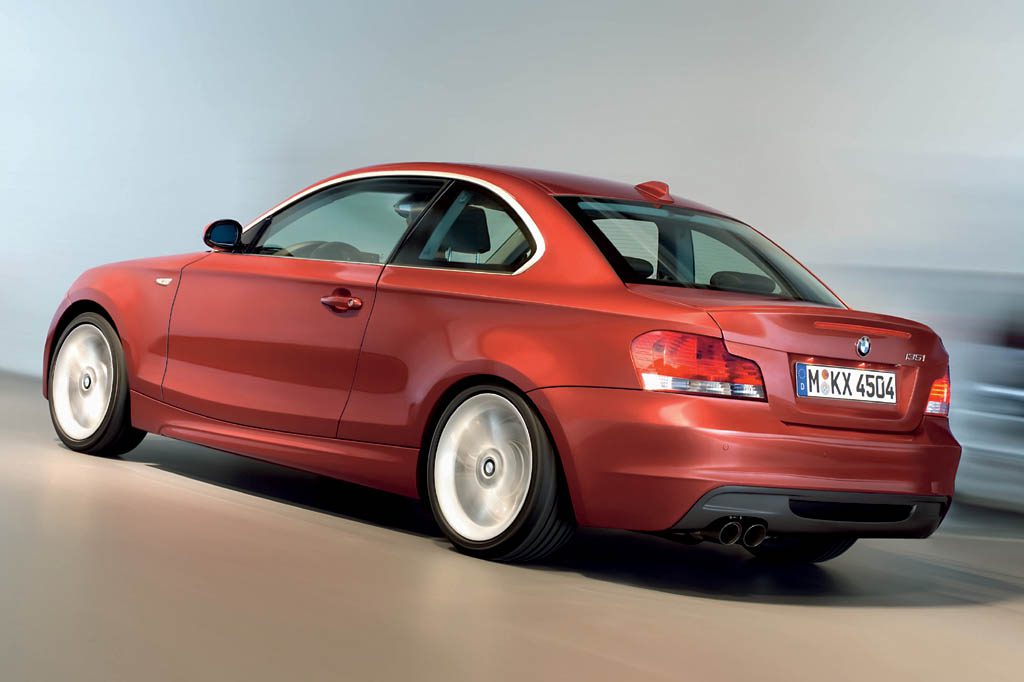 2008 BMW 1-Series Rear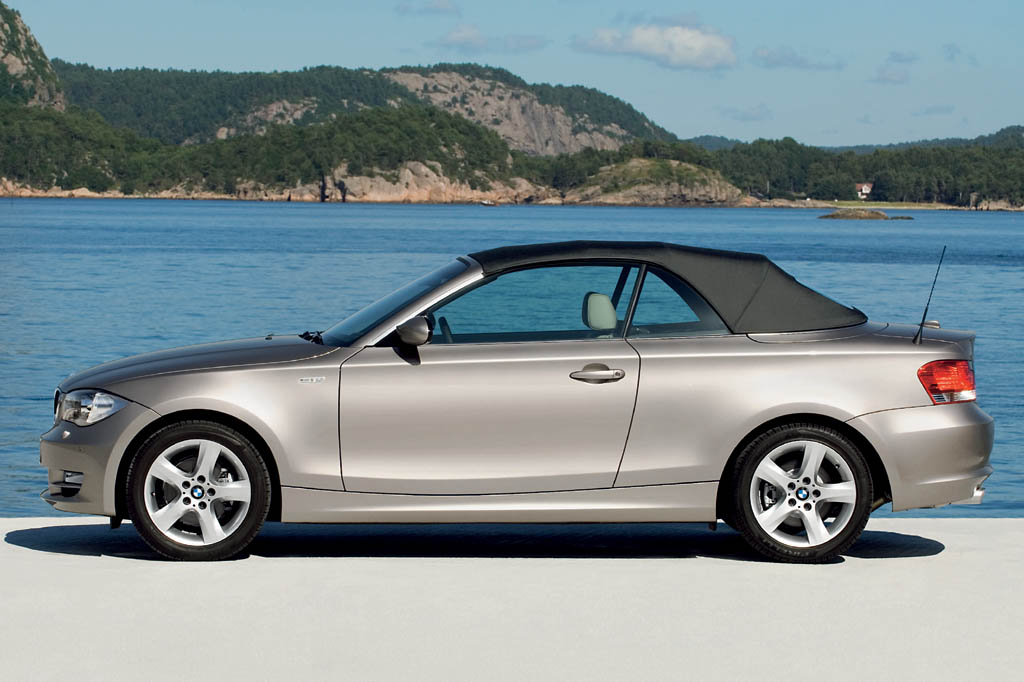 2008 BMW 1-Series Profile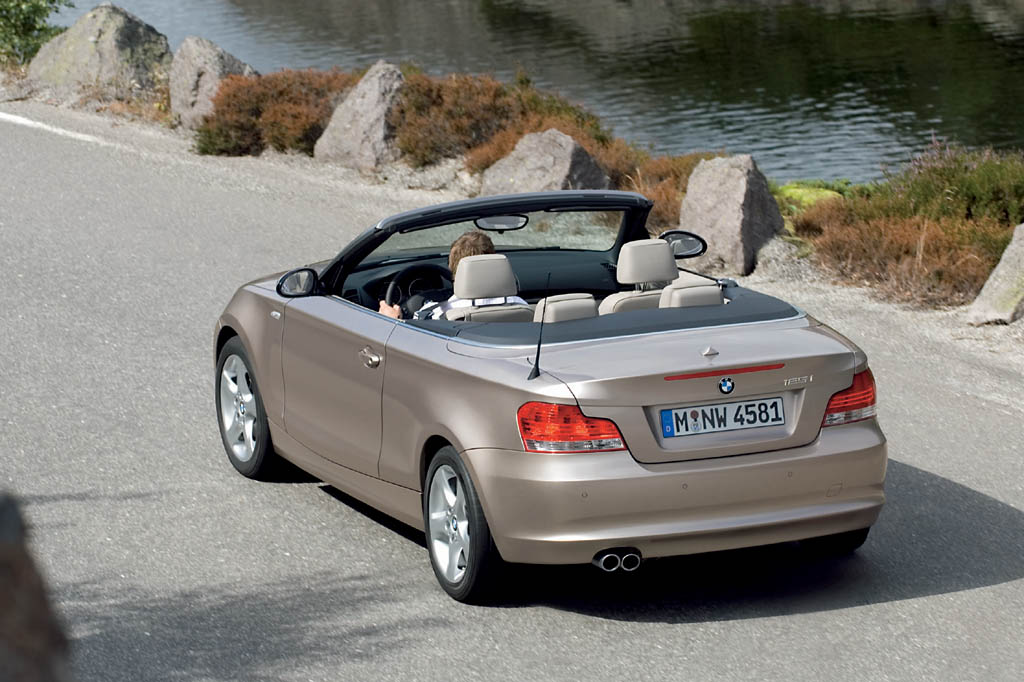 2008 BMW 1-Series Rear-2
Pros:

Acceleration
Ride (128i w/o Sport Package)
Steering/handling
Visibility (coupes)

Cons:

Interior storage space
Rear-seat entry/exit
Rear-seat room
Visibility (top-up in convertibles)
Whatever the 1-Series coupe and convertible give up in size to their larger 3-Series counterparts seemed well worth the $5000-10,000 price differential when these cars were new-unless rear-seat passengers simply won't fit. Convertibles also adopted a less-expensive soft top in place of the 3-Series' folding hardtop. Aside from that quibble, BMW's entry-level cars deliver the marque's revered panache and dynamic properties with few other sacrifices.
Overview
Billed as a veritable descendant of the 2002 series of the 1970s, a favorite of early-BMW fans, the 2008 BMW 1-Series line was new to North America. Slotting below BMW's 3-Series in both size and price, these compact premium sporty/performance rear-wheel-drive models came in 128i and 135i form. Both models were initially available, in spring 2008, as a two-door coupe. Convertibles with a power-folding soft top arrived later in the 2008 model year. Rivals included the Audi A3 hatchback, Porsche Cayman two-seater, and Volvo C30.
Their 3.0-liter inline six-cylinder engines were shared with the 3-Series. The 128i engine developed 230 horsepower, while the 135i got a turbocharged engine that produced 300 horsepower. All models had a standard six-speed manual transmission, but could be equipped with an optional six-speed automatic.
Standard safety features included antilock brakes, traction control, an antiskid system, curtain side airbags (coupes only), and front side airbags. A sunroof, split-folding rear seat, and poplar wood interior trim were standard in coupes. All models had run-flat tires: 17-inch on the 128i and 18-inch on the 135i. Coupes could have optional Premium and Sport packages. The Premium Package included leather upholstery, a power front seat, and BMW's Assist system. Ordering a Sport Package added specific trim, a sport suspension (on 128i), and sport bucket seats. Other options included a voice-activated navigation system, aluminum or burled walnut interior trim, leather upholstery, and heated front seats.
Yearly Updates
2009 1-Series
BMW's smallest model was largely unchanged for the 2009 model year. Two new options were available: A heated steering wheel, and BMW's fourth-generation iDrive controller, which was included with the optional navigation system
2010 1-Series
The 2010 BMW 1-Series was largely unchanged.
2011 1-Series
The 2011 BMW 1-Series lineup gained some new option packages, a new transmission, and a new high-performance variant. The 135i swapped a seven-speed automatic for a six-speed, and added was the sporty M coupe, with a 335-horsepower turbocharged six-cylinder engine.
2012 1-Series
For 2012, the high-performance 1-Series M coupe introduced for 2011 was dropped after just a year on the market. Other models continued with minor styling tweaks and some revised connectivity features.
2013 1-Series
The standard 128i and 135i were unchanged. The big news for 2013 was the addition of a new performance model. The 135is essentially serves as a stand-in for the model-year-2011-only 1-Series M. While the M only came as a coupe, BMW offered the 135is as both a coupe and convertible.