Premium compact SUV; Built in Japan
longitudinal front-engine/rear- or all-wheel drive
Good condition price range: $8,900 – $33,700*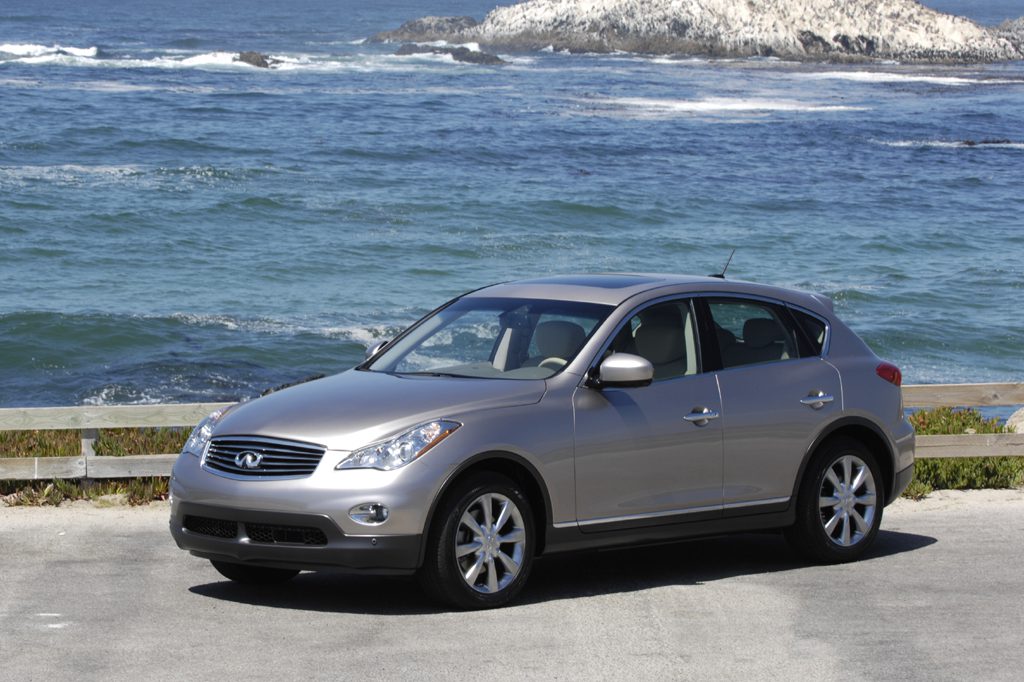 2008 Infiniti EX35 Front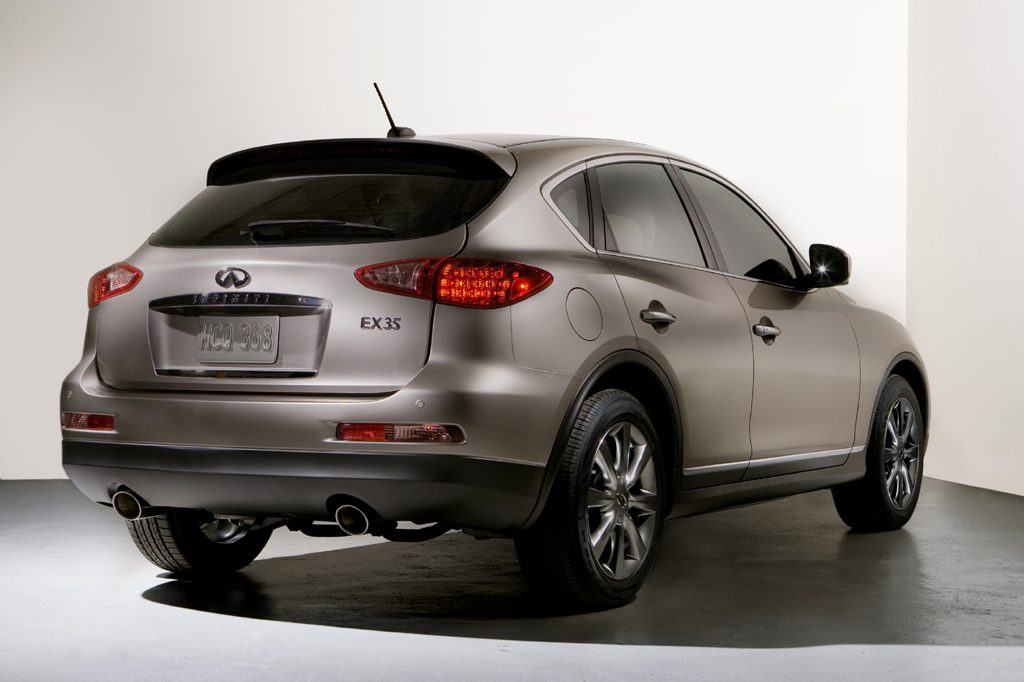 2008 Infiniti EX35 Rear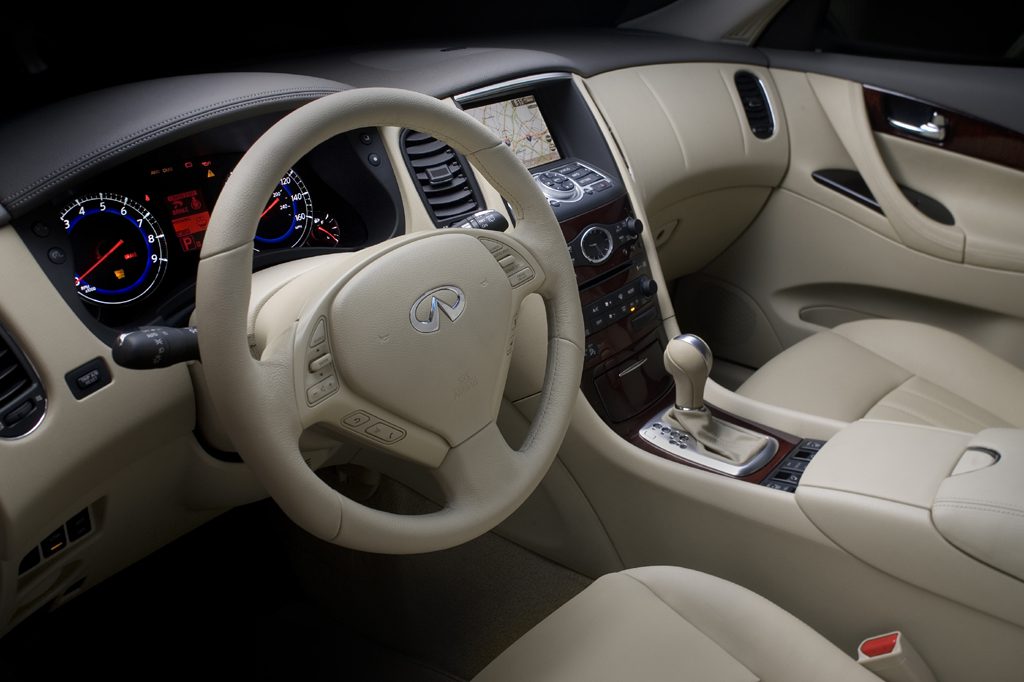 2008 Infiniti EX35 Interior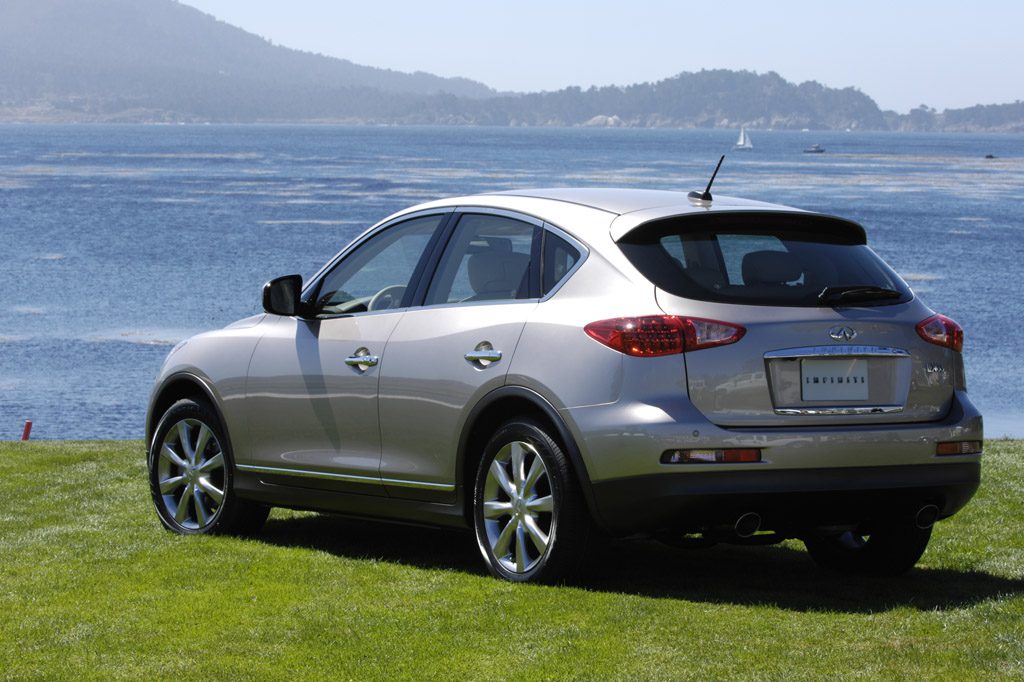 2008 Infiniti EX35 Rear
Pros:

Acceleration
Handling/roadholding
Interior materials

Cons:
With its smooth, powerful engine and well-appointed cabin, the EX35 is a sporty, more luxurious alternative to Acura's RDX. If you're impressed by the G35/G37 sedan's comfortable, posh interior, sporty performance, and available all-wheel drive but need more cargo utility, the EX35 is worth a close look.
Overview
The 2008 Infiniti EX35 was a new premium compact sport-utility vehicle from the Japanese automaker. In 2013, the model name was changed to EX37 and in 2014 yet another name change resulted in QX50. This four-door wagon seated five and shared its platform and powertrain with Infiniti's G35 midsize sedan. Powered by a 297-horsepower 3.5-liter V6 coupled to a five-speed automatic transmission with manual shift mode, EX came in base and Journey trim levels. Both were available with rear-wheel or all-wheel drive. The AWD system included a snow mode that locked in a 50/50 front/rear power split. Standard safety features included antilock brakes, traction control, an antiskid system, curtain side airbags, and front side airbags.
Options included a navigation system, rearview camera, sunroof, leather upholstery, 9.3-gigabyte hard drive for storing digital music files, plus two Infiniti firsts. Around View Monitoring used four cameras to show the driver the entire circumference of the exterior on the navigation screen. All the angles could be viewed separately on the navigation screen, or together as one cohesive image of the whole vehicle. If the driver got too close to a stationary object in any direction, a warning sounded. The second new option was Lane Departure Prevention, which gauged where the vehicle was in relationship to the lines on the road. If it sensed that the vehicle was going out of those lines at above 45 mph, a warning signal sounded and the vehicle's stability control system was activated to bring it back to the correct side of the line. With its EX35, Nissan's luxury division competed against the Acura RDX, BMW X3, and Land Rover LR2.
Yearly Updates
2009 EX35
Several content changes marked the 2009 models. The base model now contained standard leather-appointed seating, a RearView monitor, rear climate-control vents, and polished aluminum roof rails. The Journey edition added a standard six-disc CD changer, power tilt/telescoping steering column, coat hanger on the driver's headrest, and dual-zone automatic temperature control.
2010 EX35
Among the newly available features on the 2010 EX35 were a USB port for connecting digital music players; real-time traffic, weather, and restaurant information as part of the navigation system; and a 2-gigabyte hard drive for storing music files on models not equipped with navigation.
2011 EX35
The 2011 Infiniti EX35 got a new 7-speed automatic transmission to replace the previous 5-speed automatic.
2012 EX35
There were no changes of note to the 2012 Infiniti EX35.
2013 EX35
As its name suffix change indicates, the 2013 Infiniti EX traded its 3.5-liter V6 engine for slightly larger and more powerful 3.7-liter unit. Other than that, that model was basically carried over from 2012.
2014 QX50
Infiniti revamped its model names for 2014; all Infiniti cars carried a "Q" prefix and all SUVs started with "QX." The 2014 QX50 was formerly known as the EX37, and was not significantly changed other than its new name.