Compact car; Built in Japan
4-door hatchback
4-door sedan
4-door sedan
transverse front-engine/front- or all-wheel drive
Good condition price range: $2,400 – $37,300*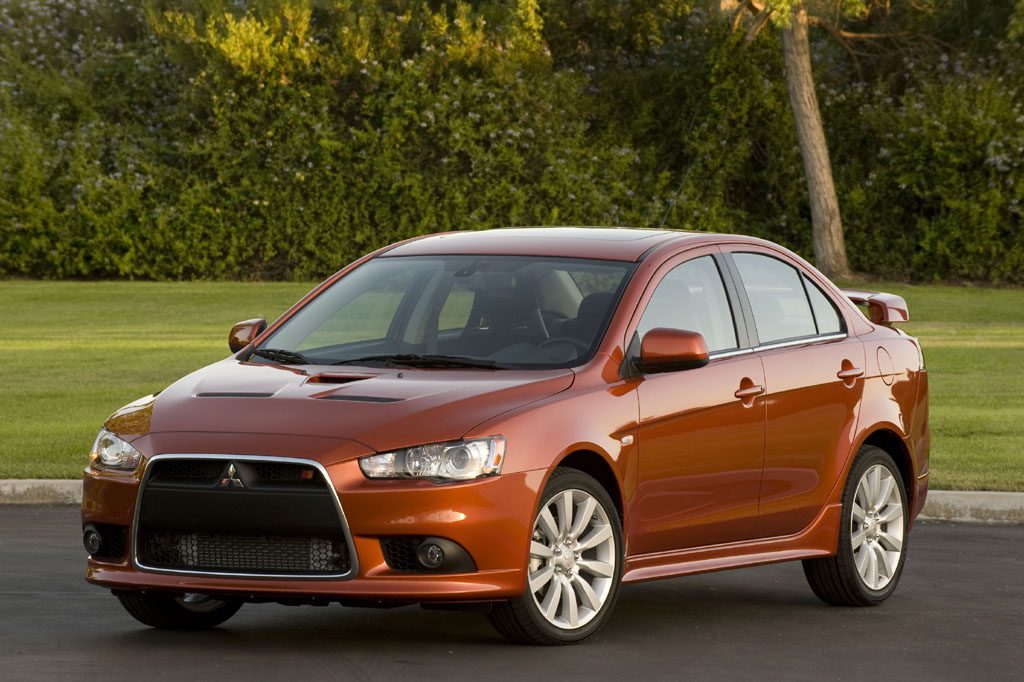 2009 Mitsubishi Lancer Front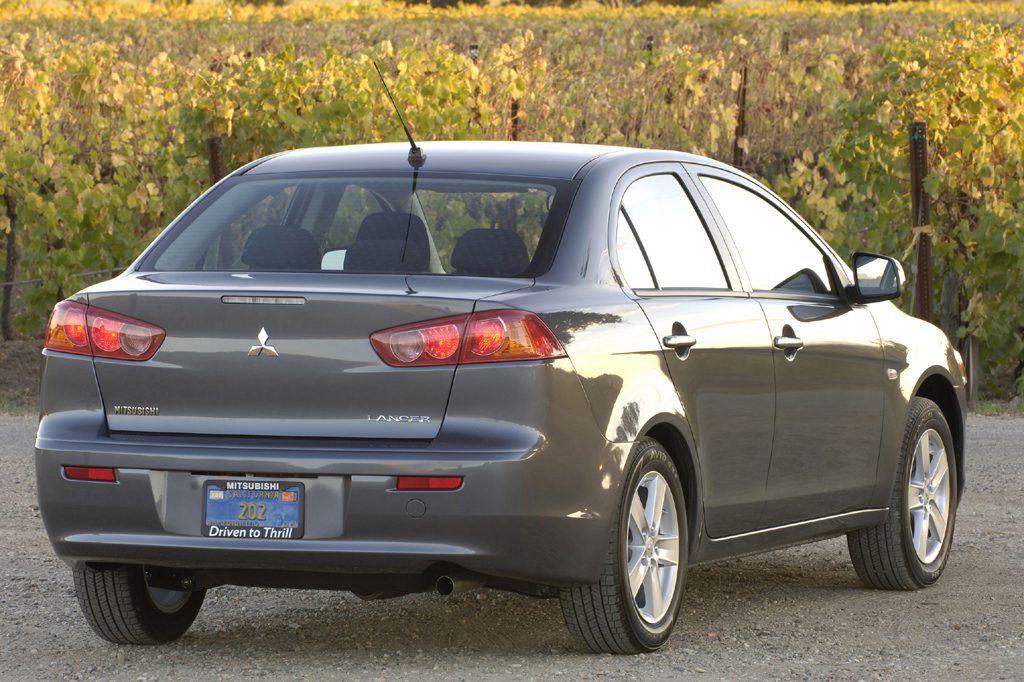 2008 Mitsubishi Lancer Rear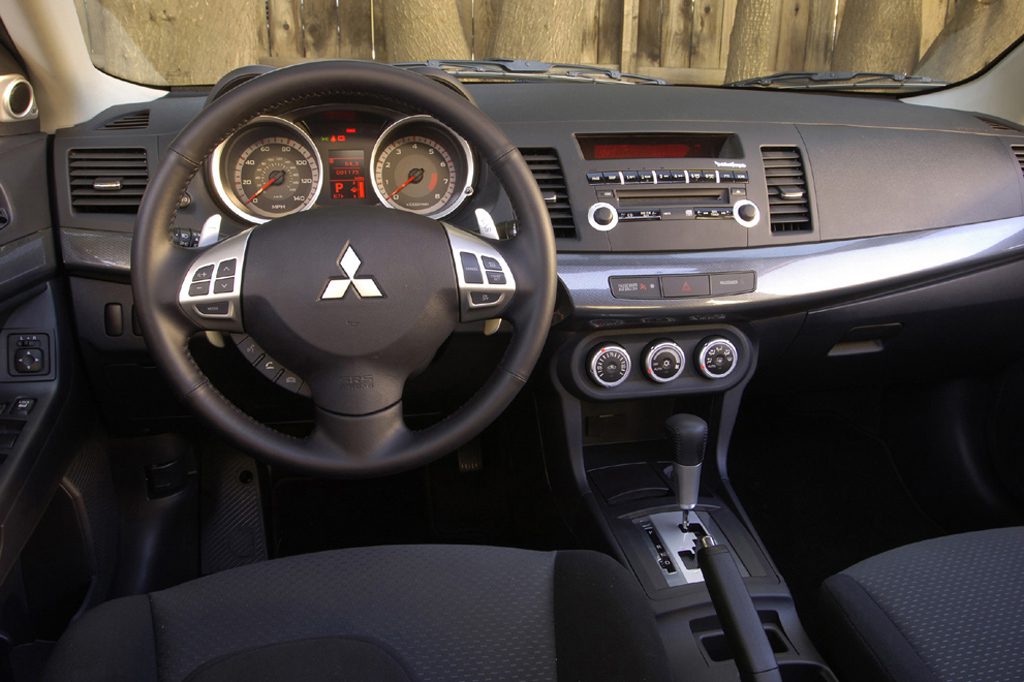 2008 Mitsubishi Lancer Interior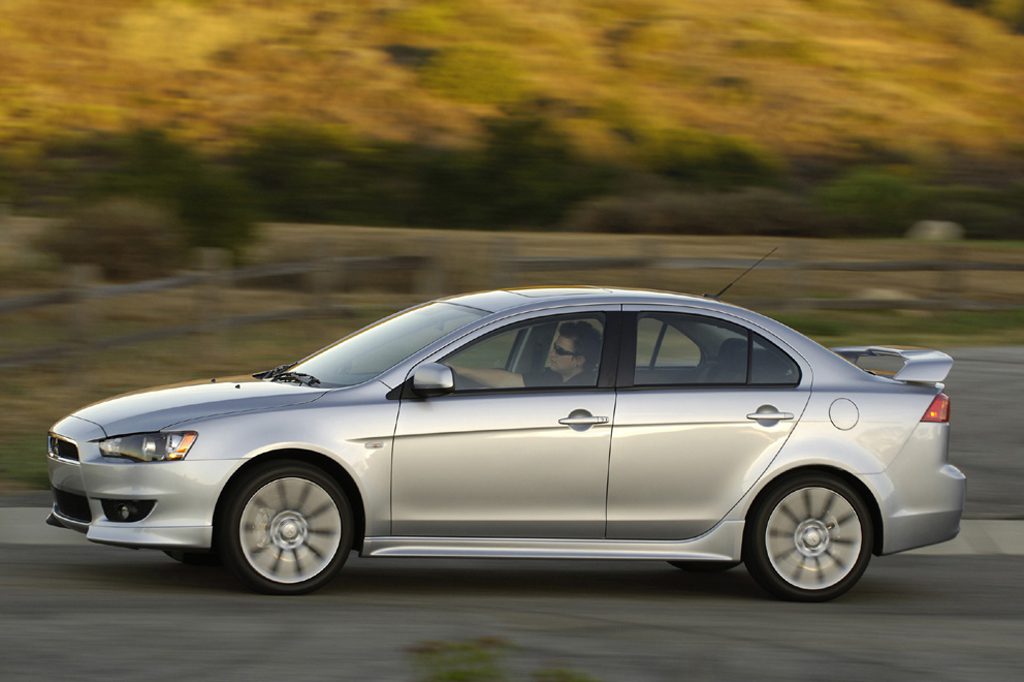 2008 Mitsubishi Lancer Profile
Pros:

Acceleration (Evolution and Ralliart)
All-wheel drive (Evolution, Ralliart)
Fuel economy (Except Evolution, Ralliart)
Steering/handling (GTS, Ralliart, Evolution)

Cons:

Acceleration (CVT)
Engine noise
Interior materials
Ride (GTS, Ralliart, Evolution)
Regular Lancers ride and handle well enough, but cost cutting is evident in too many places (especially inside the cabin) for this to rank as a strong value. These small sedans haven't raised the bar for roominess or refinement. Their engines lag in power and refinement. Mitsubishi's record of weak resale values didn't help Lancer's cause as a new car, but could be a bonus for used-car shoppers. Evolution models are strong performers that aren't too punishing on the street, but high prices limit their appeal. Addition of the Ralliart aimed to bridge the gap between Evolution and other models in terms of performance, but it didn't really address other criticisms of the Lancer line.
Overview
All Mitsubishi Lancers were redesigned for 2008, and the Lancer Evolution made its return to this Japanese brand's small-car lineup. Each model was larger in all dimensions compared to the 2002-06 versions. Front-wheel-drive Lancer DE, ES, and GTS trim levels were offered, with a 152-horsepower 2.0-liter four-cylinder engine and a choice of a five-speed manual or continuously variable automatic transmission (CVT). The high-performance Lancer Evolution had all-wheel drive and came in GSR and MR trim levels, each with a 291-hp 2.0-liter turbocharged four-cylinder engine. GSRs had a five-speed manual transmission; MRs had a six-speed automatic.
Standard safety features included front side airbags, a driver's knee airbag, and curtain side airbags. Antilock brakes were optional for the Lancer DE, but standard on upper models. Evolutions included an antiskid system. The GTS had a firmer suspension and sporty body trim. Lancer GTS and Evolution MR were available with a touch-screen navigation system and a 30-gigabyte hard drive for storage/playback of digital audio files. Mitsubishi's regular Lancer models competed against the Honda Civic, Hyundai Elantra, and Mazda 3.
Yearly Updates
2009 Lancer
A new Ralliart model joined the 2009 lineup with all-wheel drive and a 237-horsepower, 2.0-liter turbocharged four-cylinder engine. Only the six-speed automatic transmission was offered for the Ralliart. A new 168-hp, 2.4-liter engine went into the front-drive GTS model. Most models could have a navigation system and hard drive.
2010 Lancer
The 2010 Mitsubishi Lancer Sportback marked the return of a 4-door hatchback body style to this compact-car lineup. Sedan versions of Mitsubishi's smallest car continued without any major changes for 2010.
2011 Lancer
The 2011 Mitsubishi Lancer Sportback roster expanded to include a lower-cost ES Sportback hatchback.
2012 Lancer
The 2012 Mitsubishi Lancer lineup added an all-wheel drive SE sedan with a 2.4-liter engine and deleted the Sportback Ralliart. Also, the Sportback GTS was renamed GT. Newly optional were a rearview camera and rear-obstacle detection.
2013 Lancer
The 2013 Lancer SE sedan saw a couple minor feature tweaks for 2013. The Sportback and Evolution models were unchanged.
2014 Lancer
Lancer sedans saw only minor trim changes for 2014. The base DE trim level went away, leaving the ES as the entry-level model. Also, the SE added some standard equipment: HD Radio, satellite radio, and a rearview camera. Lancer Sportback saw only minor trim changes for 2014. The GT added new standard equipment: HD Radio, satellite radio, and a rearview camera. Also, a rear spoiler was now standard on both the ES and GT. The Evolution received a new touchscreen stereo system with HD radio and satellite radio.