Midsize car; Built in USA
4-door sedan
4-door sedan
transverse front-engine/front-wheel drive
Good condition price range: $8,300 – $20,500*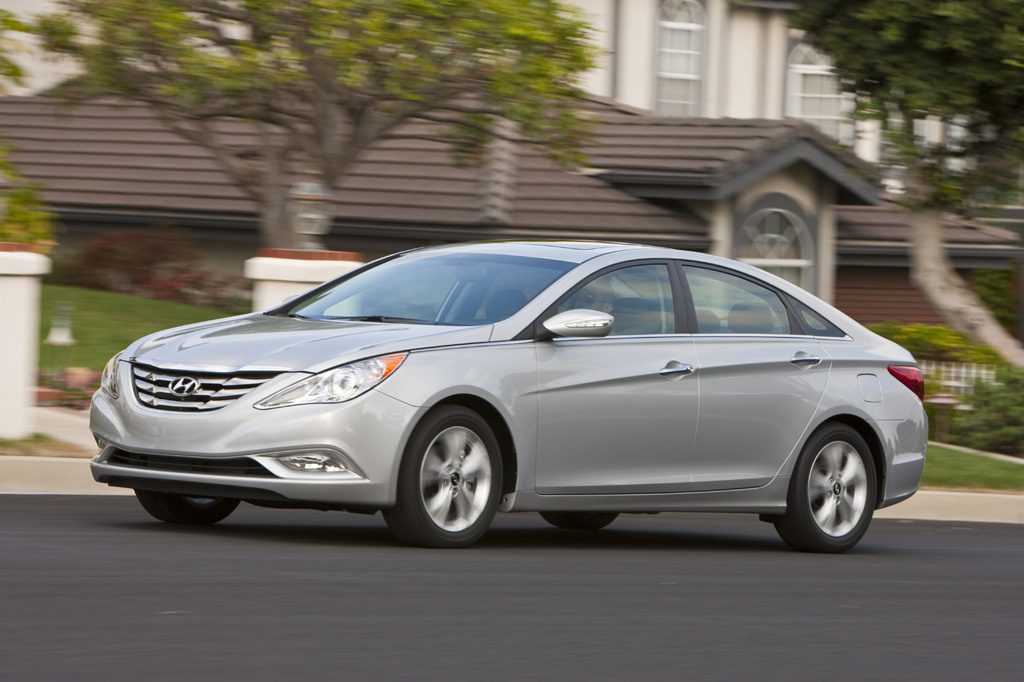 2011 Hyundai Sonata Front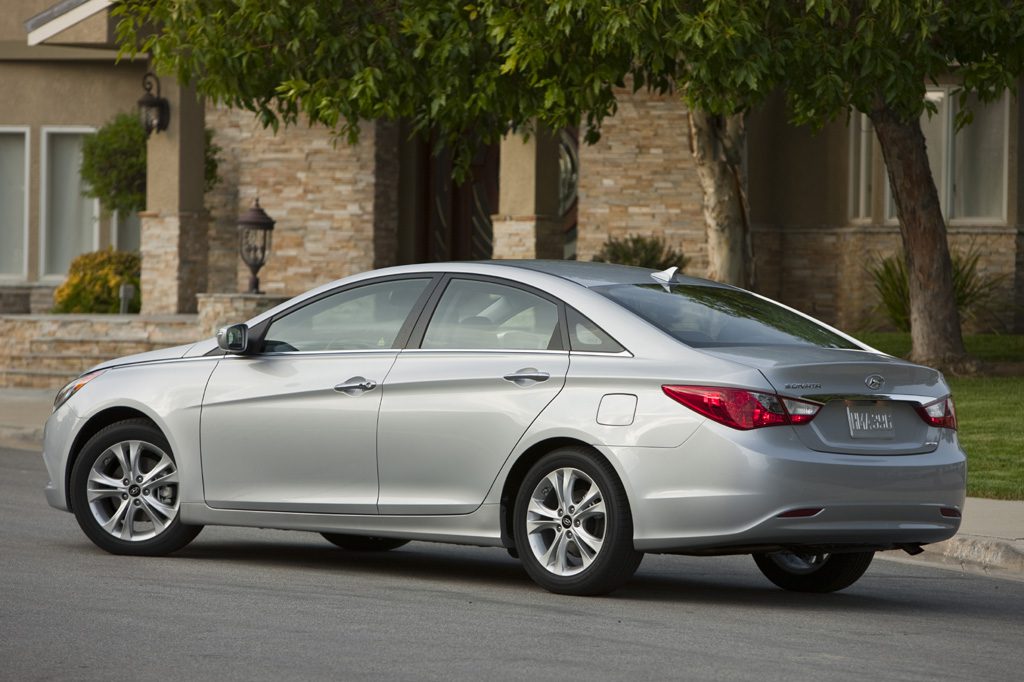 2011 Hyundai Sonata Rear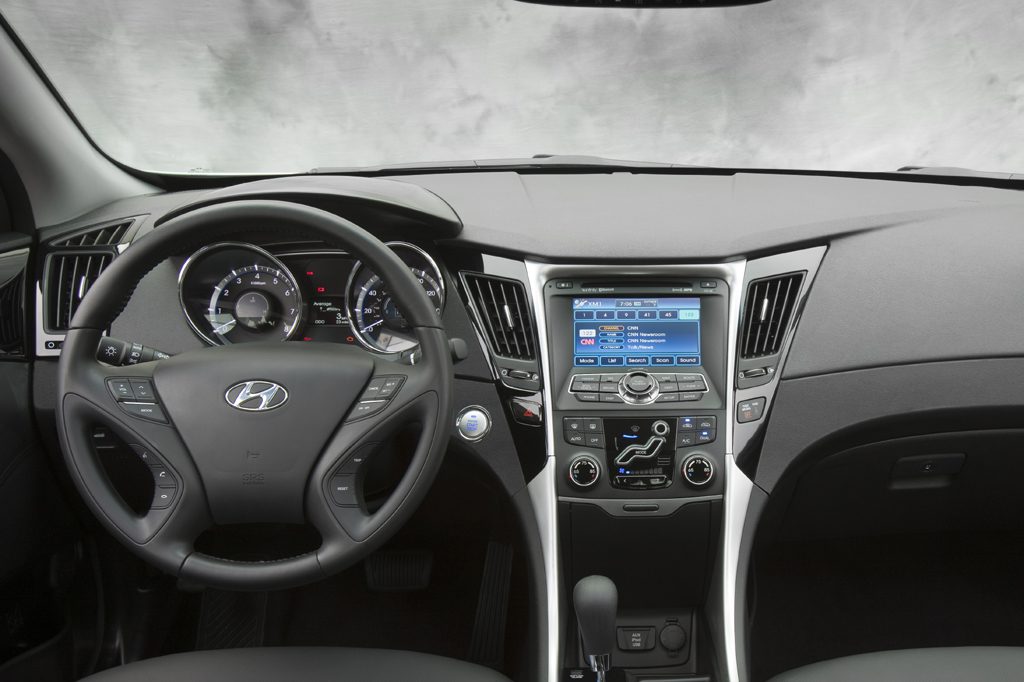 2011 Hyundai Sonata Interior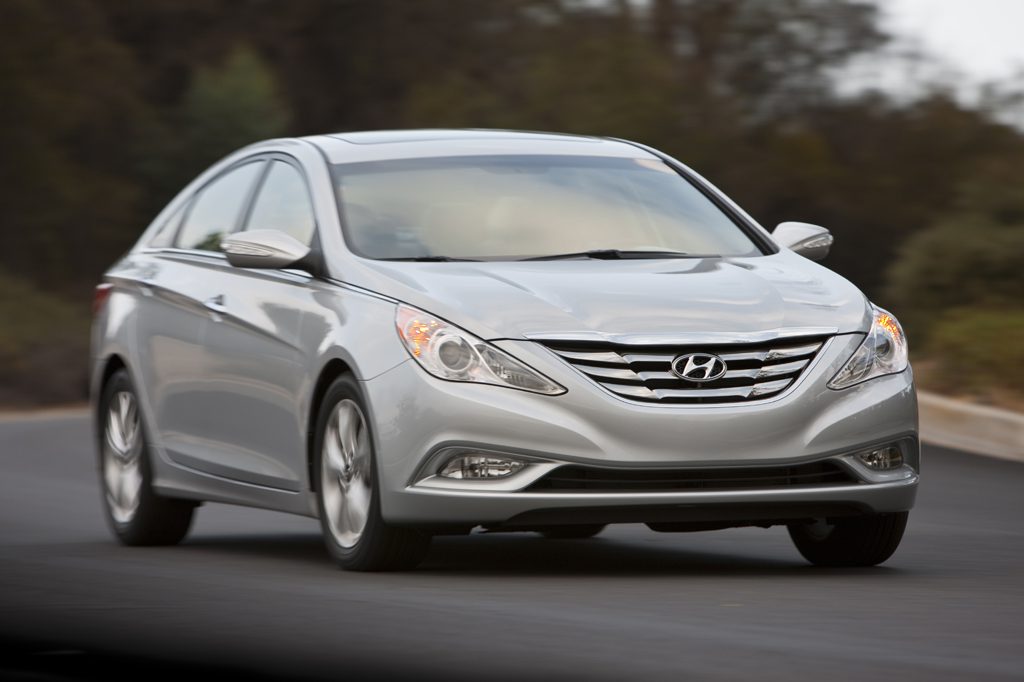 2011 Hyundai Sonata Front-2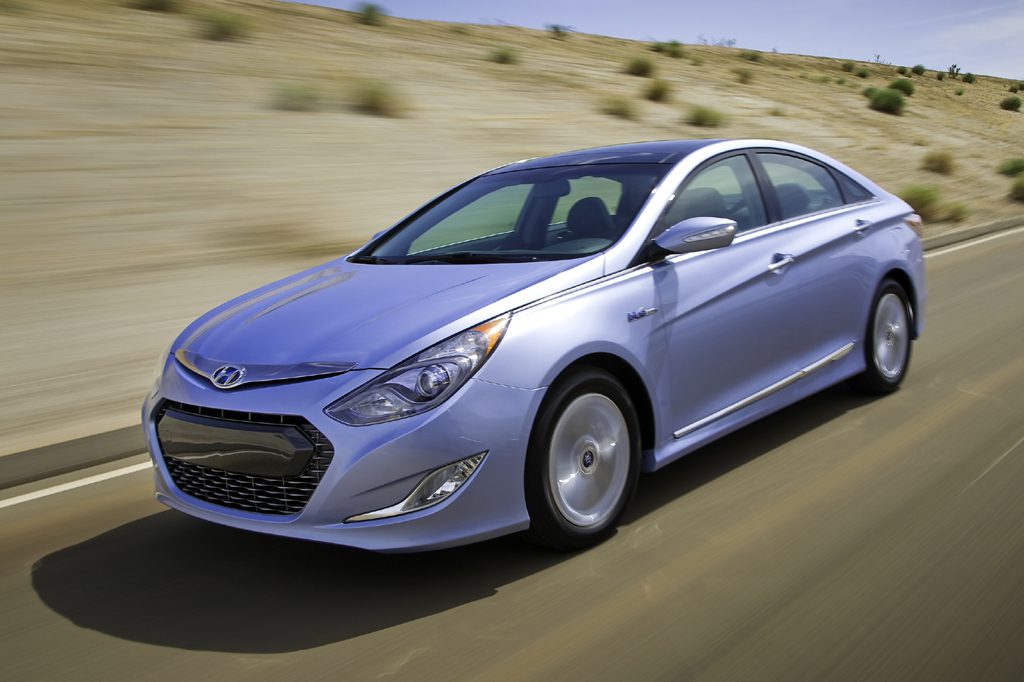 2011 Hyundai Sonata Front-3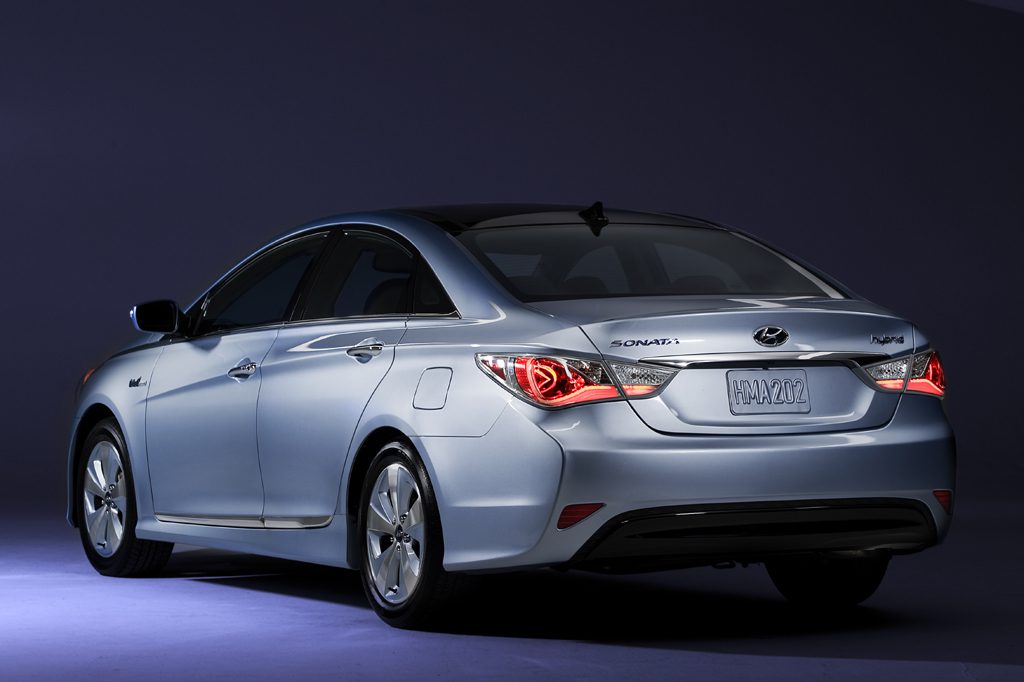 2011 Hyundai Sonata Rear-2
Pros:

Fuel economy
Passenger room
Turn radius

Cons:
Redesigning for 2011 put Hyundai's Sonata at the forefront of the crowded midsize-sedan segment. All Sonatas, base models included, offered an outstanding features-per-dollar ratio, which is likely to be maintained on the used-car market. The turbocharged 2.0T engine provides V6-level acceleration with four-cylinder economy. The Hybrid delivers very good fuel economy, albeit at some sacrifice to drivability and refinement. While Sonata lags rivals in suspension composure, this demerit is more than offset by the entire lineup's blend of style, interior comfort, standard and available features, and value pricing–new or used. That's what makes Sonata a Best Buy (2011-12).
Overview
Redesigning of the Hyundai Sonata for 2011 gave it freshened styling, new engines, and new features–plus the brand's first gas/electric hybrid model. Following a new, thrifty trend in midsize sedans, Hyundai abandoned V6 engines in favor of four-cylinder units. In its modified form, this midsize sedan was about 3 inches longer in wheelbase and 1 inch longer overall than the 2006-2010 model. The 2011 Sonata came in four trim levels: base GLS, sporty SE, luxury-themed Limited, and eco-oriented Hybrid. Standard models were powered by a new 2.4-liter four-cylinder engine, which replaced four-cylinder and V6 engines of 2.4 and 3.3 liters, respectively. GLS and Limited engines made 198 horsepower, but the SE had 200. Available on the SE and Limited was a turbocharged 274-horsepower, 2.0-liter four-cylinder engine. Sonata models so-equipped were called 2.0T. The Hybrid paired a 2.4-liter gasoline engine with an electric motor for 206 horsepower total. Hyundai's Hybrid could run on one or both of its power sources, to balance acceleration and fuel economy. No plug-in charging was required. Standard on the GLS was a six-speed manual transmission. Optional on that model and standard on all other Sonatas, including the Hybrid, was a six-speed automatic. SE versions had a sport suspension, 18-inch wheels, and specific trim.
Standard safety features included all-disc antilock braking, traction control, an antiskid system, front side airbags, and curtain side airbags. A navigation system was optional on all models. Limiteds equipped with navigation included a rearview camera. Leather upholstery with heated front and rear seats were Limited-exclusive standard features. Hyundai's Sonata competed against such midsize sedans as the Ford Fusion, Honda Accord, and Toyota Camry, as well as the Chevrolet Malibu, Mazda 6, Nissan Altima, and Kia Optima.
Yearly Updates
2012 Sonata
Little was new on the 2012 Hyundai Sonata, except that a navigation system was no longer offered on the GLS model.
2013 Sonata
The 2013 Sonata received heated front seats as standard equipment for all models. The Hybrid was the most changed of any Sonata for 2013. The big news was the addition of a more-powerful electric motor and battery pack. While total system horsepower was down from 2012, torque was up significantly. Hyundai also promised improved driveability and smoother operation.
2014 Sonata
For 2014, Sonata got revised front and rear styling. Blind-spot alert and xenon headlights were newly available.