Subcompact car; Built in
transverse front-engine/front-wheel drive
Good condition price range: $7,200 – $13,700*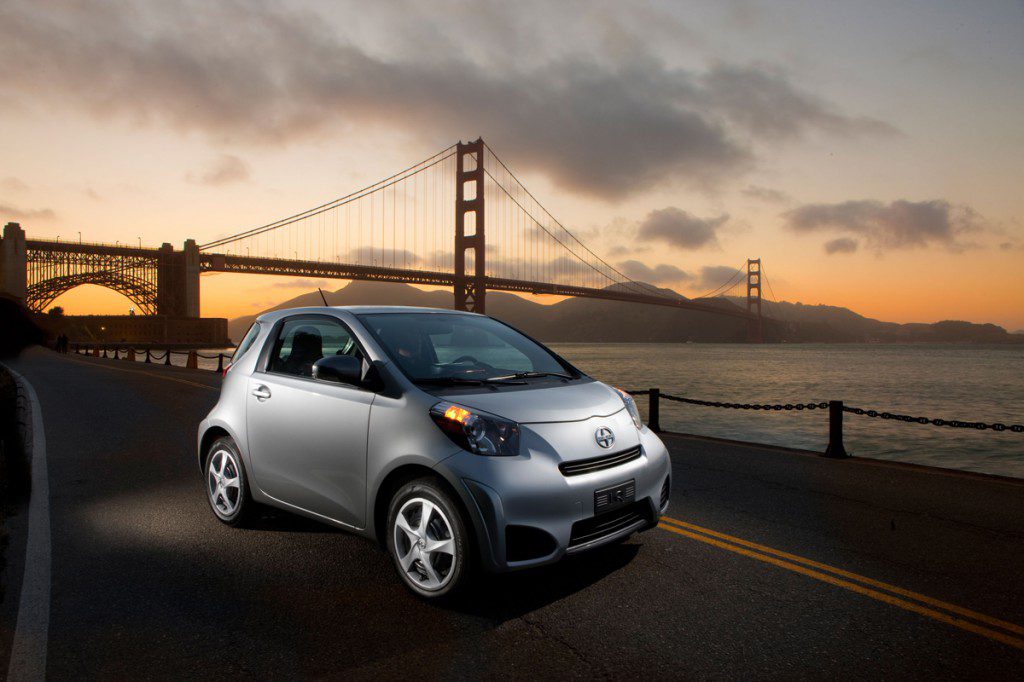 2012 Scion iQ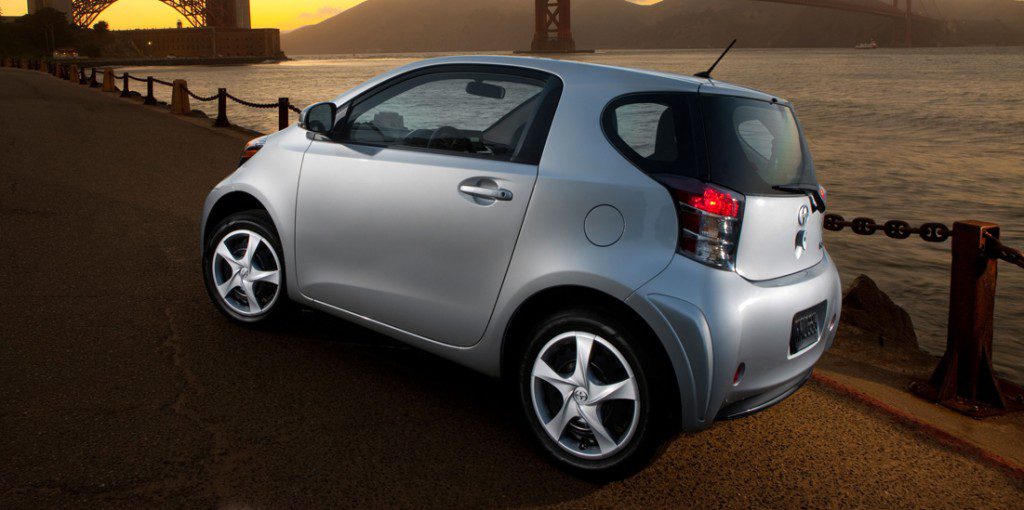 2012 Scion iQ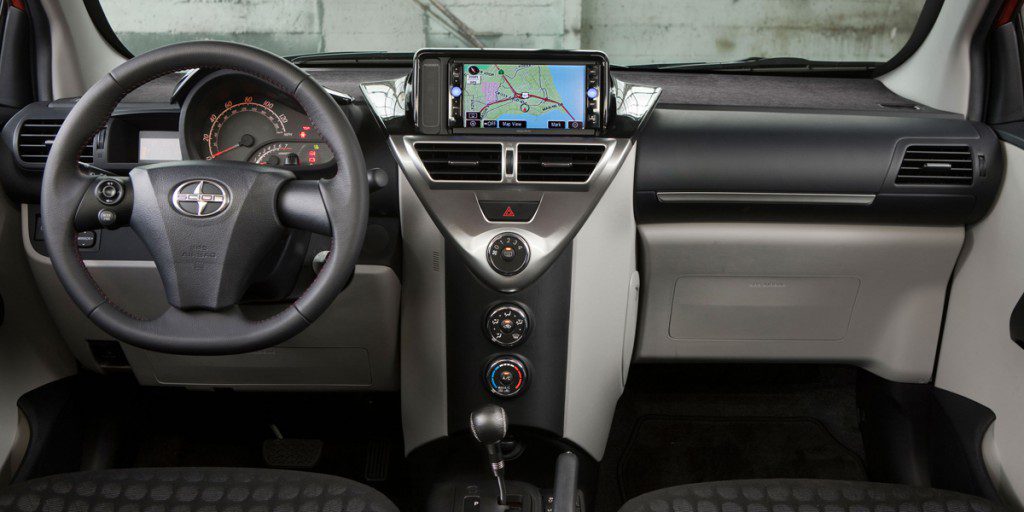 2012 Scion iQ
Pros:

Acceleration
Fuel economy
Maneuverability

Cons:

Cargo room
Noise
Rear-seat room
This Scion aims at trendy young urban types as a funky runabout that's easy on gas, fits in places other cars won't, and is decent fun to drive. But it's really just basic transportation with a designer sheen, clearly patterned on the ForTwo Smart in both name and concept. And though roomier and more practical than the Smart, as well as usefully quicker and more mechanically polished, the iQ costs more than many other subcompacts that offer four doors and four adult-size seats, not to mention a smoother, quieter ride. In all, the Scion iQ is a fine exercise in space-efficiency, but it's neither good value nor a brainy small-car choice except for those who can live with the compromises of its minimalist design.
Overview
Toyota's youth-oriented Scion line added this petite "3+1" 2-door hatchback for 2012, a year later than originally planned. Introduced to major world markets during 2010, the iQ was sold as a Toyota outside North America. It was also the basis for the improbable Aston Martin Cygnet, a restyled ultra-luxury version that helped the famed British make offset the high fuel thirst and emissions of its mainstay large, heavy grand touring cars for compliance with various regulations.
The Scion iQ was one of the smallest cars on the American market. Its closest rival in size and concept was the 2-passenger Smart ForTwo, although the iQ was somewhat longer, lower, and wider.
The "3+1" description referred to a cabin designed for two adults in front, a third grownup behind on the right side, and a child behind the driver. This reflected the iQ's mission as a minimalist, max-mpg runabout for cities like Tokyo, Paris, and, yes, The Big Apple, where traffic is dense and parking both frustrating and expensive. Because development focused on providing nominal 4-passenger seating within the smallest possible footprint, the iQ incorporated a number of space-saving features and specific components shared with no other Toyota Motor Company product.
Despite its carefully calculated design, this "premium micro-subcompact," as Toyota called it, was forced to compete on price and practicality with a host of other minicars. Among them the rear-engine ForTwo, of course, as well as the front-wheel-drive Fiat 500, the only other 2-door designs in this class. Other alternatives included larger 4-door models such as the Chevrolet Spark, Mazda 2, and Toyota's own Yaris.
The Scion iQ was sold in a single trim level with most of the comfort and convenience features expected in small cars priced below $20,000. These included power windows and mirrors, remote power door locks, cloth upholstery, air conditioning, a leather-wrapped steering wheel with audio controls, a tachometer, a 50/50 split-folding rear seat, rear-window defroster, and rear wiper/washer. Standard wheels were 16-inch steel rims with covers. Also included were an AM/FM radio, digital-media connection, USB port, and wireless cellphone link.
Factory options were limited to a sport suspension and special paint, but buyers could choose from a number of approved dealer-installed accessories, some of which carried the Toyota Racing Development (TRD) brand. These included larger alloy wheels, fog lights, a rear roof spoiler and other sporty exterior add-ons, a TRD "performance" suspension, interior dress-up items, satellite radio, various name-brand audio systems, and a navigation system with DVD and iPod video playback.
The Scion iQ offered a single powertrain. This used a 94-horsepower, 1.3-liter 4-cylinder engine to drive the front wheels through a gear-less, continuously variable transmission (CVT) that functioned somewhat like a conventional automatic. The transmission had three settings: Drive, S, and B. S, or Sport, altered powertrain responses to suit more-spirited driving. B, for Braking, kept the engine and CVT in a rev range that enhanced the "engine braking" effect, which can prove useful for long descents.
EPA-rated fuel economy was an estimated 36 mpg in city driving and 37 mpg on the highway. Only regular-grade gas was required.
The iQ included a standard complement of expected and federally required safety features, including antilock brakes (ABS), an antiskid system, and traction control. Because of its small size, the iQ was also equipped with no fewer than 11 airbags as "passive safety" pluses. These included the familiar curtain-side airbags and knee airbags for driver and front passenger, plus two new types. One was a rear-window curtain that dropped from the ceiling to fill the space behind back-seat passengers. The other involved front-seat airbags that inflated from the cushions to keep occupant hips from moving forward in certain types of front collisions, or so Scion said.
Yearly Updates
2012 iQ
Typical of "second-year" models, the Scion iQ was virtually unchanged for 2013. A notable exception was the addition of the iQ EV (electric vehicle), a specially trimmed and equipped battery-powered version that was not offered for regular retail sale. Instead, the EV was reserved for "campus and urban car-sharing programs" as a kind of demonstration project.
2013 iQ
The 2014 Scion iQ added a standard touchscreen audio system. The optional premium audio system now included Aha-based smartphone integration and navigation functionality.