Sporty/performance car; Built in
4-door sedan
4-door wagon
longitudinal front-engine/all-wheel drive
Good condition price range: $18,800 – $37,300*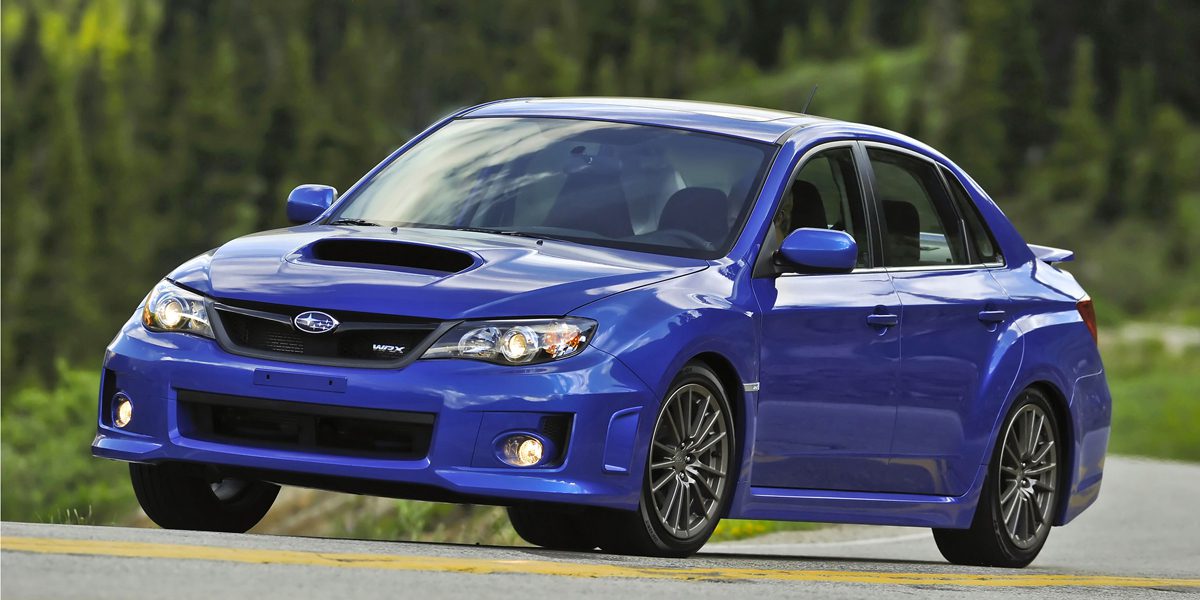 2012 Subaru Impreza WRX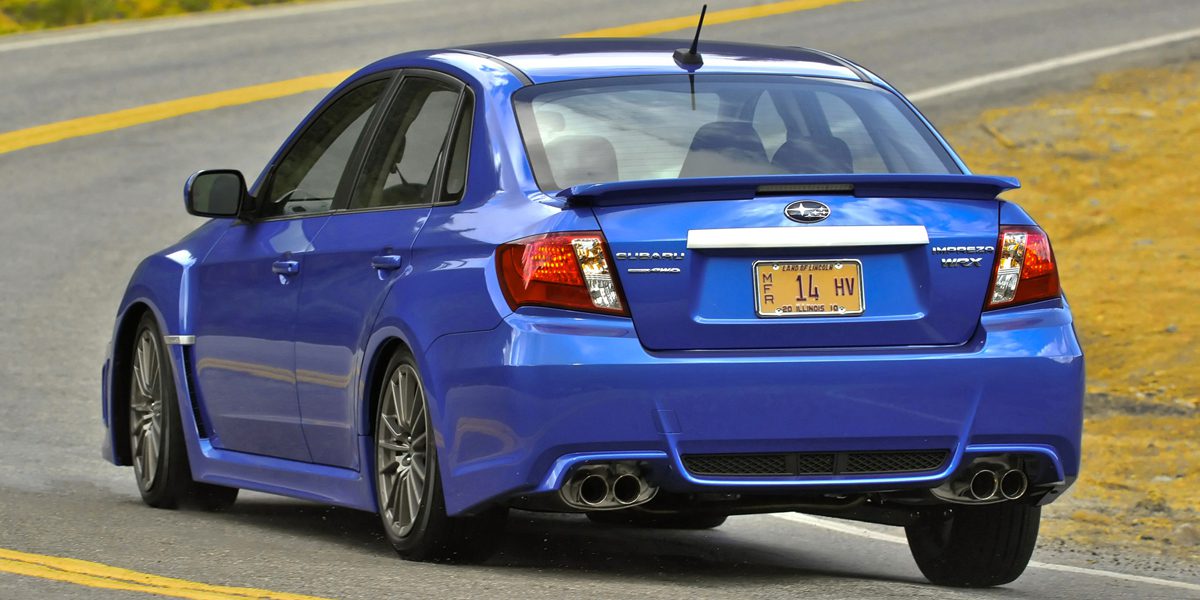 2012 Subaru Impreza WRX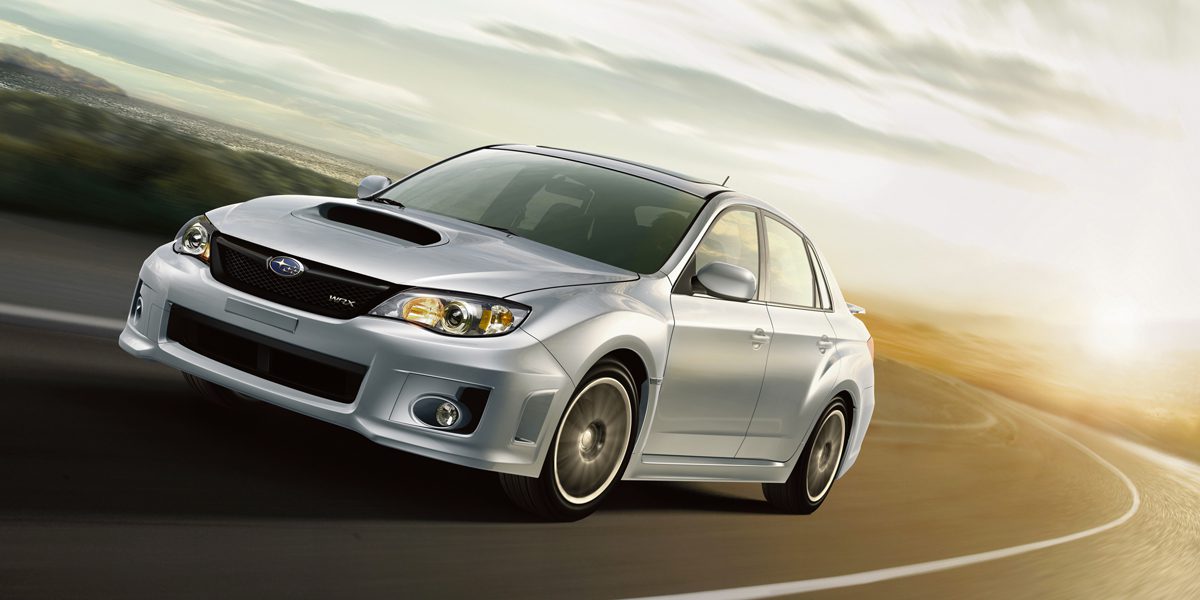 2012 Subaru Impreza WRX
Pros:

Acceleration
Steering/handling

Cons:

Engine noise
Wind and road noise (Wagons)
Impreza WRX is fast and handles well, and the standard all-wheel drive provides fine traction. Hatchback-style wagon versions are more practical than the sedans, though the interior suffers from increased levels of road and wind noise. Interior appearance disappoints as well. Base WRX models offer the best value, but serious enthusiasts will be drawn to the STI version and likely find it worth the extra money.
Overview
Impreza WRX was Subaru's all-wheel-drive compact performance car. WRX was based on the Impreza that was sold from 2008-2011; it was not the same basic car as the 2012-2014 Impreza. WRX was available as a 4-door sedan and a 4-door hatchback/wagon that was sometimes called the 5-door.
Subaru offered the Impreza Sedan WRX in WRX, WRX Premium, WRX Limited, WRX STI, and WRX STI Limited versions. STI stood for Subaru Tecnica International, the company's high-performance and motorsports development arm.
Subaru offered the Impreza Wagon WRX in base WRX, WRX Premium, WRX Limited, and higher-performance WRX STI form. Each of the four variants included the largely same features and standard equipment as the corresponding Sedan WRX models.
Base-model WRX equipment included all-wheel-drive, 5-speed manual transmission, and 17-inch wheels. Popular "creature comforts" including air conditioning, automatic climate control, and power windows, locks, and mirrors were standard as well. All WRXs included a Bluetooth system with a wireless cell-phone link and audio streaming capability.
The WRX Premium added a rear spoiler, fog lights, power sunroof, and an All-Weather Package that consisted of heated front seats, heated exterior mirrors, and a windshield wiper de-icer.
The WRX Limited extras were HID low-beam headlamps and a leather-trimmed interior.
The WRX STI included a more-powerful engine, 6-speed manual transmission, 18-inch wheels, upgraded all-wheel-drive system, and specific suspension tuning. It also had specific interior trim that was a combination of leather and synthetic suede. The Wagon WRX STI also received forged 18-inch BBS-brand aluminum wheels.
The WRX STI Limited added 18-inch forged BBS-brand alloy wheels, fog lights, leather-trimmed interior, and a power sunroof.
Options included a navigation system with a 6.1-inch touch screen, satellite radio, and voice activation. It was available on all WRX sedans and wagons except the base models.
The Impreza WRX engine was a 265-horsepower turbocharged 2.5-liter 4-cylinder that used Subaru's traditional horizontally opposed "boxer" design. It paired with a 5-speed manual transmission. No automatic transmission was available.
The WRX STI packed a 305-horsepower turbocharged 2.5-liter 4-cylinder engine. The only transmission it paired to was a 6-speed manual.
All Impreza WRXs were all-wheel drive. WRX versions had a system with a viscous-coupling locking center differential. In normal driving it sent 50 percent of the power to the rear wheels and 50 percent to the fronts. If there was a loss of traction at either set of wheels, the system could send all of the available torque to the opposite set.
WRX STI models used a different all-wheel-drive system. It had a Driver Controlled Center Differential (DCCD) that allowed for manual selection of six differential locking control settings. There were also three performance modes.
U.S. Environmental Protection Agency fuel economy estimates for the Impreza WRX were 19 mpg city and 25 mpg highway. WRX STI models were rated at 17 mpg city and 23 mpg highway.
Subaru required premium-grade gas for all WRX and WRX STI models.
Impreza WRX models came standard with a complete complement of federally mandated and expected safety features.
Yearly Updates
2012 Impreza WRX
The Impreza WRX saw no major changes for 2013. There was a bit of news, though: the release of 300 Special Edition "Orange and Black" Impreza WRX and WRX STI models. All were sedans with bright orange paint and black trim.
2013 Impreza WRX
The only change of note for the 2014 Subaru Impreza WRX was that the optional navigation system now included Aha-based smartphone connectivity.